From ENHYPEN, aespa, ITZY, and more, our faves in the world of K-pop are not lettings us rest this July 2022 with all the comebacks and concerts.
Related: FYI, Upcoming K-pop Boy Group ATBO Has A Member Fluent In Tagalog
It's a new month, which means we're getting four weeks of brand new K-pop activities. And while every month is an exciting time to be a K-pop stan, July 2022 feels extra special. We're already halfway through the year yet things aren't letting up at all. Many of our faves are preparing for a summer comeback this month and there's also the fact that there are a few idols and groups making their way to the Philippines for concerts and fanmeets. Here are just some of the many comebacks and events happening in the world of K-pop this July 2022 that should be on your radar. (Note that this list only covers confirmed comebacks and events, so who knows what other surprises are in store for us.)
ENHYPEN
A new era of ENHYPEN is upon us as they are set to make their next comeback this July. On July 4, ENHYPEN invites you to the next phase of their musical careers with the release of their latest album, MANIFESTO: DAY 1. The EP marks their 3rd mini album and latest comeback since dropping DIMENSION: ANSWER in January this year. Future Perfect (Pass the MIC) serves as the lead comeback single and while we're gonna miss having the dash in their song titles, we're very much ready for this hip-hop/bad boy inspired comeback. And of course, Heeseung Lee aka Heeseung Batumbakal strikes again with having Piatos in the background of his solo photos.
WINNER
We've been noticing that 2022 seems to be the year where icons of the 2nd and 3rd gen of K-pop are making a comeback and the latest to do so is WINNER. On July 5, the group is dropping their 4th mini album I LOVE U with the title track HOLIDAY, which continues YG Entertainment's love of using that phrase in the music of their artists. The comeback marks their first return as a full four member group in over two years which couldn't make us any happier. We're ready for this bop.
AESPA
Aespa has truly become one of our faves amongst the 4th gen girl groups. And with their latest comeback, their momentum isn't slowing down anytime soon. After a history-making performance at Coachella earlier this year, aespa is gearing up to drop their second mini-album, Girls, on July 8. As always, the promo and visuals released so far for this new era have been next level. Pre-release singles Illusion and Life's Too Short are also bops which gives us hope that this album is going to serve. And considering how Girls has already surpassed one million pre-orders, the hype is real. When they drop Girls, you can also catch aespa on Good Morning America the same day as they are opening their Summer Concert Series.
SUPER JUNIOR
Years in the industry yet the kings of the hallyu wave are proving that they still got it. E.L.Fs get ready as Super Junior is having a comeback (their second of the year) this month with the release of their 11th album, The Road: Keep on Going, and comeback single Mango on July 12. What makes things even better is that they are then set to go on a world tour, which includes a stop in Manila on August 6.
J-HOPE
Even though we won't be getting a group comeback in the near future, this new chapter of BTS has been so exciting to watch thanks to the members solo activities. And J-Hope is making July a very busy month. On July 15, J-Hope becomes the first member of BTS to drop a solo album with the release of Jack In The Box. And on July 1, he's gave ARMY a special treat with the release of his pre-release single More. And to top it all off, he's set to do a history making headline performance at Lollapalooza on July 31 as fellow labelmate TXT performs in the festival the day before.
ITZY
With their last Korean comeback being all the way back in September 2021 in the form of their CRAZY IN LOVE album, MIDZYs have been parched for new music from the girls. And luckily, they're here to slay once more eith the drop of their next album, CHECKMATE, on July 15 (a busy day for major releases). Sneakers will serve as the title track of this seven track album. We're honestly curious to see how this comeback is going to go as the first teasers are giving us royalty and sassy meets classy yet the track list visuals is more Avril Lavinge What The Hell tease. But regardless, we're still getting a comeback. And more importantly, the group is also set to embark on their first ever world tour this year.
SEVENTEEN
SEVENTEEN (세븐틴) 4th Album Repackage 'SECTOR 17'
Promotion Scheduler

?2022.07.18 6PM (KST)
?2022.07.18 5AM (ET)#SEVENTEEN #세븐틴#SECTOR17 pic.twitter.com/amLVV5KTJv

— 세븐틴(SEVENTEEN) (@pledis_17) June 27, 2022
Filipino Carats are already stressing over trying to get tickets for their two day concert in Manila this October. And now, they have a new comeback to watch out for on the horizon. Following the success of their Face The Sun LP, our favorite 13-member boy group is returning once more with the release of the repackaged edition, SECTOR 17, on July 18.
STAYC
STAYC(스테이씨)

The 3rd Single Album
[WE NEED LOVE]

? 2022.07.19 TUE 6PM (KST) #STAYC #스테이씨 pic.twitter.com/3LYfRaHGd6

— STAYC(스테이씨) (@STAYC_official) June 30, 2022
STAYC girls, it's going down, again! The new gen queens of bubblegum pop are back once more to give us yet another earworm of a song. STAYC recently announced that they will be having a comeback on July 15 and drop their single album, WE NEED LOVE. Yes we do, STAYC.
XDINARY HEROES
When Xdinary Heroes made their debut at the beginning of the year with the rock-focused Happy Death Day, they got our attention as it's rare we see rock groups in K-pop. Their relative silence since then has got us worried as we wanted to see more of them. This is why their comeback this July couldn't come any sooner. After teasing us with their debut song, Xdinary Heroes are going all out with the release of their first mini-album, HELLO, WORLD! on July 20 with its retro techno theme.
IN THE SOOP: FRIENDCATION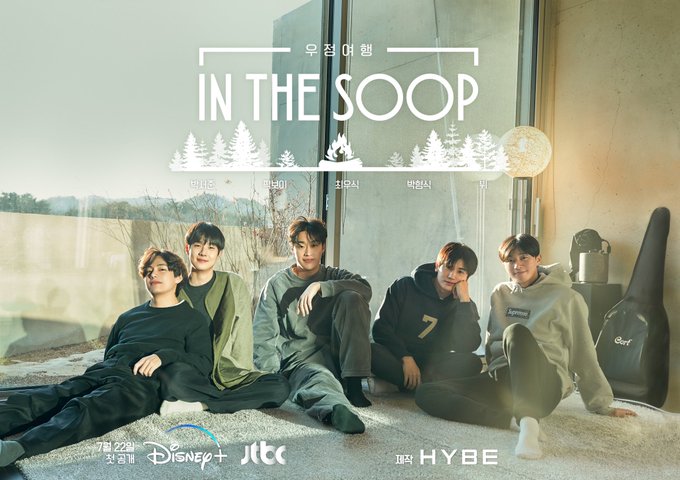 BTS' solo activities this July aren't just limited to J-Hope's new album. We can also expect some content from V this month when the Wooga Squad stars in a spin-off of In The Soop. Entitled In The Soop: Friendcation, viewers get to watch V, Park Seo-joon, Park Hyung-sik, Choi Woo-shik, and Peakboy go on a four day, three night, out of town trip together. Watching famous besties have fun together, what's not to love about that? The show premiers on July 22 on JTBC at 8 PM PH time and on Disney+ 10 PM PH time with new episodes coming every Friday.
BE YOU WITH RED VELVET
No Red Velvet comeback in sight sadly, but we are getting the next best thing as the girls are set to travel to the Philippines to perform. The iconic girl group is set to headline the Be You concert on July 22 and marks their return to the country in years. P-pop stans would also want to catch this concert as well since supporting acts include BGYO, BINI, and Lady Pipay. Aside from the fact that we get to see Red Velvet in the country once more (and do Joy's viral Feel My Rhythm dance move), it is all done for a special cause to raise awareness for mental health concerns and kids with special needs.
GOT7'S YOUNGJAE IN MANILA
The weekend of July 22-23 in Manila is going to be heavy as a day after Red Velvet's performance and Yerin's Manila fansign, GOT7's Youngjae will be the one to brighten up Filipino Ahgases. After dropping his new EP Sugar, he's traveling to Manila for his Sugar fansign and mini concert on July 23 at the New Frontier Theater. Youngjae will be the first of three members of GOT7 to travel to Manila this month for a concert so Pinoy Ahgases are really eating good this July.
GOT7'S BAMBAM IN MANILA AND CEBU
When Filipino Ahgase joked that they were getting the tingi version of GOT7 this July 2022, they low-key-were correct. Not only will Youngjae have a fansign in Manila, so too will BamBam. And the best part is that the Thai rapper will also have a fanmeet in Cebu, a rarity for foreign acts in general. On July 26, the Thai rapper will be holding a fansign in Manila in Cebu. And on July 28, he'll be flying north for this Manila fansign, a day before his concert in the city. Check here and here for details on how you can go.
2022 K-POP MASTERZ IN MANILA
If you think July 2022 was going to end quietly in terms of K-pop, you thought wrong. The month started hot and it will end hotter. PULP Live World is bringing us 2022 K-pop Masterz In Manila that features a stacked lineup of BamBam, Jackson Wang, and TREASURE. The event will be three hours long, which means each artist gets one hour to entertain the crowd at the Mall of Asia Arena on July 29.
Continue Reading: 7 Moments When AC Bonifacio Was Low-key The K-pop World's Favorite Dancer