When your dance covers are so good that artists like BTS and BLACKPINK take notice, you are top tier. Now, see AC Bonifacio living every K-pop fan's dream.
Related: She'll Keep Dancing Through: There's No Stopping AC Bonifacio Now
Ever since she was a young girl, AC Bonifacio has charmed and shook the world with her dancing skills. And as she has gotten older, AC has continued to improve her craft to deliver sharp performance after sharp performance. Her talent and level of dancing has gotten her attention and praise from all over the world. And that extends into the world of K-pop. When you're a dance prodigy, it's not that hard for people to rave over your talents. But it's even more impressive when some of the biggest names in K-pop have noticed you. But tbh, we aren't that surprised that AC has fans in the K-pop world. Here are just some of the times AC Bonifacio caught the attention of K-pop idols.
WHEN SHE TOOK SECOND PLACE IN BLACKPINK'S DANCE COVER COMPETITION
Whenever AC Bonifacio releases a dance cover to a BLACKPINK song, you know it's going to be a moment. And her cover for BLACKPINK's How You Like That was no exception. It was so good in fact that it won second place in the How You Like That global dance cover competition. AC ate it up so hard that even BLACKPINK had to stan. Speaking of BLACKPINK, AC is also one of the lucky few to receive the Jennie x Gentle Monster PR package.
SHE GOT PRAISED BY SOME OF THE BIGGEST K-POP CHOREOGRAPHERS
It's not just K-pop idols that AC Bonifacio has impressed with her dancing skills. The people behind the choreography some of the biggest K-pop songs are also fans of AC. In particular, Kyle Hanagami and Kiel Tutin have both praised AC for her skills and dance covers to the songs they choregraphed. Her Kill This Love dance cover got their approval while Kiel Tutin has also shown love to AC's cover of Money.
SOMI DUETED ONE OF HER TIKTOKS
While it's the dream for many, it's rare that for people who post dance covers on TikTok for the original artists to notice them. That wasn't the case for AC Bonifacio. In 2020, AC posted a TikTok of her doing a cover to SOMI's What You Waiting For. And lo and behold, SOMI herself did a duet to AC's video. The original video was actually a duet with other Filipino creators like Niana Guerrero and Yanyan De Jesus, so we'll take this as a win for the Filipinos.
B.I. COMMENTED ON ONE OF HER VIDEOS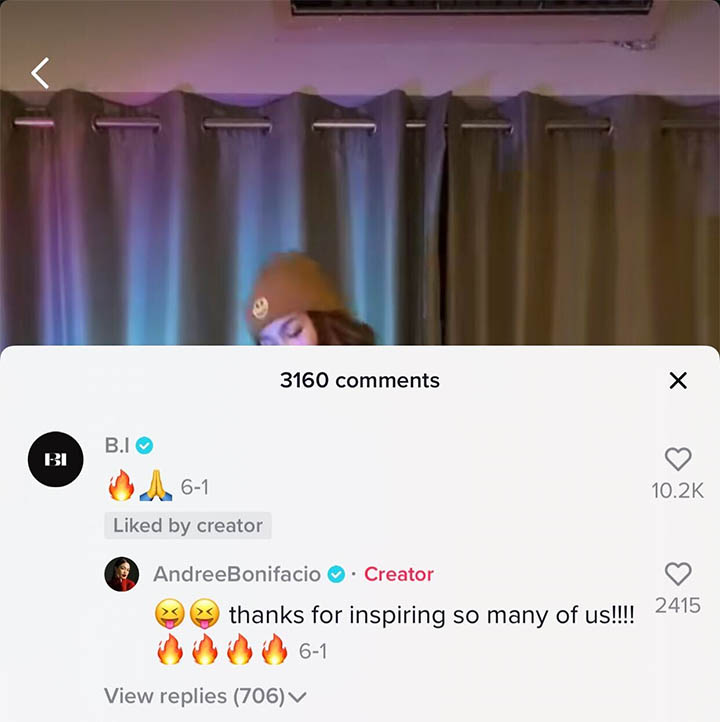 Another cover, another notice by a K-pop idol. This time, it was former iKON member and soloist B.I. The video in question was AC's TikTok video of her doing a cover to Got It Like That, his song with Destiny Rogers and Tyle Yaweh. B.I. saw the video and left a fire and praying emoji to show his gratefulness. Even Destiny Rogers commented on the video and complimented AC.
BTS LIKED AC'S COVER TO BUTTER
Not only is AC Bonifacio one of the stars of her generation, but she's also a successful fan girl, too. Back in 2021, the official TikTok account of BTS liked AC's dance cover to their song, Butter. The fact that millions of people have covered that song yet AC was one of the lucky few to get that coveted like is truly amazing. And when she found out, she reacted like how we would react if BTS noticed us. Really, sames.
SHE'S BESTIES WITH SORN
AC has achieved many things in her life. And she can add being IRL besties with a K-pop idol to her long list. In 2021, Thai K-pop idol and former CLC member Sorn went on an Instagram Live with AC. On it, she revealed that she kept on seeing AC and her friends' dance videos on TikTok and it impressed her so much that she followed them on social media. Sorn used to follow AC on Instagram for a time, but the two remain friends to this day. Sana all AC.
SHE WAS FEATURED IN THE OFFICIAL DANCE VIDEO FOR GOIND DUMB
Imagine being so good at what you do that your worthy to represent your country in a global video. That was the case for AC Bonifacio when was chosen as the Philippines' representative in the Going Dumb (Dance Around The World Video). The video, which was for Alesso's collaboration with Stray Kids and CORSAK, sees AC open it up as she dances in front of the EDSA monument and Rizal Park.
Continue Reading: 6 Times Niana Guerrero Was Noticed By K-pop Idols And Made Us Go, Sana All