NYLON MANILA allows you access to the NYLONMANILA.COM website (the "Website"). The Website is comprised of various web pages operated by NYLON MANILA. This Terms of Use shall be applicable to all web pages operated by NYLON MANILA. The Website is offered to you conditioned on your agreement to the terms and conditions of this Terms of Use. Your use of the Website constitutes your agreement to all such terms, conditions, and any rules of conduct as NYLON MANILA may implement.
LINKS TO THIRD PARTY SITES
Other than the web pages operated by NYLON MANILA which are linked to the Website, the Website may contain links to other websites (collectively, the "Linked Sites"). The Linked Sites are not under the control of NYLON MANILA and NYLON MANILA is not responsible for the contents of any Linked Site, including without limitation any link contained in a Linked Site, or any changes or updates to a Linked Site.
NYLON MANILA is not responsible for webcasting or any other form of transmission received from any Linked Site. NYLON MANILA is providing these links to you only as a convenience, and the inclusion of any link does not imply endorsement by NYLON MANILA of the site or any association with its operators.
PARENTAL GUIDANCE
While NYLON MANILA may choose to monitor and take action upon inappropriate Content, chat or links to the Website, it is possible that at any time there may be language or other material accessible on or through the Website that may be inappropriate for children or offensive to some users of any age, nationality or culture. NYLON MANILA cannot ensure that other users will not provide Content or access to Content that parents or guardians may find inappropriate or that any user may find objectionable. NYLON MANILA does not as a matter of policy pre-screen the content of the materials or communications transmitted by each user. It shall be your responsibility to screen and access Content that are appropriate to your age level and further warrants that you have secured the necessary consent and advice from your parents and/or guardian to avail or use.
COOKIES
Cookies are small pieces of text sent by your web browser by a website that you visit. A cookie file is stored in your web browser and allows the Website or a third-party to recognize you and make your next visit easier and the Website more useful to you. Cookies may be "persistent" or "session" cookies. When you use and access the Website, we may place a number of cookie files in your web browser.
You acknowledge that you allow NYLON MANILA to use cookies for the following purposes: to enable certain functions of the services, to provide analytics, to star our preferences, to enable advertisements delivery, including behavioral advertising.
We use both session and persistent cookies on the Website and we use different types of cookies to run the Website:
Essential cookies. We may use essential cookies to authenticate users and prevent fraudulent use of user accounts.
Third-party Cookies. In addition to our own cookies, we may also use various third-party cookies to report usage statistics of the Website service, deliver advertisements on or through the Website, and so on.
MODIFICATION OF THE TERMS OF USE
NYLON MANILA may amend this Terms of Use at anytime in its sole discretion. Any amendments or modifications to this Terms of Use shall be posted in the Website. It is your duty and responsibility to keep yourself informed of such amendments. Further, your use of the Website after the effective date of any such amendments constitute your agreement to comply and be bound by such amendment, including but not limited to the charges associated with the use of the Website, if any.
NO UNLAWFUL OR PROHIBITED USE
You acknowledge that : (i) by using the Website, you will have access to, among others, software, graphics, news, publications, articles, photographs, sound effects, music, animation-style video and text (collectively, the "Content"); (ii) the Content may be provided under license by independent content providers, including content contributions from members of said independent content providers (all such independent content providers shall collectively be referred as the "Content Providers"); and (iii) that NYLON MANILA and the Content Providers have rights in their respective Content under copyright and other applicable laws, and that you accept full responsibility and liability for your use of any Content in violation of any such rights. You agree that you will not use any Content other than in connection with the use of the Website and for its intended purpose only. You agree that NYLON MANILA has the right, but not the obligation, to remove any Content at any time for any reason including those it deems to be harmful, offensive, or otherwise in violation of this Terms of Use. You acknowledge that you do not have the right to copy, create, publish, distribute, create derivative works from or use any Content except as expressly permitted under this Terms of Use or by the NYLON MANILA.
As a condition of your use of the Website, you warrant to NYLON MANILA that you will not use the Website, or any of its components, for any purpose that is unlawful or prohibited by these terms, conditions, and notices. You may not use the Website in any manner which could damage, disable, overburden, or impair the Website or interfere with any other party's use and enjoyment of the Website. You may not sell or auction any accounts, characters, items or copyrighted material in or from the Website. You may not obtain or attempt to obtain any materials or information through any means not intentionally made available or provided for through the Websites.
USE OF COMMUNICATION SERVICES
The Website may contain bulletin board services, chat areas, news groups, forums, communities, personal web pages, calendars, and/or other message or communication facilities designed to enable you to communicate with the public at large or with a group (collectively, "Communication Services"), you agree to use the Communication Services only to post, send and receive messages and material that are proper and related to the particular Communication Service. By way of example, and not as a limitation, you agree that when using a Communication Service, you will not:
Upload, post, e-mail or otherwise transmit Content that infringes any third party rights, law, regulation or this Agreement; Impersonate any person or entity, including, but not limited to, any employee, officer or representative of NYLON MANILA, its parent company, affiliates and subsidiaries, or falsely state or otherwise misrepresent your affiliation with any person or entity; Defame, abuse, harass, stalk, threaten or otherwise violate the legal rights (such as rights of privacy and publicity) of others. Publish, post, upload, distribute or disseminate any inappropriate, profane, defamatory, infringing, obscene, indecent or unlawful topic, name, material or information. Upload files that contain software or other material protected by intellectual property laws (or by rights of privacy of publicity) unless you own or control the rights thereto or have received all necessary consents. Upload files that contain viruses, corrupted files, or any other similar software or programs that may damage the operation of another's computer. Advertise or offer to sell or buy any goods or services for any business purpose, unless such Communication Service specifically allow such messages. Conduct or forward surveys, contests, pyramid schemes or chain letters. Download any file posted by another user of a Communication Service that you know, or reasonably should know, cannot be legally distributed in such manner. Falsify or delete any author attributions, legal or other proper notices or proprietary designations or labels of the origin or source of software or other material contained in a file that is uploaded. Restrict or inhibit any other user from using and enjoying the Communication Services.
Violate any code of conduct or other guidelines which may be applicable for any particular Communication Service. Harvest or otherwise collect information about others, including e-mail addresses, without their consent. Violate any applicable laws or regulations.
NYLON MANILA has no obligation to monitor the Communication Services. However, NYLON MANILA reserves the right to review materials posted to a Communication Service and to remove any materials in its sole discretion. NYLON MANILA reserves the right to terminate your access to any or all of the Communication Services at any time without notice for any reason whatsoever.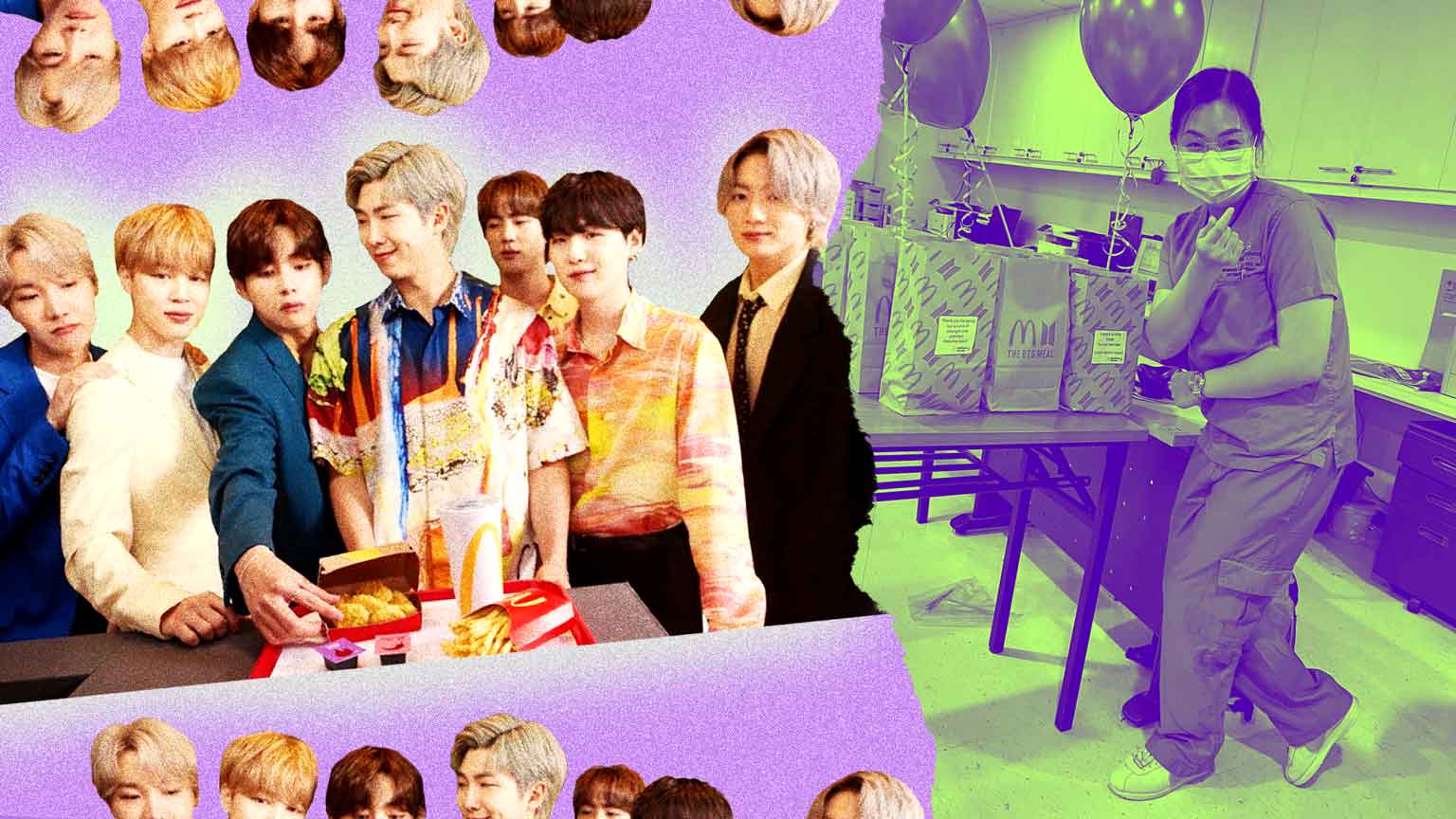 McDonald's Sent Medical Frontliners The BTS Meal As A Thank You For Their Hardwork And Sacrifice
Supporting those who deserve it the most.
Over 2000 medical frontliners were some of the first people to enjoy the McDonald's BTS Meal in the Philippines.
For anyone who has followed BTS's career, you know that love, acceptance, and compassion are some of the main pillars they live by. If you notice and listen closely, it's a recurring theme in their songs and the boys constantly talk about how they want their music to inspire people and make them feel better. This is why they partnered with UNICEF for an anti-bullying campaign and named a whole series of albums Love Yourself. That concept of love, support, and compassion manifested itself right before the launch of BTS meal in the Philippines.
Related: Our 9 Favorite Moments From BTS Muster 2021 Sowoozoo
Surprising Health Care Frontliners
While thousands wait in anticipation to actually get their hands on the meal, the first people to try it in the Philippines were people who arguably deserved it the most, medical frontliners.
McDonald's Philippines, along with its in-house charity, Ronald McDonald House Charities (RMHC), gave over 2000 health care workers the BTS meal on June 16. The meals were distributed across several hospitals and vaccination hubs like the Paranaque Vaccination Center, Capitol Medical Center, Makati Medical Center, and the Veterans Medical Center through McDonald's Kindness Kitchen.
Attached to the BTS meal were notes thanking the frontliners with messages like "Thank you for all the comfort and healing especially in these trying times. Para sa inyo to.' Borahae!" and "We stan a hard-working hero like you. Here's a little treat from us."
McDonald's Kindness Kitchen shares the #BTSMealPH first to over 2,000 medical frontliners today, as our way to thank them for their work and sacrifice. Thank you as well to our @McDo_PH stores, crew, managers, and to everyone who made this possible. pic.twitter.com/81zXQtcvjg

— Kenneth S. Yang (@KennethSYang) June 16, 2021
In a statement, McDonald's Philippines explained that giving the BTS meal was a way for them to recognize the hard work and sacrifice of medical frontliners. "Our medical frontliners have been working tirelessly to keep everyone safe throughout the pandemic. With the launch of the BTS Meal and the overwhelming support McDonald's is getting from the public, we want them to be the first to enjoy the BTS Meal," said McDonald's Philippines President & CEO Kenneth S. Yang.
If you want to learn more on how you can help send meals to frontliners and communities in need, check out the charity's website.
Almost Here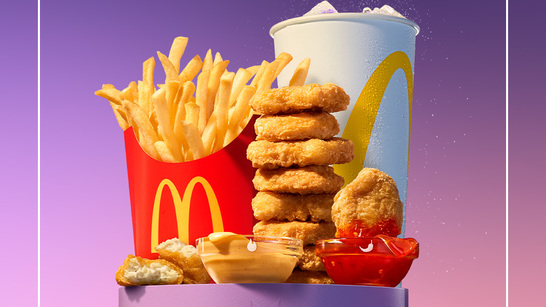 Of course, all of this is happening under the anticipation of the launch of the BTS meal in the country. People who availed of the pre-order promo will be able to get their meal on June 17. Meanwhile, everyone else can buy the meal starting June 18 until sometime in July without the need for a reservation. You can get it through McDelivery, drive-thru, take-out, and dine-in.
The BTS Meal will come with 10-piece Chicken McNuggets, medium fries, and a medium Coke. It will also come with Sweet Chili and Cajun sauces inspired by popular recipes from McDonald's South Korea. Ahead of the meal's launch, McDonald's Philippines has released a Q&A to inform customers of what to expect. It also serves as a reminder of safety protocols to avoid the long and crowded lines seen in other countries. There's also a BTS x McDonald's merch line currently available on BTS's Weverse shop.
Continue Reading: Get Ready To Celebrate BTS's Debut Anniversary Month With A Packed June