From Mingyu's iconic IG post, Jun and Jay's TikTok, to Kuya Kim dancing on national TV, SEVETEEN's HOT era was more than memorable.
Related: Seven Facts That You May Not Know About SEVENTEEN
When SEVENTEEN said drop it like hot, hot, hot, they meant it. An era that began with the release of their first English single Darl+ing, SEVENTEEN's HOT era has been like a full buffet for Carats to feast on. Aside from the fact that we got their comeback single HOT and 4th full length album, Face the Sun, the whole period had its standout moments for fans sink their teeth into. This marked their first comeback of 2022, as well as their highest placement on the Billboard 200 chart to date at No seven. The comeback is also special when you consider that this might be their last comeback as OT13 in a while with the '95 line set to enlist in the military in the coming year. So, as we savor this moment and enjoy what we have, let's look back at some of the memorable moments from the era that will be written about in the SEVENTEEN history book.
MINGYU BECOMING THE INTERNET'S NEW FAVORITE BOYFRIEND
Even if you don't stan SEVENTEEN, then you may have at least heard of Mingyu, a man whose talents equals his good looks. Out of the gate, he got many Carats flustered when this Mingyu fancam went viral for reasons you will understand. But the thirsting went into overdrive when he posted pics of him wearing glasses and a black collared shirt at a restaurant. He looked so fine and was peak boyfriend material. Thank you Jeonghan for taking the pictures.
The images soon went viral as Mingyu broke the internet once more. It became his most liked post on IG to date, and even attracted attention of people outside the fandom. The bf Mingyu photos even went as far as an Eric Nam concert. We don't know what we enjoyed more, seeing non-fans thirst over Mingyu or Carats trying to gatekeep him. Regardless, we are thankful for these iconic pictures and even more thankful that S.Coups decided to bless us with a similar look and pose for his latest IG post.
KUYA KIM PROMOTING SEVENTEEN ON NATIONAL TV
thank you @kuyakim_atienza for promoting seventeen on ph national tv! ? pic.twitter.com/iRxVK8aGoC

— mai ♡ 뀨 (@akitasoundinomg) June 6, 2022
The thing about K-pop is that anyone can be a fan regardless of where you come from. And the latest personality to enter the Carat fandom was host and weatherman Kuya Kim Atienza. In early June, Kuya Kim changed his profile pic on Facebook to that of Wonwoo. He then proceeded to tweet about the group, even attracting the thanks of Hoshi himself. Then, on June 6, he went a step father when he did the HOT challenge live on GTV's Dapat Alam Mo show.
He explained that when he got sick, he saw that many fans were commenting that Kuya Kim looked like Wonwoo and decided to play along. It continued to spiral from there until he did that dance on TV, even showing some of the group's TikToks on screen. From the Gong Yoo comparisons, to Wonwoo, and now dancing to SEVENTEEN on national TV, Kuya Kim's K-pop journey is a trip.
JEONGHAN SHARING HIS LATE NIGHT ESCAPADES
the pic is at 2-3 am..jeonghan begging on his knees to a very drunk dino to take a taxi but dino doesn't want to at all cost…they were drunk fighting over taxi…
hao is laughing at the side.. pic.twitter.com/3ql10ooUu0

— mi 원우지 (@miwon17_) June 5, 2022
Most idols normally don't reveal too much about themselves when on V-Live. But not SEVENTEEN. And during a recent V-Live with DK, Jeonghan, and Seungkwan, it was a mess in the best way possible. Things already got crazy when Jeonghan said that he wanted to invite a non-idol guest. But it got even better when he shared the story of when he and DK fought over a taxi. One night, they went out drinking and Dino got quite drunk. Jeonghan then called a taxi for him but Dino refused to go. He then begged him to go, even going on his knees on the street all while Minghao was at the side laughing. Jeonghan probably shouldn't have shared that story, but we're grateful for him as it gave us a new look into the lives of the group. Imagine walking on the street and coming across that scene.
IU AND SEVENTEEN
We love it whenever SEVENTEEN gets to interact with other idols (more on that later) and during their HOT era, some of the members got to interact with IU. Hoshi, Woozi, DK, Dino, and Seungkwan were a guest on IU's YouYube show, IU's Palette. Highlights from the episode include DK sharing that he tried to be friends with her on social media, Hoshi swatting a bee from IU's skirt, the members singing HOT live with a band, and IU covering their song Darl+ing.
JUN TRYING TO SAY THE NAME OF THIS PINOY CARAT
Fancalls with a K-pop idol are always moments where you can expect the unexpected. For example, a Carat got Jeonghan to say gaslight, gatekeep, girlboss. And one Filipino fan had luck on their side with this cute moment with Jun. When it was his turn to speak to the fan, Jun was trying to say her first name, Julie, and her last name, Villafuerte. (For any Carats out there with this last name, you know have a clip of Jun saying it.) We love though how he did all that just to say the fan's name. Green flag behavior if you ask us.
SEVENTEEN BEING THE BEST SENIORS TO ENHYPEN
During the HOT era, SEVENTEEN was very active on TikTok dancing to HOT and participating in viral dance trends. They also invited a few K-pop idols to dance with them like TXT and Le Sserafim. But we were most happy to see them dance with members of ENHYPEN. Back in 2020, some of the members of SEVETEEN got to meet the group during I-Land and seeing them together now as debuted idols warms the heart. There's Hoshi and Seungkwan dancing with Sunghoon, Hoshi with Sunoo, Jeonghan and Seungkwan with Jungwoo, and our favorite, Jun with Jay. SEVENTEEN is really here to claim the label as best seniors to ENHYPEN.
THE FITS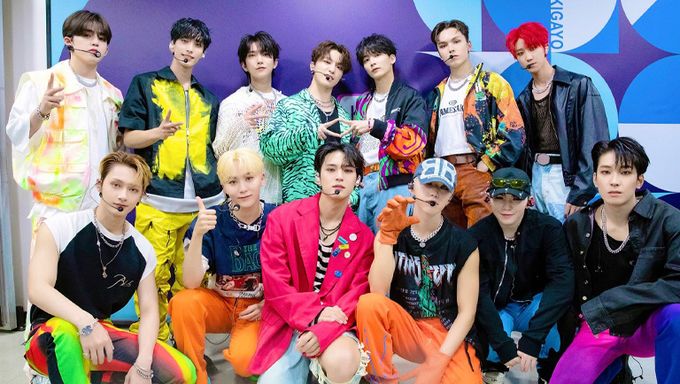 SEVENTEEN always looks good, but their looks for the HOT era hit different. Their stylist needs to get a raise once promotions are over because they not only understood the assignment, but did the job and more. All their fits ate, though the see-through shirts were something else. Minghao and Jun in particular came in hard during this era.
Continue Reading: These Edits Of K-pop Idols As UAAP Students Are What College AU Fanfics Are Made Of