To think that SB19 has given us enough content for 2021, the group is set to drop the music videos for Ligaya, No Stopping You, and SLMT before the year ends.
Related: SB19 Makes History As They Beat BTS To Get Their First Number One On A Billboard Chart
You would think that with everything SB19 has done and achieved this 2021, the group would use the upcoming holidays as a time for rest and relaxation. After all, the year alone saw them drop an EP, do three concerts including a two-day show at the Smart Araneta Coliseum, shoot countless promo, content, commercials, and much more. Yet, SB19 is not yet done, far from it in fact. Instead, the group is set to make the holiday season packed and busy with a series of events, releases, and other fun activities. It's like Christmas came early for A'TIN.
A VERY BUSY HOLIDAYS FOR SB19
On December 15, SB19 released their holiday schedule and to the surprise of some, it was packed with events nearly every day from December 18 to 31. Here's a rundown of what to expect within the next two weeks from SB19. On December 18, Our Zone Day 1 will be screening in Gateway Cineplex. More excitingly, the official audio and music video for Ligaya will be released. The song was first heard and performed during their Our Zone concert. While the official audio release was already exciting as it is, the fact that they shot a music video for it makes it even better.
On December 19, Day 2 of Our Zone will be screening at Gateway Cineplex. Also, ShowBreak Christmas Special Pt. 1 will be dropping on the same day. For those unfamiliar, ShowBreak is like SB19's variety show they post on their YouTube channel where they do fun tasks and activities.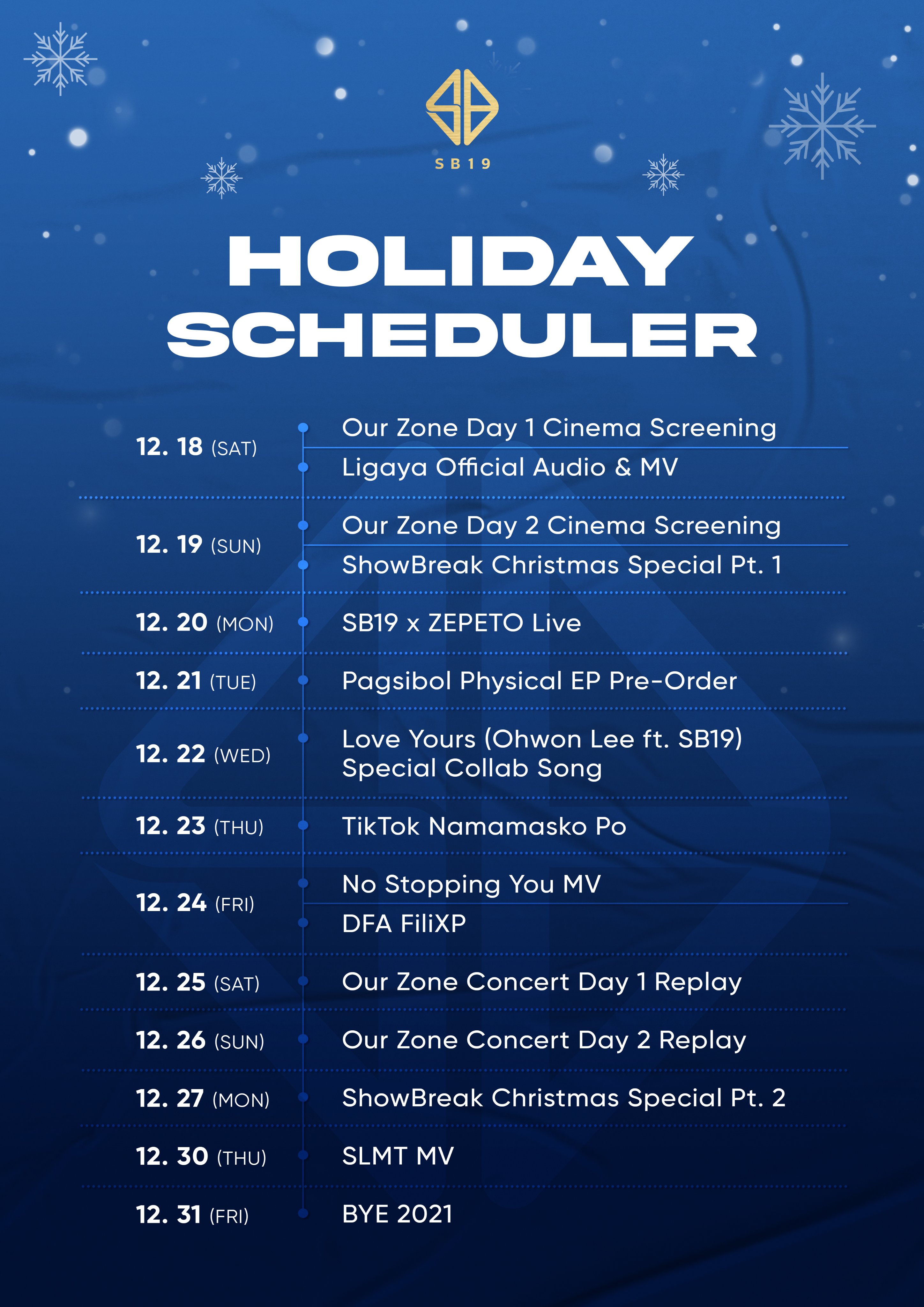 December 20 will see SB19 go live on the Zepeto video game. For those who have been wishing to get your hands on a physical version of their Pagsibol EP, your wish has ben granted. They are officially opening pre-orders for the physical EP on December 21. We're getting a new song on December 22 as SB19 and Ohwon Lee are dropping their collab song, Love Yours. December 23 will see the group be part of TikTok's Namamasko Po online concert. The group will be dropping an early Christmas gift for A'TIN with the release of the No Stopping You music video as well as their participation of DFA FiliXP.
END OF THE YEAR ACITVITIES
On Christmas day, aside from watching Love At First Stream (so that you can hear NTY), you can also relive or watch for the first time day 1 of their Our Zone concert through the replay. December 26 will see the replay of Our Zone Day 2 while part 2 of their ShowBreak Christmas Special is dropping the next day, December 27. As a fitting way to end 2021, SB19 will be releasing the official music video for SLMT on December 30 while the event for December 31 is simply titled BYE 2021.
SB19 really said save the best for last and we're here for it. Given how epic the music videos for What? and Bazinga were, we're excited to see what the boys have cooked up for their upcoming three music videos.
Continue Reading: Meet Irmay Ledesma, The Creative Mind Behind SB19's Pagsibol Era Visuals