Catch SB19 and 4th Impact together on stage for the first time while backed by a live orchestra and choir in Forte, a benefit concert.
Related: SB19 Were Very Much In The Zone During Their Back In The Zone Online Concert
If you watched SB19's Back in the Zone concert last August, then you know that 4th Impact performed as one of the opening acts. The girls did an amazing job, and it was a missed opportunity for the group to perform with SB19. But if you ever dreamed about SB19 and 4th Impact performing together, dream no more as that is now going to become a reality soon.
Forte: A Pop Orchestra Concert
SB19 and 4th Impact are set to appear and perform in the upcoming online concert Forte. A show unlike anything they have done before, Forte is a benefit pop orchestra concert hosted by Sr. Baptista Battig Music Foundation. SB19 and 4th Impact are joining forces to headline the show, which will see the groups perform special renditions of their hit songs. So, be prepared to get washed away by the groups' vocals. And even better, you will also get to see their first-ever collaboration together.
Along with the two groups, orchestral soloists Nicole Pugeda and Isaac Iglesias, the Battig Chamber Orchestra, and the SSC Chamber Choir are also set to perform at Forte. So, aside from pop performances, you'll also get treated to classical music. In Forte, expect to see a fusion of classical and pop music as P-pop artists and classical musicians come together to entertain and inspire.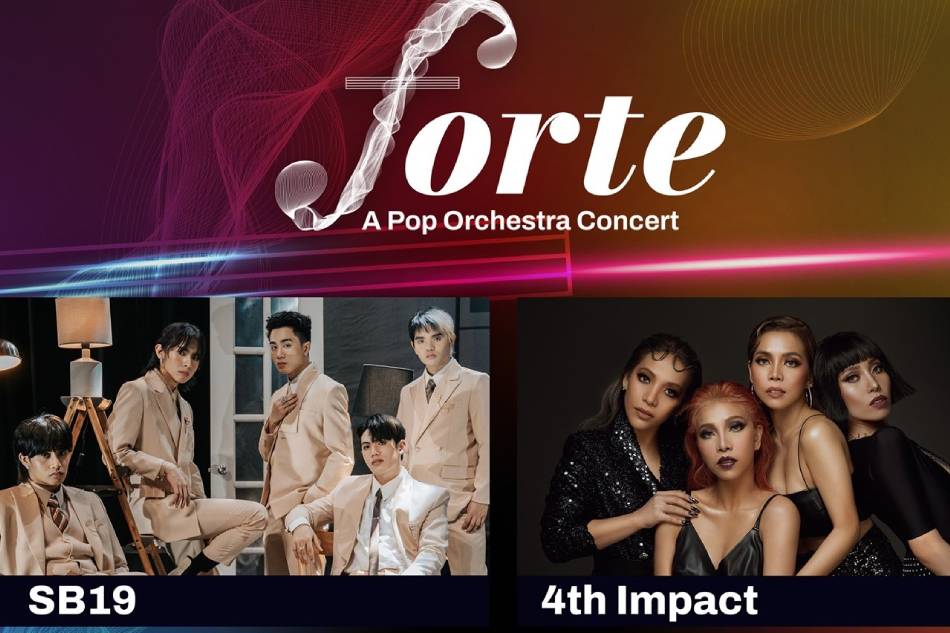 And the best part about Forte is that all proceeds from the show will benefit the Sr. Baptista Battig Music Foundation Scholars who are currently part of the music program in the Conservatory of Music of St. Scholastica's College. The proceeds will aid in their continuing education as artists and musicians.
WHEN'S THE SHOW AND WHERE TO BUY TICKETS
Forte will be held on October 17 (Sunday), with multiple shows. The first will be at 11 AM and the second one will be later that day at 8 PM (PH Time). Tickets are available at KTX.PH and fortetheconcert.com. You can buy now to avail of the Early Bird special to get them at a discounted price. The Early Bird sale lasts until September 19. Regular pricing will begin starting September 20.
There are three ticket options available for Forte. The first is general admission which will cost P799 for Early Bird and P1000 for regular. The second is a packaged general admission and raffle ticket that costs P1599 for Early Bird and P1999 for regular. The third option is just a raffle ticket that will set you back P1000. You can buy at least one ticket per transaction for general admission and raffle ticket package (via fortetheconcert.com) and up to five tickets per transaction for general admission (via KTX.ph).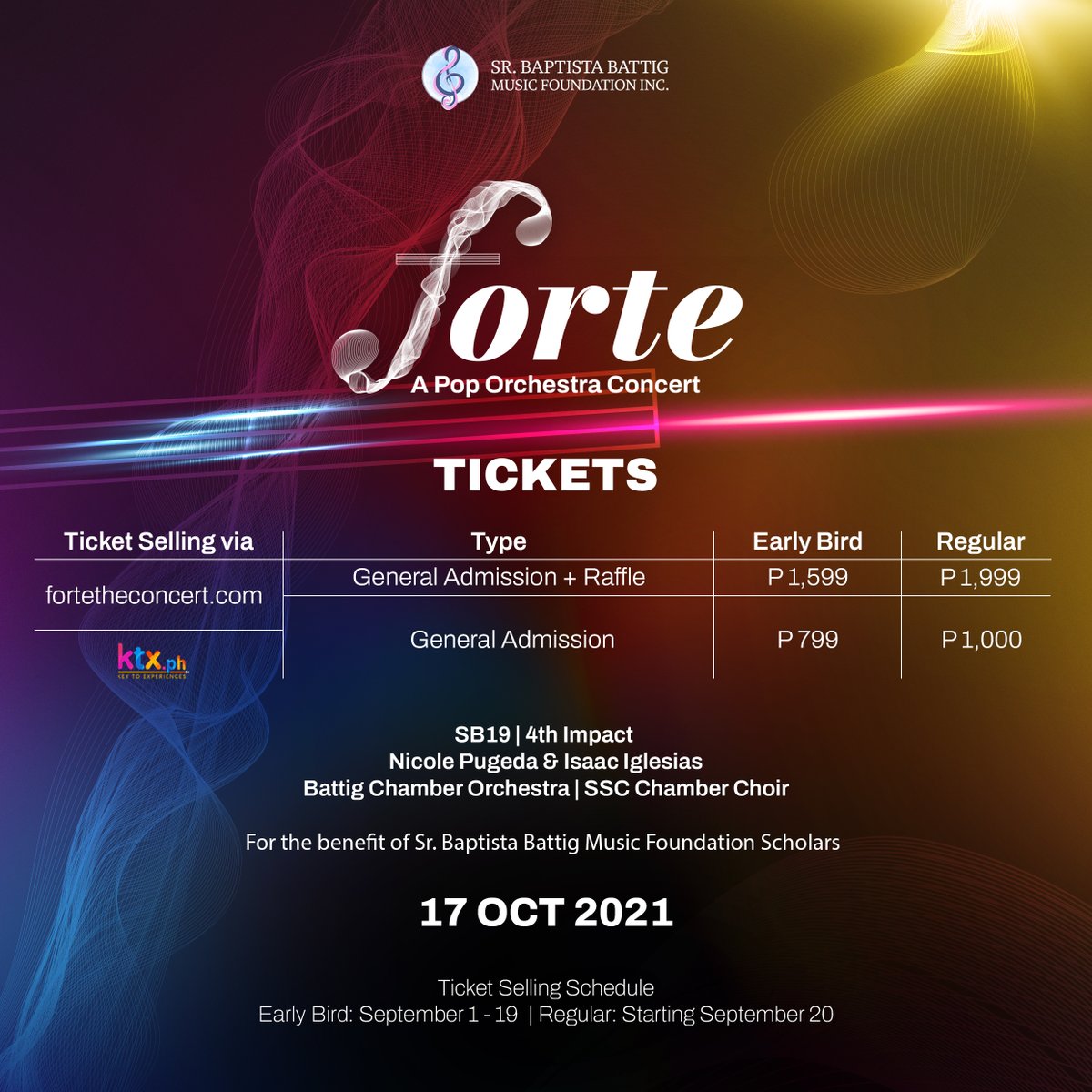 Raffle ticket holders have a chance to win special prizes, Iwata products, and the grand prize of a brand new car, an MG ZS Crossover. (Yes, you read that right.). Not only do you get to see SB19 and 4th Impact perform together for the first time, but you'll also help talented but underprivileged youth and get a chance to win prizes, too. What's not to love about that?
Continue Reading: But Wait, There's More: SB19 Teases The Possibility Of Their Future In The Explosive Back In The Zone Concert