While it may be the end of DRIPPIN's Villain series, it's just the start of a very promising career that's still ahead of them.
Related: How Golden Child Is Still Keeping Things Fresh Even After 5 Years In The Game
Making a trilogy album is quite ambitious. It's a feat that's not often done in music because not only do you need to have an overarching theme among the releases, but each one also needs to stand out on its own. So, when K-pop rookie boy group DRIPPIN dedicated their 2022 to the release of their Villain series, it was a career move that came relatively early. They just celebrated their second anniversary back in October. But if there's one thing you need to know about this second-member boy group from Woolim Entertainment, it's to never put them in the box. Not only were Villain, Villain : ZERO, and Villain : The End, strong releases, but they managed to surprise us every time.
Villain, the song, is a funky and catchy bop, ZERO brought the rock, while The One, a play on the number 1 and the Korean word "won," excites the ears with its mix of pop, drum and bass with nu metal sound guitar riff, and EDM. DRIPPIN worked hard not just for this comeback, but the series as a whole, and it showed. Ahead of the release of Villain : The End, which serves as both the trilogy's closer and their debut album, NYLON Manila got a chance to speak with the group as they opened up about their new music, EXO, and more.
Read on below for the full interview.
If you met someone who has never heard about the group, how would you describe DRIPPIN to them?
YUNSEONG: DRIPPIN debuted in 2020, and as you notice in our songs, it is our strong point that we are able to reinterpret various genres of songs in DRIPPIN's own style. So, please take a close look at our charming qualities.
How are you feeling now that the Villain series is coming to an end?
MINSEO: I have mixed feelings about it. I have always thought it was an interesting worldview to work with, and I think deeply to myself about what worldview or songs I would like to show the fans in the future.
Considering how [Villain : The End] not only closes the trilogy but also is your first full album, did that change the way you approached making it as compared to your past releases?
CHANGUK: During the album preparation, there were so many songs that the members were fond of, so we put a lot of effort to make the best result when recording. The biggest difference during the preparation of this album was that we had no idea, which song was going to be the title song for the album.
If you could describe the Villain series in three words, what would it be?
ALEX: Never, Seen, Before.
What lessons did you learn from your Villain series that you are hoping to apply to your future releases?
DONGYUN: We have successfully pulled off the Villain concept and we have learned a lot from it, so I believe this experience will aid DRIPPIN with any upcoming concepts.
The Villain series was a new experience for the group but you guys knocked it out of the park. What new challenges, genres, styles, or concepts are you hoping to conquer in the future?
YUNSEONG: I would like to try the refreshing and slightly sexy songs like the song 'Love me right' by EXO.
What is one thing about DRIPPIN that you wish more people knew about you?
JUNHO: That our colors are not limited!
What do you think DRIPPIN has that helps you stand out from the crowd?
HYEOP: Our various songs, as well as performances and different characters that go along with our songs create a unique charm for DRIPPIN, which makes us stand out among other groups!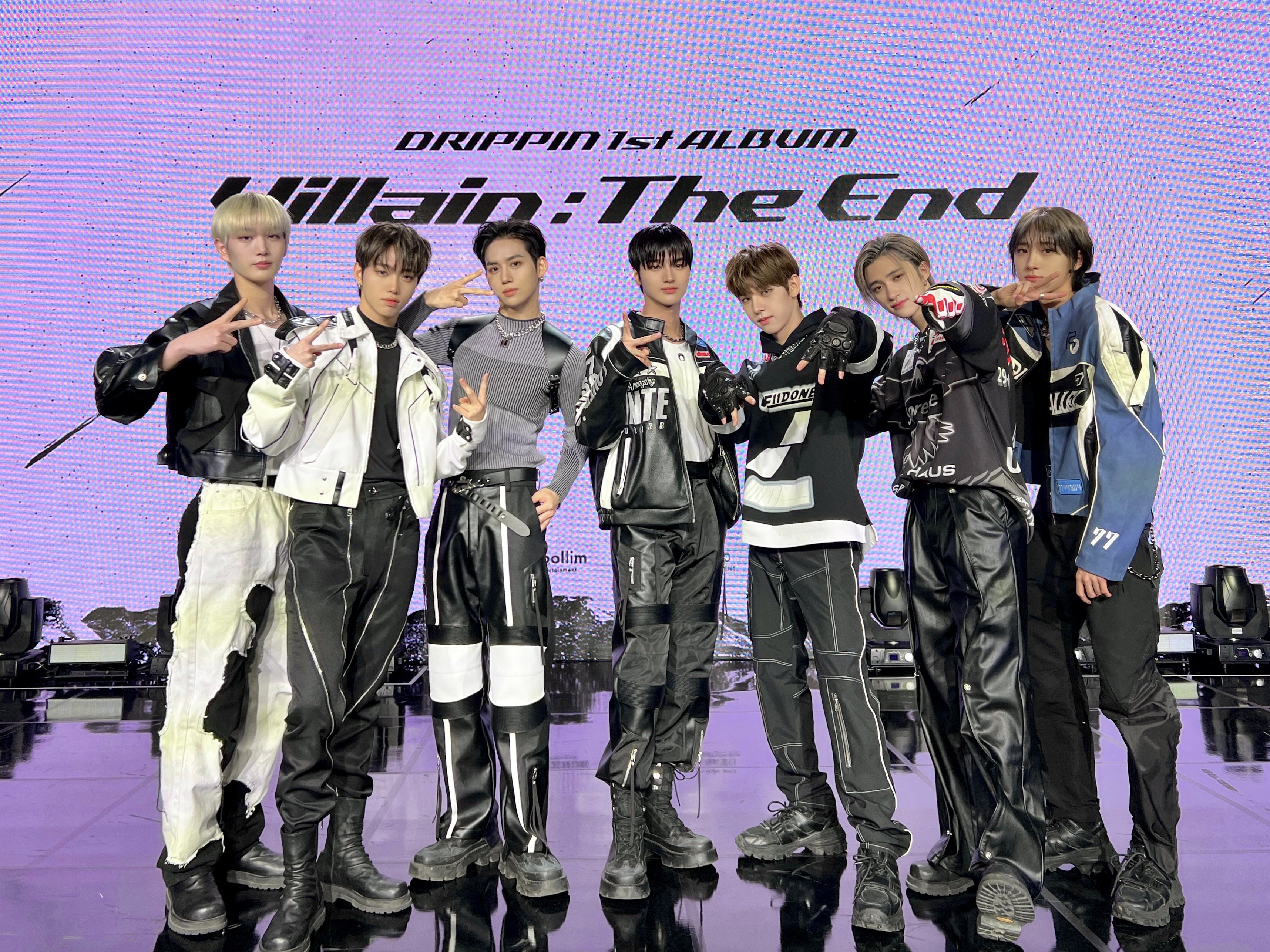 If you could make a DRIPPIN playlist for would-be DREAMIN (name of their fans), what songs would be in it?
JUNHO: I recommend listening to Nostalgia, Delusion, and DEJA VU.
What message do you have for your fans?
MINSEO: Thank you so much for supporting us from far away! As much as you support us, DRIPPIN will repay you with great performances!
Continue Reading: With 'FLASH,' The Girls Of Rocket Punch Deliver Their Best Yet