In episode 6 of season 2 of He's Into Her, Donny Pangilinan and Belle Mariano reach a new level of their top-tier chemistry.
Related: He's Into Her Season 2 Episode 5 Recap And Review: Change For The Better
Did someone say kilig? Because that's what episode six is delivering in droves. We always knew that the chemistry between Donny Pangilinan and Belle Marinao was strong, but it hits different this episode. And aside from that, He's Back is intriguing plot wise and finally gave Kaori Oinuma's Michiko her most substantive moments of the season so far.
HAPPY MONTHSARY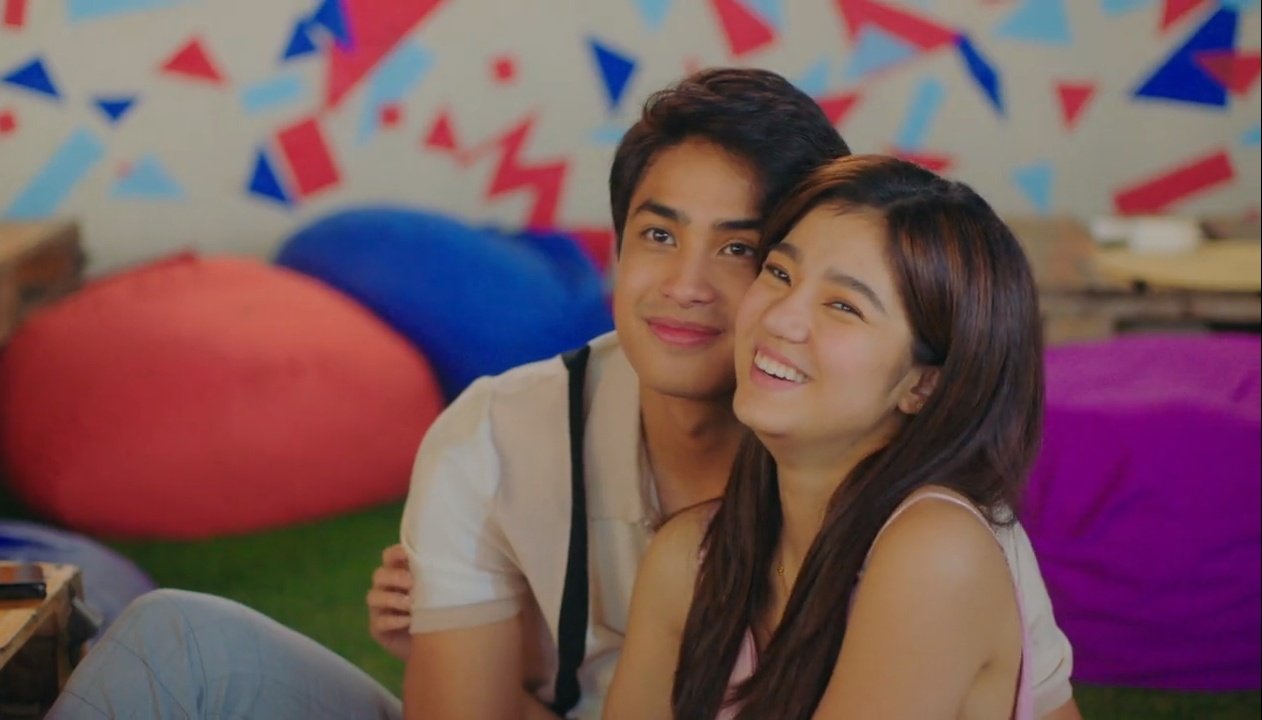 The weekend is here, but more importantly, it's the monthsary of our main three couples. Deib, bonsai gift in hand, goes to ask permission from Max's dad if he could take Max out on a date. While Tito Maxim still has his doubts, he agrees and tells him to prove what Max said about him during the trial right, in essence showing that he is trusting Deib and Max. Later on, we find the whole gang and Deib's new Southbay friends at Kurt's videoke place. Together, they celebrate life, friendship, and of course, love. While everyone hits the dance floor, we find Michiko sulking as she can't celebrate her monthsary with Tob. That is until she gets a call for a reservation under Tob's name. She leaves the places and races for the restaurant.
Meanwhile, we find the other characters opening up about their struggling love lives. Elle tells Migs that if she can't find someone to love, she wants it to be him. Migs then says that she can love her, but only if he can't find a guy to love him. Ysay is still alone while Lorde isn't 100% sure about his prospects with Khloe. Lee then prepares the song he wrote for Naih. And in a twist, Ysay is the one who sings the song because Lee doesn't think he can do the song justice. It probably would have been a real gag if Ysay and Lee sang the song as a duet. But the episode was saving more twists for later.
KILIG, COURTESY OF TAGSEN
Look at them after the kiss!?

HIH2 CELEBRATION#DonBelle #HesIntoHerSeason2#HesIntoHerS2E6 pic.twitter.com/nVGRHPadOu

— … (@itssmeTink) May 25, 2022
Slipping past the crowd, TagSen decide to have their date night nearby. And Deib, being the sweet lover he is, surprises Max with a dinner by a field of purple flowers and a heart at the center. It's one of the most stunning shots in the season so far. And it's made even more memorable by what Deib and Max do next. The chemistry between the two was electric. On one hand, we wanted them to get a room. But on the other, we wanted to see every second of it. After dinner, Deib gives Max his monthsary gift, which is a promise ring. Max then gives Deib her monthsary gift, which is love coupons based on the love languages that Deib can redeem anytime.
And by anytime, it means now because Deib uses the physical touch card and asks Max to reenact their first kiss. They then go at it but Deib puts the paper between their lips. But even if that was the case, the kiss scene was hot and the steamiest we've seen TagSen together. Even if their lips didn't touch, we felt the feels. We very much wanted to be the paper during the scene. Fun fact, that scene was actually shot during Donny's birthday so we feel that he must have had a nice 24th birthday.
PRINCESS CHARMING
I'm so satisfied with today's episode!
No more crying na ah michiko ?@kaori_oinuma #KaoriOinuma#HesIntoHerS2E6
HIH2 CELEBRATION pic.twitter.com/42Kn0mULs4

— serendipity (@_ytipidneres_) May 25, 2022
But while TagSen was heating up the flower garden, Michiko's heart was breaking into more pieces. While she initially thought that she was going to see Tob again, it turns out that he booked the table before his family had to leave. Sobbing and heartbroken once more, she decides to visit Dale at the hospital. There, she confides in him all her emotions, similar to what he did to her back then. Even though Michiko was the only one talking in the scene, Kaori carried it all the way through. You could feel the emotions emanating from her words and actions as she talks about feeling hurt and like she lacking and isn't good enough.
It turns out that a good cry is all that Dale needed as finally, he awakes from his coma, which leads to a heartwarming family reunion between the Enriles. The next day, Michiko visits Dale, who still can't speak or move his body, in the hospital and offers him cookies. The two then share a wholesome exchange.
As for Tito Boyet, while he initially pushes through with the plan, he decides to high tail it out there which doesn't bode well for him and his family. The episode ends with Max, her lola, Tito Boyet, Randall, and Zell having breakfast together. From family lineage, the conversation goes to what happened to Dale, with Tito Boyet realizing that he was at Dale's shooting with everything coming back full circle. Just when you think people can be happy, there's always something happening. It really is only a matter of time before the truth is revealed.
KILIG BEFORE THE STORM
#TagSen : you and me, always and forever. ?

HIH2 CELEBRATION#DonBelle | #HesIntoHerS2E6 pic.twitter.com/su9QaYgFHI

— sierra (@doughnbel) May 25, 2022
When it came to He's Into Her season one, most of the best episodes were in the season's second half. And it seems that season two is continuing that trend. Following the strong episode five, episode six is another eventful chapter in the lives of these young Benisonians. For starters, the scene with Deib and Max at the flower garden is one of the best TagSen scenes in the whole show. The chemistry was undeniable and we loved watching them.
The episode also gave Michiko that character depth we were looking for. Seeing her break down like that was so sad, but it gave her the development that she needed for the season. Kaori Oinuma was also able to flex her acting muscles more this episode which is also nice. And seeing Dale finally wake up from his coma added an exciting new dimension to the story. In particular, the relationship between Michiko and Dale might just be the sleeper hit of the season. And of course, Tito Boyet's time hiding his past will probably end soon. Papunta pa lang tayo sa exciting part indeed.
Continue Reading: He's Into Her Season 2 Episode 4 Recap And Review: He's Innocent, Your Honor