From Instagram link-up to real life, Francine Diaz finally manifested meeting up with Ham Sung-Min in person.
Related: Oh, Sana All: 6 Times Francine Diaz Caught The Eye Of International Stars
Aside from being a talented actress, Francine Diaz is also a vocal fan of K-culture. In particular, Chin has expressed her love of K-pop and K-dramas on numerous occasions. It's no secret that she's a vocal EXO-L and even attended one of their concerts in Manila. On the K-drama side, she, like many of was, became a fan of the early 2022 hit All Of Us Are Dead. And like with any fan, she looked up the cast's socials on Instagram. But Francine is truly blessed because not only was she able to get the attention of two of the show's stars, but she recently met and had dinner with one of them, Ham Sung-Min, in South Korea.
A PROMISE KEPT
In case you're confused, let's rewind the clock to how all this went down. Back in February 2022, Francine got social media talking when the show's male lead, Yoon Chan-Young, replied to a DM Francine sent him on Instagram. That was soon followed by how Hang Sung-Min, who played the lovable Gyeong-su, followed Francine on Instagram, making her just one of the 248 accounts he follows. But there's more to the story than just him following her.
FRANCINE DIAZ IS WINNING, GYEONG SU STARTED FOLLOWING HER ON IG!! OMG KA FRANCINE SANA ALLL pic.twitter.com/NKGZsqHzAB

— lex (@carrellover) February 3, 2022
According to Francine, she sent him a message thanking him for being part of the show and sharing love on behalf of Filipino fans. He then replied and the two then exchanged messages for a bit including how he was surprised that Francine is a celebrity. Sung-Min then asked Francine to check if the translation of something he was going to post was correct.
After that, he asked her what he could do to repay her, and Francine, taking advantage of the moment, asked for a video greeting from him and the cast for her birthday. Sadly, he didn't give it, but he did tell her that if ever she comes to South Korea, they should meet up. Fast forward to today and that promise was fulfilled.
K-DRAMA LINK-UP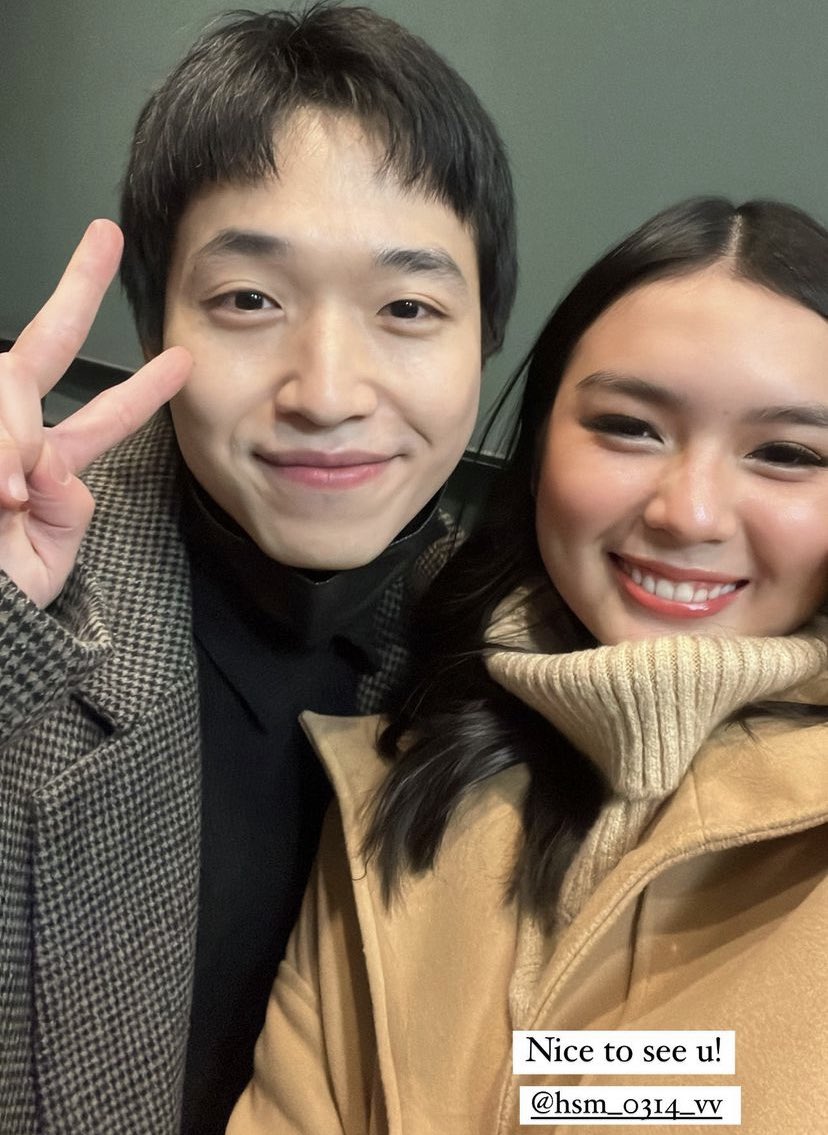 Recently, Francine has been on vacation with her family in South Korea, as well as watched Manny Pacquiao's exhibition match against DK Yoo. (Pacquiao won it unanimously.) Given how Chin was in the country, it proved the perfect opportunity for her to see Sung-Min. And true enough, the two actors, along with Francine's manager and family, had dinner last December 10 at Myeongdong. What exactly they talked about, we aren't sure. But as seen in photos Chin shared on her IG stories, the two looked like they had a good time.
This isn't the first time Francine has met a K-drama star up close. There was the time that she had a moment with Kim Soo Hyun during his Manila fanmeet earlier this year. But not everyone can brag that they had Korean barbeque with a K-drama star, except for Francine. Needless to say, someone's been having a fun time in Korea. Francine in a K-drama when?
Continue Reading: From IG Live To Real Life, AC Bonifacio Finally Met Her K-pop Bestie Sorn