How does it feel to live a dream? Francine Diaz was most of us when she got to meet Kim Soo Hyun in person.
Related: Francine Diaz Is A Lover In Mourning In Zack Tabudlo's 'As You Are' Music Video
While some may see these stars as unreachable personalities on high perches, in reality, most of them are just people with their own wants and emotions. And that also extends having their own faves. You see, your idols can and do have their own faves to the point where they even fangirl hard over their own idols. And one such celebrity is Francine Diaz, the Gen Z actress and star who has legion of fans. Yet, she herself has had her fangirl moments with her idols, particularly that of K-pop idols and K-drama actors. Whether it be commenting on EXO Sehun's IG live or making friends with K-drama actors, the noted K-lover is a fangirl at heart. And she recently added to her enviable list of sana all moments when she got to meet K-drama star Kim Soo Hyun.
SANA ALL FRANCINE
On June 10, Kim Soo Hyun held a fanmeet at the Mall Of Asia Arena called One Extraordinary Day. The event was in partnership with Bench as he is one of their ambassadors. It was a fun and special time for both the many fans who filled the arena and for Soo Hyun himself. Among the many things that happened during the event include Kim Soo Hyun doing a Filipino tongue twister and getting to make halo-halo. The It's Okay to Not Be Okay star was even spotted getting emotional and teary eyed seeing all the Filipino fans in attendance. Pinoy fans made sure to give him as much love as possible and he felt it.
And one fan who contributed to that was Francine Diaz. She was in attendance at the fanmeet and as a Bench ambassador herself, sat at the VIP section alongside other stars like Lovi Poe. During a segment of the fanmeet, a select group of fans lined up on stage to meet and get a poster from Kim Soo Hyun himself, and that included Francine. Dressed in a beautiful white dress and heeled sandals, the 18-year-old actress lined up like the rest of them and patiently waited to meet the K-drama actor.
And when she finally did, she got to briefly meet and talk to him up close. After the encounter, she left the stage excited and emotional all at once, launching a thousand sana alls across social media. High-key we would do the same if we got to meet Kim Soo Hyun in person. And in fairness for Francine, when fans say pumila ka, she did. She even shared the kilig moment on her IG story.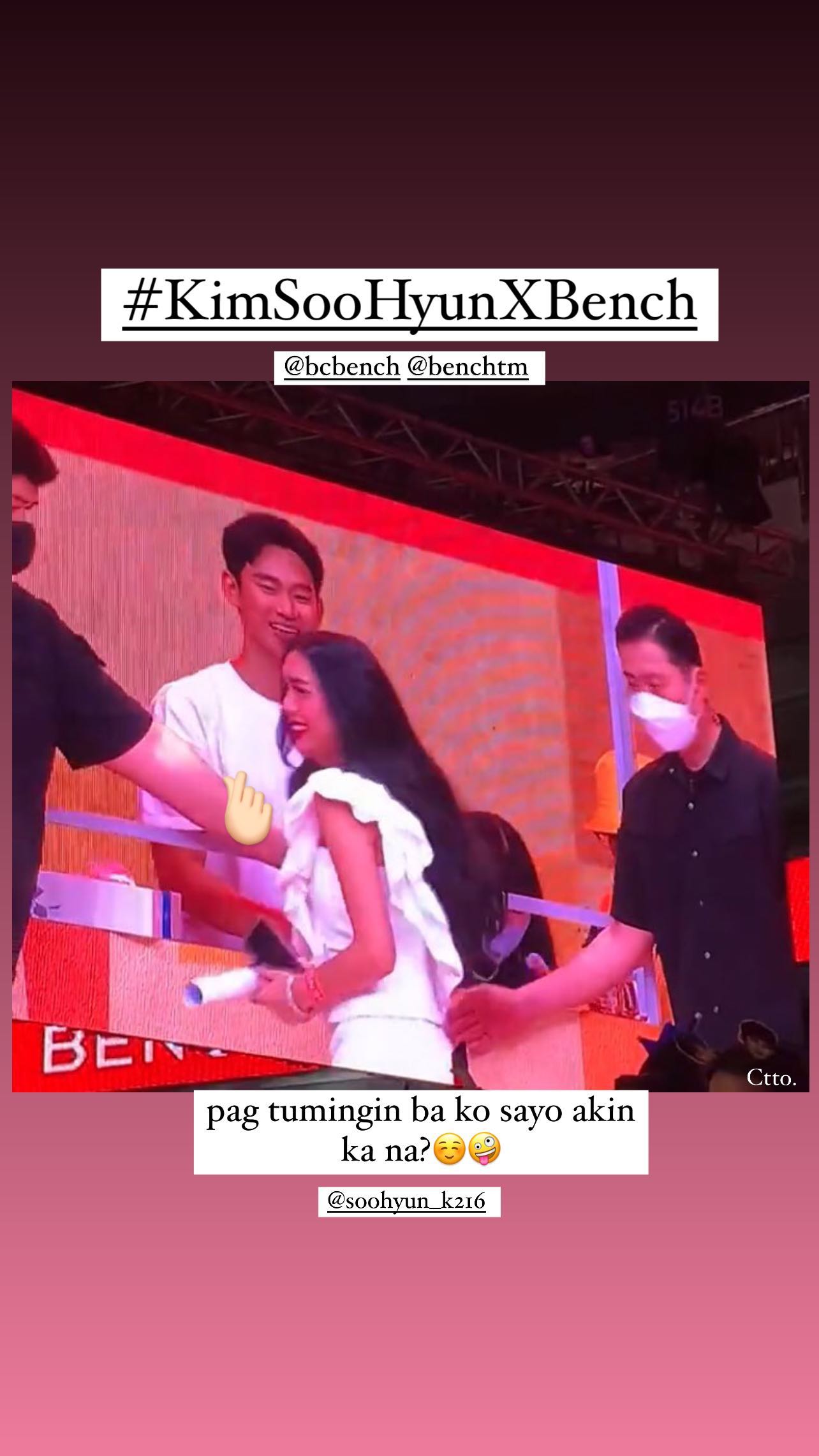 ANOTHER ONE FOR THE LIST
This technically isn't the first time Francine got to meet a K-drama star during a fanmeet. During an online fanmeet with Hyun Bin, she got to asks the superstar a question. But that was a pre-taped segment so meeting Kim Soo Hyun live and in person must have been way better. Francine Diaz wasn't the only fan though who got her whole life during his fanmeet. In one portion, a fan signaled to Kim Soo Hyun that she wanted to give him fan art. Being the gentleman that he is, he actually went down on stage and got the art and even took a selfie with the fan. Now, can we get a prayer reveal Francine?    
Continue Reading: Oh, Sana All: 5 Times Francine Diaz Caught The Eye Of International Stars