More than just a superhero introduced to us in the pages of komiks, Darna is a Filipino icon who has inspired generations as seen in these fan art.
Related: Here's What You Need To Know About Darna: The TV Series
When you ask people to name a Filipino superhero, most of the time you'll get the answer of Darna. Created by Mars Ravelo and Nestor Redondo, Darna was introduced to us in 1950 and for more than 70 years has become a mainstay in Filipino pop culture. She is arguably the most famous Filipino superhero who kicks butt and takes names in her iconic red and gold costume. And Narda is so much more than just a woman who swallows a stone to get powers.
She is an icon, legend, and an inspirational figure to people from all ages and backgrounds. The whole persona of who Darna represents has inspired people to do many things, and that includes expressing their love and admiration through multiple forms of art. Whether it be through paintings, drawings, fashion, and more, these are just some of the many and varied ways people immortalized and re-imagined Darna through their unique vision.
DARNA IS IN EVERYONE
Darna is a hero who stands for empowerment, heroism, and hope and a recent mural in Quezon City speaks to that with its dedication to today's frontliners and everyday heroes. With the impending premiere of the new Darna TV series, ABS-CBN commissioned visual artist Anina Rubio, known for her artworks on nature's beauty and sustainability, to design a Darna mural at the ABS-CBN Compound along Eugenio Lopez Drive in Quezon City. With the theme of "Ikaw, ako, tayong lahat si Darna," the mural depicts a boldness and bravery in the likes of modern-day heroes such as farmers, doctors, and teachers. It showcases how the strength and courage of the Pinay superhero can be seen in everyone.
EMPOWERING WOMEN
It doesn't take a whole lot to understand that Darna is an empowered woman who stands up for herself. As such, many women also look to her as a strong female figure who doesn't back down from a challenge. A couple of years ago, Angel Locsin, Lisa Soberano, Catriona Gray were warned by a member of the military that their outspokenness was dangerous. But just like Darna, this trio did not cower in fear and Cebu-based artist Bastinuod envisioned the three of them as Darna, strong and fierce women who stand up for what is right.
DARNA X ANIME
Have you ever wondered how Darna in an anime would look like? Artist Chrissa Eloisa Operario did and used her skills to depict the superhero under the aesthetic of a Magical Girl. Very kawaii if we do say so ourselves.
DARNA ON NETFLIX
If ever Netflix decides to make their own Darna series or movie, they better call Art of Maku up to make the poster because his design of how Darna on Netflix would look like is too cool. The poster alone has already gotten our attention.
DARNA CHALK ART
The beauty about art is that you can depict your subject in any medium you like. For La Union based student Arteya, envisioned Jane De Leon's Darna through chalk art on the street. And it was so good even Jane herself had to share it.
DARNA, THE GAY ICON
When Mars Ravelo made Darna, he probably didn't intend her to become a gay icon among the Filipino LGBTQIA+ community. But the gays love Darna thanks to her visuals, what she represents, and her empowering message. It's no surprise then that many members of the community look up to her, like with Bretman Rock who memorably dressed up as her during Halloween. Manila Luzon also transformed into Darna like a drag goddess.
DARNA, ZSAZSA ZANTURNNAH, AND KRYSTALA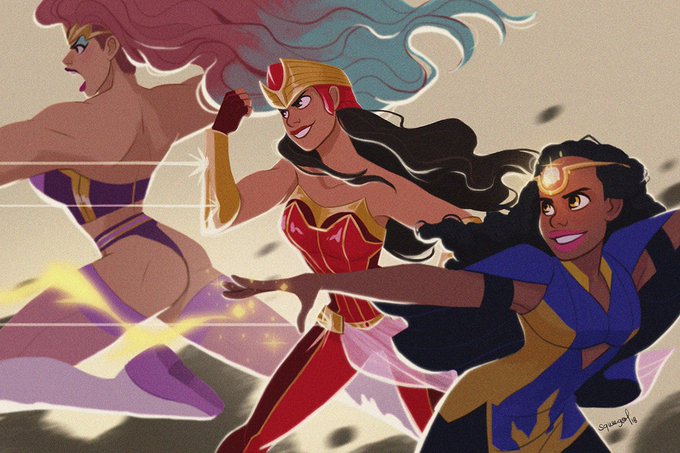 It's the trio we never knew we needed. James Claridades gave us this fun take on a team up between Darna, Zsazsa Zanturnnah, and Krystala. Considering how Zsazsa was created as a homage to Darna, it feels right for this team up. And Krystala, for those of you who don't know, was a superhero from the mid-2000s memorably brought to life by Judy Ann Santos. It's an Avengers level team up to say the least.
THE DARNA GOWN
Darna's iconic red and gold costume will remain etched in the collective conscience of the Filipino people. It has remained a go-to inspiration for many fashion looks over the years. And one of the most memorable in the past few years was when Miss Philippines Earth 2020 Roxanne Baeyens wore a Darna inspired gown for the preliminary competition. Designed by Rian Fernandez, the dress features a sweetheart neckline, flowy skirt, and high slit while incorporating the red and gold color scheme. To complete the look, the embellishments at the end of the sleeves mimic Darna's bracelets. But more importantly, Darna was a women ready to protect the earth, a stance Roxanne was ready to bring to the competition.
DARNA MEETS WONDER WOMAN
It is often said that Darna is the Wonder Woman of the Philippines. So it only feels right for the two superheroes to interact in this piece of art from Glee-chan. What we love most about this is that Darna is drawn in a way that she looks like she's apart of the DC animated universe. While they are depicted as fighting, we honestly feel these two would get along in real life.
DARNA AS A REVOLUTIONARY
Jouache turns back the clock on Darna and re-imagines her as a fighter during the Philippine Revolution. His concept art trades in Darna's typical costume for a Filipiniana, boots, and sword. She also has a gold neckerchief, a homage to the red ones Katipuneros wore. Important Filipina figures during this time were criminally sidetracked for their male counterparts, so this stylish redesign is something we are ready to get into.
HEALTHCARE HEROES
In a symbol of Darna's resiliency, tenacity, and empathy, AG Sano, who is known for his creations of large murals on the streets, designed a Darna mural on the side of his condo in Quezon City. At the time, it was the early days of the pandemic and the mural depicted Darna in a scrub suit and a face mask with a stethoscope, showcasing how healthcare frontliners are heroes like Darna who risk their lives everyday to help people.
DARNA, BARBIE EDITION
Darna has had her own Funko Pop. But she hasn't gotten an official Barbie of her, or at least not yet. Aaron Malibu imagined what a Darna Barnie would look like and it's a doll we wouldn't mind having at all. What's extra special about his rendition though is that he made sure to keep Darna's brown skin and not whitewash her as he considers her a role model for boys and girls who have such beautiful skin tone.
DARNA AND PANDAY TEAM UP
Two iconic superheroes team up in this fanart from Nays Arguelles as he imagines Darna and Panday in a somewhat mature aesthetic.
DARNA IN STEVEN UNIVERSE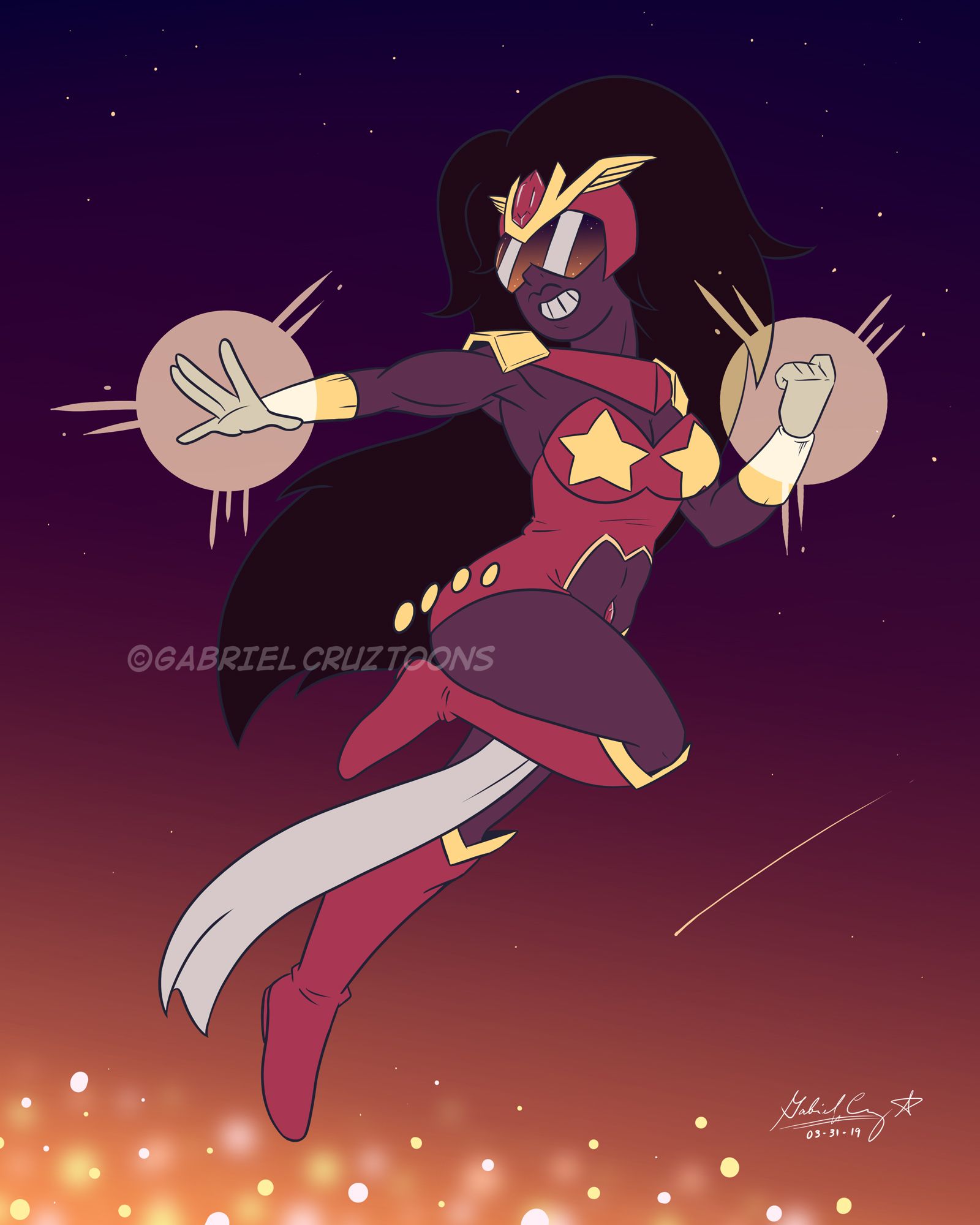 A Steven Universe crossover with Darna, we can honestly see it. And thanks to Gabriel Cruz, we already have a possible design for this potentially epic crossover. Can you imagine Darna fighting alongside the Crystal Gems? Yes, please.
FUTURE FORWARD DARNA
1000 years from now, Darna would probably still be kicking ass. And Deejuice imagines just that with his Darna 3019 fan art that mixes her classic costume colors with futuristic tech and armor. Let's just hope Ding will still be there to give her the bato.
Continue Reading: Sa Likod Ng Mga Tala: 15 Actresses Who Played Darna