As part of their 9th anniversary celebration, BTS treated us to a free concert called Proof Live with Anderson .Paak making a cameo on the drums.
Related: With Yet To Come, BTS Shares An Ode To Their Future And ARMY In The Most Sentimental Way Possible
While June 13 may have been an ordinary day for many people, it wasn't for BTS and ARMY. In fact, the date is considered as a fandom holiday because that was the day BTS made their official debut. This past June 13 saw BTS celebrate their ninth anniversary, an achievement and rarity when you consider how most K-pop groups barley go past six or seven years. The day was already an exciting one for ARMY, but BTS decided to wrap things up nicely in a bow with a free concert for fans. And they did so with a little help from Anderson .Paak.
PROOF LIVE, WITH ANDERSON .PAAK
Entitled Proof Live (after their recently dropped anthology album Proof), the free concert was streamed live on YouTube on the evening of June 13. The group performed three songs during their set, opening it with Born Singer, following with comeback single Yet to Come, and closing it out with For Youth. Prior to the show, it was teased that BTS was going to be a special guest. And while it wasn't Snoop Dogg as some suspected, it was Anderson .Paak who joined the group by playing the drums during Yet to Come.
Starting things off with Born Singer, the boys looked so good dressed in shades of blue and gray. Their voices and raps shone during the mostly acoustic set with just their live band behind them. Seeing Anderson join the group was so much fun, revealing that it was actually his son who introduced him to the group and since then, he's been a fan. BTS and Anderson .Paak have run into each other on multiple occasions from the GRAMMYS, the group attending Silk Sonic's show to .Paak and his whole family attending one of their concerts and meeting them backstage.
We also love how Anderson spoke to the members in Korean. His wife is actually Korean, so speaking the language is not too far off from him. (But low-key seeing him speak Korean reminded us of how we would speak the language after binge-watching a Korean drama.) We honestly thought they might do a cover or two from Silk Sonic's discography. But alas, that is meant for another time. Their first official collaboration wasn't bad at all though. BTS then closed things with the emotional and touching For Youth as they serenaded the crowd from the California desert.
A SHORT YET SWEET EVENT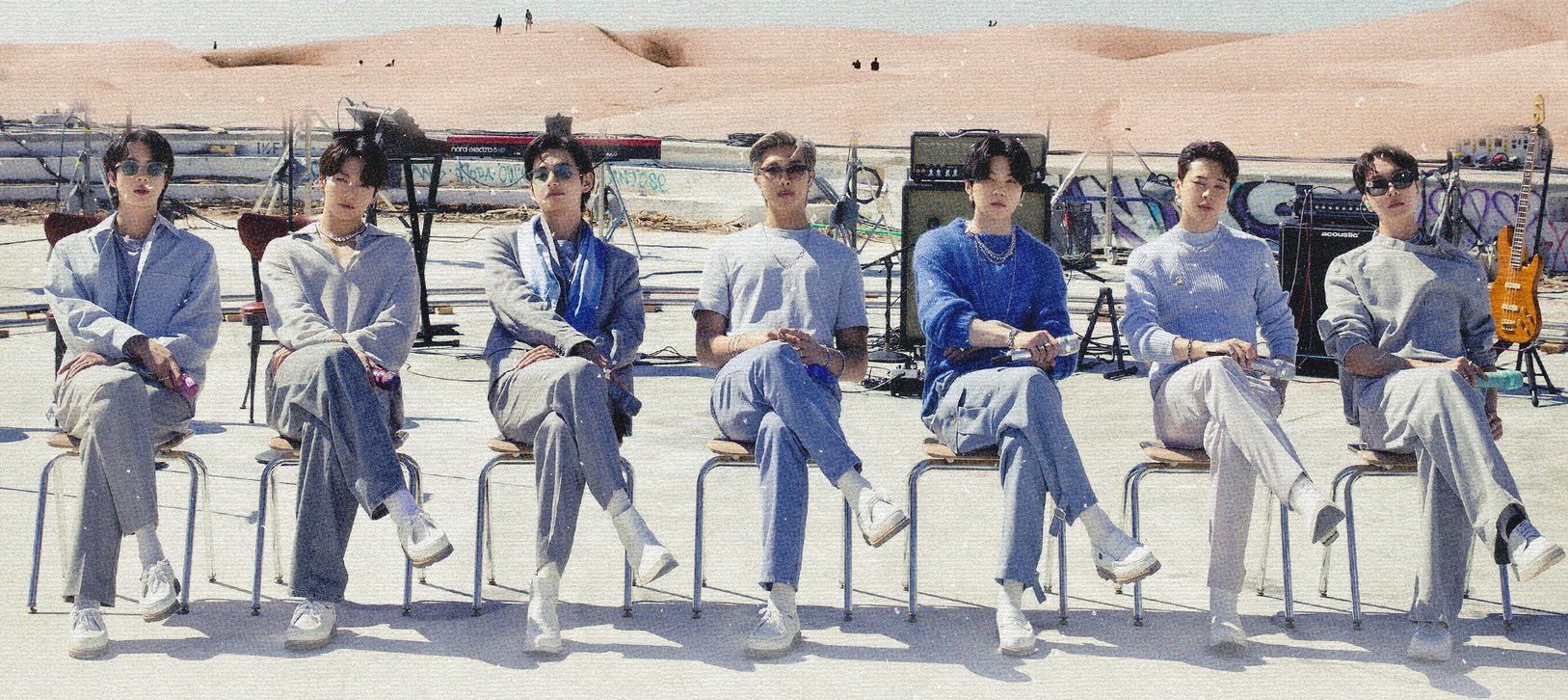 Aside from the performances, BTS also took the time to talk to the audience where, among other things, they shared their favorite debut memories, going through the pandemic, and the story behind their Proof album. According to the group, the whole album was their way to wrap up their first chapter by telling their whole story through it. Each of the three CDs are also divided into district parts. CD 1 is their title tracks, CD 2 is for the personal stories the members want to tell, and CD 3 is their demos, unreleased tracks.
At just 25 minutes and three songs long, it was a pretty compact and stripped down concert. A far cry from their stadium concerts, it made for a more personal experience. It even gave shades of their excellent NPR Tiny Desk concert that remains one of our favorite performances they've ever done. The only criticism about Proof Live we have though is that they did not perform Run BTS. While it's theme and style is different from the other three, we think it still deserved a live performance.
We're hoping that Run BTS does not become the Louder Than Bombs of the Proof era. BTS also did not announce a world tour like many had hoped. But at least we did get Jungkook's song for ARMY called My You with the ballad definitely hitting us in the feels with its touching message and JK's voice. There's also the special BTS filmed for Music Bank airing this Friday among their other surprises so definitely stay tuned as BTS' debut month continues.
Continue Reading: History Maker Things: BTS' J-Hope Will Be The First South Korean Artist To Headline Lollapalooza