Among the many things we'll miss from Darna is the dedicated Darlentina stans who go hard for Jane de Leon and Janella Salvador.
Related: 6 JaneNella Moments That Broke The Internet
After seven months of airing, the new Darna TV series is coming to an end. It's quite surreal to think that this moment has come since we spent years waiting for this movie-turned-show to become a reality. But here we are with the new Darna leaving its mark on Philippine pop culture. There is a lot to comb through, but when the post-mortem of the series will be written, it probably will include an entire chapter dedicated to the phenomenon that is Darlentina. The ship between Darna and Valentina, and subsequently Jane de Leon and Janella Salvador, was a moment few saw coming and came organically as viewers recognized the chemistry the two lead stars had.
What came about was a duo championed by fans and served as one of the few queer ships in mainstream media. No doubt that at the core of this ship is the Darlentina stans who birthed and maintained it, which is no wonder that over the past months, they've gone above and beyond to celebrate the pairing. As we say our goodbyes to Darna, let's take a look at some of the times the fans turned this ship into something special.
PUTTING DARLENTINA ON A BILLBOARD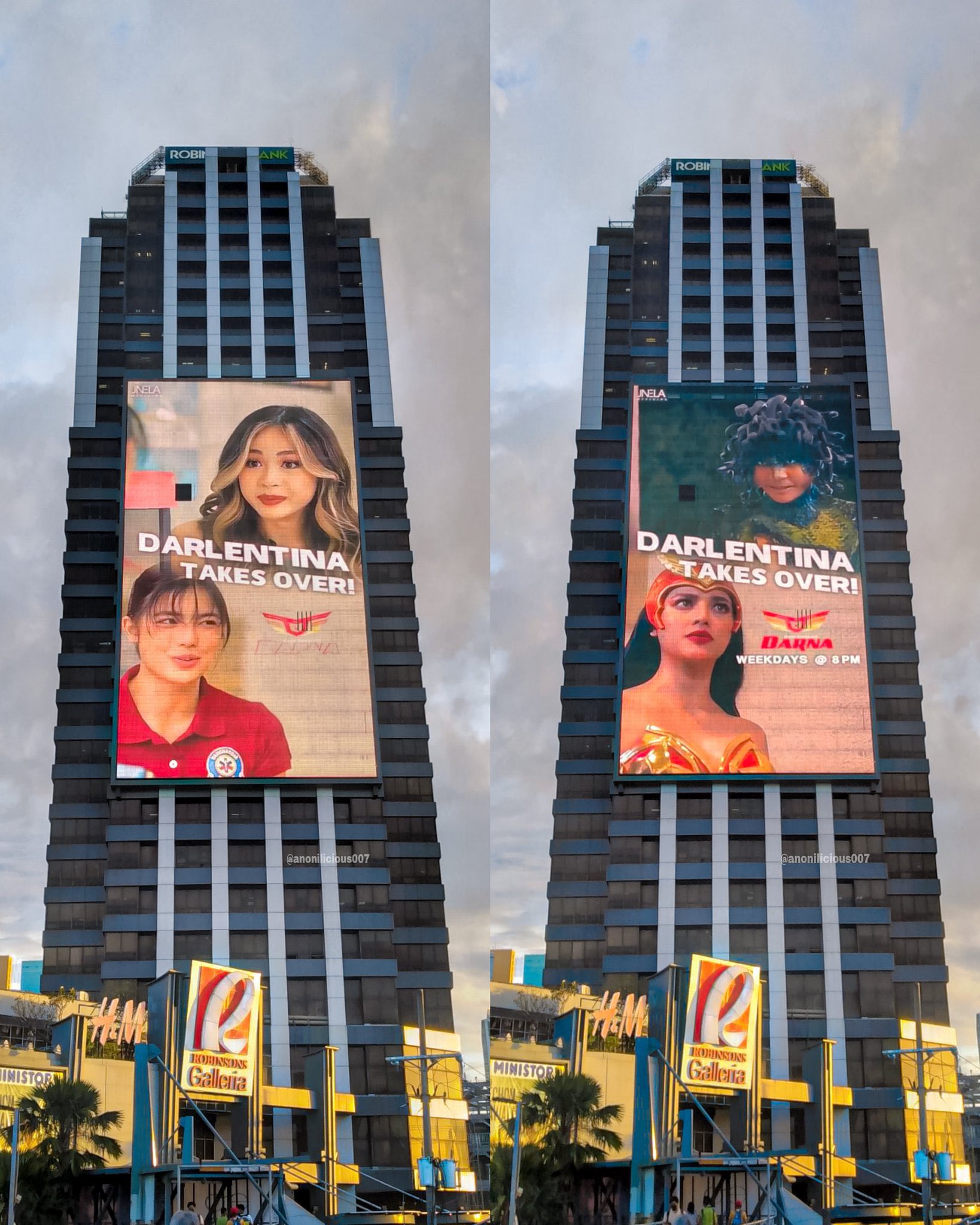 "Edi sana pina-billboard mo" was a statement Darlentina stans heard and delivered. If they aren't trending the sapphic love team on social media, they're raising funds to put Darna and Valentina on billboards in the metro. Such as this moment when fans paid for digital billboards to go up along a major road in the city. Oh, and if putting Darlentina on EDSA is not enough, fans also had billboards go up in New York City for the show's finale. Come through worldwide promo.
MAKING A VIRAL DARLENTINA ROM-COM TRAILER
Catch the loveteam of the year, Jane De Leon and Janella Salvador (JaneNella), embark on their first GL project together.

'I Fell For My Boss' Official Trailer

Coming soon in cinemas nationwide! pic.twitter.com/2Fn9JToVpz

— yawns (@yawnsedits) November 11, 2022
Ah, a moment in Darlentina discourse we can't forget. It was through fan edits that the Darlentina ship first started to gain steam on social media. So, are we really that surprised fans also gave us this masterpiece? From Twitter user @yawnsedits comes this gem, a trailer for a fake office rom-com, I Fell For My Boss. It splices clips of Narda and Regina to look like a movie about the two falling for each other.
While it is fake, it's also well done and quite convincing for what an office romance could look like. If the trailer going viral and raking up millions of views across social media is any indication, we'll be needing a JaneNella rom-com stat. Paging Star Cinema, you have box office gold waiting.
DARLENTINA OST
"I Fell For My Boss" OST: Paligoy-Ligoy by Nadine Lustre

Starring Jane De Leon and Janella Salvador

Watch the full trailer here: https://t.co/p2bu52mPW6 pic.twitter.com/sh517YAnzs

— anya (@Bb_menita) January 31, 2023
Oh, you thought that a trailer edit was it? Given how these are Darlentina stans we are talking about, one fan decided to make an OST for I Fell For My Boss and splice clips of the duo while Nadine Lustre's timeless bop Paligoy-Ligoy plays in the background. At this point, fans should be the ones in charge of editing JaneNella's next project.
GIVING JANELLA A PRIDE FLAG
Janella Salvador is seen waving the pride flag at a mall show. 🏳️‍🌈 pic.twitter.com/c7VS8N4hjf

— Philippine TV & Film Updates (@phtvandfilmupd) February 5, 2023
Aside from the fun chemistry, what the Darlentina ship has shown us is that there is a clamor and market for LGBTQIA+ love teams in the country, especially in more mainstream spaces. Rarely do we get moments like this, so it's worth celebrating. This is something Jane and Janella both recognize as they appreciate the support they get from the community. And being the proud ally that she is, Janella was more than willing to grab a pride flag that was handed to her by a fan during a mall show. She is the queen of the vadengs for a reason. And yes, Jane was spotted with a pride flag as well.
MOURNING THE LOSS OF THE QUEEN
wELP pic.twitter.com/52kcp4MkqY

— jamm (@satofabray) February 5, 2023
The new Darna era really is coming to a close, as evidenced by Janella Salvador changing her long locks and blonde highlights for a ginger bob. Speaking of, the demise of Regina Vanguardia caused some fans to mourn the loss of the queen of the snakes and by holding an impromptu wake before a mall show. This is for my people who just lost somebody. Our favorite misunderstood villain will be missed.
THE FAN ART
regina and narda except they're canon and no longer enemies 🤭#DarlentinaFanart #Darlentina #Darna #darnafaceoff pic.twitter.com/OroDnxnwM5

— junnie (@junnieeart) October 4, 2022
There's nothing like fans being inspired by a ship to create art. Darna has always been an inspiration for people to create fan art, and Darlentina is no exception. From re-imagining Narda and Regina in a rock band to drawing them as schoolmates, the fans' imagination and unique vision are there.
Continue Reading: Darlentina Endgame: Darna And Valentina Is The Internet's New Favorite Ship