Despite being relatively new to the sport of obstacle course racing, Carlos Dimailig has already bagged silver and gold medals in international races.
Related: Meet The 22-Year-Old Assistant Coach Of Gilas Pilipinas
The Philippines is undoubtedly a country that loves sports. Specifically, sports like basketball, baseball, and boxing are played all over the country. Sometimes, certain games are treated as an event. But as the 2020 Tokyo Olympics has shown, there are also sports in the Philippines that are not given enough attention despite the talent of our local athletes.
One such sport that many people may not be aware of is Obstacle Course Racing or OCR. While a relatively new sport in the country, obstacle course racing is slowly building a growing pool of athletes and fans. It debuted at the SEA Games in the Philippines in 2019. And there is a chance it will debut in the 2028 Olympics as an official Olympic sport.
One such athlete looking to make his name is Carlos Dimailig. Even though he took to competing in OCR seriously just recently, he already has made a name for himself in the sport thanks to podium finishes in international races. NYLON Manila caught up with the young athlete to get a closer look at what obstacle course racing is and what it's like being an athlete in the emerging sport.
WHAT IS OBSTACLE COURSE RACING?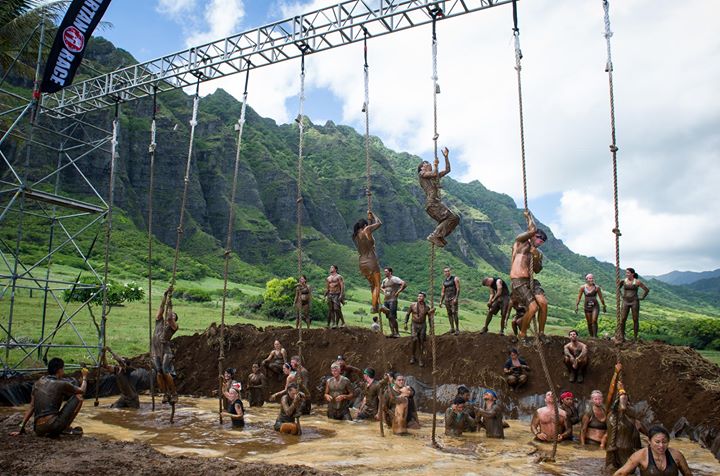 To the untrained eye, obstacle course racing looks like what it sounds like, going through an obstacle course. Think of it like the show Wipeout, but way more serious. Carlos adds that when it comes to OCR, it deals with way more than just going through obstacles. "Obstacle Course Racing is a hybrid sport combining running and obstacle courses together in one race. Running can be done on the road or in natural terrains such as forests and mountains," he says. "The obstacles are also just as varied; they can be anything from monkey bars and bucket carries to rope climbs and water crossings. Usually, the obstacle courses are spread out unevenly throughout the course, which makes it such a fun and interesting sport."
OCR has a lot of organizers and companies dedicated to the sport around the world. The most popular one is the Spartan Race which you may have heard of or even participated in one of their events. They have their own offshoot in the country called Spartan Race Philippines which organizes races around the country.
HOW CARLOS GOT INTO THE SPORT
As a self-described fitness enthusiast, Carlos first got into the sport in 2018. "I was looking for a new adventure beyond the gym. Then I stumbled upon a Spartan Race promotional event in Alabang, where you get to try their signature obstacles for free and meet some of the Spartan racers. I immediately got hooked and signed up for my first race in September of that year."
His first race, held in the Subic forests, was anything but smooth though. As he recalled, he signed up for the Beast category, which is the 21-km race with 30 obstacles. Carlos barely finished the race, walking the last 3 kilometers with an extinguished spirit. But the experience didn't deter him. In fact, it actually inspired him. "I went home with a full heart and a motivated mindset, completely enjoying the experience and knowing this is something I would love to conquer one day."
THE HARD WORK AND TRAINING THAT GOES INTO OCR
Obstacle course racing and Spartan Races are not simple activities you can easily join. They are feats of skill, strength, and endurance that can test even the most seasoned of athletes. Because of this, Carlos takes his training very seriously. "My training is broken down into three main parts: running, weight training, and obstacle course training. A lot of factors come into play when it comes to the weight, sets, repetitions, and training volume, such as how near the competition is, the frequency of training possible, and availability of resources." He says that he would train as much as twice a day, six days a week.
His running training is broken down into three main types, Zone 2 Runs, Interval Training, and Long Runs. As for his weight training, it can be boiled down into three sessions: strength, endurance, and power. Obstacle course training can be done in Ninja or Obstacle Course gyms. Currently, there are two in Manila where you can do this; Obstacle Central in Maginhawa, and Pretty Huge Obstacles in SM Aura. For Carlos, he trains at Obstacle Central because "their obstacles are more Spartan-specific."
A lot of work and effort goes into Carlos' training, which is why he says crossing that finish line is one of the best feelings he can experience. "As a competitor, the greatest feeling is crossing that finish line. With no qualms about it, Spartan Races are difficult. It takes preparation and determination to finish one. So to put in all that work to be ready for a race, and for it to pay off, it's euphoric."
"I love OCR, and I am a proud Filipino, so to actually get to compete in Spartan and represent my country at the same time. That's an immense privilege and I know I just have to give it my absolute best," he adds.
THE LOVE OF THE SPORT
Carlos doesn't cite a specific moment that made him want to take the sport seriously. Instead, he says that the little moments he experienced in training made him realize his love for obstacle course racing. "There were multiple times during training wherein I would be alone, under the excruciating heat of the sun, drenched in sweat, heart pounding, muscles sore. But somehow, I would be happy that I finished the workout. I wasn't even thinking of winning the race. I was happy because I knew that I was somewhat improving and getting better at this sport. Slowly, every training became valuable to me. I think it was in those moments, wherein I realized that I enjoy the process of preparation as much as the thought of winning, that I knew this was something I would take seriously."
With all the challenges one can experience in obstacle course racing, competing or even participating in the sport can be demoralizing. But just like with any sport, Carlos feels that your passion is what will keep you motivated. " I love everything about OCR—testing all facets of athleticism, performing and showcasing the work I've put in, competing with the very best, having that ineffable bond with fellow racers at the finish line. It's a majestic experience and it, to me, makes all the work worth it. And to me, this whole journey has honestly been a dream of mine.
What makes Carlos' dedication to the sport more impressive was that he didn't consider himself to be athletic growing up. But OCR brought something outside Carlos. "With OCR, something resonated with me. I would consider it a hybrid sport, where multiple facets of fitness are truly tested like endurance, strength, and power. And so these hybrid athletes of OCR may not be the fastest or strongest ones out there, but they are definitely one of the best in every facet. And I guess it was that well-roundedness that got me passionate about OCR. In a way, I identified with what the sport brings out in each and every one of its athletes. For me, it brings the best out of its athletes when it comes to athleticism and toughness."
While some people may see participating in an obstacle course race as daunting, Carlos loves the uncertainty of it all. "They give a race map to keep you informed about the obstacles you will encounter, but everything else is a mystery. Will there be mud? Will there be bodies of water to cross? What happens if it rains? Not to mention more unknowns that can only be answered during the race itself. And for me, it's exciting because you get to see yourself respond and adapt to unchartered territory. In a way, you get to know yourself more through racing."
So, out of all the obstacles Carlos has faced so far, which one does he dread? "My least favorite definitely is the Spear Throw. It involves throwing a spear to a narrow pad, and the spear must stick to the pad while having no part of the spear touch the floor. It's a hit-or-miss obstacle, and so many factors influence the outcome of your throw. Practice actually does not help guarantee that you will make it. So staying calm and present during this obstacle is really the key to landing that spear. More often than not, it's this obstacle that even elite racers fail at."
But aside from this, he actually does like going through the obstacles, both for the challenge and the fun factor. "They all are challenging and really test your fitness. I really love going through all of them during the race," he laughs.
INTERNATIONAL SUCCESS
Despite only trying to pursue a professional career in OCR this year, Carlos has already made a splash abroad. In August, he won 2nd place in his age group at the Spartan Race Trifecta Weekend in Hawaii. "It was fun! It was my first time competing abroad, and my first time racing in more than one and a half years. So I was definitely excited to perform and show the work I have put in the last eight months," says Carlos on his experience in Hawaii. Not only was it his first time racing abroad, but placing 2nd in the race was crucial since the top 10 finishers would qualify for the North American Championships, which in turn would qualify Carlos for the World Championships.
"I had an amazing time racing with fellow Spartans. It's been a tough year for everyone with the pandemic and continuous battle against COVID variants, so to be able to get to do this, in a way, was refreshing and empowering."
While he is grateful for the podium finish, he felt that he could have gone for the gold. I believed I could secure a gold finish. By the second half of the race, it was just me and Hunter (the first placer) who were in the lead, so I could feel the gold was within reach. Ultimately though, he was the better racer that day and he earned that gold medal. I'm grateful for the second-place finish since it showed me weaknesses that I have been working to improve on ever since. I am very much looking forward to putting on a better performance in the next race." And improve he did as just recently in early October, Carlos took home the gold in his age group at the Spartan Race New Jersey Sprint.
NOT AS INTIMIDATING AS IT SEEMS
If all this has gotten you excited to try out or at least become curious about obstacle course racing, Carlos wants you to know that OCR is actually a welcoming sport. "I hope people don't feel intimidated when it comes to OCR. I do know that there is this stigma that you have to be fit or athletic to join a Spartan Race. While I do think you need to prepare adequately, but absolutely anyone can join, regardless of your fitness."
And if you do decide to dip your toes into the sport, Carlos shares that a key to succeeding in the sport is to prepare yourself mentally, not just physically. To be physically prepared to take on a race is crucial, but mental preparation is just as important, if not more. There will be times when fatigue catches up on me, telling me to slow my pace, or to stop and catch my breath. But being mentally prepared means being able to continue pressing on no matter how much the body wants to give up."
He also would like would-be participants to just have fun. "The intimidating factor I hear some people get from Spartan Race is understandable, but once you meet fellow Spartans, whether in training, social media or during the race itself, you'll quickly realize they're the exact opposite!"
WHAT'S NEXT FOR CARLOS
Currently, Carlos is taking his obstacle course racing career one step at a time. The recent Business Administration graduate is putting all his effort into becoming a full-fledged OCR athlete. "My mentality, even until now, is that I am at the bottom of the totem pole. I still have to earn my stripes by competing and winning races. The goal this year has always been to give the athlete life everything I could give and see how far I can reach. The dream ultimately is to represent the country at the World Championships in Abu Dhabi." Speaking of World Championships, thanks to his success abroad, he is currently qualified to compete at the Championships in Abu Dhabi this December. But he currently is crowd-funding to raise funds to help pay for his trip and training.
At the end of the day, Carlos just wants to give it his all in the sport. "My parents raised me and my sister to always do our best, in whatever it is we choose to do. And that's what I hope to achieve. There are so many things that I just am unable to control when it comes to "achieving" things. But I do know that I can control my effort. And so that is what I focus on absolutely. Giving it my best every single time, in my training, nutrition, recovery, mindset, and everything else that counts."
Continue Reading: You Go, Girl: This Filipina Redesigned Two Homecourts For Filipina Athletes