Kim Domingo is staying at the front of the Cha Eun Woo line.
Related: 6 Times Kendra Kramer Was One Of The Luckiest 13-Year-Old K-pop Fangirls In The World
As one of the most famous and sought after K-pop idols, Cha Eun Woo has fans all over the world. The idol and actor can count on his fanbase in the four corners of the globe to support him, and that includes Kim Domingo. Not only is the French-Filipino actress a star herself, but she can proudly call herself a major Cha Eun Woo stan. See, even our faves have faves.
As proof of her love for the K-pop idol, Kim has gone to some great lengths to support him in anyway she can. When fans say pumila ka, you can bet Kim is near the front. Here are just some of the moments when Kim Domingo's Cha Eun Woo stan card was in full effect.
SENDING HIM A FOOD TRUCK
맛난 커피차랑 소떡소떡이랑 크로플 너무 잘 먹었어요👍👍👍
Thank u so much😊
서원 teacher chaiting!!! pic.twitter.com/3O3bZBgVoa

— ASTRO 아스트로 (@offclASTRO) January 10, 2023
K-pop Idols and K-actors often receive a food or coffee truck courtesy of their fans. And that's exactly what Kim did when she sent Eun Woo a coffee and food truck to the set of his latest project, A Good Day To Be A Dog. "Thank you for inspiring us. Cheering on you, Teacher SeoWon! Chaiting!!" said the description on the truck along with her full name. Clearly, the move impressed Eun Woo enough that he took to ASTRO's Twitter account to share his appreciation for the gesture. "I ate the delicious coffee, tea, and so-tteok so-tteok, and croffle really well," wrote the star in the caption. Sana all, Kim.
SENDIND CHA EUN WOO A RICE WREATH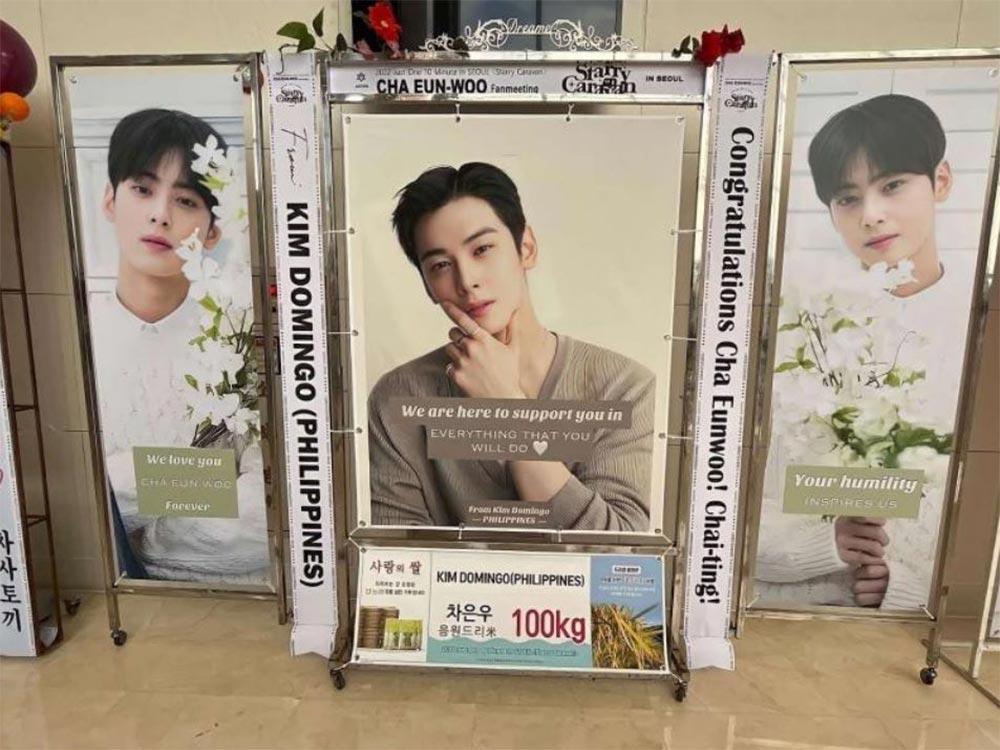 Even if Kim wasn't able to attend Eun Woo's first in-person fan meeting in Seoul last year, she still made her presence known at the event. And that manifested in the form of sending him a rice wreath that was even designed by her. Rice wreaths are traditionally given to these kinds of events where they are left outside the event. Senders then donate sacks of rice to charity with Kim reportedly sending hers to an orphanage. We love a stan with a generous heart.
WAITING IN LINE FOR HOURS TO SECURE A TICKET TO HIS FANMEET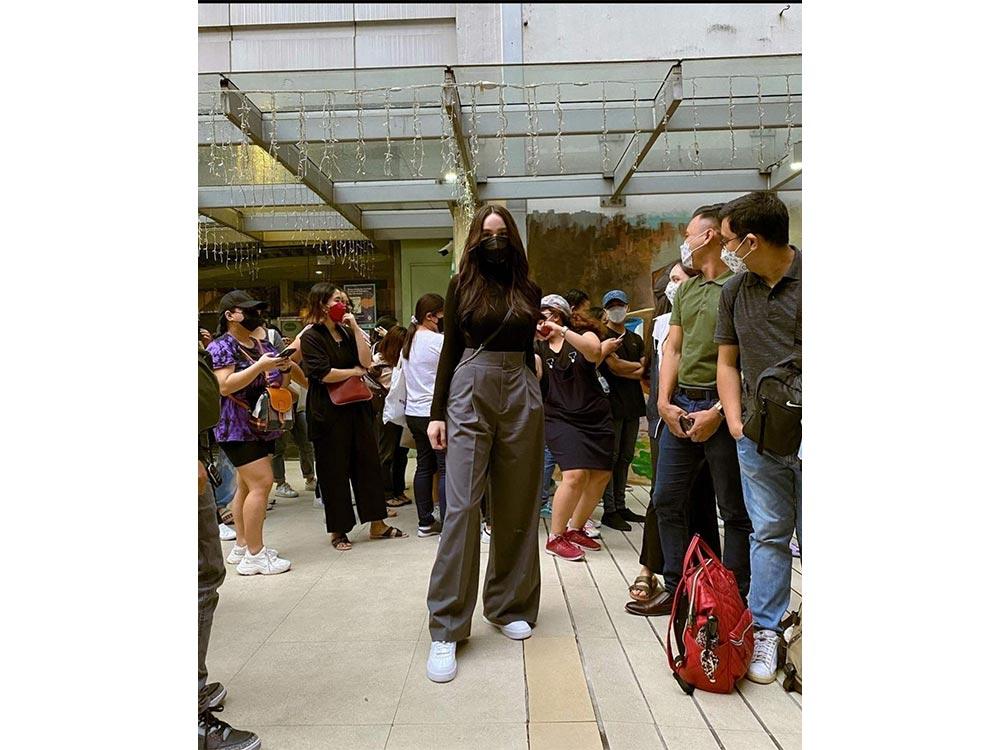 Some fans are willing to go to the ends of the earth just to see their favorite idol. Just look at what Kim did when it was announced that Cha Eun Woo was holding a fanmeet in Manila last year. Despite the fact that she had no sleep and came straight from work, Kim hoofed it to Gateway Mall and waited in line for hours just to secure tickets to the event.
Nothing was going to stop Kim from seeing Eun Woo and we respect the hustle. Props also to her for waiting patiently in line with the rest of the fans and not using her celebrity status to get ahead. And the best part about all of this is that she gave away tickets to lucky fans for free via a raffle she organized. That's a true fan right there.
HOSTING A SCREENING FOR HIS MOVIE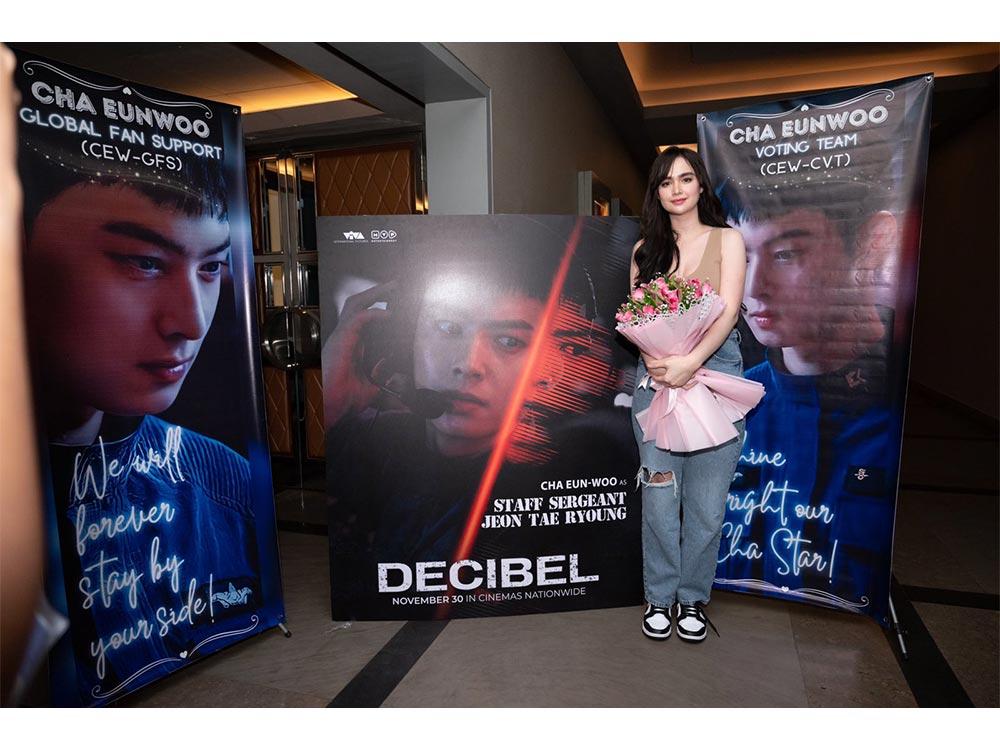 When Decibel, Cha Eun Woo's latest movie, came out in late 2022, you can bet Kim Domingo made her way to the cinema to watch it. But not only did she see the film, Kim also organized a Decibel block screening. With the help of the Cha Eun Woo Global Fan Support group, Kim was able to set up a screening of the movie in December 2022 where Kim and hundreds of other fans enjoyed action-thriller. Her stan card is never declining.
Continue Reading: 9 Times Miel Pangilinan Proved That She Has A Big NCTzen Heart