Bless your ears with another soulful performance from SB19 with their soul-stirring rendition of MAPA on the Wish USA bus.
Related: SB19 Makes History Again With Their Us Television Debut
It seems that there's no stopping MAHALIMA from making their A'TIN proud. This time, SB19 offers yet another enchanting rendition of their hit ballad MAPA on their first appearance on the Wish USA bus. And as expected, the P-pop kings once again captivated hearts with their soulful vocals and a performance that gives us all the feels.
ENCHANTING RENDITION
As you may recall, it was on November 12, 2022 (Philippine time) when Pablo, Stell, Ken, Justin, and Josh hopped aboard the Wish USA bus fresh from their US debut performance in New York and just before their Los Angeles show as part of their Where You At (WYAT) Tour. The occasion was made much better as SB19 was joined by other P-pop idols BINI and BGYO, also marking their US debut, making it a one-of-a-kind celebration of Pinoy Pop.
On a cool night at Cafe 86 in Chino Hills, California, SB19 serenaded their excited Filipino and international fans (some of them came from as far as Canada) with a uniquely passionate performance of their second digital single, MAPA. Part of their highly successful first EP Pagsibol, MAPA is dedicated to the hardwork and sacrifice of their parents. And on November 23, Wish USA finally posted the exclusive premiere of SB19's performance which, to say the least, is no less than transcending.
A'TIN were quick to express their admiration for the group's enthralling presentation online, obviously dazzled by their idols' performance, and rightfully so. One fan noticed Pablo's impressive ad lib in their fresh take of MAPA, effortlessly hitting those high notes with his soaring voice that always complements the group's harmony. After all, Pablo wrote the emotional piece, so it's just apt that he could add a beautiful touch on the song off the cuff.
PABLO's ADLIB IN MAPA WILL FOREVER HIT DIFFERENT ✨ Super Satisfying 😭@SB19Official #SB19    #SB19MAPAonWishUSA pic.twitter.com/T8HgAluGq3

— steff 🐺🔱 (@pinunonghotdog_) November 23, 2022
And then there's our prince Stell who, after captivating us with his impressive Disney+ performance, gives us another reason to stan even harder as he hits those extended high notes with precision.
Did you hear his extended high notes? Ang galing galing! @stellajero_ 🤧👏🏻💙

⏩️ https://t.co/UoV62kVBZJ@SB19Official #SB19 #SB19MAPAonWishUSA
A'TIN #RawrAwards2022#STELL #SB19_STELL pic.twitter.com/CZKsaiQfoV

— Stell's Star 💫 (@ShiningStell) November 23, 2022
Josh has also flexed his vocal power performing his part with smoothness and passion that just tugs at your heartstrings and, as one fan pointed out, will just make you cry out of admiration for his talent.
#SB19_JOSH's Cut on #SB19MAPAonWishUSA@JoshCullen_s @SB19Official pic.twitter.com/nAD2dW6gjh

— Daily Josh Cullen  (@JCSGALLERY) November 23, 2022
And of course, SB19 always brings magic to our ears as they all pour their hearts out while performing. Just look at how they ace MAPA's bridge part below.
this bridge part is my forever favorite🥺 look how wish bus USA highlighted not only pablo and ken's vocals, but look how they also moved the camera in all angles to highlight ALL of them and their vocals. i love it so much. @SB19Official #SB19   #SB19MAPAonWishUSA pic.twitter.com/Bcz4mkqZtB

— jam – proud of pau 🥺♡ (@jmpwlnase) November 23, 2022
SB19 CONTINUES TO MAKE A'TIN PROUD
The release of the Wish USA bus performance comes at an opportune moment as SB19 recently won seven accolades from Awit Awards 2022. Three of these, including the Best Performance by a Group Recording Artist, Best Vocal Arrangement, and Most Streamed Song awards, are all for their track MAPA. Those seven trophies got the boys yet another mention in the history books as they became the artist with the most wins at one night at the Awit Awards.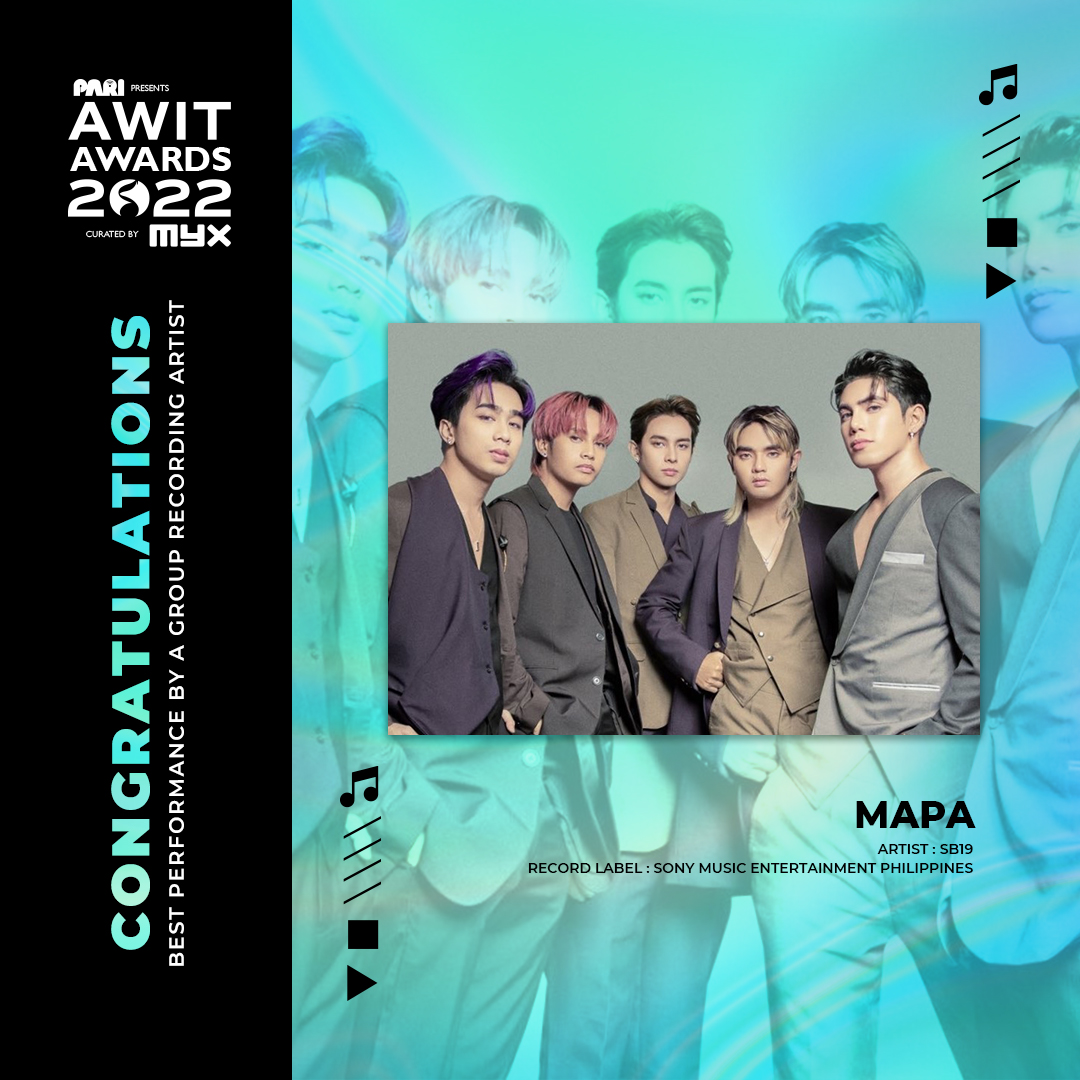 Not only that, the group continue to prove their undeniable impact as their comeback single WYAT (Where You At) debuted at Billboard Hot Trending Songs' Weekly Chart on the number 17 spot, after debuting at the same spot on the daily trend chart. WYAT is also nominated for the Wish Pop Song of the Year award at the eighth Wish Music Awards with SB19 also getting a nod for the Wish Group of the Year category.
Yes, SB19 is unstoppable and the A'TIN can only expect more proud moments from here on. Currently, the chart-topping group is gearing up for the Singapore leg of their world tour and will celebrate its finale with a homecoming concert on December 18.
Continue Reading: 7 Moments From SB19's WYAT Tour So Far That Will Make Any A'Tin Proud