For Filipino fans who've missed seeing SEVENTEEN live in Manila, know that your time is almost here.
Related: 7 Moments During SEVENTEEN's HOT Era That We Won't Be Forgetting Anytime Soon
SEVENTEEN is no stranger to holding concerts in the Philippines. Since 2016, the thirteen-member K-pop boy group has staged concerts in the country on four separate occasions. PH Carats definitely eat well knowing that whenever SEVENTEEN is set to embark on a new tour, a stop in Manila is always on the itinerary (as it should be). In fact, the group's last overseas concert before COVID-19 struck was in Manila during their Ode to You tour in February 2020. Since then, it's been two and a half years of Pinoy Carats watching their faves through the screen. But as they say, good things come to those who wait. And finally, SEVENTEEN is once again returning to Manila as part of their latest world tour.
BE THE SUN GOES TO MANILA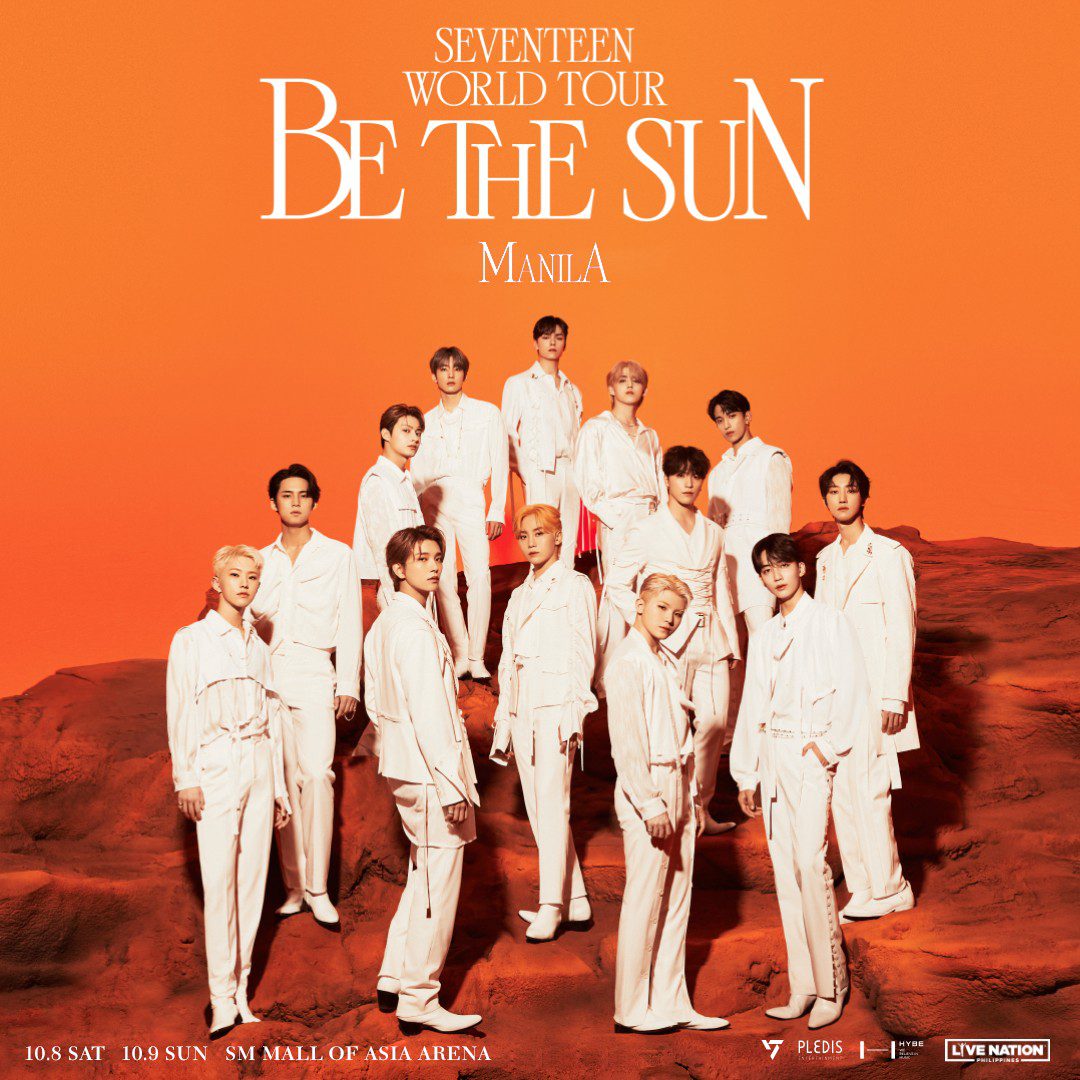 SEVENTEEN's WORLD TOUR [BE THE SUN] kicked off with two explosive sold-out shows in Seoul that amassed 35,000 fans. Afterward, the group embarked on the US leg of the tour and performed in 12 cities: Seattle, Oakland, Los Angeles, Houston, Fort Worth, Chicago, Washington, DC, Atlanta, Belmont Park, Toronto, and Newark. This September-October sees the boys bring the often internet-breaking three-hour concert to Asia, and that includes two days in Manila on October 8 and 9 at MOA Arena.
Having the boys be back on our shores again, especially since it's been two and a half years, is already a treat in itself. But it gets even more exciting when you think of what other adventures the guys will get into in Manila. In case you forgot, Joshua made a surprise trip with his mom to Manila a few weeks ago. Imagine going to a bar in Poblacion and seeing members like Minghao, DK, and Mingyu at a table. That would be a moment to remember.
Ever since the tour began, videos of the boys at the concert have been giving us major FOMO so knowing that it's a two-day concert in Manila feels correct. For those who were able to secure tickets, congratulations, you have been blessed. For those who weren't, may Hoshi's horanghae powers help you ease the pain (or even bless you with a surprise).
As we count down the days until BE THE SUN in Manila, let's take a look at some of the show's highlights that undoubtedly will be ten times better watching live.
THE HOT OPENING NUMBER
MOONWALKER FEATURING JUN, DK, MINGHAO, AND HOSHI
THE FIRE GAM3 BOI STAGE WITH VERNON, MINGYU, S.COUPS, AND WONWOO
LEFT&RIGHT WITH ITS MEMORABLE SKIT INTRO AND VERNON'S SONG THAT CHANGES EACH CONCERT
THE NEVER-ENDING AJU NICE (PH CARATS, READY YOUR VOCAL CHORDS)
Continue Reading: And We're Live: Concerts Coming To The Philippines This 2022 And Beyond (So Far)