From Thor: Love and Thunder, KoDrea's first movie together, and more, these new movies and shows aren't one to be missed this July 2022.
Related: The New Movies And Shows Of June 2022 That Are Worth Your Time
It's July, which means that we are already more than halfway done with 2022. But even if that is so, our watchlists aren't thinning out anytime soon. After all, most major entertainment companies save their biggest and best releases for the later half of the year. And this month has its fair share of interesting titles that you may want to check out, especially now that Crunchyroll is officially available in the Philippines. From an anticipated MCU film, expensive blockbusters, horror movies, K-dramas, and more, there's a little something for everyone this July 2022.
DEAR.M
For quite a few K-drama fans, this show has been a long time coming, especially for those looking forward to NCT Jaehyun's acting debut. Originally slated to drop in early 2021, it was delayed due to a scandal involving the lead actress. But the show is finally here and it was worth the wait. Dear.M is set in Seoyeon University as it gets roiled by an anonymous poster going by the name M. Four friends work together to solve the mystery, all while dealing with their young adult lives and the complicated situations that come with it. Come for Jaehyun's acting chops but stay for the interesting and relatable plot and characters. The first six episodes are now available to stream on Rakuten Viki with the latter six coming on July 6.
THOR: LOVE AND THUNDER
Following Endgame, there were many questions regarding Thor's future and this film looks to answer that. In Thor: Love and Thunder, we find the titular Norse god is trying to get back into shape and find his new purpose in life. He isn't alone though on his journey as he is joined by his friends Korg, as well as the Guardians of the Galaxy. Oh, and we also get the big screen debut of Jane Foster as female Thor. In this new quest of self-discovery, Thor and friends must also face off against Gorr the God Butcher, played to perfection by Christian Bale, whose goal, as his name suggests, is to kill all the gods in the universe.
Taika Waititi will return to direct the fourth Thor movie, as well as reprise his motion-capture performance as Thor's ally Korg. Tessa Thompson will return as Valkyrie, and Natalie Portman will return as Jane Foster. Jaimie Alexander is also returning as Sif, following the character's brief appearance in Loki. A great director, strong cast, and an interesting plot, Love and Thunder looks to meet, if not exceed the hype set by Ragnarok. And hopefully, Christian Bale can finally deliver us a great MCU villain. The movie is releasing in local cinemas on July 6.
BOO, BITCH
It's been a while since we had Lana Condor on our screen. So, her new Netflix show is one to watch out for as it seems she just can't leave high school. Lana play Erika Vu, a senior in high school who nobody knows. Determined to not become a total loser in her final weeks in high school, she, along with her best friend Gia, attend a party where Erika breaks out of her shell and becomes the toast of the night. But Erika's final weeks in high school are about to get a whole lot interesting when she wakes up as a ghost. The limited series looks to combine both comedy, drama, love, and even a little bit of mystery. Boo, Bitch arrives on Netflix on July 8.
THE SEA BEAST
Netflix is low-key underrated when it comes the animated films they release. Most of them have been hits that are worth the watch. And this may also be true for The Sea Beast. This animated flick follows a young girl who stows away on a pirate ship with the hopes of hunting down a mythical creature with a help of a legendary pirate. At first hesitant, he agrees and the two team up to take down a feared creature of the seas.
Aside from the fun plot and visuals, what also has this film going for it is the caliber of talent behind it. The movie is directed by Chris Willimas, the director of Big Hero 6 and a co-director on Moana. Yup, you read that right, the co-creator of Moana has made another sea based adventure. You can catch The Sea Beast for yourself when it streams on Netflix beginning July 8.
RESIDENT EVIL (SERIES)
The Resident Evil games are currently enjoying their moment in the sun. The same, however, cannot be said for its big and small screen adaptations. The 2021 Resident Evil movie was not good, which is why a part of us is hesitant for this live action series. But we truly want this to be good, so we'll keep our hopes up. This series looks to follow two different timelines, one where we have a new Umbrella that's trying to make a world a better place. And the other is set decades later during a zombie apocalypse where clearly things have gone wrong. The Resident Evil series hits Netflix on July 14.
PERSUASION
Another Jane Austen adaptation is on the way, and it's based on arguably one of her most famous works. This new adaptation Jane Austen's last book sees Dakota Johnson take on the role of Anne Elliot. She was supposed to marry Frederick Wentworth, but was persuaded against doing so. Eight years later, the two reunite as Anne experiences a tug-of-war between leaving the past behind her or rekindling the romance. Whenever a new Jane Austen adaptation comes our way, you know its going to be a hit (Emma). While the dialogue in the trailer has raised a few eyebrows, we're hopeful that the final product will be worth it. You can stream Persuasion on Netflix beginning July 15
REMARRIGE AND DESIRES
Add some spice to your K-drama line-up with this show about marriage, cheating, and revenge. Starring Kim Hee Sun, Jung Yoo Jin, and Cha Ji Yeon, the series centers on a matchmaking agency whose services are used by the ultra wealthy. A woman uses the agency to plot revenge against her ex-husband's mistress who has ulterior motives for her new man. Remarriage and Desires lands on Netflix on July 15.
BEACH BOYS
Young love and the beach combine for this new series from iWant TFC. Beach Boys follows five friends, played by Raven Rigor, Brent Manalo, Lance Carr, Sean Tristan, and Kyle Echarri, in Baler as they go about their lives. But of course, things don't go normally when you have young people living in one of the country's most popular surfing destinations. Along the way, they also have to deal with young love, life, and friendship. Aside from the titular boys, the show also stars Angelica Lao, Kira Balinger, and Chie Filomeno. The romantic dramedy premiers on iWant TFC on July 16.
THE BLACK PHONE
If you're looking for something spookier this July, why not try this horror movie from director Scott Derrickson (Sinister, The Exorcism of Emily Rose, Doctor Strange). The film follows Finney Shaw, a shy but clever 13-year-old boy who is abducted by a sadistic killer (played by Ethan Hawke) and trapped in a soundproof basement where screaming is of little use. When a disconnected black phone on the wall begins to ring, Finney discovers that he can hear the voices of the killer's previous victims.
Now, with the help of the dead victims, Finney sets out to make sure he doesn't end up like one of them. Based on the trailers, the movie looks terrifying in the best way possible and Ethan Hawke may just give the scariest role of his career to date. Get ready to clench your armrest when The Black Phone lands in local theaters on July 20 with special sneak peaks on July 11 and 12.
CONNECTED
It's like a mini-reunion of former PBB housemates in this new film about, well, connection. Starring Amanda Zamora, Chico Alicaya, Richard Juan, Gail Banawis, Ralph Malibunas, Kobie Brown, and Andi Abaya, the film follows a group of young people as they deal with matters of the heart with their stories ending up intertwining. KoDrea fans will get a kick out of this film given that this will be the first time the trending love team are in the same movie. But the movie is also from veteran director Theodore Boborol, so the talent is present on and off screen. Connected comes out on July 22 via KTX.
NOPE
Jordan Peele has went from a comedic actor to one of the most celebrated horror directors of today. and his homerun success in the horror genre is set to continue with the release of his third feature film, Nope. Daniel Kaluuya and Keke Palmer play brother and sister who discover that there is a dark presence near their home. It turns out that they've actually encountered aliens and must work together to face the menacing force. If you are a fan of horror, Nope should absolutely be on your radar. The film hits cinemas on July 22.
THE GRAY MAN
Everything about The Gray Man screams big budget action extravaganza. It stars Chris Evans and Ryan Gosling in their very first movie together and directed by the Russo Brothers, the duo behind blockbusters like Infinity War and Endgame. And there's also the fact that this is one of Netflix's most expensive movies ever at $200 million. The film follows Court Gentry, a skilled operative within the CIA who gets his hands on dark government secrets that could shake the world. But in doing so, he puts his life in danger as former colleague turned hitman Lloyd Hansen is now determined to get him. What follows next is a global game of cat and mouse as the two super spies try to beat each other. Get your monthly dose of action when The Gray Man drops on Netflix this July 22.
IN THE SOOP: FRIENDCATION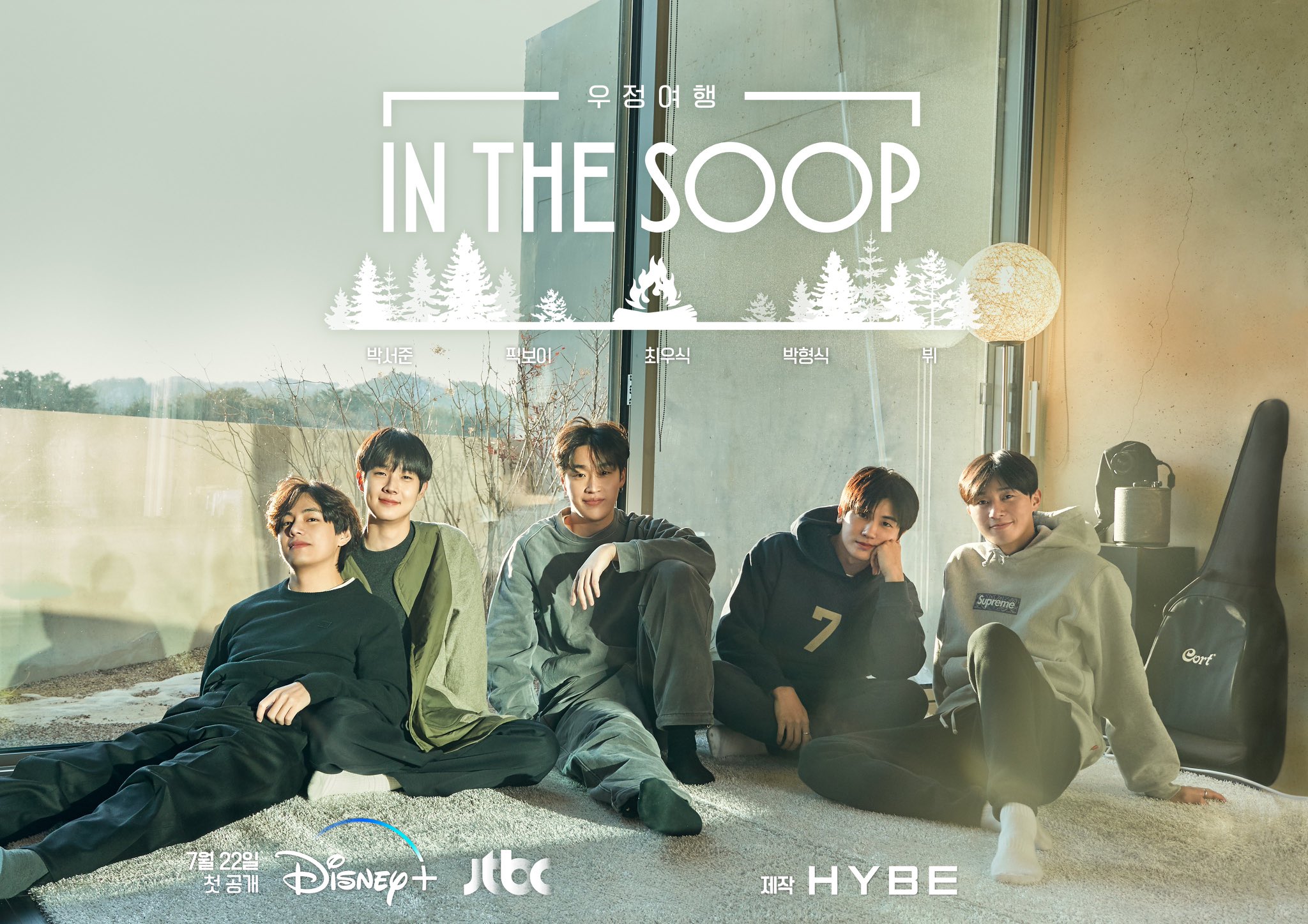 BTS' solo activities this July aren't just limited to J-Hope's new album. We can also expect some content from V this month when the Wooga Squad stars in a spin-off of In The Soop. Entitled In The Soop: Friendcation, viewers get to watch V, Park Seo-joon, Park Hyung-sik, Choi Woo-shik, and Peakboy go on a four day, three night, out of town trip together. Watching famous besties have fun together, what's not to love about that? The show premiers on July 22, Friday, on JTBC at 8 PM PH time and on Disney+ 10 PM PH time with new episodes coming every Friday.
DC LEAGUE OF SUPER-PETS
It's going to be a while before we get another live action DC film. But we are getting the next best thing with the animated film DC League of Super-Pets. The movie follows Superman and his superpowered sidekick, Krypto the super-dog. One day, when the Justice League gets kidnapped, Krypto and a group of recently super powered pets must work together in order to free the Justice League and stop Lex Luthor. The movie is giving us Justice League but in pets form which is honestly not bad. And from what we've seen, the film looks to be a fun ride for both kids and adults. The film also features an all-star voice cast that includes Dwayne Johnson, Kevin Heart, and Keannu Reeves who are bringing our favorite DC heroes and pets to life. The movies flies into local cinemas on July 27.
PRETTY LITTLE LIARS: ORIGINAL SIN
Pretty Little Liars was one of the top teen shows of the 2010s thanks to its mix of teen drama and murder mystery. This 2022, the show is back and coming in the form of a new show set in the same universe. 20 years ago, tragic events struck the town of Millwood that nearly tore it apart. Now in the present, a new generation of teens are being tormented by an unknown figure as they pay for the secret sin their parents committed years ago. We can already smell the drama and mystery that's going to come from this show. But aside from that, you may also want to tune in as Lea Salonga plays one of the mothers in the series. Discover what the original sin was when the show premiers on HBO Go and HBO Max on July 28.
PAPER GIRLS
The small screen adaptation of the acclaimed comic series is almost here. Paper Girls follows a group of four young women who deliver newspapers in the 1980s. But after Halloween 1988, the girls find themselves transported to 2019 after they got caught in a battle between time travelers. The group must now work with their future selves as they find a way home and save the world at the same time. The Paper Girls series lands on Amazon Prime Video on July 29.
NEW SEASONS
While these shows aren't new, they are premiering new seasons that you should take note of. Stranger Things 4: Volume Two (July 1), Better Call Saul Season 6 Part 2 (July 11), What We Do In The Shadows Season 4 (July 12), High School Musical: The Musical: The Series Season 3 (July 27).
Continue Reading: The Multiverse Might Just Be Real With These Upcoming Anime Movies