Upcoming anime flicks To All Of You That I Loved and To The Only One Who Loved You, Me are set to have different endings depending on the order you watch them.
Related: Doctor Strange In The Multiverse Of Madness Hype Is So Real That It's Already The Philippine's Biggest Film Of The Year
As of late, the multiverse has become one of the hottest focal points in cinema. Just this year alone, we saw Doctor Strange in the Multiverse of Madness blow up as the MCU multiverse is now wide open. Everything Everywhere All at Once is another multiverse-centered film that's been receiving critical acclaim and breaking box office records. And now, more multiverse-focused films are set to release. But this time, you won't just see the multiverse onscreen only.
ANIME MEETS THE MULTIVERSE
Recently, the trailer for two upcoming anime movies, To All of You That I Loved and To the Only One Who Loved You, Me dropped. Both films are adaptations of two light novels called Boku ga Aishita Subete no Kimi e (To Every You I've Loved Before) and Kimi o Aishita Hitori no Boku e (To The Solitary Me That Loved You) respectively. Both were written by Yomiji Otono that were released in June 2016. While that doesn't seem too out of the ordinary, what really has piqued our interest is the fact that the order in which you watch the two films will change the story. And it's a choice you can only make once.
To explain, here's some context: Both films are releasing simultaneously on October 7, at least in Japan. Once released, you have the option of choosing in which order you watch the movies. As explained by the author, "This story is born from my own fantasy when I was in the second year of junior high school. In the infinite number of parallel worlds that exist, one of the happiest futures that this fantasy has led me to is the one that will be made into these films. Two films are being released simultaneously. They are made in a way that you can watch them from either side, and the order in which you watch the two films will greatly change the way you feel about them. I hope you will enjoy the choice you can only make once, which of the two films to see first."
WHAT WILL YOU CHOOSE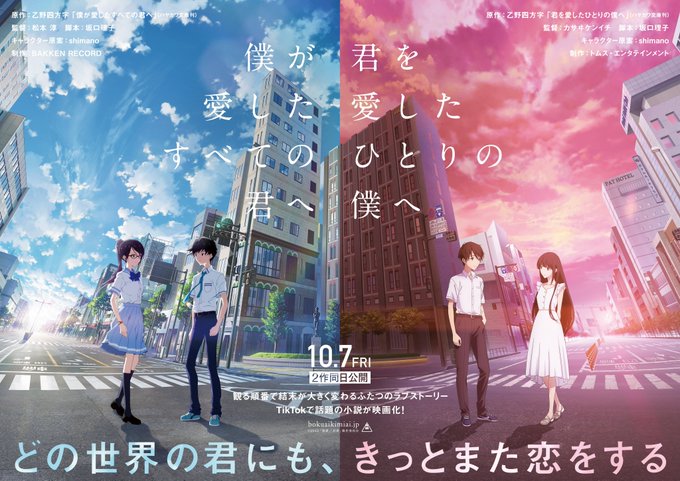 If you are interested in watching, here's what to expect. Both movies are romantic animated dramas set in parallel worlds, in essence, it's own multiverse. To All of You That I Loved centers on Koyomi Takasaki who lives with his mother following his parents' divorce. He enrolls in a local university prep school. Due to focusing on studies and his social awkwardness, Koyomi is unable to make friends. One day, he is suddenly approached by his classmate Kazune Takigawa, who tells him that she has traveled from the 85th world where she and Koyomi are lovers.
As for To the Only One Who Loved You, Me, it follows Koyomi Hidaka who lives with his father following his parents' divorce. He meets a girl named Shiori Satou at the research institute where his father works. They both develop a crush on each other, but everything changes when their parents remarry, as in Koyomi's father and Shiori's mother marry each other. Koyomi and Shiori, convinced that they will never be together, try to jump into another world where they won't be step-siblings.
Despite the interconnected themes, the two films were actually animated by different studios. The first movie, To All of You That I Loved, was animated by Bakken Record. The second, To the Only One Who Loved You, Me, was animated by TMS Entertainment. Meanwhile, there is no word though on if both movies will be releasing outside of Japan. But if they do, or you happen to be in the country during October, you may want to catch this mind- and universe-bending experience.
Continue Reading: The Anime Gods Have Answered Are Prayers As The Hunter x Hunter Manga Is Coming Back