Philippine musical theater is more than ready to welcome back audiences with these upcoming shows.
Related: And We're Live: Concerts Coming To The Philippines This 2022 And Beyond (So Far)
As the world continues to bring back some semblance of normalcy, many of the activities we used to enjoy pre-pandemic are making a return, and that includes musical theater. Like many in the entertainment industry, the performing arts was not spared by the pandemic, causing the local industry to halt entirely. But this 2022, their encore is set with the slew of local productions ready to hit the stage in the coming months. And with the recent opening of the Samsung Performing Arts Theater and the completed rebuilding of the Aliw Theater, we're more than ready to catch a good musical. Here are some productions headed your way that you should check out.
MULA SA BUWAN
After four years, Mula Sa Buwan is finally making it's return. Based on Edmond Rostand's Cyrano de Bergerac, the production is the Filipino adaptation by Francisco Rodrigo that follows three young Filipinos ,Cyrano, Roxane, and Christian, during the 1940s in Manila as they deal with the challenges of life and love. Gab Pangilinan, Myke Salomon, and Markki Stroem are set to play the three main leads this go-around with Pat Valera serving as director and Myke Salomon coming on board as musical director. Mula Sa Buwan first run at the Samsung Performing Arts Theater ran from August 26 to September 18 for a limited 13 show run. There will be an additional run this December 2-11 at the same venue for two weekends only. You can get your tickets at Ticketworld.
ANAK DATU
From National Artist of the Philippines for Sculpture Abdulmari Asia Imao original story comes this Tausug musical adaptation set in Mindanao. Imao originally wrote this in 1968, and centers on the political turmoil in the south, the impending violence it causes, and finding peace in the chaos. Tanghalang Pilipino is the production team behind the musical with Rody Vera serving as director. Anak Datu begins it's run at the newly opened Tanghalang Ignacio Gimenez on September 16 and ends on October 9. Fun fact, this will actually be the first play to be staged at the new theater. You can also avail of Tanghalang Pilipino's Season 36 Season Pass if you want to catch all their upcoming plays this season.
JOSEPH, THE DREAMER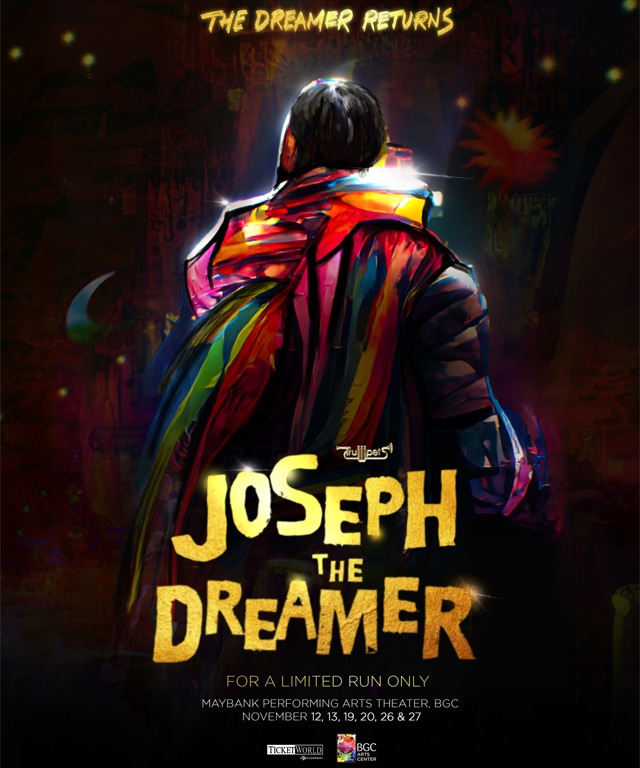 Following a successful run in July, the hit musical starring Sam Concepcion and Gary Valenciano is returning to the stage again for a limited time run from November 12 – 27 at the Maybank Performing Arts Theater in BGC. You can get your tickets via Ticketworld.
BATANG RIZAL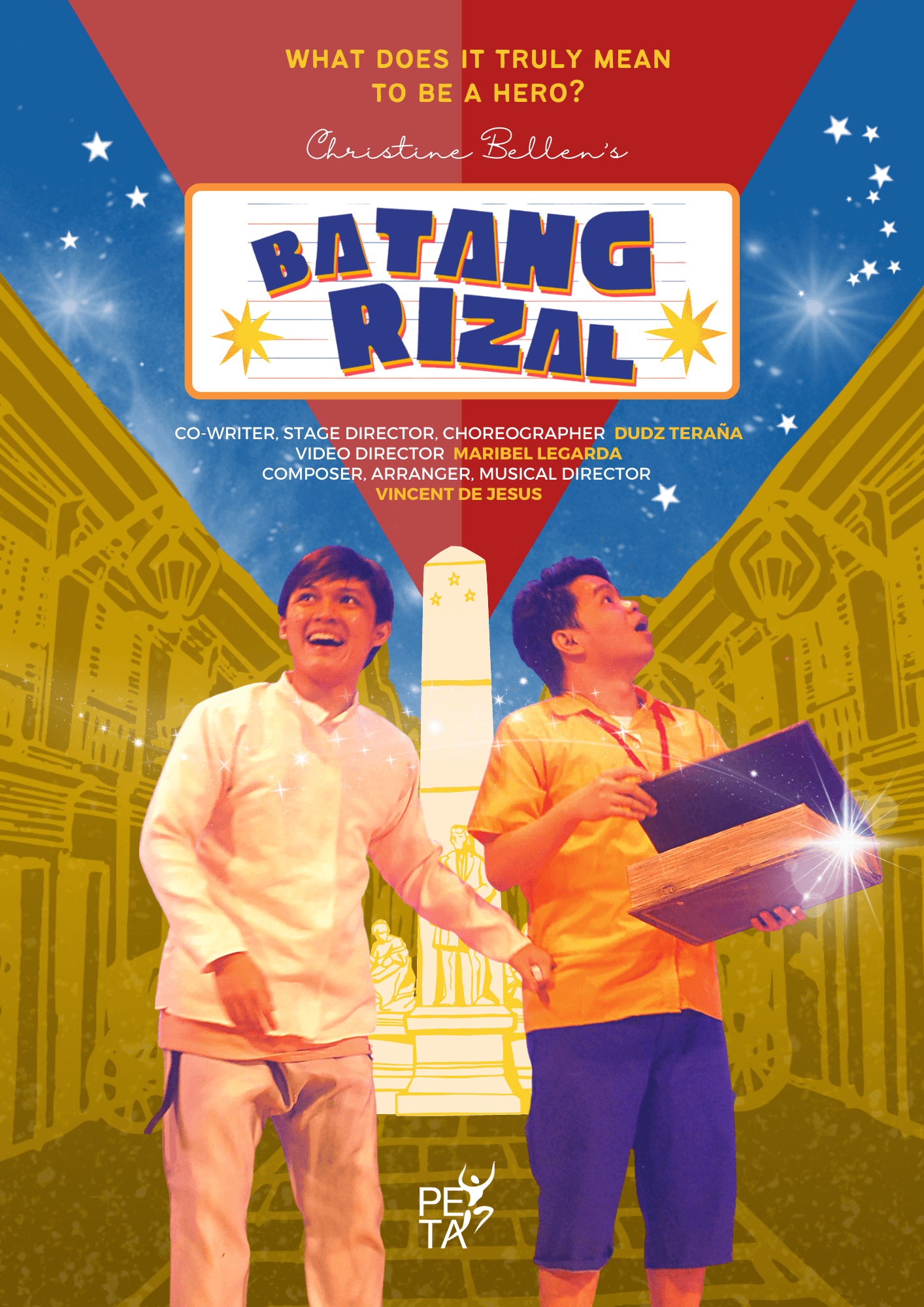 As further proof that Philippine musical theater is on the come-up once more, one of the country's premier theater companies is set to hold their first in-person musical since the pandemic began. The Philippine Educational Theater Association, more commonly known as PETA, is returning to the live stage with a restaging of Christine Bellen's Batang Rizal, a musical about the life of a young Jose Rizal as told through the lens of a kid. The show will be held in two stages: on October 14 to 16, it will be streamed via KTX. And from November 25 to December 2, the musical will be held at the PETA Theater Center in Quezon City. Expect this production to have new animations, set, and cast.
ANG HULING EL BIMBO
Ang Huling El Bimbo is arguably one of the most talked about Filipino musicals in recent years. The jukebox musical follows a group of men who meet up for a college reunion as they look back on their young lives. Every song in the production are Erasherheads songs with Ely Buendia even participating in one show. It's 2018 run was a hot ticket for many with shows consistently selling out. And if ever you missed your chance of catching this musical or would like to experience it again in all its live glory, you're in luck.
Just recently, the show announced a new run in 2023. An open audition for many of the musical's key roles recently passed its deadline, so you can bet the producers are in the midst of forming a new cast and getting the show back on.
BONUS: LOCAL PRDUCTIONS OF INTERNATIONAL MUSICALS
WE WILL ROCK YOU
Queen is coming to Manila, or at least their music is. Serving as the country's first international musical tour since the pandemic began, We Will Rock You is set in a post-apocalyptic world where rock and roll doesn't exist. Two revolutionaries then set off on a journey to save rock and roll and bring joy and the love of rock through Queen's songs. Every song in We Will Rock You come from Queen's iconic discography with the play itself featuring 24 of their biggest hits. The play will be staged at the Samsung Performing Arts Theater from October 27 to November 20. If you're looking for a night of all things Queen and pure rock and roll, you can get your tickets to the show via Ticketworld.
CAROUSEL
Originally slated to be held on May 2020, Repertory Philippines' take on the classic Rodgers and Hammerstein musical love story was cancelled due to the global pandemic. But this 2022, Repertory Philippines is ready to open their doors once more with their much-awaited live theatrical run of Carousel. TGian Magdangal will play Billy Bigelow while Karylle Tatlonghari will take on his lover, Julie Jordan. The show will run from November 26 to December 18 at the CCP Ignacio Gimenez Black Box Theater with tickets on-sale now.
Continue Reading: POLL: What's Your Favorite New Song Of July 2022?