Filipino Carats made sure that SEVENTEEN's two-day Be The Sun concert in Manila wasn't going to end without making them unforgettable.
Related: 7 Moments During SEVENTEEN's HOT Era That We Won't Be Forgetting Anytime Soon
And just like that, two and a half years of waiting has finally come to an end. Thousands of Pinoy Carats flocked to MOA Arena (with thousands more waiting outside) to bask in all things SEVENTEEN with the long-awaited Be The Sun concerts in Manila. The road to getting here was not easy. But in the end, Carats and the boys finally reunited for a whole weekend of fun, singing, memes, memories, chaos, and much more. The moment the sun-themed stage lit up and the group began HOT, there was no stopping what was to come.
The PCD (post concert distress) is real, but with what S.Coups shared during the concert, we might not have to wait too long. As we hope for their eventual return, let's take a look at some of the most memorable moments from the SEVENTEEN weekend.
THE MEMBERS' (STANDEES) ARRIVE AT MOA ARENA
Eto na sila! Patawid na mga sebongs! #BeTSinMANILA #CARATSinMOA pic.twitter.com/wM3OEtPNJa

— Philippine Concerts (@philconcerts) October 8, 2022
Even if #TeamLabas couldn't see their fave boys live, at least they got to see their life-sized standees. Maybe it was also a sign that they would get to see them in the future.
ENJOYING FILIPINO FOOD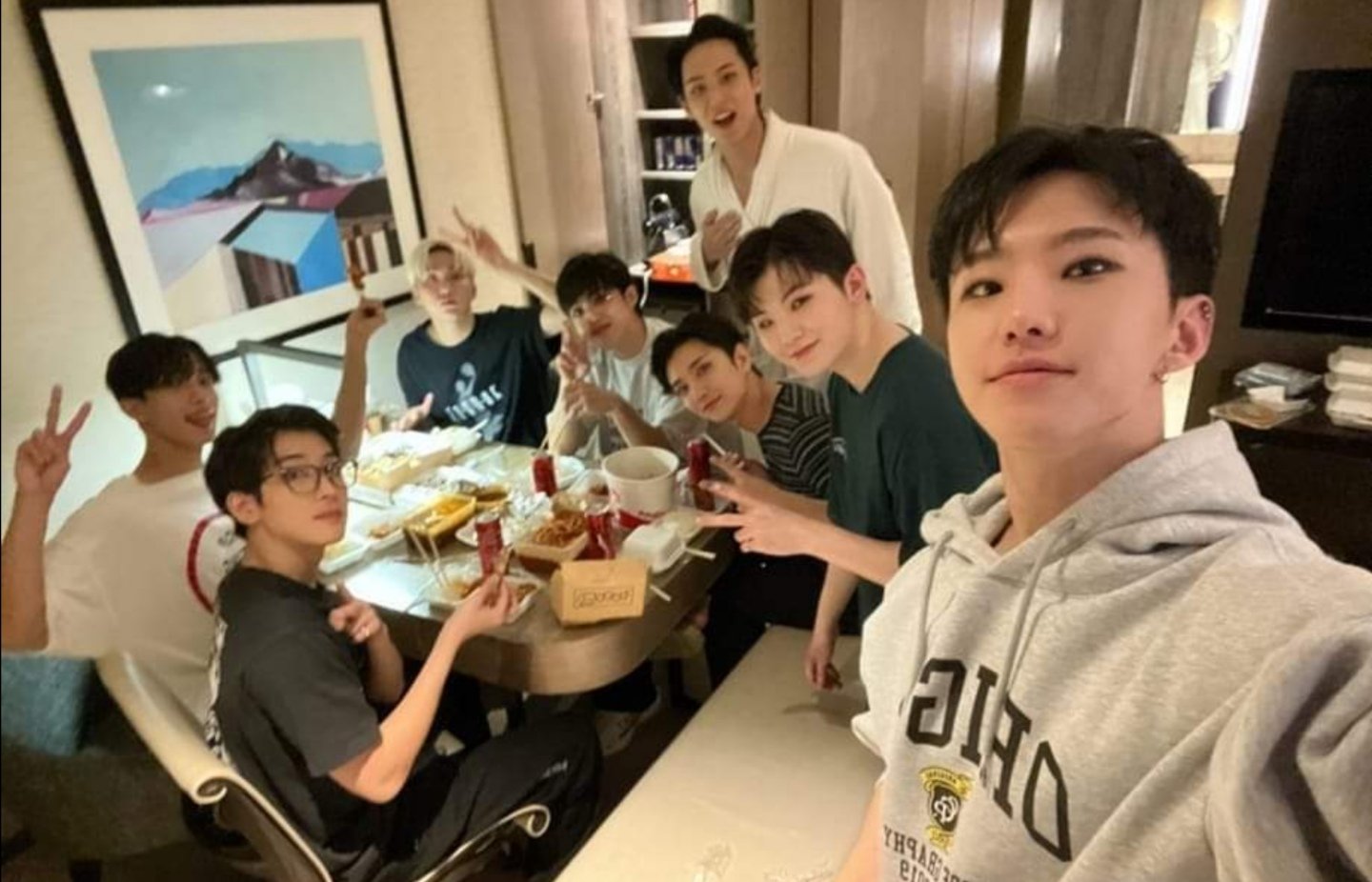 It's practically an unspoken rule every K-pop idol who holds a concert in Manila needs to try Filipino food. And SEVETEEN were on that agenda as seen in this selfie. Not only are the members enjoying classic fast food staple Jollibee, but you can also spot on the table some dishes from Mang Inasal. A group with taste.
THIS CARAT MARRIAGE PROPOSAL
One of the best moment I witness yesterday 🥰🥺😍 SOBRANG KILIG QJVZJWND 🥰 witnessed a marriage proposal in our section 😍😍😍 #BETHESUNinMNL #BeTSinMNL pic.twitter.com/fWuRTqez0Z

— რагყ⛅️゚🌸 (@seoksooinlove) October 9, 2022
Getting to see your fave live in-concert is a goal in itself. But having the love of your life propose to you during the concert is what dreams are made of. Congratulations to the happy couple! We can already imagine the setlist for their wedding.
SEVENTEEN HAVING A BASKETBALL GAME IN THE MIDDLE OF THEIR CONCERT
BASKETBALL IN THE MIDDLE OF A STAGE!!!! SEVENTEEN ONLY#BeTheSuninManila #BeTSinMNL pic.twitter.com/FhuK0m4uSJ

— ffff 🦋 saw svt! (@1two7dream) October 8, 2022
Only SEVENTEEN would think about doing this in the middle of their sold-out show. It honestly just makes sense when you think about it.
SEUNGCHEOL GETTING DOWN
SEUNGCHEOL CHOI WTF IS THAT pic.twitter.com/SpkqafqqL2

— kitten (@yupsheskitten) October 8, 2022
S.Coups grinding on the floor was not on our SEVENTEEN in Manila bingo card. But who's complaining, right?
DINO DOING THIS
DINO TAKING OFF HIS OTHER CLOTHESLDJDKD IN SHADOW #BETHESUNinMNL pic.twitter.com/gj9PBMIzee

— 𝚛𝚞𝚝𝚑𝚒𝚎 🐰◜◡◝ (@flowerrchim) October 8, 2022
All the Dino-biased at the concert ate so good when he threw his jacket.
DINO'S DAD AND GRANDMOTHER DANCING TO SNAP SHOT
Talent runs in the family, wbk. But can we also talk about the girl in the back in the wedding dress? She came prepared to make a statement and we appreciate the dedication.
FILO CARATS TURNING IT INTO THEIR OWN CONCERT
The global reputation of the Filipinos as some of the best fans in the world was once again on display during SEVETEEN's concerts. Dino's rap in Snap Shoot was no challenge for Pinoy Carats. Trust that it was a show for all.
S.COUPS GIVING HIS HAT TO A CARAT
To the lucky fan who got the hat, we hope you take good care of it. It's not everyday that the leader of SEVENTEEN gives away his hat.
THE CREATIVITY OF FILO CARATS
If there's one thing that you need to understand about Filipino Carats, it's that they will go all out for their boys. And that includes showing up and showing out with A-tier concert posters and banners. From placards, costumes, phone cases, and everything in between, Pinoy fans used their knowledge of the group to good use. Given how this is the same fandom who put up digital billboards just to promote the group's concert, we aren't surprised.
AUTOTUNE BATTLE
Whoever thought of the idea to give SEVENTEEN an autotune mic, they deserve a raise. Wonwoo singing Sorry Sorry by Super Junior, Joshua belting Whitney Houston's I Will Always Love You, it was everything.
PIZZA CARAT
It takes an extra set of skills in order for nearly all the members to follow your dance moves. It also does help when you wear a 10/10 costume.
"MADLANG PEOPLE"
Whoever taught DK how to say "madlang people" is doing the Lord's work because this was the least thing we expected him to say in Tagalog. If DK ever thought of hanging up is music career, a stint as an It's Showtime host is always in the cards. Meanwhile, Joshua's sana all takes a close second in SEVENTEEN's best Tagalog moments.
JUN TURNING THE MALL INTO A TOURIST SPOT
Despite their busy schedule, it was nice to see the members roam around for a bit and take in the sights (shout out to the fans who respected their space). Jun was photographed in front of a Christmas tree inside a nearby mall. It didn't take long for Carats to know where that was and pretty soon, fans flocked to the place wanting to take pictures where Jun was.
THIS DREAM COME TRUE FOR A FILO CARAT
GUYS I AM THE ONE WHO SANG AJU NICE IN FRONT OF SVT OMYGHOD PAHINGI PO VIDS AND PICS PLS HSJDHSJSKAHAHAJAKKS pic.twitter.com/Vu1avgNUFn

— trisha sang aju nice 🤯 (@gyucart) October 8, 2022
To be able to sing Aju Nice with the members during the concert is a dream many fans hope for. And for this one lucky Carat, that dream became a reality when Seungkwan came down to ask her to sing a part. That right there is a core memory moment.
Continue Reading: Filipino NCTzens Were Truly Blessed During NCT 127's Manila Concert