Liza Soberano is out here collecting these K-pop idols like photocards and making cameos in Korean shows like it's no big deal.
Related: James Reid Dancing With Jay Park Is The Collab You Never Knew You Needed
2022 has been a year of change for Liza Soberano. After leaving her long time management, she surprised many by joining Careless Music and expressing a desire to start a career in Hollywood. And Liza isn't kidding about her global ambitions, and with a new management behind her, Liza has been making moves around the world. Case in point, South Korea.
It's no secret that Liza is a big fan of K-pop and K-dramas. In fact, she even has a private stan account for BTS. But in the past few weeks, she, along with James Reid and the rest of the Careless crew, has been taking that love to the next level by rubbing shoulders and dancing along with K-pop stars and even appearing on Korean TV. Here's a rundown of Liza Soberano living that K-life in South Korea.
VISITING K-POP COMPANIES
For any K-pop fan, visiting South Korea isn't complete without visiting K-pop companies. And for Liza, she made sure to do just that. A few weeks ago Team Careless got people talking when they were pictured in Starship Entertainment. They then went on to visit THE BLACKLABEL, the label of SOMI. She and ISSA then visited YG Entertainment where iKON's DK gave them a personal tour (more on him later). Liza and ISSA even attended an event for Coca-Cola Korea. In between these visits, they also had meetings and met some top executives in the Korean entertainment industry as Liza looks to expand her career outside the Philippines.
HANGING OUT WITH K-POP IDOLS
In Liza's many adventures in South Korea, the superstar has also met her fair share of K-pop idols. And when we say met, we mean made videos with them, because who wouldn't right? First, she and James hung out with GOT7's BamBam as if they were just casual besties. Liza then danced with Jay Park to his new song Need To Know. Afterwards, not only did iKON's DK give Liza and ISSA a tour of YG, the two also did a TikTok together and danced to Go Girl by Pitbull. If the room where they danced looks familiar that is because that was also the room where BLACKPINK filmed their Lovesick Girls dance practice video.
DK wasn't the only YG idol Liza met as she also did this cute TikTok with WINNER's Hoony. Just to make sure, Hoony also did a TikTok with The Rose, James, and Liza because why not right. Liza also dropped a TikTok video of her and IVE's Yujin doing the Dear Cupid challenge. And just recently, she released one with James and The Rose. When Ariana Grande said, "I want it, I got it," Liza took that to heart. That's at least five K-pop idols we publicly know Liza met. Who knows who else are hiding in her photo album.
MEETING BLACKPINK'S JENNIE AND LISA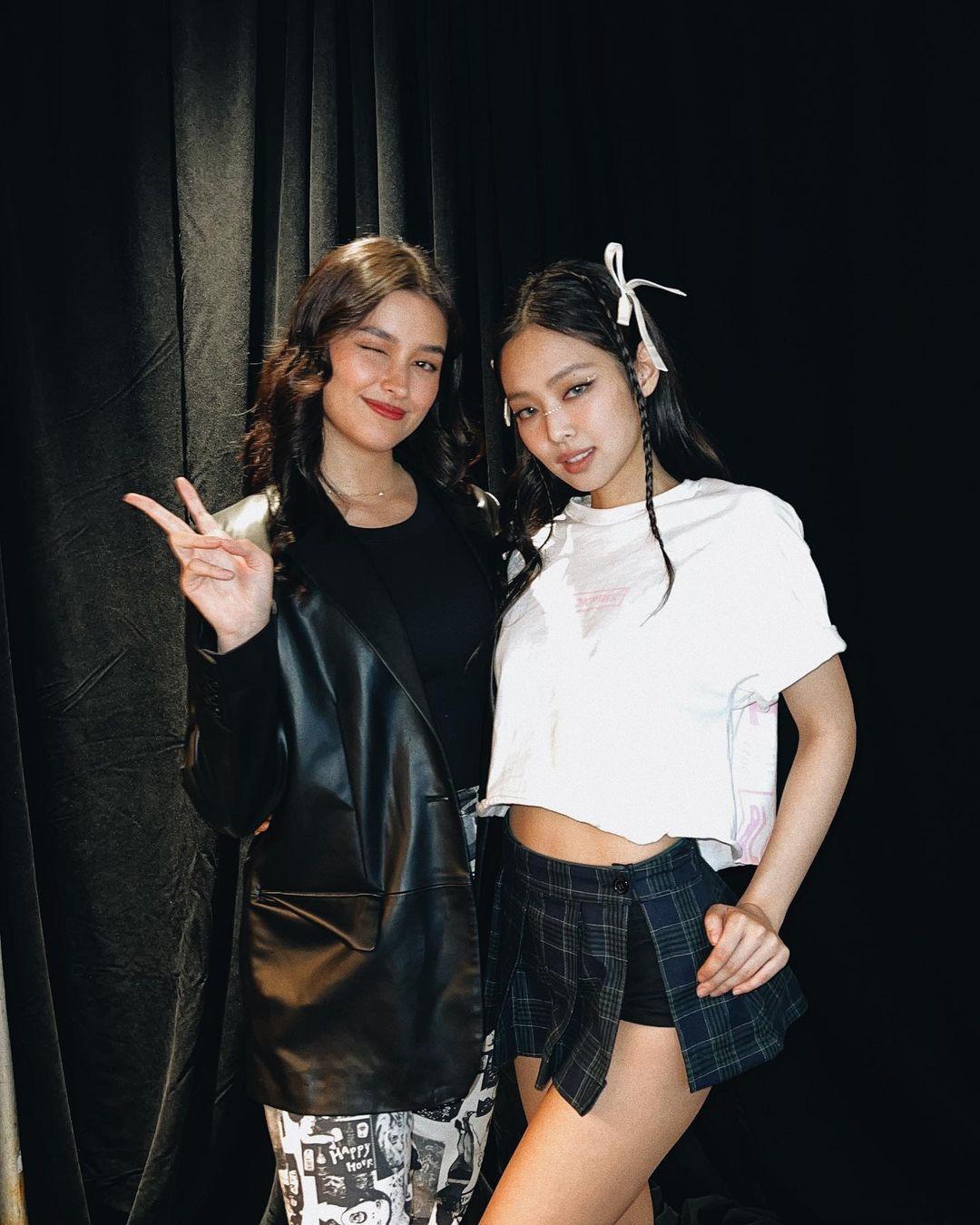 In the biggest sana all possible, not only did Liza attend Day 1 of BLACKPINK's concert in Los Angeles, she also got to meet Jennie, Lisa, and probably Jisoo and Rose too backstage after the show. Liza wasn't able to meet BP during her visit to YG Entertainment, but that was because the iconic moment was reserved for the concert in LA. Liza is a known BLINK, so the fact that she got to do this is a major W on her part.
GOING ON A KOREAN SHOW
As if visiting K-pop companies and meeting K-pop idols isn't enough, Liza also had the opportunity to appear on a Korean TV show. On July 25, Liza made an appearance on Not Hocance But Scance, a reality show hosted by actress Ye Ji-won, former Kara members Ji-young Kang and Nicole Jung, and former SISTER member Soyou. In the MBN aired show, Liza is seen joining the women for a barbeque meal at night. Fun fact, Liza actually met the producer of the show, Lee Sanghoon, last month.
During their chat, Liza opened up about why she was in South Korea when asked about it by one of the hosts. "[I am here] for a kind-of-vacation-kind-of-work. I'm just exploring Seoul and I'm a huge fan of K-pop and K-drama so I want to find work here." Liza shared that she showed up because she was a fan of Soyou and wanted to say hi. Soyou then asked Liza if she knew her songs and Liza said that she knew the SISTAR classic Touch my Body and added "I've liked it since I was eleven. It started with K-pop and then I started watching dramas like Boys Over Flowers."
The hosts shared their love for Liza back by comparing her beauty to that of Hollywood actress Olivia Hussey. Despite the language barrier, Liza had a fun time on the show, sharing on her IG stories, "Thank you to the hosts and guests of the show for making the experience fun and comfortable!" Given how Liza did say that she is potentially looking for work in Korea, maybe the next time she'll appear in Korean TV is for a K-drama.
Continue Reading: Going Hollywood: See Actress Jennie's Debut In The First Trailer For HBO's The Idol