With his Emmy win, not only did Lee Jung-Jae cap off a groundbreaking run for Squid Game, but also made Emmy history, too.
Related: The Cast Of Squid Game Just Made History At The 2022 SAG Awards
When Squid Game first premiered in October 2021, the show quickly went from Korean drama with an intriguing premise to one of the biggest shows in modern entertainment history. It became a mainstay of pop culture for months. Netflix's most popular show to date was the must-see TV series of 2021 and it parlayed that hype to award wins, often to historic success. And now, the series just achieved it's latest historic milestone thanks to Lee Jung-Jae's win at the 2022 Emmys.
FIRST IN HISTORY
On September 13, the 2022 Emmys were held and Lee Jung-Jae was awarded the Lead Actor in a Drama Series Emmy. The Korean actor was up against a bevy of strong contenders like Jeremy Strong in Succession and Bob Odenkirk in Better Caul Saul. But the money was on Lee Jung-Jae to win, especially after his critically acclaimed performance won him a slew of awards such as the SAG back in February. In the end, Lee Jung-Jae added another historic trophy to his awards closet. "Thank you to the Television Academy, thank you to Netflix, and thank you to the director for making realistic problems we all face come to life so creatively on the screen with a great script," he said during his speech. "Thank you Squid Game team, thank you to everyone watching in Korea."
With his win, Lee Jung-Jae made a few historic firsts. First, he became the first Asian actor ever to win the lead actor in a drama series category. Second, he became the first actor in history to win a main category Emmy for a non-English speaking role. Lastly, Lee Jung-Jae joins a group of just three other Asian actors who have won in any main Emmy acting category. He wasn't the only member of the Squid Game team to take home an Emmy though. Director and series creator Hwang Dong-Hyuk took home best directing for a drama series while Lee You-mi made history for her win in Outstanding Guest Actress in a Drama Series.
HISTORY MAKERS AT THE EMMYS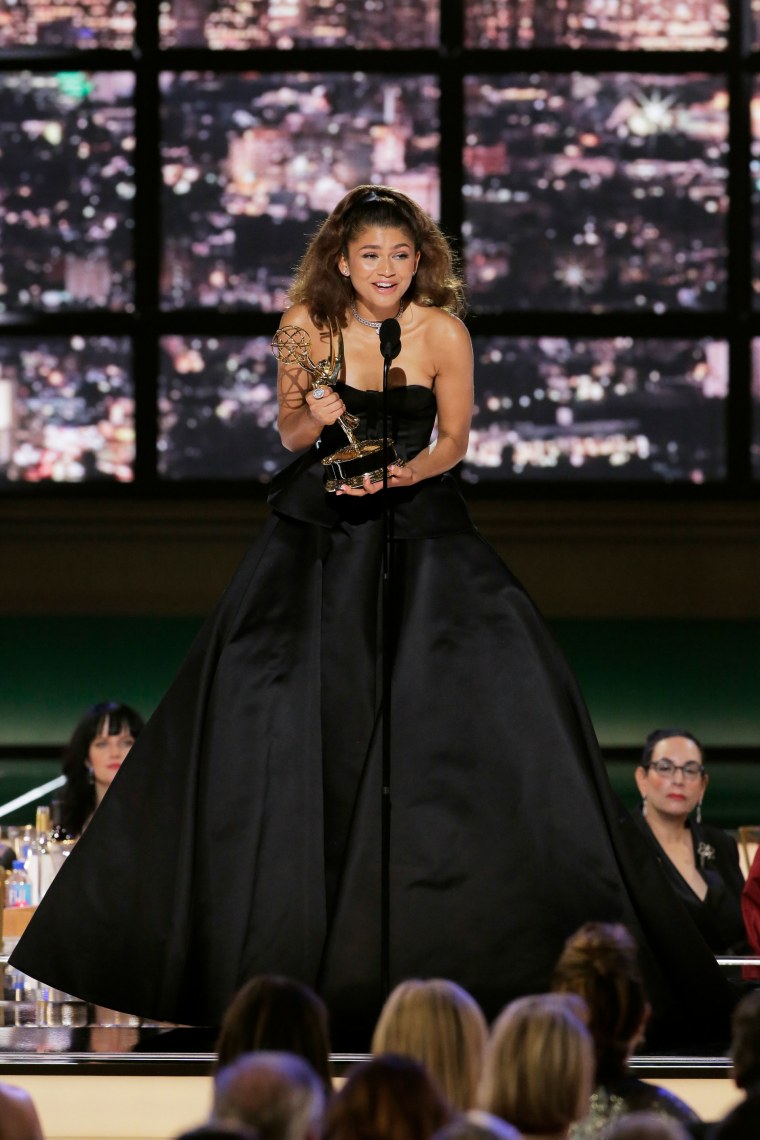 The 2022 Emmys also saw other historic feats. Zendaya won for lead actress in a drama series for Euphoria. And with the win, she became the youngest person in history to win the same Emmy category twice. She also became the first black woman to win the Emmy for lead actress in a drama series twice. Zendaya already holds the record for the youngest person in history to win an Emmy in that category when she won it in 2020. These historic Ws just add to her already glowing resume. Other winners include Lizzo winning outstanding reality show for her Big Grrrls series and Quinta Brunson going from appearing in Buzzfeed videos to winning an Emmy for her writing in Abbott Elementary.
With the Emmys now over, Squid Game technically ended its awards season run, and what a phenomenal run it was. Even though they didn't take home the top prize for Drama Series, it was more than enough seeing the cast and crew take home awards, especially for a series not in the English language. Now that season two is on the horizon, the show will have a lot of expectations to meet. But we have a feeling they satisfy those.
Continue Reading: Red Light, Green Light: 7 Things We Hope To See In Squid Game Season 2