Months after its premiere, Squid Game continues to win as seen in Lee Jung Jae and Jung Ho Yeon bagging historic wins at the 28th SAG Awards.
Related: Olivia Rodrigo, H.E.R., And Saweetie Make History At The 2022 Grammy Nominations
When Squid Game made its debut on Netflix in September 2021, few imagined that the show would become a cultural juggernaut. But as soon as its premiere, the show garnered millions of viewers around the world and it became the must-see new show of 2021. But Squid Game's success wasn't just limited to the audience reception. The show has also received critical acclaim and major international awards, some of which were history-making. And that just happened once more when Squid Game snagged three historic wins at the 28th Screen Actors Guild Awards.
HISTORIC ACTING WINS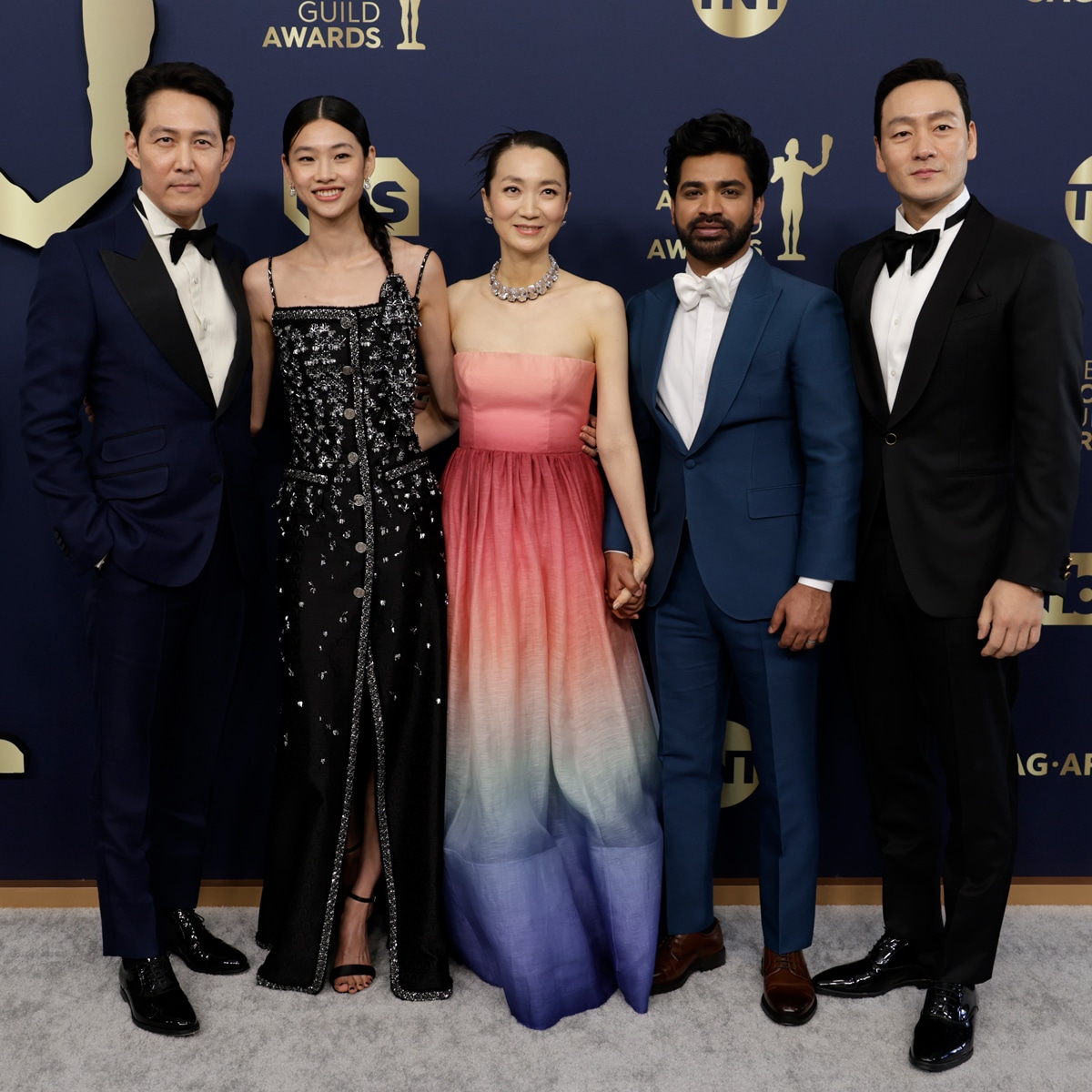 Prior to the 28th SAG Awards, Squid Game was entering the awards show as a history maker already. The show became the first non-English language TV series to be nominated for an award at SAG, including the prestigious Best Ensemble in a Drama Series category. All in all, the series had four nominations, one of the most of the night. And by the time the show came to an end at the Santa Monica Baker Hanger, Squid Game racked up three wins.
Lee Jung Jae and Jung Ho Yeon each took a win for Outstanding Performance by an Actor and Actress in a Drama Series respectively. In doing so, the duo became the first Korean actors to win these awards in the drama series category. Also, they became the first actors of Asian descent to do so. These historic wins were made more impressive considering the competition they were up against and that this is Jung Ho Yeon's debut acting role.
"THANK YOU FOR MAKING ME DREAM"
During her acceptance speech, Hoyeon was visibly emotional and even started crying as she shared her thanks. "First of all, thank you so much. I have seen many of the actors in the audience through the TV screen, dreaming of becoming an actress one day while watching you all. Thank you for making me dream and opening the door for me. I love you my Squid Game crew!" she said with the help of an interpreter.
Meanwhile, Lee Jung Jae also expressed gratitude during his acceptance speech. "Thank you so much. This is truly huge. I wrote something, but I don't think I can read it. Thank you so much, SAG Awards. Thank you to the global audience for all of your love for Squid Game and thank you Squid Game team!"
Congratulations to the cast of #SquidGame for taking home the first Actor® of the night ? #sagawards pic.twitter.com/1B5DdwFeB7

— SAG Awards® (@SAGawards) February 27, 2022
Squid Game's third win of the night came for Outstanding Action Performance by a Stunt Ensemble in a Television Series, beating out MCU tentpoles like Loki and The Falcon and the Winter Soldier. The show's final nomination, Outstanding Performance by an Ensemble in a Drama Series, was won by HBO's critically acclaimed series Succession, a show that many considered to be Squid Game's main rival heading into the SAG Awards.
HISTORIC NIGHT AT THE SAG AWARDS
The night's historic wins wasn't just limited to the cast of Squid Game. Troy Kastur took home the trophy for best supporting actor for his acclaimed role in CODA, which also took home the biggest win of the night for best cast in a movie. With his win, Troy Kastur became the first deaf actor to win an individual award at the SAG Awards. Ariana DeBose, who played the magnetic Anita in West Side Story, was awarded best supporting actress for that role and became the first Latina and queer woman of color to win a SAG award.
Squid Game was already coming off a historic win for Oh Yeongsu as best supporting actor at the 2022 Golden Globes so this SAG triumph is another notch in their belt. Definitely keep an eye out for the show in the upcoming Emmy Awards and not to mention that highly anticipated season two. Here's to more Asians getting much deserved wins on the global stage.
Continue Reading: 7 Things We Hope To See In Squid Game Season 2