After spending their first album series around darkness, VERIVERY is back to lighten things up with a new comeback all about love.
Related: K-pop Boy Group DRIPPIN Just Closed Their Villain Era With A Bang
Tonal shifts in music aren't easy to do. Going from one concept to another requires proper planning and execution. When done right, it can show off an artist's different artistic sides. But when done wrong, it can feel like a jarring transition. For K-pop boy group VERIVERY, their latest comeback leans heavily towards the former. After their first album series, SERIES 'O' [ROUND 3 : WHOLE], in April delved into a darkness that saw them touch upon and face their struggles, the boys are back to see the brighter side of life with their new EP, Liminality – EP.LOVE.
I FALL IN LOVE WITH YOU
This new comeback is the start of their next chapter, and the new EP is episode one. It tells a short, but charming story of how they find those moments of love and happiness. And they tell their unique tale of love through two new songs, the title track Tap Tap and B-side Motive. Tap Tap mixes hip-hop beats and pop-rock flavors for a colorful variety of sound that harmonizes to produce a fun and dazzling energy. Motive, meanwhile, takes inspiration from hyper pop and mid-tempo electronic for a track that both stands on its own and compliments Tap Tap.
It feels like a natural progression of VERIVERY's career, and they're hitting all the right notes. Just recently, the boys achieved their first-ever music show win with Tap Tap, nearly four years after their debut. And this is on top of their successful 2022 VERIVERY CONCERT PAGE: O tour in Korea, the US, and Latin America. NYLON Manila recently spoke with VERIVERY in the lead-up to the release of Liminality – EP.LOVE. Read on below for the full interview as members DONGHEON, HOYOUNG, MINCHAN, GYEHYEON, YEONHO, YONGSEUNG and KANGMIN share how they prepared for the album, their new era, finding happiness, and more.
How did the concept of Liminality – EP.LOVE come about?
VERIVERY: [Liminality – EP.LOVE] is the following chapter of our SERIES 'O' albums that discuss facing one's inner darkness and living with it, so this new chapter narrates a story of looking for elements of happiness. Since it is EP.LOVE, we wanted to express love, an emotion that we face on our way to find happiness, in VERIVERY's unique way. We're expressing multiple emotions, including OVER as an excessive expression and SHY as a shy child, and the process of feeling fluttered with love in more bright and positive perspectives.
Since the single album is about love and happiness, what is one simple thing you do in your lives that makes you happy?
DONGHEON: I think my simple happiness in daily life comes from small moments such as talking with members, eating good food, and looking for fun videos.
HOYOUNG: Taking a shower and eating ice cream after a long day gives me great joy.
MINCHAN: For me, it feels great to eat a delicious meal after a long, hard day!
GYEHYEON: My simple happiness is sleeping for a long time on my off day.
YEONHO: I feel happy when I get off work and watch TV shows, dramas, and movies.
YONGSEUNG: I recently found watching soccer games while eating delicious food with members really make me happy.
KANGMIN: These days, I'm excitedly waiting for a theatrical version of an anime I like.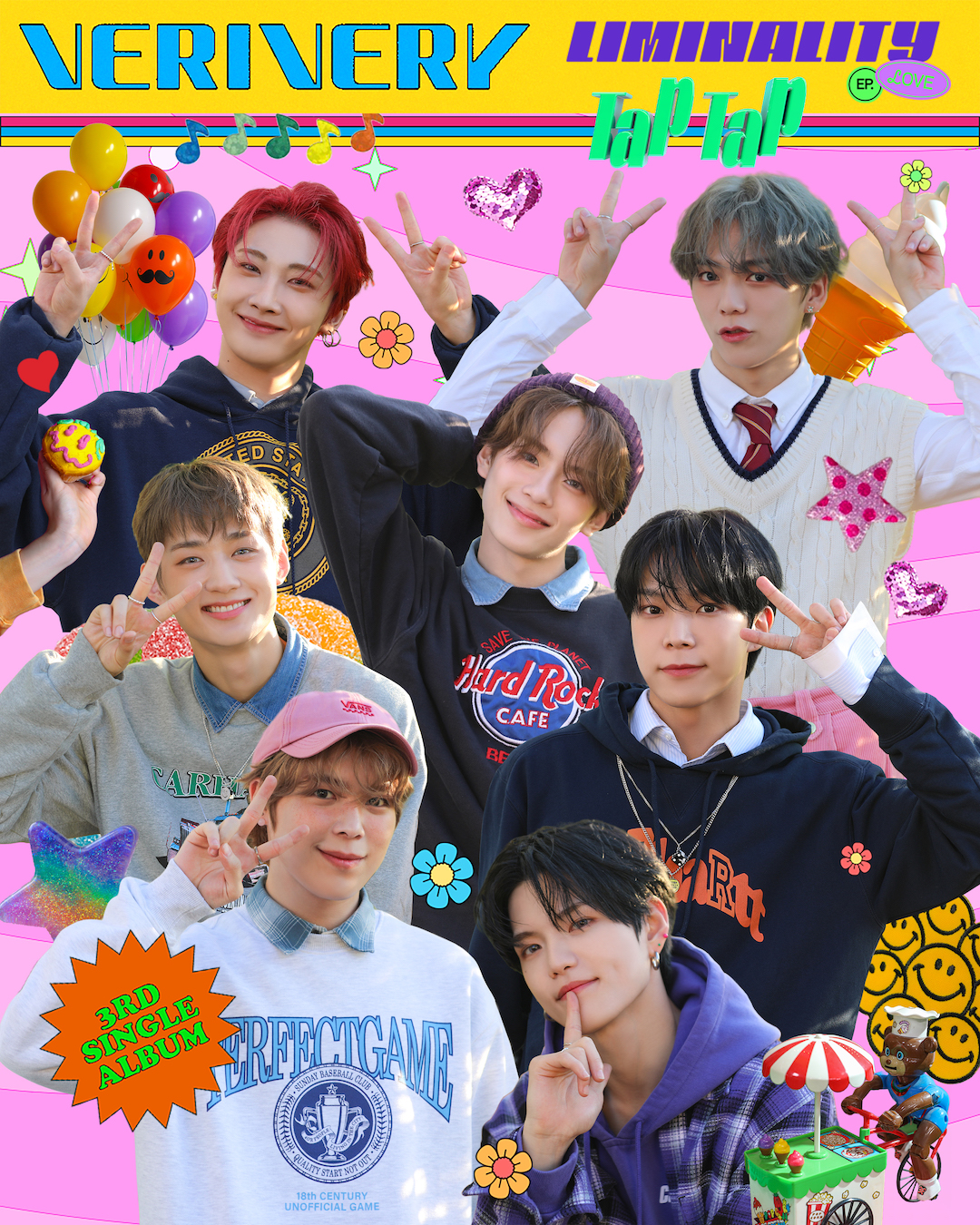 What can VERRER expect from VERIVERY in this new era?
VERIVERY: We're back with a bright song and a fresh concept, and it's been a while since to try such a concept after our debut. You can look for our happy and positive energy from performances, various expressions of love from each of us, and VERIVERY's own loveliness.
Does your work process change when you're working on an album, EP, OST, or single album?
VERIVERY: The biggest difference would be expressing tracks through many genres and ways when there are more tracks in the album. When working on an OST, it is crucial to match the vibe of that drama or movie. Therefore, we focus on following the director's lead and imagining a certain scene when singing an OST.
What lessons did you learn from your recent album series that you're applying to your future releases?
VERIVERY: We studied and practiced to really immerse ourselves into the universe of SERIES 'O', which led us to think again about ourselves. We think that experience allowed us to focus and express our emotions better in the new series.
How was it like getting to meet fans around the world during your PAGE O tour?
VERIVERY: We felt so much love from our fans who support us from countries far away from Korea. They were all very welcoming after waiting for us until the tour. It was our honor to communicate and share our passion with international VERRERs whom we rarely get an opportunity to meet in person. We got great energy from them and had so much fun, so it was a memorable tour. We hope we get more opportunities like that in the future.
What's one thing about VERIVERY that you wish more people knew?
VERIVERY: Our teamwork! Our biggest strength and characteristic is our sharp group dance, and we believe our teamwork really accentuates that.
What's one VERIVERY song that you think should be in everyone's playlist?
DONGHEON: I recommend our new song, Tap Tap!! We're going through several inflection points these days around the world, and I hope this song brings comfort to everyone.
HOYOUNG: I want to recommend Tap Tap because it is very fresh and easy to listen to.
MINCHAN: Our new title track Tap Tap! It's a very fresh and bright song, so please give lots of love!
GYEHYEON: I'd choose Tap Tap, because I want to deliver its bright energy to everyone around the world.
YEONHO: Of course, our new single title track Tap Tap!
YONGSEUNG: Candle is very easy to listen to, and it's just a good song. I definitely recommend it.
KANGMIN: I'd like to recommend Candle.
Continue Reading: CRAVITY's New Era Is All About Enjoying Yourself On Your Terms