It's safe to say that the fans were blessed with Belle Mariano's NYLON Manila cover and her vision in white moment.
Related: In A World Of Possibilities, Belle Mariano Wants You To Ditch Fear And Take A Leap
Ever since He's Into Her first aired in 2021, it seems as if that Belle Mariano's career has been on an inclined slope that doesn't look to go down. She's been booked and busy for practically the past two years with little sign that the Bellementum is going to recede anytime soon. We're only three weeks into the year and we already got news that Belle had begun working on her second studio album. This ability to be constantly front and center of the Filipino pop culture discourse was one of the main reasons why we decided to have Belle serve as our very first fanzine cover star of the year.
Dressed in all white and sporting a ponytail that was straighter than a ruler, Belle commanded the camera with her presence which was complemented by her heartfelt answers in her cover story. When we dropped the cover reveal last January 15, it quickly became clear that fans loved it considering it became a top trending topic on Twitter. We appreciate all the love and support you've shown the cover so here are some of our favorite reactions from fans to Belle's cover shoot.
A SERVE
SHE'S KILLIN' IT, SHE'S INDEED ON FIRE.

🖇️https://t.co/4rGlD38wz2#BELLEjeweledNYLONFanzine#BelleMariano @bellemariano02 pic.twitter.com/6eNmhuXQSO

— maju (@mintydb) January 15, 2023
Given how Belle has been in the industry since for more than a decade, we weren't surprised that she was ready to serve the moment she stepped on set.
IT-GIRL BEHAVIOR
she is theeee moment❤️‍🔥#BELLEjeweledNYLONFanzine#BelleMariano pic.twitter.com/g9vq8QPabm

— Berna🦖 (@donbelleluvver) January 15, 2023
Belle is a superstar on the rise and this cover shoot captured this fresh energy that she was bringing to the industry.
THAT HAIR FLIP
YASSSSS OMGGG#BELLEjeweledNYLONFanzine#BelleMariano @bellemariano02

pic.twitter.com/8e6uPgII2h

— ٓ (@HERM0SABELLE) January 15, 2023
Just like this fan, we were obsessed with Belle doing this boss hair flip that exuded confidence and power.
SLAY FROM H TO T
she slay from h to t, that sheer top with that artsy patch jeans/denim, and i think she's wearing a sneakers, her cat eyeliner with that long hair 😩 yasssss! and just theee BELLE MARIANO alone laying there i'm deadt#BELLEjeweledNYLONFanzine#BelleMariano @bellemariano02 pic.twitter.com/PvZnFgaYuC

— chelsie 🎞 (@cathoooman) January 15, 2023
This fan's caption says it all. It's Belle Mariano unlike you've seen her before. Who else can pull off deconstructed denim shorts, sneakers, and long hair by just laying on the floor?
FAN ART
Short break – quick #BELLEjewelled art#BELLEjeweledNYLONFanzine | Belle Mariano#BelleMariano #nylonmanila pic.twitter.com/hUx9RWyCG9

— ★ neko marichii i ★ (@CloudsNeko) January 15, 2023
This solid supporter is getting a 10/10 for their drawing of one of Belle's NYLON Manila cover shoot photos. The artwork captured the doll-like energy it was based off.
THE MARIANO BANGS
SLAY pic.twitter.com/o1obBSgafI

— vico blanco (@vicentejian) January 15, 2023
Not only did Belle work a white outfit on an all-white background, but she did so while sporting M-shaped bangs and a sleek ponytail that reaches her waist. Belle really can pull off any hairstyle.
IT'S FASHION
BELLE MARIANO LETS GIVE HER HER 10s ! SHE SAID FASHION MAMA ! https://t.co/zpeCk7Xj5T pic.twitter.com/vCXu40LRCJ

— CHER DIOKNO (@wigofnadine) January 15, 2023
This look is an example of how we love to envision our cover stars in new and exciting ways. Plain and boring was not on the agenda for Belle's cover shoot.
LISA VIBES
belle mariano looks like lisa manoban for some reason pic.twitter.com/nkMY9N3JDV

— ๑ (@livelikepotter) January 15, 2023
The bangs and the face is where we see this comparison. To be compared to BLACKPINK's Lisa looks wise is a true compliment no matter who you are.
BONUS: SISTERLY LOVE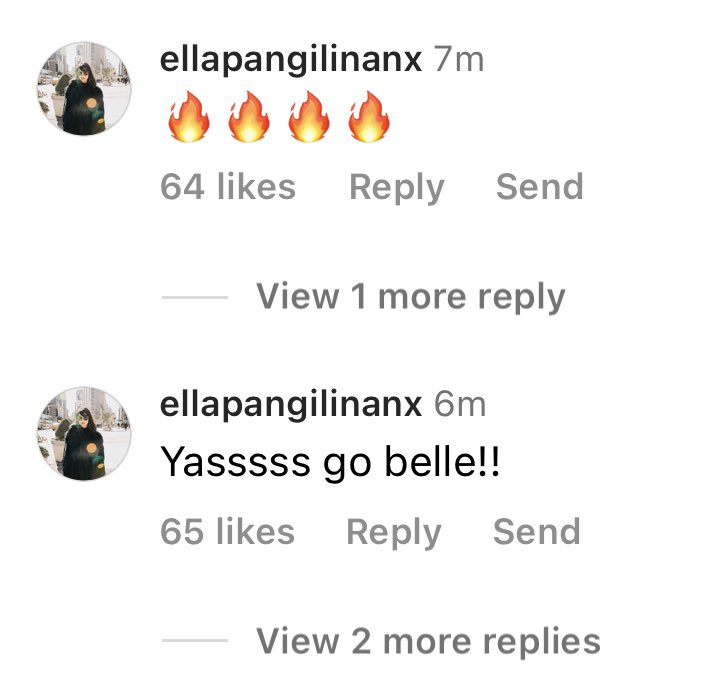 Given how close Belle is to the Pangilinan family, we aren't surprised that members of the family would show love to Belle's cover shoot. Not only did Hannah and Ella Pangilinan like Belle's post regarding the cover on Instagram, but Ella even showed some love in the comments. We love to see the support.
BE THE FIRST TO GET THE NYLON MANILA FANZINE FEATURING BELLE MARIANO WHEN YOU PRE-ORDER AT SHOP.NYLONMANILA.COM