Making their debut on the 2022 PPOPCON stage, DIONE delivered a promising debut with BLING BLING and earned a spot on the P-pop radar.
Related: P-pop Girl Group G22 Kick Butt And Take Names With Their Debut 'BANG!'
With many new P-pop groups now active on the scene, it sometimes can be hard to get the pulse on the groups who have been making noise. With more than a dozen P-pop groups to follow, there are a lot of acts pining for your attention. And one such new P-pop group that deserves it is girl group DIONE. While most of the group had their fair share of failure, they came back stronger than ever in a debut that showed many that DIONE is more than just a run-of-the-mill act.
DIONE is a four-member girl group composed of members Joyden (leader, vocalist, rapper), Clara (main dancer, rapper, vocalist), Ella (main rapper and dancer), and the youngest DK (main vocalist). The group is under FirstOne Entertainment, and if that name sounds familiar, that is because the company is also home to P-pop boy group 1st.One, which makes DIONE their sister group. Joyden, DK, and Clara all used to be in another four-member girl group called LUNA under the same company. In fact, they made their debut in July 2021 with the song LA LUNA. Sadly, they didn't last, disbanding in November 2021. But the girls would get the chance to prove themselves again when in March 2022, FirstOne Entertainment announced that they were debuting DIONE with the three members and new addition, Ella.
GUESS WHO'S HERE? ITS DIONE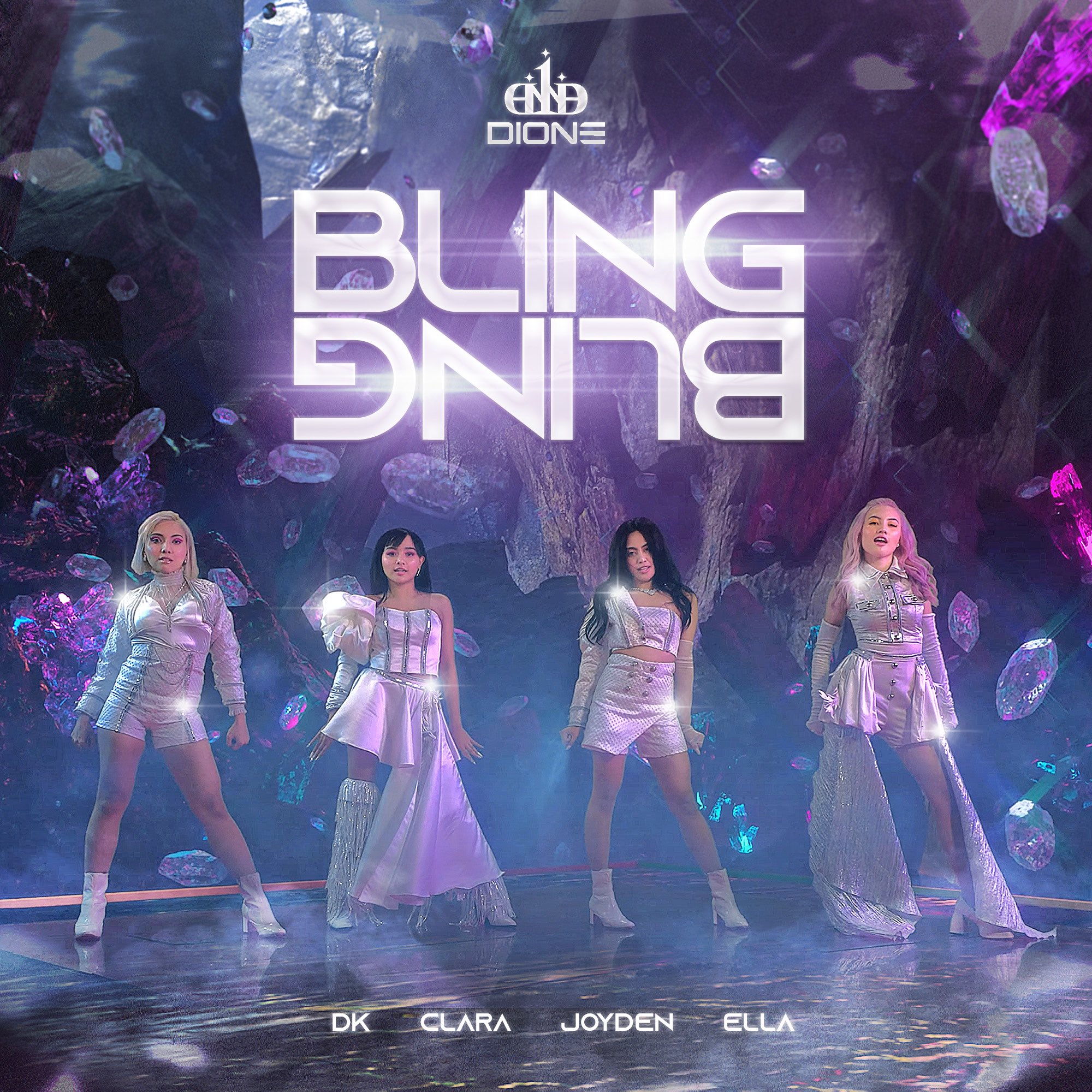 P-pop afficionados were already looking forward to what they had to offer and they did not disappoint during their debut stage at PPOPCON 2022 when they performed Bling Bling for the first time.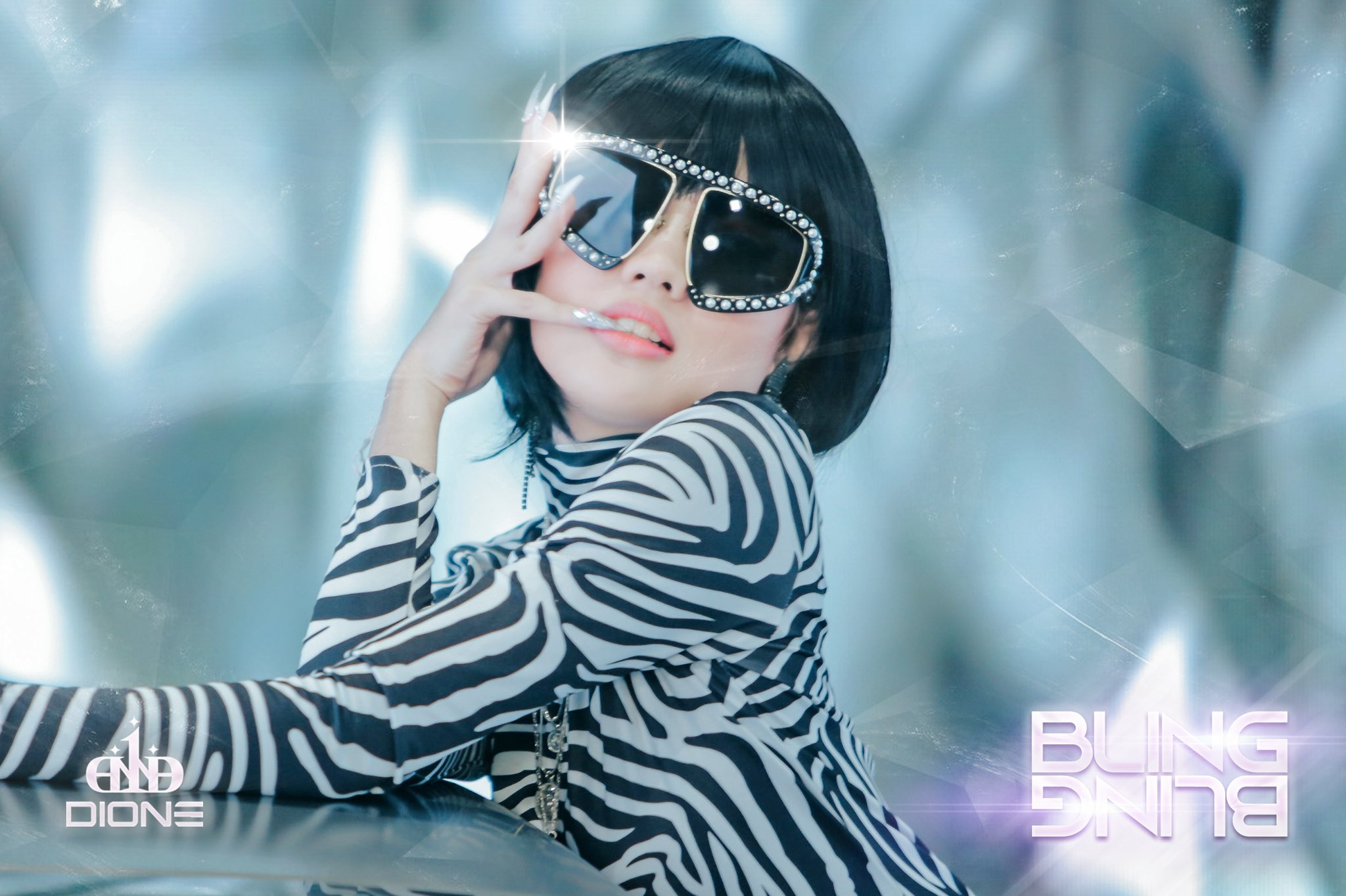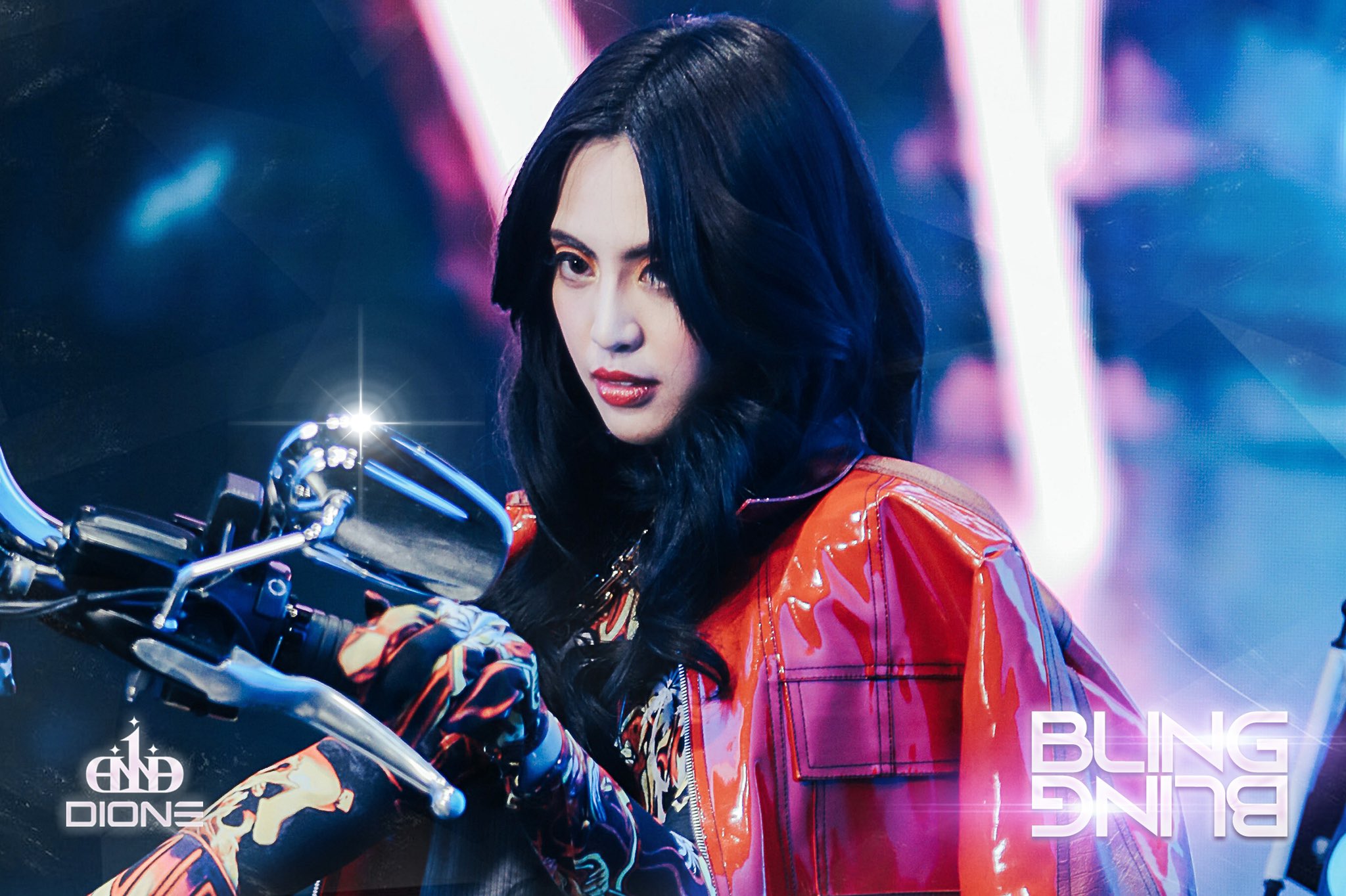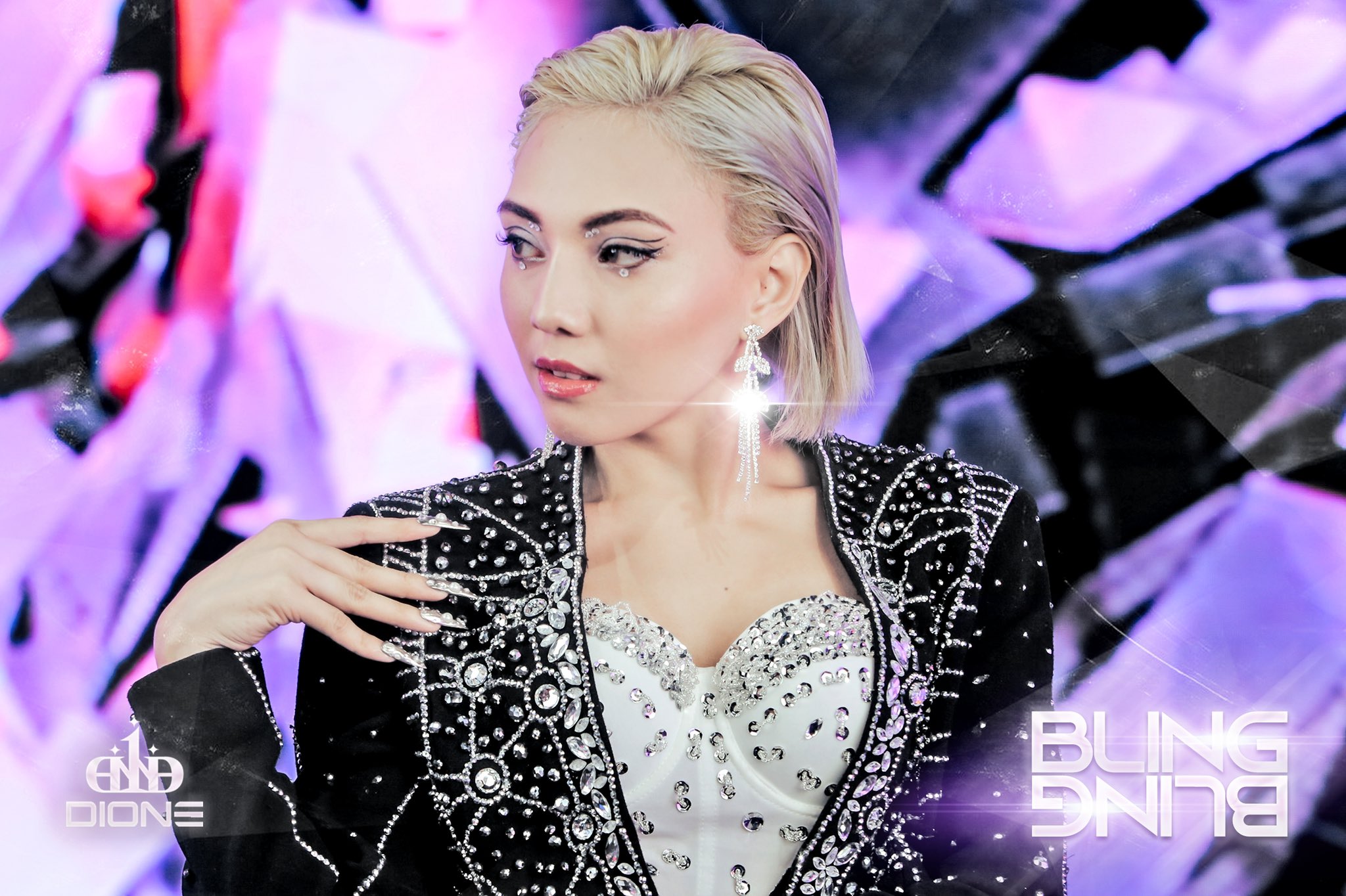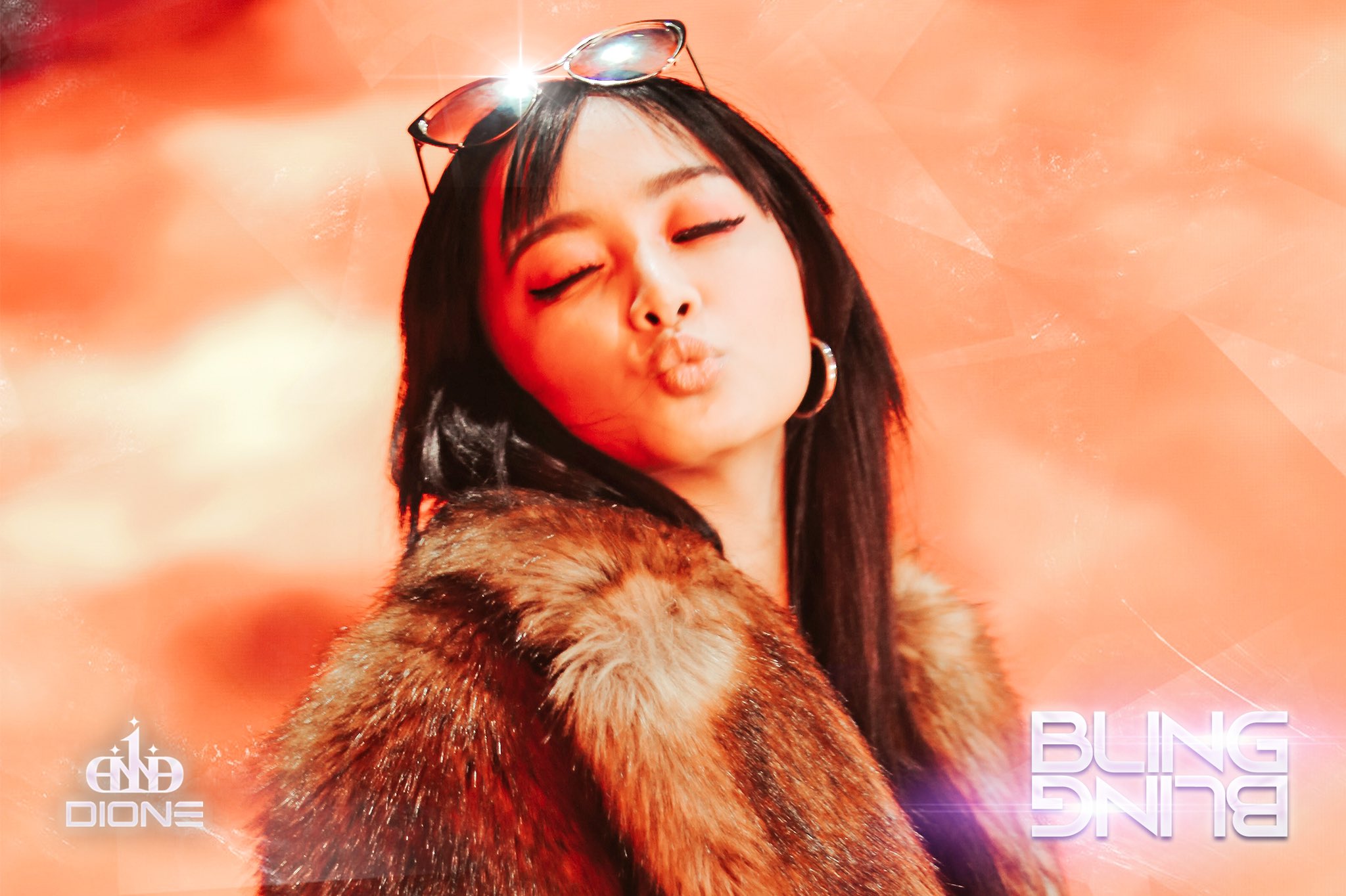 An upbeat song that blends elements of pop and EDM, their debut single tells a message of following your dreams and pursuing your goals. Even though we have the tendency to use glitter and glam to hide our flaws, the girls tell us that it's okay to be imperfect, because the road ahead is long and filled with lessons. Considering how the girls had a hand in writing the lyrics, it's also not hard to see the song as the opening chapter of their new musical careers. The vocals are solid and the beat drop during Clara's rap is so good. The track is a catchy bop, with dance break to boot, that mixes both international sound with Filipino pop. And the accompanying music video does not disappoint.
HIGIT KANINO BLING BLING HEY
Starting out as regular girls in their bedroom, DIONE transforms into four fierce performers, look and all. As the music video progresses, you see the group sing and dance through a multitude of sets, from bright LED lights displaying their name, to high-end cars and a room filled with luxury clothes and items. It culminates in the girls at the club, taking their spot center stage as the stars of the night. It's a well done music video that's reminiscent of a 2NE1-lite vibe. Throughout the music video, you can see the confidence, bravado, and stage presence.
Considering how the Bling Bling video has raked over 1.2 million views in a little under a month since its premiere, they've certainly made their mark. That's actually quite an impressive feat for a rookie P-pop group to achieve. If you're looking for a new P-pop group to stan, we highly suggest DIONE should be on your radar.
Continue Reading: KAIA Has No Time For Toxic Relationships In Their Banging Debut, 'BLAH BLAH'