Taking inspiration from their own experiences with love gone sour, KAIA delivers a strong debut with a relatable message in BLAH BLAH.
Related: Here We Go: 4th IMPACT Proves Once More That You Shouldn't Sleep On The Group
Making a debut as a pop group is not easy. Fundamentally, first impressions are key to making people remember you, but it becomes harder when you're the sister group of P-pop kings, SB19. But it seems as though five-member girl group KAIA didn't let the pressure get to their heads. Because with their debut single BLAH BLAH, it is a hard-hitting track that's delves into the dark side of romantic love and infatuation.
WATCHA SAY BLAH BLAH
KAIA is a five-member girl group from ShowBT Philippines composed of members Sophia, Angela, Charice, Charlotte, and Alexa. In case you didn't know, the word KAIA was inspired by two Tagalog words: Kinaiya, which is a noun that describes your inner character, and Kaya, which is a generic term Filipinos use in their everyday lives, mainly to overcome their struggles. Together as a unit, they showcase a feminine, but powerful aura. In their journey so far, getting to debut was anything but easy. As the girls shared during a press conference, while each member was handpicked to join ShowBT PH, they all had to audition and go through months of training, not to mention their other struggles like dropping school. They were brought down a core six group that became five when a member left the group in January 2022.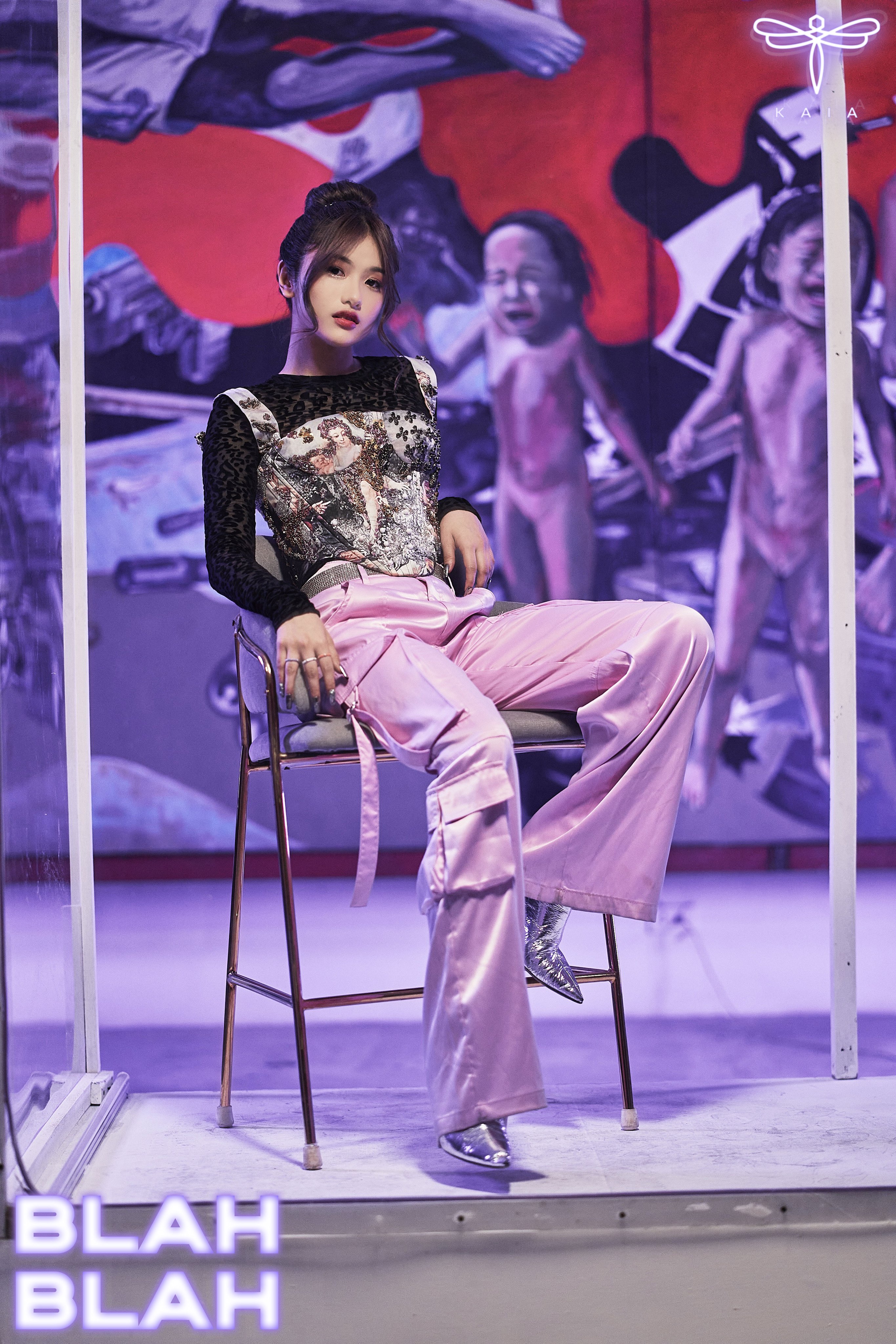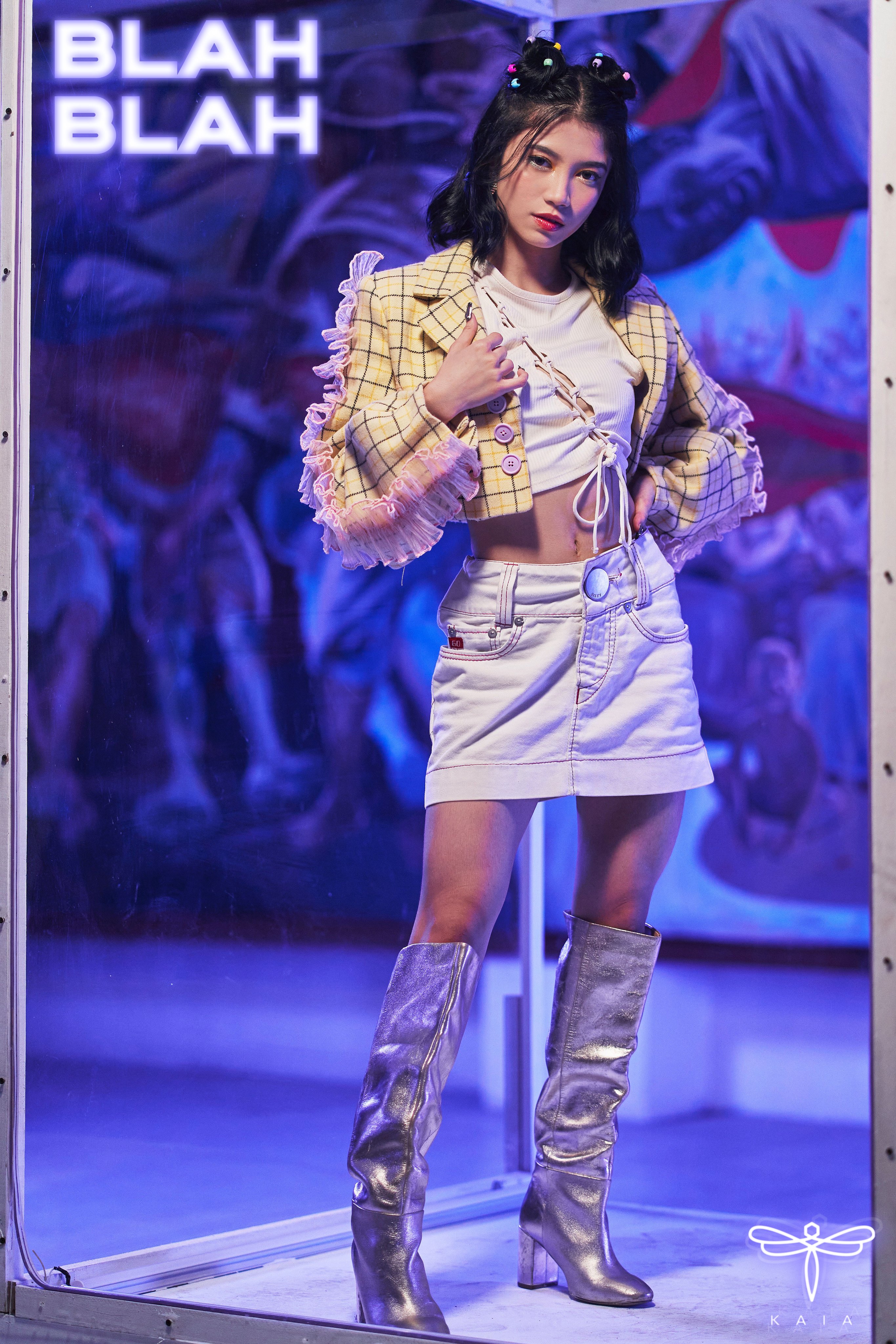 But instead of getting bogged down, they used their challenges and hurdles as inspiration and fuel to succeed. For BLAH BLAH, the group worked alongside noted hitmaker Lee Oh Won who has worked alongside artists like SB19, SHINee's Taemin, Stray Kids, TVXQ, and Wanna One. The members described working with Lee Oh Won as a great experience. He was hands on, actively helping the girls and pushing them to give it their best. KAIA has said that they want to tell their own story to the world now that they have officially debuted. And with BLAH BLAH, they do exactly that with how much creative input they had on the song.
USING THEIR OWN EXPEREINCES
Aside from working closely with producer Lee Oh Won, the group also wrote the lyrics to the song, taking inspiration from their own experiences with toxic love. "We personally go through all of that. Our music is about telling our own story so all of these struggles, we don't take it as struggles, but inspiration to write music and to share it to other people as well," says Sophia during the press con. Angela went on to expound, "Actually BLAH BLAH, galing po ito from our own experiences. When we started writing for this song, we asked each other about our experiences para po mas translate namin into our lyrics. And napunta siya sa empowerment because 'yung song po namin is about love and I think a lot of people can relate to it."
Watching their Anino concept trailer, you can tell that this debut era was going to be about empowerment and self-love. It deals with finding their own voice in an industry that is completely challenging and unfamiliar to them. And for Angela, she hopes listeners take away that feeling of empowerment from the song. "I want people to know love is not always happy. We need to have the confidence to step out of a for example toxic relationship or something that is not making you grow as a person. So, gusto po namin to empower ourselves na we can be strong. We have to love ourselves first before giving love to others, because it will all start there."
BLAH BLAH features a future-forward sound that ties together different elements and styles. On first listen, the track calls into mind artists like K/DA. But that's should be considered a great compliment considered how good their discography is. There's the solid vocals from the members, strong raps, and a dance break that will looks so good done live. Strong production mixed with lyrical autonomy inspired their collective experiences makes for a track that hits just a bit deeper than most. "Writing BLAH BLAH is somehow easier considering our chemistry has improved a lot since then," KAIA's Sophia shares in a statement. "We finally learned how to trust each other on a deeper level, hence the making of a song about love. Our closeness and dedication made us more comfortable and confident in writing BLAH BLAH."
READY TO TELL THEIR STORY
While BLAH BLAH is a strong debut, this is just the beginning of KAIA's journey. The girls themselves know this and they've said that while they feel honored to be on the spotlight, they are also ready to face whatever criticism that comes their way. As young artists, they are still trying to find that sound, but are open to any genre, sound, or concept as they go through their musical journey. And they also have the guidance of groups like SB19 and 4th IMPACT to guide them on their journey.
Speaking of SB19, the members have also been great mentors to the girls with their occasional studio visits and career advice. They even shared one memorable piece of advice Pablo shared with them. "Una po nakabasa ng lyrics namin para sa KAYA ay si kuya Pablo at kuya Josh. Nung binasa nila ang lyrics, sinasabi nila na diyan nagsisimula ang lahat," shares Charice. Angela went on to explain that Pablo didn't want the girls to feel embarrassed by their lyrics, because everyone has to start somewhere. He advised them to read more books and poetry and not be afraid to fail because you can learn from their mistakes.
After a few months and a delay, KAIA has finally made their debut. This is a group to watch out for, not just because of where they come from or who they work with, but because of the talent and potential they possess. KAIA's debut single serves as the first chapter of their journey towards self-discovery. It's a debut that the girls have been preparing for since they dropped KAYA in December 2021, and it was worth the wait. Keep an eye out for KAIA as they tell their story to the world and help P-pop reach bigger heights. You can catch the first stage performance of BLAH BLAH at P-Pop Con this April 10.
Continue Reading: Mark Your Calendars P-Pop Fans, Because A Convention And Music Festival Is Coming Your Way IRL