Permission To Dance In Seoul was a sweet and m emotional reunion between BTS and their fans in Korea.
Related: 7 Memorable Moments From BTS's Permission To Dance On Stage Concert
Even if you're just a casual fan of BTS, you would at least know that the relationship the group has with their fans is near legendary. From their debut until now, the connection between BTS and ARMY was, is, and will continue to be iconic. So, when the pandemic hit in early 2020 and made the group cancel their then biggest tour to date, it was a painful moment for many. Yes, they've had their online concerts, but it just hits different when BTS and ARMY are in the same venue.
And that happened in the tail end of last year when BTS held their first in-person concert at their sold out and record breaking run at the SoFi Stadium in Los Angeles. And another special reunion happened this past weekend as BTS has come home in a sense as their latest in-person concerts were held with K-ARMY. Considering how the last time BTS held an in-person concert in Korea was in October 2019, it was a much-needed and much-welcome homecoming of sorts for the group and their fans.
BTS AND ARMY FINALLY REUNITE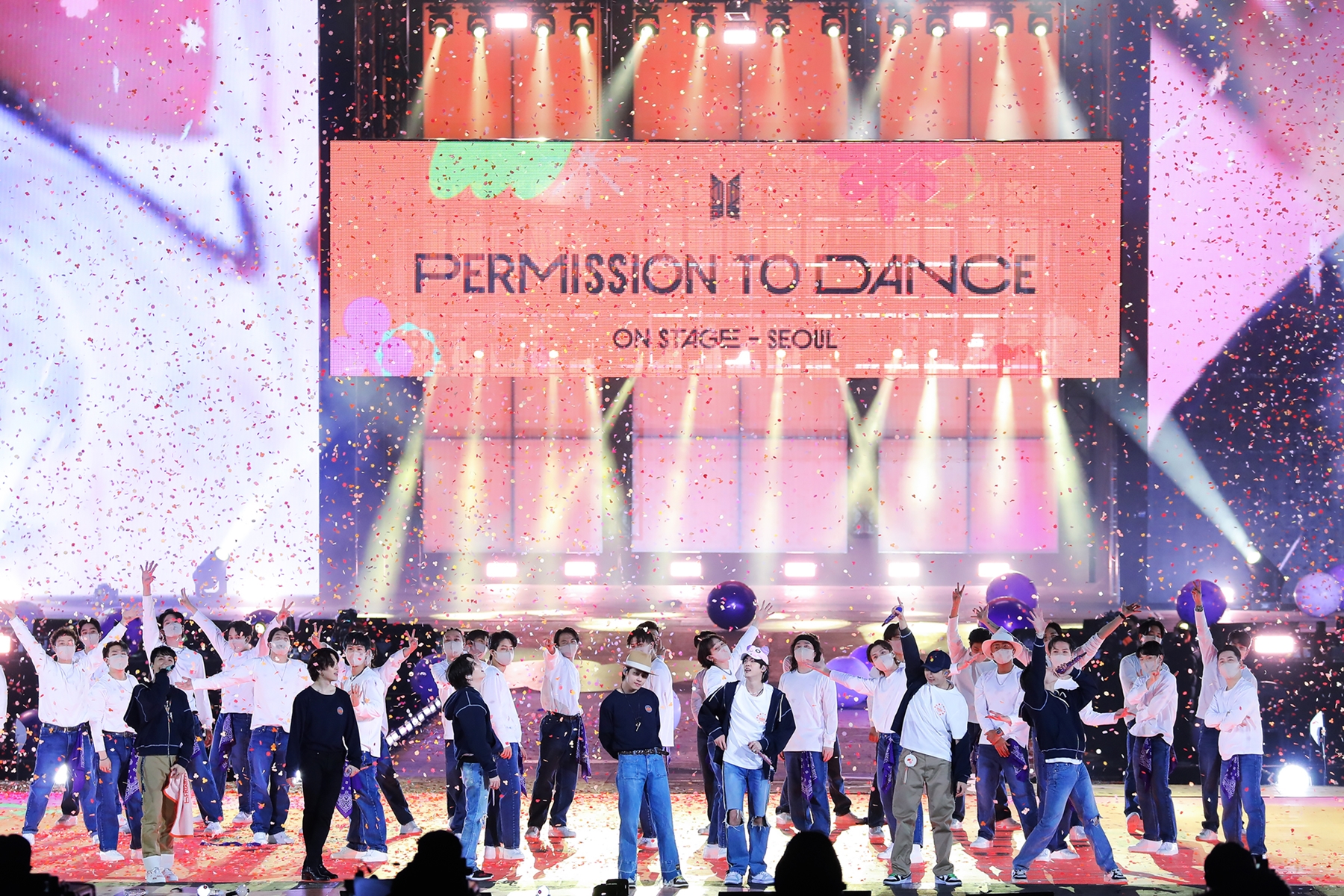 Held across three days on March 10, 12, and 13 at the Seoul Olympic Stadium, BTS's Permission To Dance in Seoul was a magical moment for many, more so for those who were able to attend the concert in person. Day 1 and 3 were streamed live while day 2 was streamed in cinemas around the world as a global event. Due to COVID-19 restrictions in South Korea, fans were not allowed to dance, move, or sing during the concerts. Instead, those present held signs and had purple clappers that they used to cheer on the boys. But even so, the 15,000 people present during each day gave as much energy as they were allowed to.
YOU DON'T NEED PERMISSION TO DANCE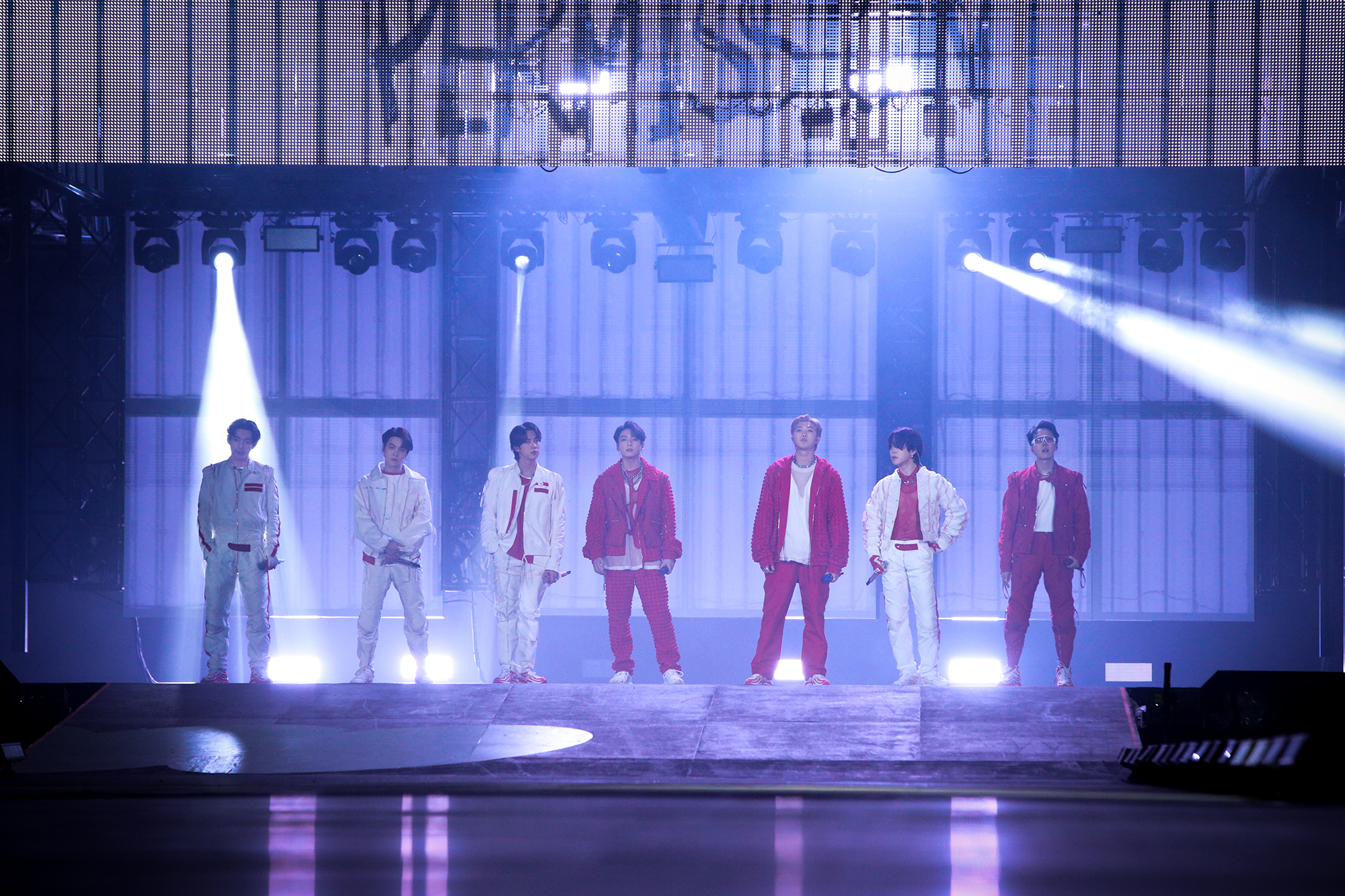 If you have seen their past Permission To Dance concerts, then the one in Seoul wasn't that different. It did though have a few changes. Most notably, they switched their white and gray opening outfits for eye-catching and stylish red and white fits. Things started off with an explosive take on ON that if the fans in the venue could, they would have moved to the song. It was then followed by energetics performances of the remix versions of Fire, Dope, and DNA.
After an interlude, we were treated to an emotional delivery of Blue & Grey. Ever since BTS showcased the PTD on stage version of the opening for Black Swan, it remains as one of the most breathtaking things the group has ever done. And when they did it in Seoul, it continues to hit just as hard. Dazzling performances of Blood Sweat & Tears then followed, their black fits still as dangerous as ever.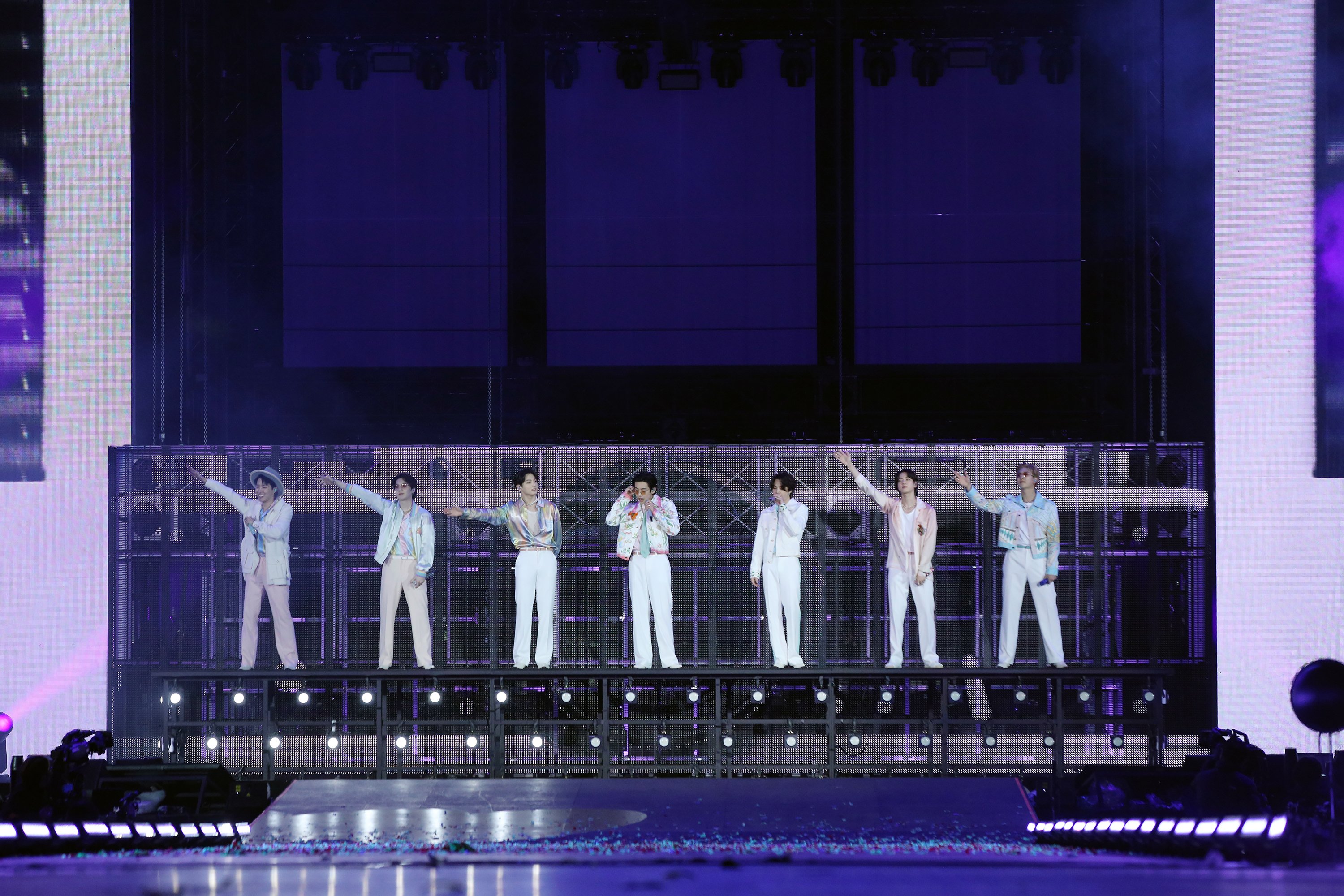 For act three, the audience was treated to fun and energetic performances of Life Goes On, Boy With Luv, Dynamite, and Butter. If you were watching during the livestream, you would be forgiven if you started moving and grooving during this part. Afterwards, BTS moved towards their moving platforms as they performed Telepathy. But in a treat that delighted ARMYs all over the world, they then proceeded to sing the underrated bop that is Outro Wings. They then closed out the section with Stay, So What, and Idol.
EACH OTHER'S LOVE AND FANS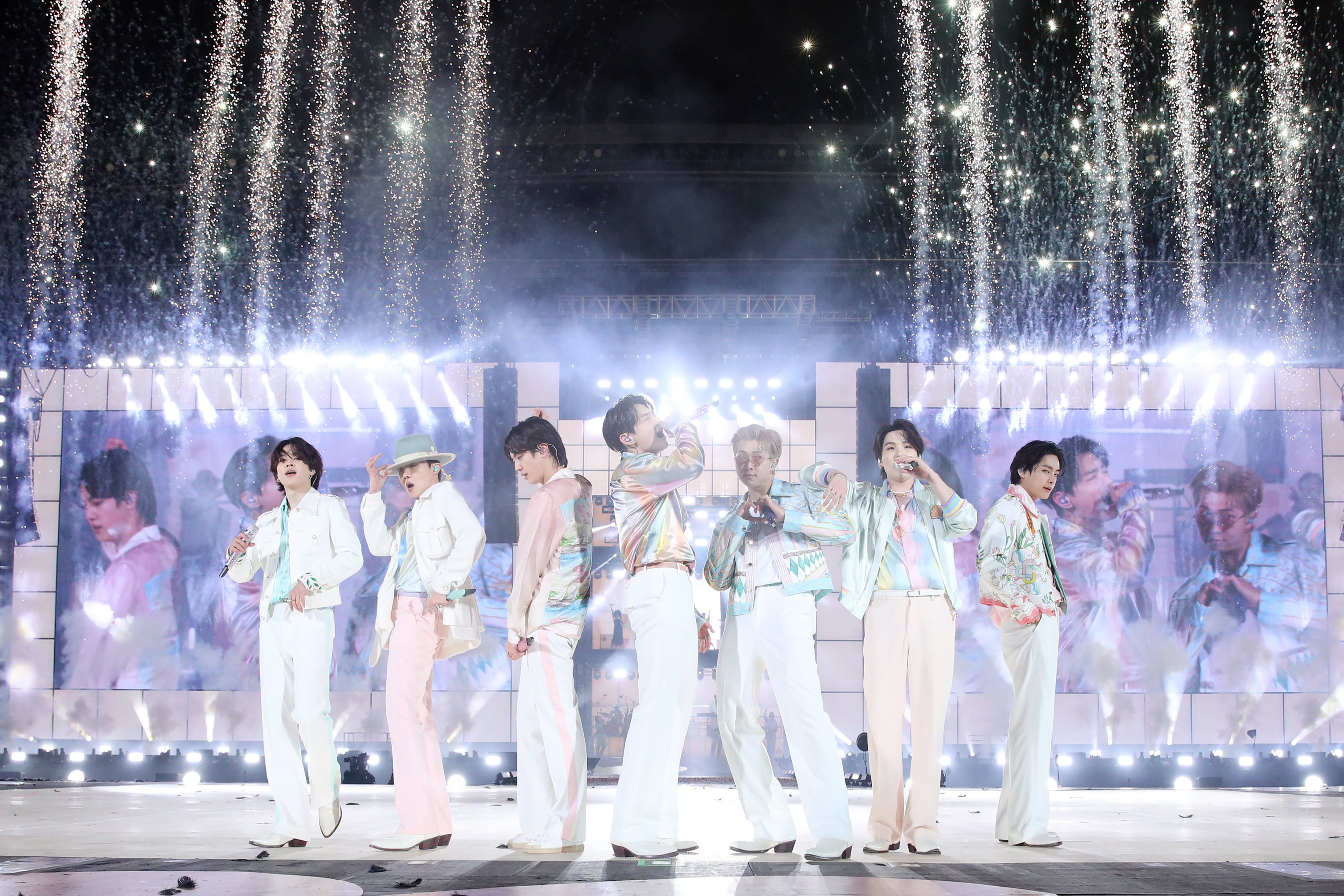 For the finale, the setlist changed per day, but the one that really hit us the hardest was during day three when they performed Spring Day and We are Bulletproof: the Eternal. It was an emotional moment for the group, for those in attendance, and maybe even for those who were watching on the livestream. It further signified the bond that BTS and ARMY have and how it remains strong even with what is happening in the world. If their dedications at the end wasn't proof enough, BTS are ARMY's safe space and vice versa. Closing out all three days with Permission To Dance was a joyful way to end the festivities and it was made even better by the fact that instead of one whale, there where now two whales. The whale wasn't lonely anymore as the orange and purple whales floated around the Olympic Stadium.
BTS has said that they held these concerts for their fans, but it's not that hard to imagine that they themselves also needed it, too. Aside from giving their signature performances and stage presence, the group also showcased their fun side on many occasions. It was clear that they were having a good time. There is a level of happiness that is shared between BTS and ARMY that is hard to describe to those outside the fandom. But for those who do know, it's one of the most magical feelings in the world. The comfort, love, assuredness that is generated is a beautiful thing. Great things have happened thanks to and with the help of BTS.
TILL WE MEET AGAIN ON SPRING DAY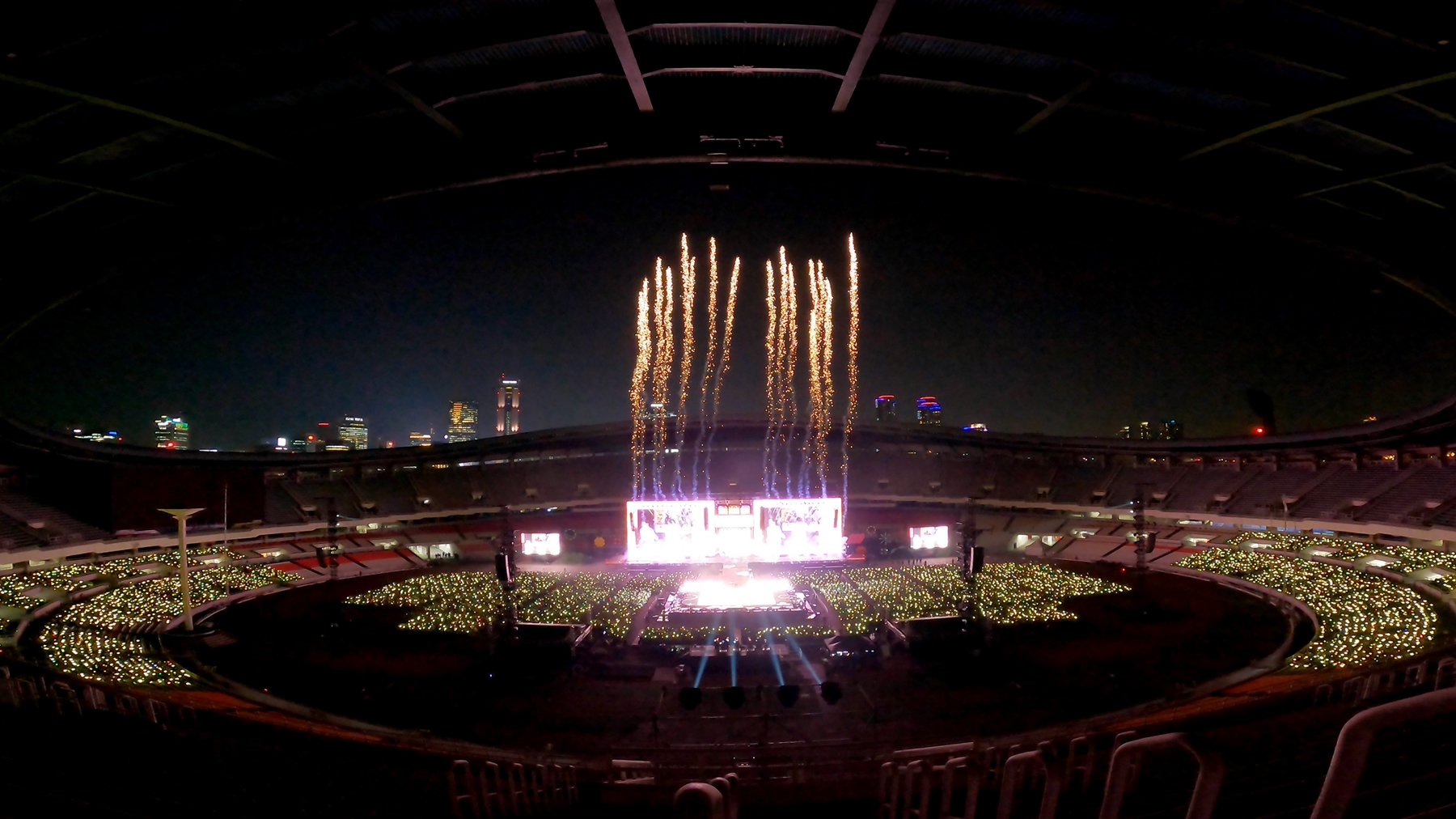 Even if the ARMY in attendance couldn't do a whole lot, RM, Jin, Suga, J-Hope, Jimin, V, and Jungkook could feel the love radiating from them. The group was also more than willing to cheer on for them since they couldn't do it. Just take a look at this special moment during day two when JK went as near to ARMY as possible and one even gave him a flower.
BTS did a great job during their three day concert in Seoul and it must have felt even better since it was their first in-person concert in their native country in so long. Up next for the superstar boy group is their Permission To Dance On Stage in Las Vegas on April. For those who were one of the lucky 200,000 to have bought a ticket, prepare for four nights of fun, love, music, joy, and everything in between. Until then, as the slogan on the placards say during day three: "After the cold winter, we'll meet again on Spring Day."
Continue Reading: 8 BTS-Inspired Merch You Can Spend Your Money This New Year