In the music video for Tahanan, Adie and Andrea Brillantes play a couple who lovingly find their safe space in each other.
Related: Arthur Nery And LITZ's Heart Reminisce On A Love Lost In The Pagsamo Music Video
They say that home is where the heart is and that your home isn't just limited to a location. At this point in time, we know that it can also mean person where you feel comfortable and safe around. Here, as long as you are with that special someone, your world is complete, but in some stroke of romance, you feel invincible. This is the feeling that breakthrough musician Adie latched on to when he penned his hit single Tahanan. The musician exploded onto the scene in 2021 when Paraluman became one of the biggest OPM hits of the year. He followed that up with the equally moving Tahanan that found a massive audience thanks to its lyrics of finding your home in that special someone. And we finally have the music video for the track that hits all in the right spots with a little help from Andrea Brillantes.
IKAW LANG, IKAW LANG ANG TINATANGI
Adie has stood out as part of the new generation of OPM stars who pen tracks that just do something to you in the emotions department and Tahanan is no exception. Released in December 2021, it is a love song that plays on the song's title of finding that home. Instead of focusing on a location or physical object, the band-driven track is about finding that home with that person you love. As Adie memorable sings in the chorus: "Bumabagal and ikot ng mundo/Kapag ika'y nariyan, oh, aking tahanan," you really can't help but swoon.
If this is the kind of music that soundtracks your life, then truly you must love to love. Adie really did it again with Tahanan so when we learned that a music video was coming for the track, we were curious to see how it would translate the song's lovely vibes. But the music video didn't disappoint as he and Gen Z superstar Andrea Brillantes gave us all the kilig we need and more.
ADIE AND ANDREA WARM OUR HEARTS
Directed by Kris Crazin, the music video starts of with Adie waking up in bed before making his way down to the kitchen. There, we see his love interest, played by Andrea Brillantes, cooking breakfast. Even though Blythe's character is Adie's special someone, this might not be one of her strongest suits considering that she tried cooking, um, oil. Though, according to Kris Cazin, the scene was intentional and is actually just water. Questionable cooking skills aside, the two go on to enjoy a lovely meal of bread and hotdogs together.
Afterwards, in arguably the most aesthetic scene of the video, Adie and Blythe are on a date on a boat where he is fishing and Blythe is reading a book, playfully trying to get his attention. Interestingly, during the scenes set in the house, Adie is wearing blue while Blythe is in white. But during their day out, Blythe is the one in blue while Aide is wearing a brown polo with white stripes. We see you with that color swap.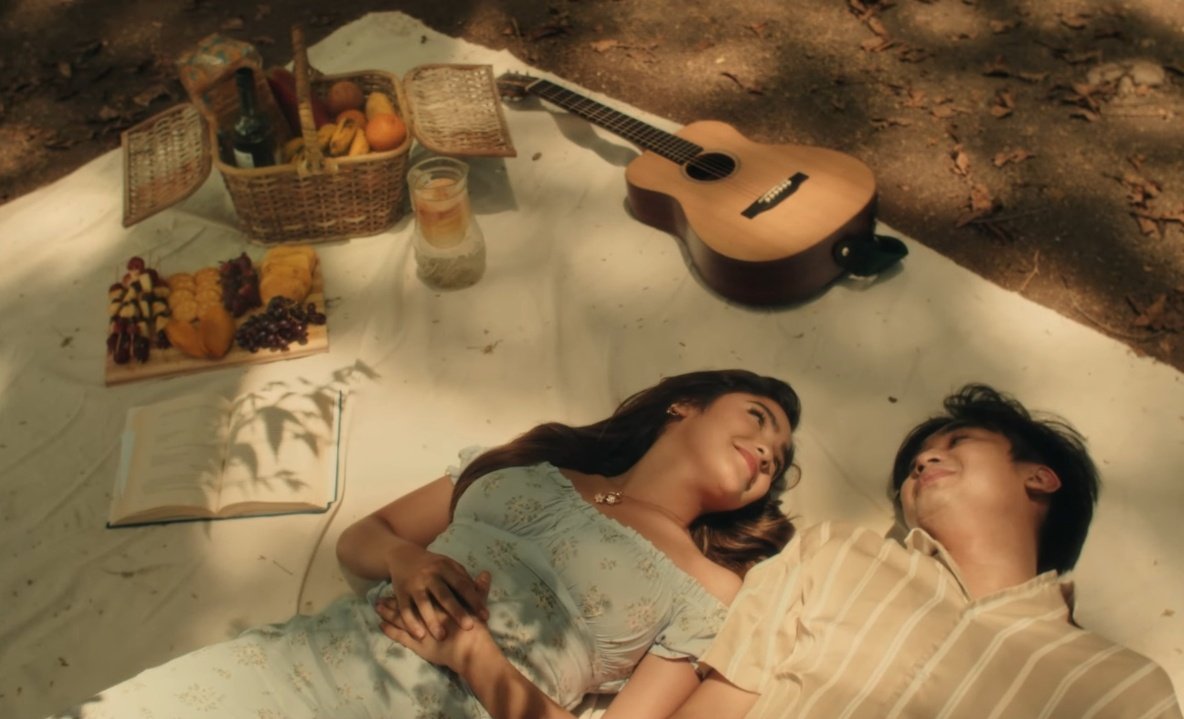 After their time in the lake, the two then enjoy a fancy picnic where they enjoy each other's company under the shade. The rest of the music video is them at home just going about their day and having fun. It then wraps up with close ups of both of them as they lip sync the final lines, both holding loving smiles, and sealing things with a kiss.
DITO KA SA PILING KO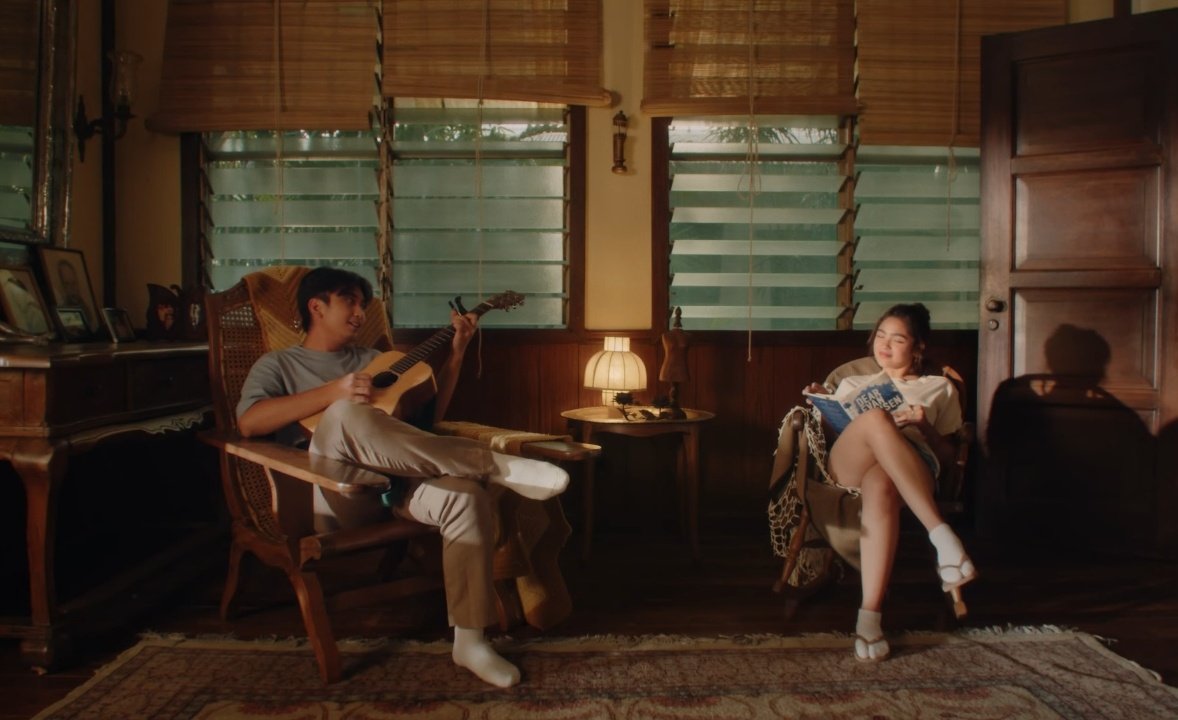 The entire Tahanan music video is beautifully shot with cinematography that captures the love radiating from the couple. Even though this is the first time Adie and Blythe have worked together, the two have great chemistry and radiate that feeling of being in love. The way they look and act around each other in the music video is so sweet. We wouldn't be mad at all if they teamed up again in the future.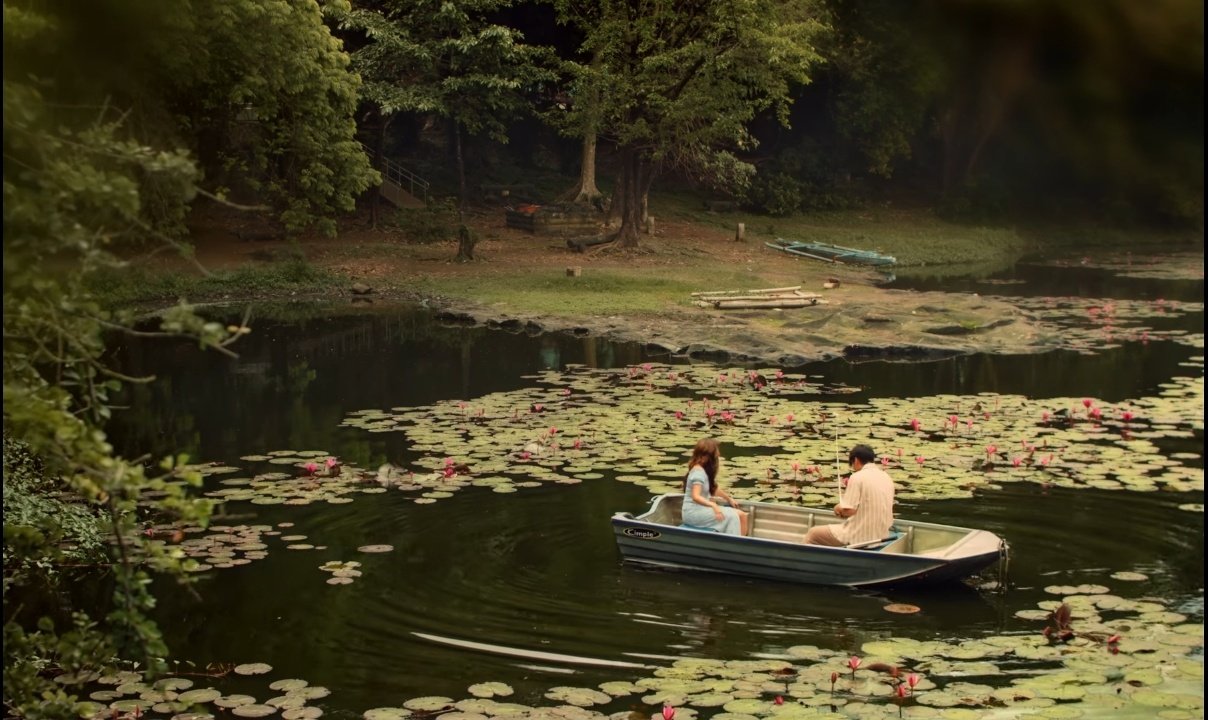 While technically not a whole lot happens in the music video, that's the whole point. At its core, it is about finding that genuine love and comfort in that person you consider your home. In Adie's case, that's Blythe's character. From simple dates by the lake to just chilling at home, the Tahanan video showcases how life is meaningful as long as you are with that special someone. You don't have to do too much to be happy. It's a kind of relationship that many couples wish to emulate and be in that point where being with that one person is alright with you. The vibes were on-point and make us wish we were in that kind of relationship IRL.
Continue Reading: For Donny Pangilinan And Belle Mariano, It's All About Young Love In Ben&Ben's Upuan Music Video