Ricci Rivero and Andrea Brillantes is that unexpected couple of 2022 that we can't help but root for.
Related: 5 Cute Moments From Andrea Brillantes' Powder Game With Ricci Rivero
While their relationship initially started with some controversy, Ricci Rivero and Andrea Brillantes have quickly proven that their love isn't just for show. In the past six months, the two astrology fans have shown that they love each other and hold the relationship in a special place with the sweetest gestures they show each other on social media. And in particular, Ricci has proven to be that dream boyfriend to not only swoon over but treat you right.
Over the past months, the basketball star and most searched male personality on Google Philippines in 2022 hasn't been shy about expressing his feelings towards Blythe, and we can't help but feel kilig for them. Here are just some heart-fluttering moments Ricci did for Andrea that will make you go, "sana all."
HIS PROPOSAL AT MOA ARENA
First things first: The event that started it all. While asking someone to be your girlfriend is a big moment, Ricci decided to go all out for the occasion. Believe it or not, the proposal was supposed to be even bigger with the "yes" or "no" being displayed on the giant screens of MOA Arena. But when that couldn't push through, he gave his brothers those infamous shirts that we all know and love. Ricci planned this moment for days, and the fact that he did all that just to ask Andrea to be his girlfriend showed you what kind of man he is.
CHEERING HER ON AT THE STAR MAGIC GAMES
It's not just Andrea who does the cheering during games. Ricci also is a fan of Andrea whenever she has her games. Aside from wearing her merch, Ricci also was spotted in the crowd during the 2022 Star Magic Games rooting for Andrea during her volleyball game. We love a supportive boyfriend. (And by the way, her team won the match.)
HIS SWEET TIKTOKS
Ricci Rivero doesn't post TikTok videos often. But when he does, it's usually about Andrea and done so in the most kilig-inducing way. He isn't afraid to flex her like the proud boyfriend that he is. And while all his videos with Blythe always get us going, our favorite was when he thought about if red hair looked good on him and proceeded to show pics of Andrea when she used to have red hair.
GETTING HER CUSTOM JEWELRY
Most boyfriends get their girls jewelry. But Ricci isn't like most boyfriends. Instead, he went the extra mile and reached out to Tala by Kyla to make a set of custom jewelry. He got a bracelet with Blythe's eyes, matching necklaces that, when put together, form a picture of the two of them, a ring with Blythe's face on it, and a letter R necklace. He really decided to ice out Andrea with his love.
DEFENDING ANDREA FROM XIAN GAZA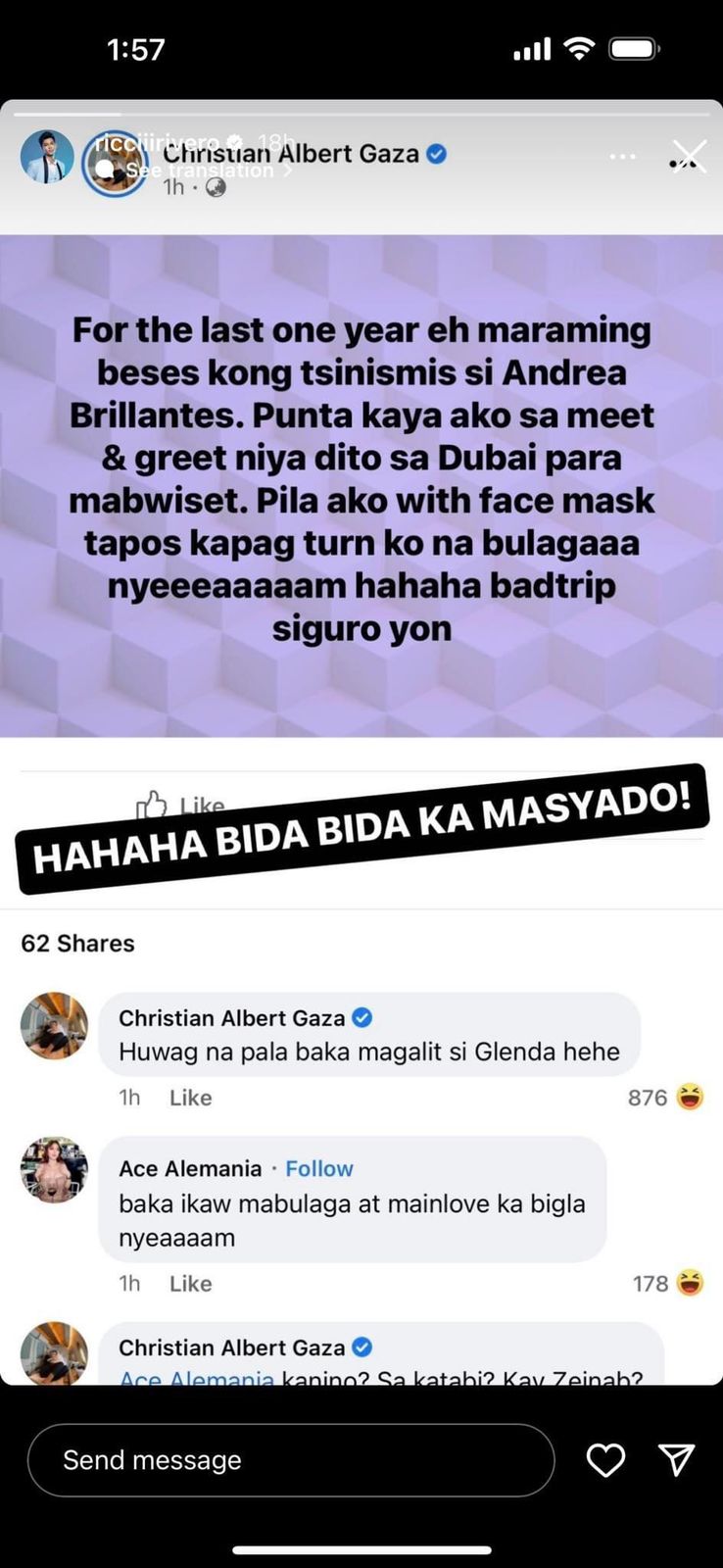 Don't come for Andrea Brillantes because Ricci will be there like her knight in shining armor to defend her. Case in point, professional troll Xian Gaza shared on Facebook how he had a plan to "surprise" Blythe during her meet-and-greet in Dubai earlier this month. But Ricci wasn't having any of it and called him out on his IG stories. As he should. Luckily, the stunt didn't pull through.
BEING OKAY WITH BLYTHE WORKING WITH OTHER GUYS
Given the line of work that Andrea is in, some may feel uncomfortable if she is paired up with male actors for her future projects. But that isn't the case for Ricci. During a Q&A vlog on Andrea's channel, Ricci was asked if he would be ok if Andrea worked with Seth Fedelin or another male star in the future. He said yes and shared how that's the nature of the job and Andrea will and should have the final say on whether she feels comfortable at work or not. The trust and respect that Ricci has for Blythe are real.
Continue Reading: Andrea Brillantes Is Over The Gossip And Rumors Said About Her