Donny Pangilinan and Belle Mariano are set to star in their very first movie together. Here's what you may expect from DonBelle's highly-anticipated project.
Related: He's Into Her Is Getting A Season 2. Here Are 6 Things We Hope To See
Ever since their pairing was announced back in 2019, Donny Pangilinan and Belle Mariano, otherwise known as DonBelle, has risen to become one of the hottest love teams right now. As seen in the success of He's Into Her, DonBelle has stolen the hearts of many and established themselves as a top love team to watch out for. With season one of HIH done, fans have been clamoring for new DonBelle content and we are about to get that in the form of their very first movie together. Details are currently scarce on their movie project, but here is what we know so far about the highly-anticipated Love is Color Blind.
IT WILL BE DIRECTED BY JOHN LEO GARCIA
John Leo Garcia has been tapped to direct Love is Color Blind. While he may not be a household name as compared to some directors, he has worked on some of the biggest local projects of the past five years as a producer. Some of his previous works include Hello, Love, Goodbye, The Hows of Us, Barcelona: A Love Untold, and She's Dating the Gangster. The script was written by Kristine Gabriel and Simon Lloyd Arciaga.
THE PLOT IS STILL UNDER WRAPS
CARAmihan ng tao naghahanap ng magmamahal sa kanila… pic.twitter.com/uIoJJstOVt

— Star Cinema (@StarCinema) November 5, 2021
While the hype is palpable among the fandom about DonBelle's movie, not much about its plot has been revealed yet. We do know that it is a rom-com and that Donny's character is called Ino while Belle's is Cara thanks to the teaser photos they posted. But we do not know yet what the official plot is nor who else will star in the movie. Both Donny and Belle did caption their posts with "Love knows no color." Star Cinema did tease a bit of the story when they posted teaser images with their caption: "CARAmihan ng tao naghahanap ng magmamahal sa kanila, ang tanong, sINO." Star Cinema also revealed how Donny and Belle would speak as their characters through an audio clip. From what we can tell, it seems that Cara is going to be the brighter character while Ino will be the more serious and brooding one. Whatever the movie ends up becoming, it will be nice to see Donny and Belle stretch their acting muscles and give us a new couple to root for.
NOT THEIR FIRST TIME IN THE SAME MOVIE
While many people are excited to see Donny and Belle together on the silver screen, this is actually not the first time the two have been in the same movie. The first time their paths crossed on the big screen was actually in the 2020 film James & Pat & Dave. The sequel to 2016's Vince & Kath & James, the movie starred Donny Pangilinan as Dave. Belle Mariano, meanwhile, played the side character of Trish. Though in the film, they were not the center of the story. Love is Color Blind will be the first time the two are the leading roles in a movie.
REPORTEDLY BASED ON A SHORT FILM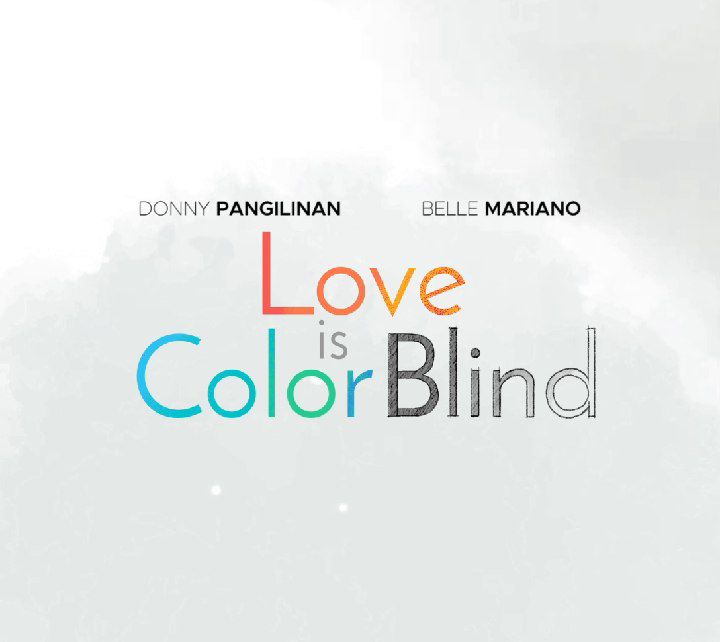 DonBelle's first full-length feature film is going to be based on a short film. Back in early 2021, when it was revealed what projects DonBelle had lined up, it was revealed that a short film was going to be made starring Belle and then spun off into a full film. While not many details have been revealed about the short film, there is a chance that it might be shot in Hong Kong. That is because Olivia Lamasan, ABS-CBN's Films' managing director, said that the short film was a collaboration with the Hong Kong Tourism Board.
IT'S COMING THIS DECEMBER
Filming has begun on Love Is Color Blind and we already have a release date of December 10, 2021. No word yet though on how it will be released or on which platforms. While you wait in anticipation for DonBelle's first movie, you can check them out in ABS-CBN's 2021 Christmas Station ID video. He's Into Her is also out now on Netflix so you can watch that there if you haven't or rewatch it.
Continue Reading: 6 Reasons Why We're Into Belle Mariano, The Newest Gen Z It-Girl