Even though it's been 36 years since the original, Top Gun: Maverick is not only a worthy sequel, but a genuinely great movie.
Related: The Batman Shines As One Of The Iconic Superhero's Best Takes In Cinema
36 years ago, the film Top Gun (1986) was released in theaters. With its killer stunt work involving fighter jets, as well as its memorable soundtrack featuring Kenny Loggins' Danger Zone and Berlin's Take My Breath Away, the film was more than just a massive box-office success. From inspiring video games such as Ace Combat, popularizing aviator sunglasses, and even causing more people to enlist in the Navy, Top Gun has made its impact on popular culture. It also made its lead actor, Tom Cruise, a bonafide superstar. Cruise, while having starred other films, would be remembered in the 80s for his iconic turn as Pete "Maverick" Mitchell.
And yet despite these, there hasn't been a sequel until now. Whether it was finding the right script or even the untimely death of director Tony Scott, it seemed that for the longest time, there would be no successor to Top Gun. But finally in the 2010s, Tom Cruise teamed up with director Joseph Kosinski to develop a sequel that could be worthy of the original. The road to release though wasn't a smooth ride as it underwent development hell as well as numerous delays due to the COVID-19 pandemic. That usually doesn't bode well for a movie. So, could Top Gun: Maverick beat the odds and win audiences over despite the huge gap between releases?
THE ANSWER IS YES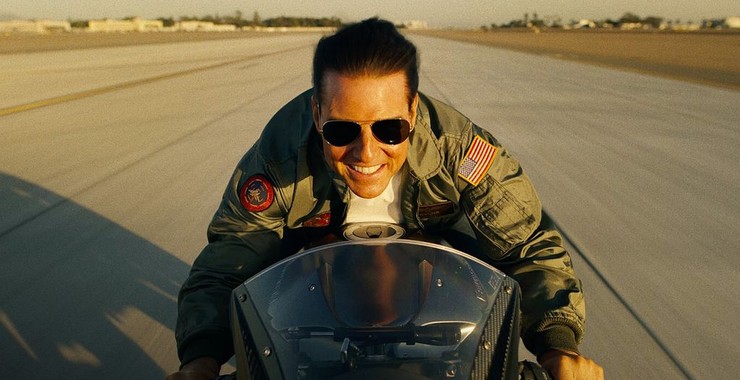 Thankfully, Top Gun: Maverick is not only a sequel that is worthy of the original, but is a resounding and massive achievement from a technical standpoint. It is a love letter to aviation, dedicated to providing the film with utmost authenticity. Due to Tom Cruise's demands, minimal CGI was used and real footage was shot with F/A-18 and other aircraft. With the amazing flying stunts, as well as crisp sound design, the film makes you feel like you are with the pilots as they traverse through numerous obstacles, as well as face off against missiles and enemy fighters.
Cruise's demand for realism also extends towards his actors. He himself was able to pilot some of the craft used. Cruise also requested his co-stars to go through pilot training, as well as be able to ride these fighter jets with the assistance of professional pilots. Because of this, you can really see these actors ride through the force of gravity and go through the numerous turns. In an era where digital effects can do almost anything imaginable, Top Gun: Maverick amazes audiences once more not through artificial means but real and practical flying stunt work.
HE STILL GOT IT
But what is spectacle without an emotional core? Thankfully, the film allows the action to breathe so we can get to know our characters. Tom Cruise, reprising his role as Maverick, gives a thoughtful performance where he is allowed to ponder and emote. It's easy to forget that beyond the crazy stunts and numerous death defying moves in his latter career, Tom Cruise is actually a good actor. Maverick not only has to deal with the ghosts of his past, but also the idea that he may be obsolete. He is a relic of the past that is being set aside for newer pilots. It makes for a self-aware take on how Cruise is considered the last of his kind in Hollywood.
His commitment to acting out the role as well as doing the stunts himself has made Cruise a one-of-a-kind star. An actor willing to risk his life for the audience's benefit.
THE SUPPORTING CAST DELIVERS
Tom Cruise's supporting actors also succeed in making the film work. Miles Teller plays Rooster, the son of Maverick's best friend Goose (Anthony Edwards) who had been killed in an accident in the previous movie. Here, Rooster butts heads with our hero. He has animosity towards the nature of his father's death, as well as Maverick's own desire to protect him. Because of this, Rooster and Maverick's relationship proves to be the most important part of the film. It is a story of a surrogate father trying to look out for his son regardless of what he may think of him.
Meanwhile, Glen Powell's Hangman provides a good foil to Rooster. Arrogant and reckless, Hangman serves as the face of the new generation of pilots as well as comic relief in the movie. Powell is charming enough to maintain Hangman's likeability despite his overwhelming arrogance throughout the film. Finally, we see the return of Val Kilmer as Iceman. Having been Maverick's rival in the original, Iceman returns as the last of Maverick's friends. He's been promoted numerous times in the Navy while Maverick remained captain due to his desire to fly.
With Kilmer's battle with throat cancer a few years ago, it is a relief to see him in such good spirits and in good health. In probably the film's most tearjerking moment, his reunion with Maverick proves to be poignant and emotional. The film is successful in dealing with Kilmer's illness in a respectful manner. While his role in the film is short, it is a memorable one.
ONE OF THE BEST OF THE YEAR
Top Gun: Maverick ultimately is a cinematic roller coaster. It is a blockbuster molded in the days before superhero films and other CGI spectacle dominated the market. The plot may be standard and even Maverick's romance with Penny (Jennifer Connelly), while well acted, can feel perfunctory. Yet, despite this, Top Gun: Maverick might be one of the best films this year.
It is a visual and audio experience, a theme park ride that takes your breath away and leaves you wanting more. Best experienced on a big screen such as IMAX, the film is pure spectacle that surpasses the original while giving viewers emotional content to make you care for these characters. After 36 years, Top Gun finally has a sequel and it soars above all expectations.
Continue Reading: The New Movies And Shows Of May 2022 That Are Going Straight To Our Watchlist