As their first solo concert, ACT:BOY was a great showcase of TOMORROW X TOGETHER's talents and journey so far as a group.
Related: On The Up And Up: TOMORROW X TOGETHER Continue To Prove Why They Are A Group To Watch Out For
2021 has been a very good year for TOMORROW X TOGETHER so far having made big waves both in South Korea and around the world. Earlier in the year, the group dropped the commercially and critically successful EP, The Chaos Chapter: Freeze. They then followed it up with the equally successful repackaged version Fight or Escape. But TXT isn't done just yet as they continue their banner year with their recently concluded first-ever solo concert, ACT:BOY.
ACT:BOY
Considering that this was their first-ever solo corner, a lot was riding to prove their status as the 4th gen It boy group. But they more than delivered as the online concert showed off just how much the group has grown in just 2 years. Held on October 3, ACT:BOY saw Soobin, Yeonjun, Beomgyu, Taehyun, and Hueningkai take to the stage and reveal who they were, are, and will become as a group and it was amazing.
ACT:BOY was very much themed as a reflection of the group's journey, from their beginnings as cute teen popstars to now as young adults with a slightly edgier look and sound. Each section was introduced in a fairytale kind of way, with pre-recorded clips telling and unfolding TOMORROW X TOGETHER's journey in a magical way. With a 25-song setlist that comprised of both their old and new songs, it was a show made for MOA to enjoy.
ACT 1 AND 2
this beautiful memory we're creating together!!! @TXT_members #TXT1stSoloConcert pic.twitter.com/5InsqcgLUi

— joe ? | act: boy (@joe_txtmoa) October 3, 2021
ACT:BOY started off with the boys performing a series of their old songs. The concert opened with their debut song, Crown. That was then followed up by Blue Orangeade, the underrated Poppin' Star, and Our Summer. The first section then ended with Can't We Just Leave the Monster Alive? and Run Away.
Given how we are still in the middle of the pandemic, the concert was held without a live audience. So, each seat had a TXT light stick to represent the fans who couldn't be there in person and make MOA who were watching online feel like they are there with the boys. It was clear that the boys really missed their fans as during Our Summer, which was their first time to perform it in South Korea, they went into the seats and took out signs that held encouraging words for MOA.
The next section saw the group perform both their old and new songs. When the section started with New Rules transitioning into No Rules, you could already tell it was going to be a great set. The transition between 20 cm to Fairy of Shampoo was so smooth you could skate on it. Seeing MOA bark along in the chat when TXT performed Cat & Dog never gets old while their performance of Ice Cream had a cute stage design to match the song. That was then followed by Angel or Devil and Magic. And seeing them perform Blue Hour live is always a treat.
A MORE MATURE ROCK VIBE
THEY WENT FROM ETERNALLY TO FROST AND NO ONE WAS PREPARED FOR THIS!!! #TXT1stSoloConcert #ACT_BOY#TOMORROW_X_TOGETHER pic.twitter.com/wvacMxSgr0

— ??? (@sususiaoo) October 3, 2021
By the time ACT:BOY entered its final part, this was when TXT showed off their more mature rock side while dressed in all black. They started things off slow with Nap of a Star and Magic Island. But they then went into a rock version of Can't You See Me followed by Puma, which featured an impressive dance break.
But the group decided to turn things up a notch by performing Eternally and then seamlessly transition into Frost. Frost was a standout track on Freeze and to see them perform it live was an absolute joy. The choreography was intense, the visuals were on point, and seeing Hueningkai do the intro live was so good. they then ended things with I Know I Love You.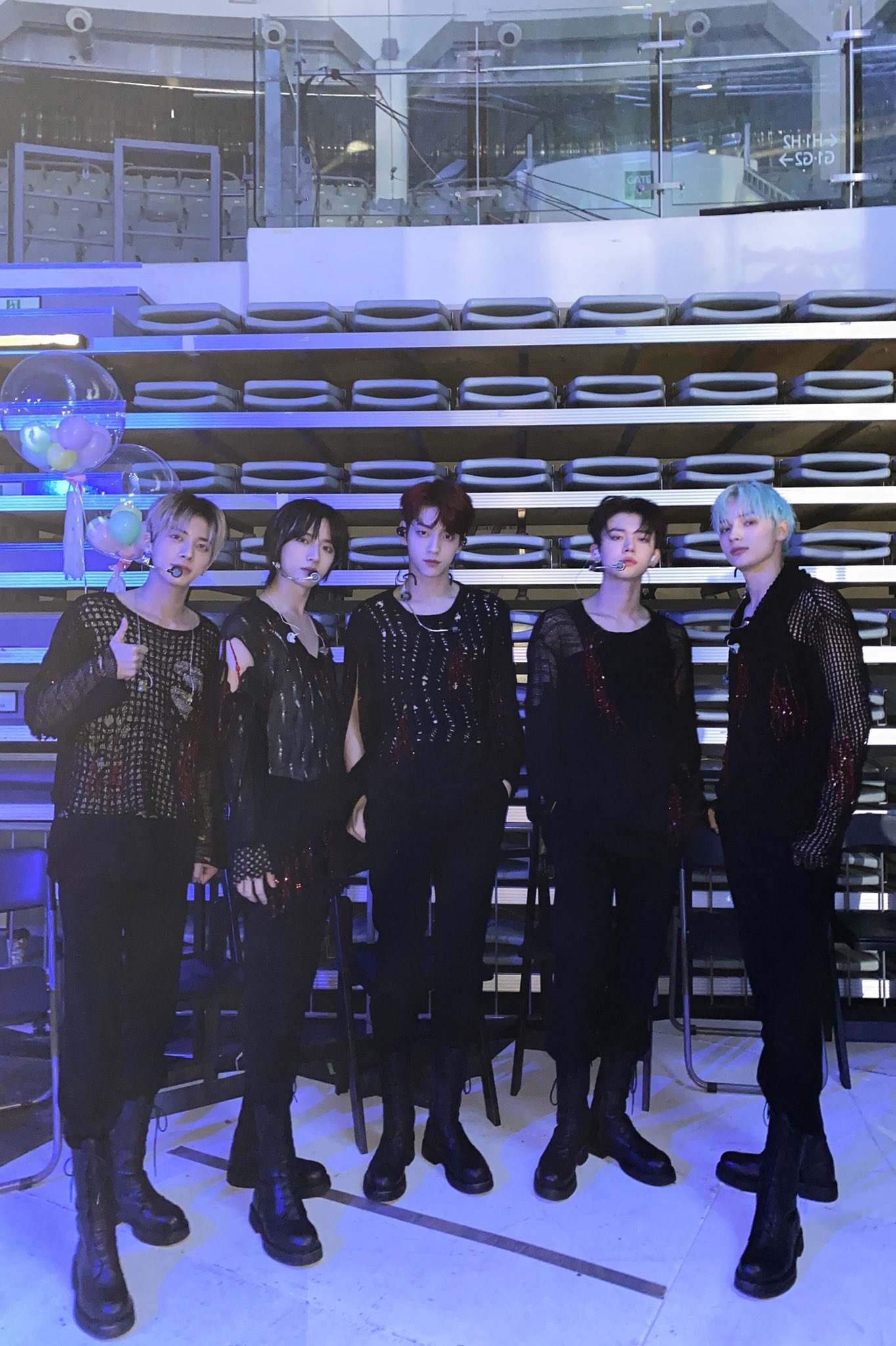 As the concert reached its end, TXT's energy was still at a 10. They performed Loser=Lover and Dear Sputnik. And to end things on a personal note, the group closed ACT:BOY with MOA Diary and Sweat, their secret song.
TOMORROW X TOGETHER TURNS IT OUT IN THEIR FIRST SOLO CONCERT
Overall, ACT:BOY was a great showcase of TOMORROW X TOGETHER'S talents and journey so far as a group. Since it was their first solo concert, the group could have kept things simple, but they instead went all out. Despite performing more than 20 songs and lasting nearly 2 and a half hours, TXT's energy never dipped and went into each song as if they were performing it on a music show. Their vocals were nice and stable and the dance moves were crisp and sharp. TXT should be proud of themselves for what they did in ACT:BOY because it was a great concert.
Continue Reading: TOMORROW X TOGETHER Continue Their Pop-Rock Era With Their New Song LOSER=LOVER