Complete with kilig moments, existential problems, and the love for K-dramas, Viu Original's K-Love is your next perfect binge.
Related: 8 Confirmed (And Rumored) Philippine Adaptations Of K-Dramas And Movies On The Horizon
There is no questioning the Filipinos' obsession with everything Korean. Hallyu, or the Korean wave, has especially captured us with the sparkle of its ever-relatable and high-caliber K-dramas. We see this love, nay passion, in the local entertainment scene as we adapt South Korean shows into our own Filipino versions. From the classics like My Girl or Full House, to the recent adaptations like Start-Up and Flower Of Evil, it's evident that Pinoys have big K-loving hearts. And if you're one of them, K-Love is the best show for your next binge.
K-LOVE'S PROMISE
"What is it about Korean dramas that draw people? Why has the world gone mad over them," the narrator asks in the show's bright and buoyant trailer.
K-Love is the latest rom-com offering from streaming platform, Viu. As the show's title hints at, the new original series tells the story of a group of K-lovers called the K-squad, as they navigate through their complicated life journeys through the help and inspiration of their favorite K-dramas.
First member of the K-drama-loving barkada is Tish, the driven woman so focused on her professional pursuits that it becomes a struggle for her to finally find her much-deserved Oppa. Tish's BFF is the perfectionist mom-fluencer Sheila, played by Isabelle Daza. Meanwhile, Sue Ramirez stars as the feisty Val, a young fashionista-entrepreneur who's keen on taking on the male-dominated tech industry. Finally, completing the K-Squad is Gabby Padilla's Frances, the quirky and smart romantic who searches for her perfect match. The kilig twist happens when Tish's childhood sweetheart Jay, the wealthy and dapper leading man played by Jake Cuenca, comes back to her life.
What these people have in common is their penchant for K-dramas. The shows that the K-squad are so passionate about also serve as their compasses, and like their other best friends, will cheer them up and uplift their spirits as they search for their own happy endings.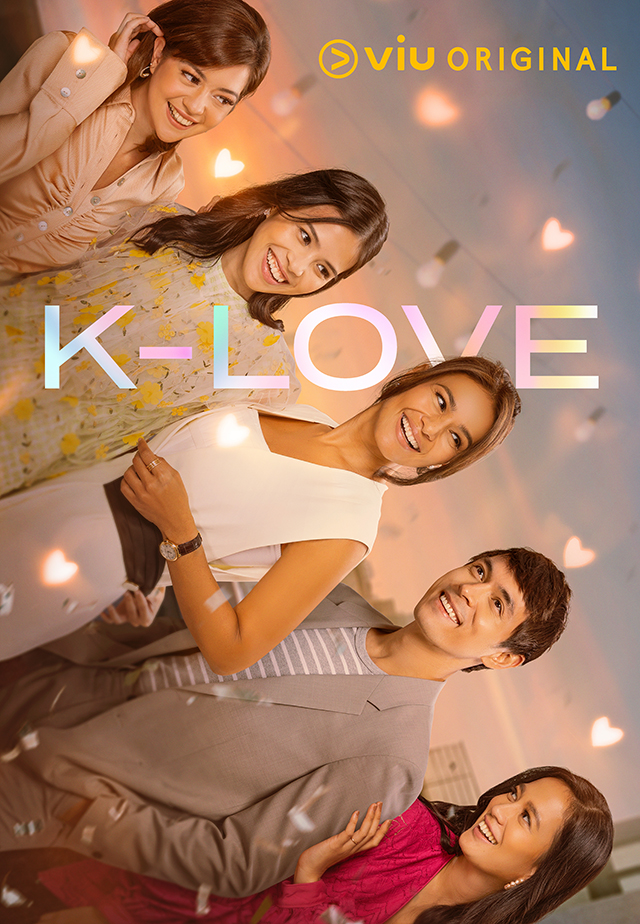 "So, while skeptics dismiss K-dramas as lightweight entertainment for people who never outgrow fairy tales, those who love it see it differently," the narrator continues. "Because in the world of K-drama, one is given permission to once again hope not just for happy endings but also for new beginnings."
With a story that provides a soul-nourishing fantasy, an all-conquering love, and a much-needed escape, K-Love promises to celebrate and pay homage to Filipinos' fondness for K-dramas. "Oh 'di ba you can relate. That's the beauty of K-drama," says Sheila.
THE K-LOVE STORYTELLERS
While K-Love features a star-studded cast, one more reason to get hyped up about it is the powerful team of storytellers that made it happen.
Spearheading the team is the series creator Corinna Vistan, who is a former Marvel Studios Executive. She has worked in several MCU movies and has earned awards including a Gold Clio (advertising award) for her work on Guardians of the Galaxy Vol. 2, and a Telly Award for Doctor Stange and Thor: Ragnarok.
Forming the writing team are Tara Sering, the former Editor-in-Chief of Summit Publications, and the best-selling author and Palanca awardee, Tweet Sering. The show will be lensed by the award-winning cinematographer Ian Takahashi whose previous works include James Gunn's The Suicide Squad, Harry Styles' Falling music video, and Beyonce's Lemonade among other big titles. Seven-time Emmy Awards winner director Bobby Yan is also a part of the show's all-star crew. Finally, former Walt Disney Studios executive Lea Dizon and Vogue Philippines' fashion director Pam Quiñones (who will head the styling department) join the people behind the scenes.
With this exceptional lineup of creators backing up K-Love, there's no doubt that the Filipino series' thematic and technical qualities will be topnotch. All the more reason for the fans to get excited.
K-Love premieres on October 14 via the Viu streaming app. In the meantime, you can check the show's preview here.
Continue Reading: 9 K-Dramas With Considered Depictions Of Mental Health That You Can Stream Right Now