Jisoo and Jung Haein, aka Haesoo are a gift that keeps on giving.
Related: Jisoo In Paris: Watch The Blackpink Star Explore The Dior Archives In This Video Diary
Snowdrop is finally here and it's safe to say that it's been rollercoaster of a ride so far. As Jisoo's first ever K-drama in a lead role, expectations were already high for the show. But Snowdrop ended up taking a life of its own after facing controversies and even possible cancelation. As for the show itself, what some initially though was going to be just a love story between Youngro and Sooho has turned into a tense thriller with an interesting story line.
Another thing that fans have enjoyed about the show is the pairing of Jisoo and her leading man Jung Haein. Given the background of Snowdrop, eyes were already on the pair even before it aired. And based on the reactions of fans, it's a great pairing. With the ship name of Haesoo, Jisoo and Haein have charmed many, saying how the two complement each other well with Jisoo's bubbly and outgoing personality balancing Haein's more serious and reserved nature. Here are just some of the sweetest moments between Jisoo and Haein both off and on camera. (Spoilers Ahead)
THEIR PHOTOSHOOT FOR HARPER'S BAZAAR KOREA
As Snowdrop neared it's release date in December 2021, fans waited with bated breath to see Jisoo and Haein embark on the press tour to promote the show. And sure enough, they did not disappoint. Their first interviews together were promising signs that the two would have great chemistry on the show. And one moment that sent fans, and us, into a tizzy was their photoshoot for Harper's Bazaar Korea. They appeared on the November 2021 issues and the whole shoot and interview was a definite treat for many. But what we're loving was the photo booth pics the two took. Now what would it take for us to get our hands on a copy?
WHEN HAEIN POSTED ON JISOO'S BIRTHDAY
When Jisoo celebrated her 27th birthday this past January 3, many of her fans and friends greeted her. But it seems that Haein too celebrated her birthday even though he didn't outright say it. He posted a photo of a paper airplane on his IG with no caption and no one tagged to the photo. But as they say, a picture can speak a thousand words. The paper airplane he posted holds a special meaning between Youngro and Sooho. And the fact that he posted it on Jisoo's birthday, it tells you a lot. Add to that, according to some of Haein's fans, this was the first time he ever posted something about his leading lady during their birthday. Sana all.
WHEN THEY POSTED EACH OTHER'S PHOTO ON IG
Jisoo and Haein sure know how to bring the kilig. As if playing with our emotions on screen wasn't enough, the two decided play with us even more by posting the photo's they took of each other on their respective Instagram pages. Jisoo and Haein are probably good friends in real life. But if ever the two reveal that they're dating in real life, we would not be mad at that, at all.
WHEN THE CAST OF SNOWDROP SUPRISED HAEIN WITH A COFFEE TRUCK
Even though filming for Snowdrop has long passed, that doesn't mean the cast have forgotten each other, far from it. While Haein was on the set of his new drama, Jisoo and some of the cast members of Snowdrop came on set to surprise him with a coffee truck. And to top it all off, Jisoo took a photo of him by the truck and that was what Haein posted on his IG. We love to see it.
THEIR MUCH-ANTICIPATED KISSING SCENE
THEY KISSED TWICE YALL ? #SnowdropEp11 pic.twitter.com/UDLOqOCSOc

— snowdrop 설강화 (@snowdropsource) January 16, 2022
We're around two thirds done with the season and we finally got it, the much-anticipated kissing scene between Youngro and Sooho. As Jisoo's first on-cam kiss, it was definitely a moment and a much talked about scene on social media. And especially when you understand the context of their kissing scene, it makes for a moment that hits even harder. With only a few episodes left, who knows what else can happen. Tbh, we aren't sure who we're more jealous of Jisoo or Haein.
HAEIN ATTENDING BLACKPINK'S CONCERT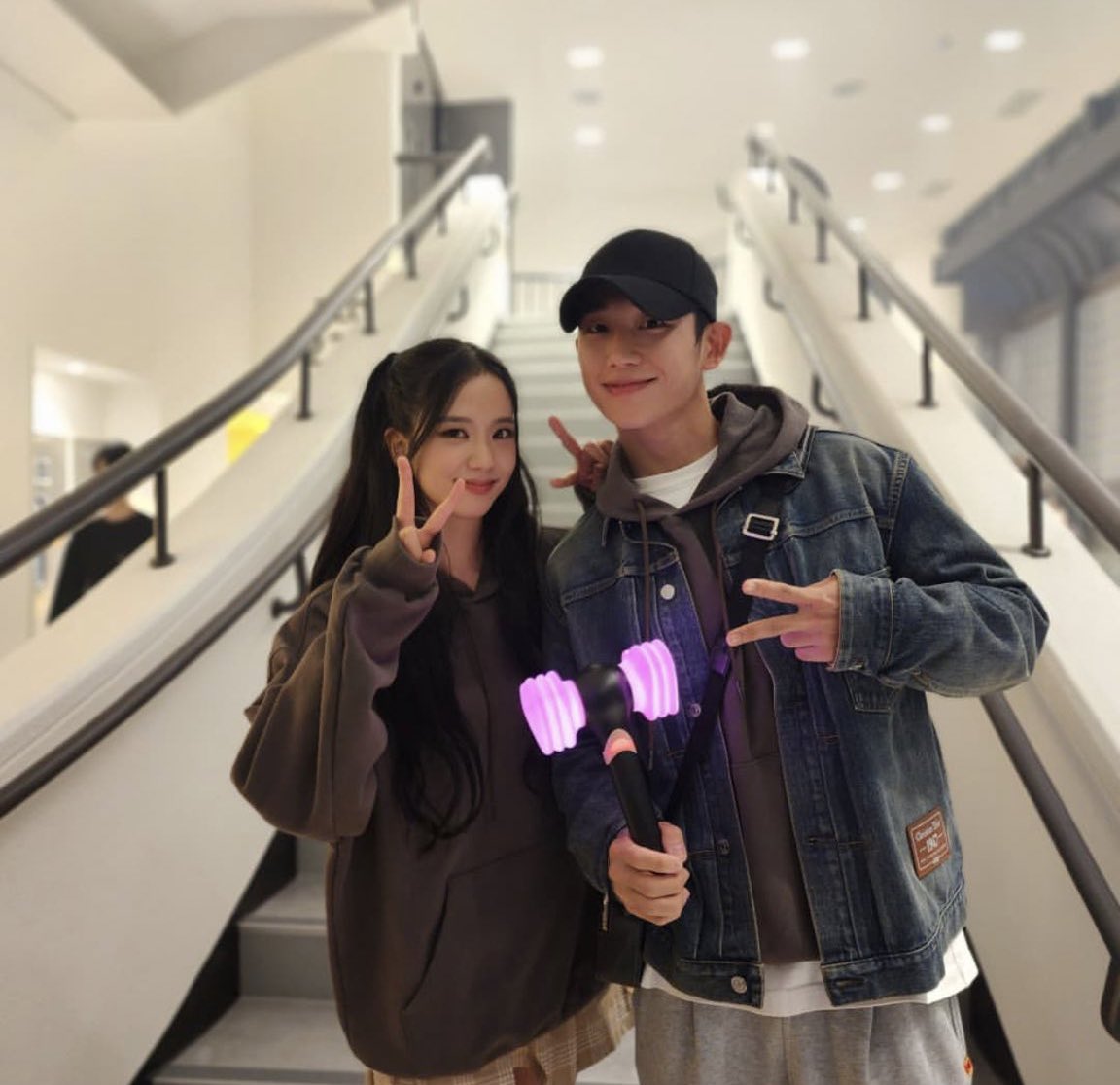 Haein is a BLINK, wbk. But for a time, we worried that he wouldn't be able to attend BLACKPINK's Born Pink World Tour opening in Seoul as he didn't join his Snowdrop family for Day 1. But never say never as during Day 2, not only did Haesoo show up with his BP lightstick, we also got that long awaited reunion between the two lead stars courtesy of a pic the actor shared on his IG stories.
THE BEHIND THE SCENES SHOOT OF THE POSTER
When JTBC dropped the poster for Snowdrop, it understandably got fans hyped for the show. While they posters didn't hint at the suspense that was to come, it did show a taste of the chemistry that Jisoo and Haein would have. If the poster alone gave you the feels, then the behind-the-scenes video of how the poster came to be is a much-watch. Just seeing the two together for the shoot showed us that they was something special between the two of them.
THEIR CUTE MOMENTS ON SET
the saga of haesoo giggling together continues pic.twitter.com/wyDj5J4vqU

— 설강화: snowdrop (@snowdropics) January 17, 2022
For a show that's as dark as Snowdrop, it's behind the scenes moments is decidedly the opposite. After the airing of an episode, JTBC usually drops a video on their YouTube channel detailing the behind-the-scenes process of how the episode came to be. Aside from the fact that you get the low down of how they did certain scenes of an episode, they also serve as a goldmine to see cute moments between Jisoo and Haein. You get to see quite a few cute interactions between the two like how they filmed their kissing scene.