Even though stars like DonBelle, Andrea Brillantes, KDLex, and more are currently on tour for Star Magic, they made sure to make most out of their first stop in New York City.
Related: James Reid Hanging Out With K-pop Idols Is The Friendship You Never Knew You Needed
Welcome to New York, it's been waiting for you. In celebration of the Star Magic's 30th anniversary, the talent arm of ABS-CBN embarked on their US tour. Entitled Beyond The Stars, the concert included some of the top stars of today set to entertain our kababayans abroad in New York, San Francisco, and Los Angeles. But even though they have traveled to the US for a work tour doesn't mean they can't have fun on the side.
When the stars landed in NYC ahead of their show on August 6, they made sure to make the most of the moment and live their best tourists lives and enjoy what the Big Apple has to offer. If anything, the fun times they have been having are a preview to what they'll be up to when they head to California in the coming days. Here's a rundown of just some of the thing our faves have been up to while in America.
KDLEX ENJOYS NYC
Not only has KD and Alexa been giving us the feels with their performances, but with the free time they've been spending together in New York as well. The breakout love team has been spotted in many of the most popular locations around NYC such as the Brooklyn Bridge, Brooklyn Museum, and Times Square while taking rom-com poster worthy shots. They've also hung out with Blythe on a few occasions. (Fun fact: Blythe and Alexa are roommates on the tour.)
And what's being in New York without seeing a Broadway show right? So, along with some of their fellow Star Magic artists, the two also watched a few musicals like Moulin Rouge: The Musical and The Phantom Of The Opera. KD and Alexa, along with Donny, Belle, and Blythe even watched Wicked. As if their bonding moments weren't enough already, KDLex was even spotted at a Red Ribbon wearing matching pink tops.
DONBELLE MOMENTS
The fact that they arrived in NAIA while holding hands already caused the fandom to melt. And their kilig-inducing adventures continued in NYC. Not only was this their first trip together overseas, but also Belle's first time in the US ever, so it was for sure a special time for them. Their adventures include seeing the sights around the Big Apple, taking some cute pics, taking a stroll in the park, catching some Broadway shows, and doing their soon-to-be trademarked forehead pose. The New York glow is making DonBelle look extra fine.
DONBELLE VIDEO BOMBERS
Compilation ?@REDRIBBON ?
??Woodside NewYork City#beyondthestarswithkdlex #AlexaIlacad ll @alexailacad ll #ResetUI ll #KDLex ll @kdestrada_@ALEXAnators_ @ALEXATrends_ pic.twitter.com/UPCjpca8YY

— ALEXAnatorsWorldwide (@ALEXAnatorsWW) August 8, 2022
Andrea Brillantes is the unofficial third wheel of KDLex and DonBelle during this tour. Blythe uploaded a TikTok flexing her fit and in the background we see Donny and Belle. Donny seems to tell Belle that they're in the shot before she proceeds to join them. As Blythe perfectly said, they're the TikTok bombers anyone would welcome.
PHOTO SHOOT AT THE BROOKLN BRIDGE
Honestly, we don't blame them for doing all that at the Brooklyn Bridge. As one of the most famous landmarks in the whole city, any tourist would make the most of their visit. Maymay Entrata, AC Bonifacio, and Edward Barber were just some of the stars who took pics on the bridge. The location also served as a great TikTok shooting location as seen in these videos from Kim Chiu and Angela Ken.
AC AND ANGELA TEST THEIR KNOWLEDGE
In case you didn't know, AC Bonifacio and Angela Ken are good friends. This trip is the besties' first flight together and they've been using the moment to flex their bond. Aside from sharing fun photo dumps, the two also had this fun moment on the Star Magic bus featuring KDLex. AC and Angela were naming things that start with the letter L. When it came to naming a chemical element, they were stumped and asked KD and Alexa, who were sitting behind them for help, which they gave. Kim Chiu's laughter in the background just makes the whole video that much better.
GIRLS DAY OUT IN NYC
What do some of the biggest Star Magic stars do in NYC on their free time? We have Charlie Dizon to thank as she helped shed some light on that. As seen in the photos she shared on Instagram, she, Belle, Andrea, Maris, and more did a little sight seeing tour around the Big Apple, enjoying some iced coffee on the summer day, seeing the High Line, and chowing down on some food at Chelsea Market. They all look like they're having so much fun together like casual besties on a trip abroad.
MAYMAY IN TIMES SQUARE
Whether on the stage or on the streets, Maymay Entrata will always serve a look. And that much was true with her fit in Times Square. There may be tens of thousands of people in that place at any given time, but we would have stopped if we saw her in that look.
KYLE ECHARRI SEES KENDRICK LAMAR
While the Star Magic stars are on tour, that doesn't mean they can't enjoy other artists who are also on tour. Case and point, Kyle Echarri, along with Zanjoe Marudo, watched Kendrick Lamar's concert in NYC and were even by the standing section near the stage. getting to see one of the legends of modern rap live and in person probably was a night to remember.
SHOPPING WITH THE GIRLS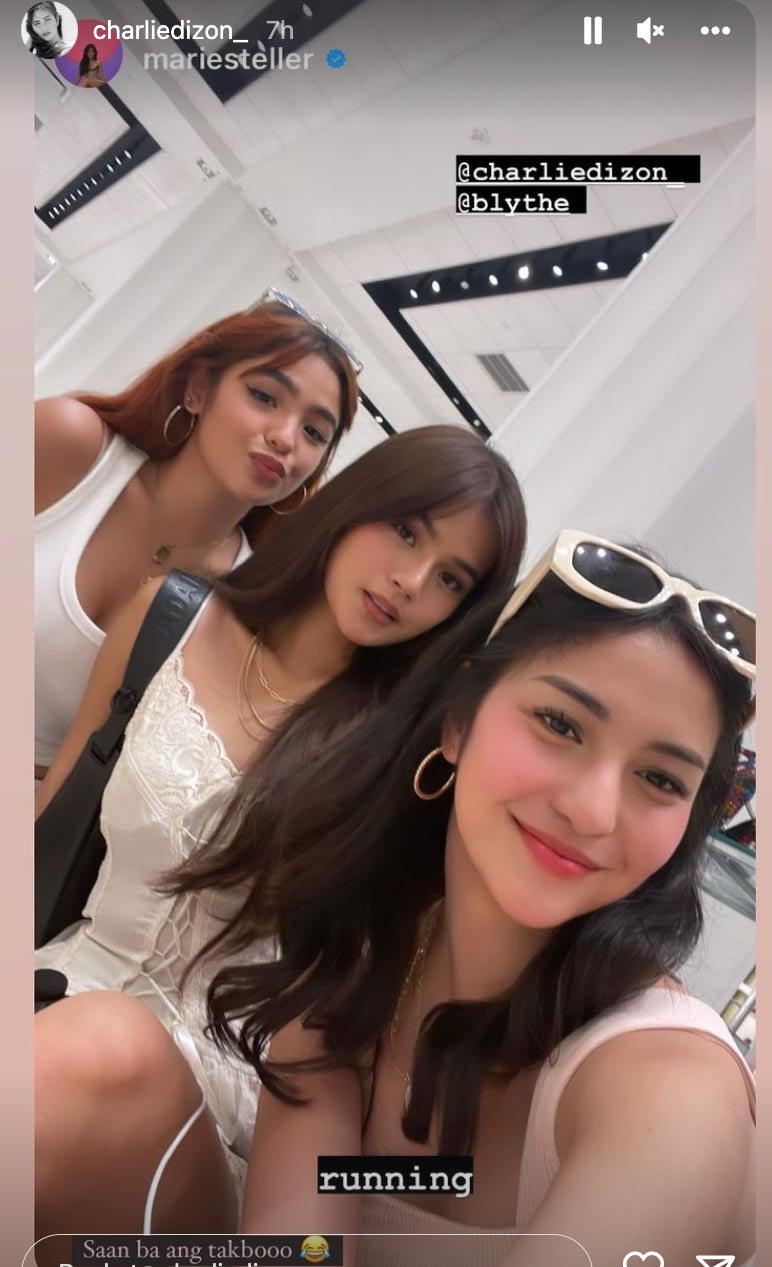 During their free time, Charlie Dizon, Blythe, and Maris Racal all went shopping as they looked through fragrances, shoes, and the like. And during their shopping trip, Maris also let loose some corny jokes because no bestie shopping trip isn't complete without some lighthearted banter. What we want to know though is what they copped during the trip.
KYLE, ANGELA, AND SAB GIVE A FREE CONCERT IN CENTRAL PARK
Imagine that you're just casually walking along Central Park. And then you hear Kyle Echarri, Angela Ken, and SAB just singing on the side for free. That's exactly what happened when the trio participated in some busking at the park and sang a few songs right then and there. They joined local musician Marley during her set when she allowed them to sing on her stage right by the park benches.
KIM CHIU GOES TO DISNEY WORLD
Florida isn't on the itinerary for the Beyond The Stars tour. But that didn't stop Kim Chui from heading there, specifically for Disney World. The actress and performer flew all the way down south to the Sunshine State to visit Disney World in Orlando, which tbh, same. If you have the opportunity to enjoy the happiest place in the world, why not right?
Continue Reading: 7 Moments From The Star Magic 30th All Star Games That Just Make Sense