Here's a roundup of those shops and hole-in-the-wall stores that are a treasure trove of secondhand books.
Related: Here Are Places You Can Visit To Donate Or Buy Second-Hand Clothes
Reading, it's an activity as old as time, and one that still has its merits in the digital age. But while the joys of reading a good book are real, the prices they come with can make us do a double take. There's also the environmental impact of buying new books that is worth taking into consideration.
Luckily, the metro is dotted with stores and shops specifically catering to the secondhand and pre-loved books market. Not only are these books significantly cheaper, but purchasing them will also be a form of recycling and sustainability as you prevent these literary works from ending up in landfills. And the best part is that you often don't know what you'll find in these stores, making the adventure of finding a book to read just as exciting as reading it. Scroll down below for stores that you may want to pay a visit to.
BOOKS FOR LESS
As the name implies, Books For Less is a series of stores that sells secondhand books for less. With locations across major malls around the metro, you won't be hard-pressed to find a store and browse its hundreds of books. It's a collection of pre-loved titles that run the gamut from literary classics to textbooks. And if you're really on the hunt for a sale, Books For Less has a warehouse in Pasig where you can buy bundles for a price that will make your wallet sing.
CHAPTER IX BOOKSTORE
Founder Gary Montenegro turned Chapter IX Bookstore into a special place. A place for bibliophiles, the store's collection is made out of hand-picked titles by the owner himself. Needless to say, it's a wide selection of secondhand titles you're free to peruse, both in store and their Facebook page.
SECONDHAND BOOKS PHILIPPINES
If there's any doubt about what Secondhand Books Philippines has to offer, just take a look at their selection of books, most at prices that won't break the bank. The best part about this independent bookshop is that they have a store on Shopee, which makes it easy for bookworms to cop their next read.
BOOKCHIGO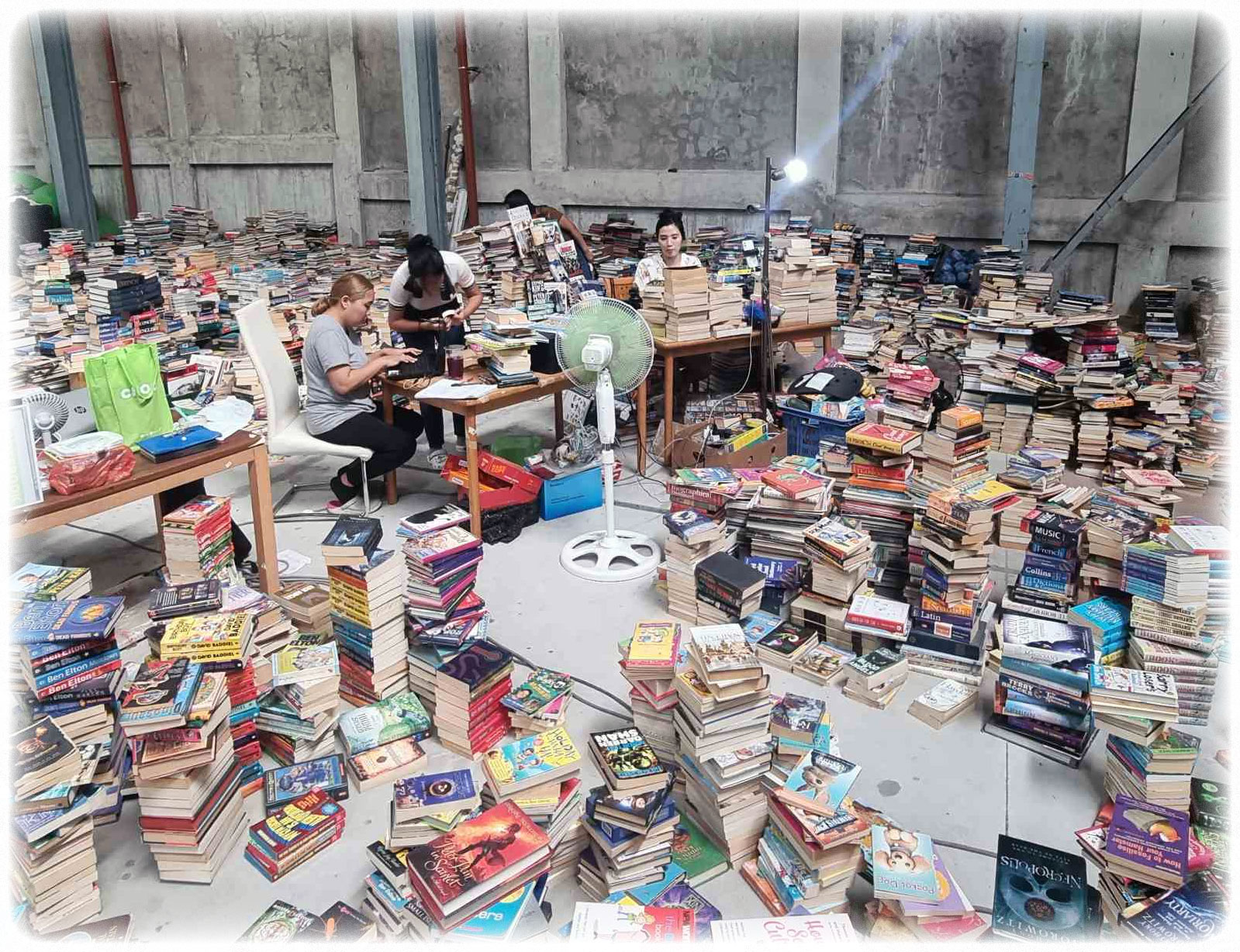 You probably are familiar with outlet shopping. But have you ever heard of warehouse shopping? This is what Bookchigo offers its customers. Not only do they have a store in Silang, Cavite, but they have an entire warehouse where shoppers can buy books by the kilo at affordable rates. They started out as an online retail shop in 2020 selling childrens' books but has since expanded to multiple genres. And to top it all off, they also do online selling via their Facebook page.
ROEL'S BOOKSHOP
Books for as low as 40 pesos? Roel's Bookshop is the place to be. This bookshop from owner Roel Abaya caters to bookworms and would-be readers with its expansive collection that even extends to rare and out-of-print books. The next time you find yourself along Maginhawa Street, give this store a visit.
BOOKSALE
Another series of stores with a straightforward name, Booksale won't let you down if you're on the hunt for some cheap books and archival magazines. Their locations around the city offer potential customers a varied collection that can feel like a treasure hunt at times.
PORCH READER
Located in Valenzuela City, Porch Reader will have you lost in its collection of materials, both fiction, and non-fiction. But aside from looking for a new read, this quaint little store built for booklovers also helps people in need. For every book purchase, the store aims to build free libraries in underserved areas. Buying secondhand books for a good cause? Now that's a good deal.
NAMELESS BOOKS
For those living in the Santa Rosa, Laguna area, or are open to making the drive, Nameless Books is the place to be to get secondhand books. With how many books they have on offer, you could honestly start your own library with a few hauls from the store, and at an affordable price, too. You can follow their Facebook page for more deals as they often do live selling.
THE BOOK SNOOP
If you like to shop for books on Facebook, then you may be familiar with The Book Snoop. Since 2016, the shop has been a favorite of many with its diverse selection of finds, from science, poetry, history, theory, and more. They regularly update their Facebook page with the latest finds so you may find something worth copping.
BOOKAY-UKAY
Ukay-Ukay isn't just limited to clothes. Dan Gaffud established this bookshop in 2008 to cater to those looking for that next read at manageable price points. The store is located along Maginhawa Street, which makes it a good spot to visit aside from the trendy food spots in the area.
BOOKSPINE PH
Those old books collecting dust in your home can finally have a home with BookSpine PH. Aside from having a sizeable collection to browse, they also accept book donations with a part of the sale going to the Read-to-Achieve Foundation. You can check out their online store here.
BIBLIO
Taking its name from the Greek word biblion, meaning book, Biblio prides itself as a go-to place for imported pre-owned books in the metro. They first landed in Manila in 2016 with their UP Town Center branch and have since expanded to locations within the city. Their shelves and racks invite customers to check out what's in store, whether it be pre-loved books or other fun finds. Some locations even have tables and chairs for guests to use in case they want to read the book before committing to a purchase.
Continue Reading: Going Green: 5 Local Shops To Get Eco-Friendly Packaging For Your Next Budol