SB19 has slayed on local and international stages. But can they conquer the PBB house as well?
Related: SB19's Araneta Concert Was A Special Reunion Between The Boys And A'TIN
When it comes to Pinoy Big Brother, most of the action and drama usually comes from the housemates, of course. But every now and then, a special guest enters the famed house at the request of Kuya to either teach the housemates something or participate in a special activity. And for this week's challenge of PBB Teens Edition, a little bit of both happened. PBB initially teased that two P-pop groups were entering the house, which was later confirmed to be powerhouse groups SB19 and MNL48.
Already, the season had it's P-pop touch with former MNL48 member Gabb being part of the cast. But the participation of the group brought it to a new level. They were sent inside to teach the housemates song and routines to be performed for their upcoming Big Kumuniteen Summer Concert. But their appearance extended to more than just mentoring the teens as P-pop week at the Pinoy Big Brother house introduced a more personal and intimate view on the superstars.
MNL48 MAKES AN APPEARANCE AND REUNITES WITH GABB
While MNL48 entering the iconic house was already great, it felt even more special as it was a chance for Gabb to reunite with her former group mates. MNL48's Ella, Jem, and Coleen were there to teach the female housemates the choreo for No Way Man. But their appearance got us a bit teary eyed as it also gave Gabb the motivational boost she needed. Seeing her being comforted by the members was so sweet and showed that Gabb will always have a special place in MNL48, even if she already graduated. While MNL48's stay wasn't that long, they did cook street food like squid balls as their parting gift to the housemates.
same tiffany same

MNL48 PBBTeen ConcertTask#MNL48atPBBHouse@mnl48official pic.twitter.com/LuKLWG5xFe

— Yuri Chan⁴⁸ II (@chanixzcs_II) April 27, 2022
"Once an MNL48 member, always an MNL48 member" -Sheki #PBBSB19MNL48InDHaus
MNL48 SHONDA NA#MNL48IkaApatNaAnibersaryo @mnl48official pic.twitter.com/EArKF9Sz5L

— istugug • BBS GABB (@gabbuaraw) April 28, 2022
MNL48 to Gabb: "Deserve mo to"#PBBSB19MNL48InDHaus pic.twitter.com/nykavr3xEH

— Pinoy Big Brother  (@PBBSeasonTen) April 28, 2022
SB19 ARE PBB'S NEWEST "HOUSEMATES"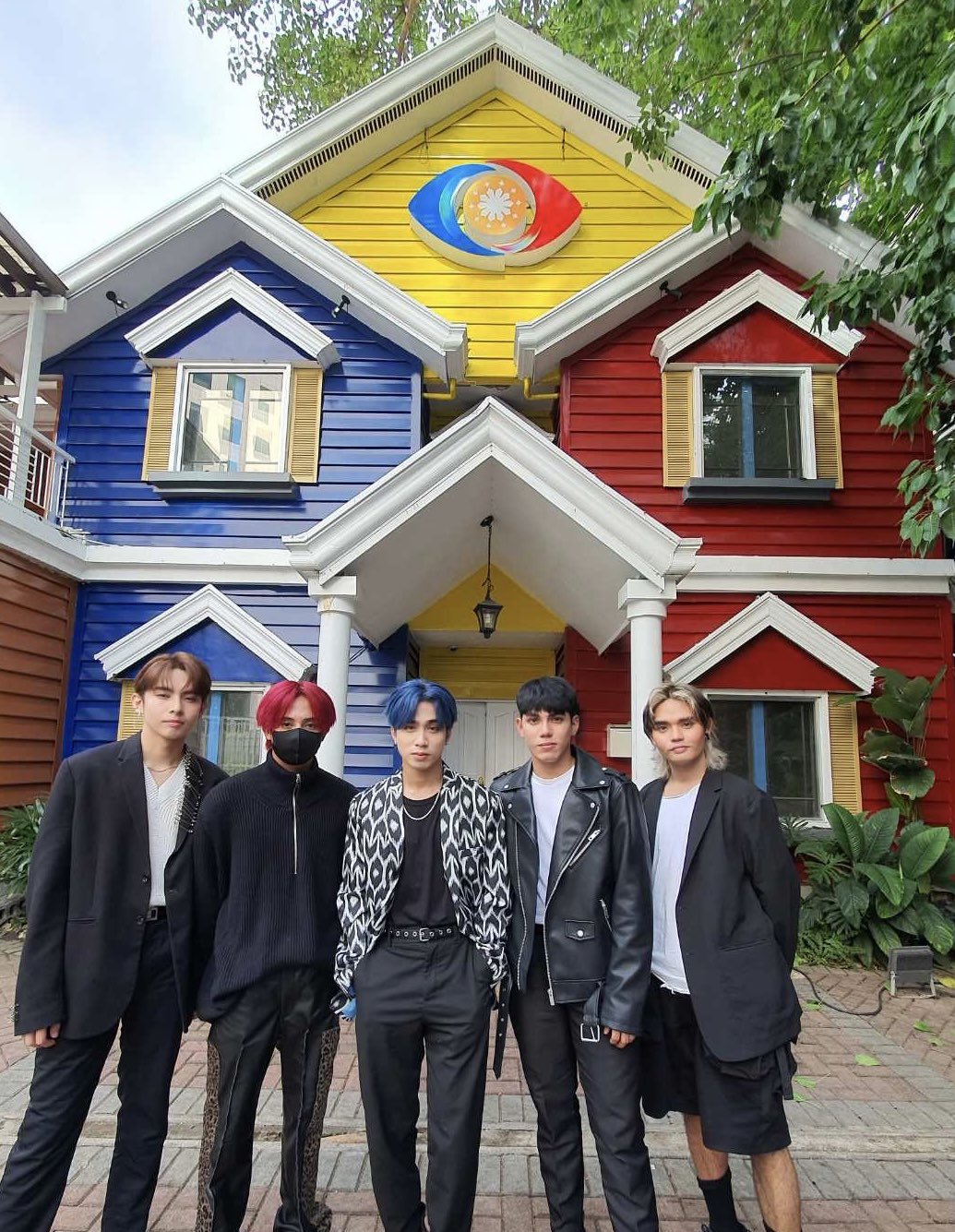 After MNL48, it was revealed that SB19 would enter the PBB house. But their participation was extra special as they wouldn't just be teaching the housemates, but that they would also be living with them as well. After entering the house on April 27, they stayed for a few days as they served as mentors to the teens for their weekly task. Pablo has said that the group always wanted to enter the PBB house and clearly, they made the most of it. For starters, they had an entrance that was next levels extra as men in mysterious black robes entered the house before it was revealed to be SB19 who went on to perform Go Up. Tiff and Stephanie were the embodiment of A'TIN.
Thanks to the magic of uninterrupted live steaming via kumu, we got to see whole new facets to the P-pop kings. For starters, we got to see SB19 in their mentor mode as they share their talents and knowledge to the teens. Given how SB19 were once trainees themselves, this truly is a full-circle moment.
no bec i'm legit crying after watching this clip. pablo's such an effective vocal coach. he does not only focus on the technicalities but he focuses really on touching one's soul.

SB19 Mentors PBBTeens@SB19Official #SB19 #SB19xPBBTeens
pic.twitter.com/Dduub7PgC3

— chanz ? (@itadakenmouse) April 28, 2022
mentors? hmm, more like hypemen ? look at jah executing the steps also 🙁#SB19_JUSTIN @SB19Official #SB19xPBBTeens pic.twitter.com/fNwPqyZJB3

— ✧ (@jahdiary) April 28, 2022
tell me you're a dancer with telling me :p

SB19 Mentors PBBTeens@SB19Official #SB19 #SB19xPBBTeens#1948SaBahayNiKuya pic.twitter.com/cFfQR9TjZN

— ًmarts (@FELlPJHON) April 28, 2022
while pinunso was busy cleaning joshtell was also busy teaching the housemates

SB19 Mentors PBBTeens@SB19Official #SB19#SB19xPBBTeens pic.twitter.com/FGHl1YAIMS

— 亗 (@dzemariii) April 28, 2022
While we do get SB19 in serious mode, we also see the group in their lighter, more wholesome side. Since we have a more unfiltered look at the boys, we get to see their more personal and natural sides, how they would act in real life more or less. It's interesting to see how their individual personalities shine and how they treat each other. In particular, the way they treat Justin warms the heart.
allow me to post this because i will forever have a soft spot for pinunso ? remember how jah looks up to pau? how much admiration jah has for pau? and to hear that from someone he once referred to as the greatest singer? crying. #SB19_JUSTIN @SB19Official pic.twitter.com/zt0bGD1w4p

— ✧ (@jahdiary) April 27, 2022
Ken playing Mapa on guitar with SB19 harmonizing to it. Their vocals! Truly heaven-sent ??#PBBSB19MNL48InDHaus@SB19Official #SB19 @keun16308352 #SB19_KEN #SB19xPBBTeens pic.twitter.com/QhPH9xjAq1

— SB19 KEN UPDATES ? (@SB19KenUpdates) April 28, 2022
i didn't know kids are allowed to enter kuya's house ?#SB19_JUSTIN @SB19Official #SB19xPBBTeens pic.twitter.com/hbLEjMIj3Q

— ✧ (@jahdiary) April 28, 2022
In general, seeing SB19 interact with other housemates, have fun, and be their true selves is a treat. Speaking of treat, SB19 being in PBB made us realize their near obsession with ice cream, especially Ken. But ice cream is ice cream and there's no shame in enjoying the icy treat. It is often said that PBB is the teleserye ng totoong buhay and SB19 lived out the teleserye fantasy, even if it was just for a little while. Their stay on the show also hopefully gave people, both here and abroad, a look at the unique charms of the group and help them understand why they are considered as the P-pop kings.
Ken: *asking if he can get another ice cream*
Rob: Feel free to take whatever you want
Ken: Thanks, man!

Sisiw behavior, I see… ??

SB19 Mentors PBBTeens@SB19Official #SB19 @keun16308352 #SB19_KEN #SB19xPBBTeens pic.twitter.com/Xj22UB670M

— SB19 KEN UPDATES ? (@SB19KenUpdates) April 27, 2022
dancing no way man! CUTEST 🙁 #SB19_JUSTIN @SB19Official #SB19xPBBTeens pic.twitter.com/aMqq6isBkX

— ✧ (@jahdiary) April 28, 2022
Luke: *Singing Best Part*
Pablo: You're my biogesic…
Luke: You're my bioge—huh?

Please lang Pablo??

SB19 Mentors PBBTeens@SB19Official #SB19 #SB19xPBBTeens#1948SaBahayNiKuyapic.twitter.com/RCexfH8282

— Eri • ʏᴘᵢ ⁴⁰⁶¹ • PPN • A'Tin for Good Governance (@Infbly18) April 28, 2022
Continue Reading: Here Are The New Batch Of Teens To Follow In PBB Kumunity Season 10 Teen Edition