The live concert of SB19 in Araneta was worth the wait and A'TIN got their money's worth from live performances to shipping moments.
Related: 6 SB19 Wish 107.5 Performances That Live Rent-Free In Our Minds
Over the past couple of years, SB19 has held a series of concerts and performances that entertained audiences around the world. But because of the pandemic, all these performances were held sans live audience. And while these performances were still exceptional, it didn't feel the same as compared to having a live audience to cheer on the group. Anyone who's been to a live gig or concert knows that the crowd can enhance the concert experience. This is why with country under Alert Level 1, live concerts with an audience are back and we couldn't be happier.
The recent PPOP CON concert was the first time that SB19 performed live in front of full audience in a while. (Their anniversary concert was played to a hybrid audience.) Despite the delays that were beyond anyone's control, the concert in Araneta Coliseum for Dunkin' Donuts felt like a long-awaited reunion between SB19 and A'TIN. Anyone who is familiar with A'TIN knows that the fandom will do the most for the boys, regardless of where they are and those in attendance made sure to get the most out of the moment. From the performances to fan interactions, here are our favorite moments from the concert.
REUNITED AND IT FEELS SO GOOD
All I can say is WOW! Beyond imagination!

SB19 LIVE IN ARANETA@SB19Official #SB19 #DunkinPHSB19Concert pic.twitter.com/pwFiHkDDUD

— StanningAngkol (@StanningAngkol) April 23, 2022
Watching a concert that has a live audience just hits different. Fans get excited to watch their faves live while the artist feeds off of the energy of the crowd. This much was true for SB19 and A'TIN. If the blue ocean wasn't obvious enough, the people were excited, from front row to gen ad. And by the time Josh started dancing at the beginning, it was non-stop energy from start to finish. The relationship between SB19 and A'TIN is something special. From cheering along, to singing with the group, calling on their individual fan houses, and inventive costumes and signs, the energy was palpable. And it's a level of love that also extends to people outside the fandom. Even exams couldn't stop A'TIN from going.
FIRE PERFORMANCES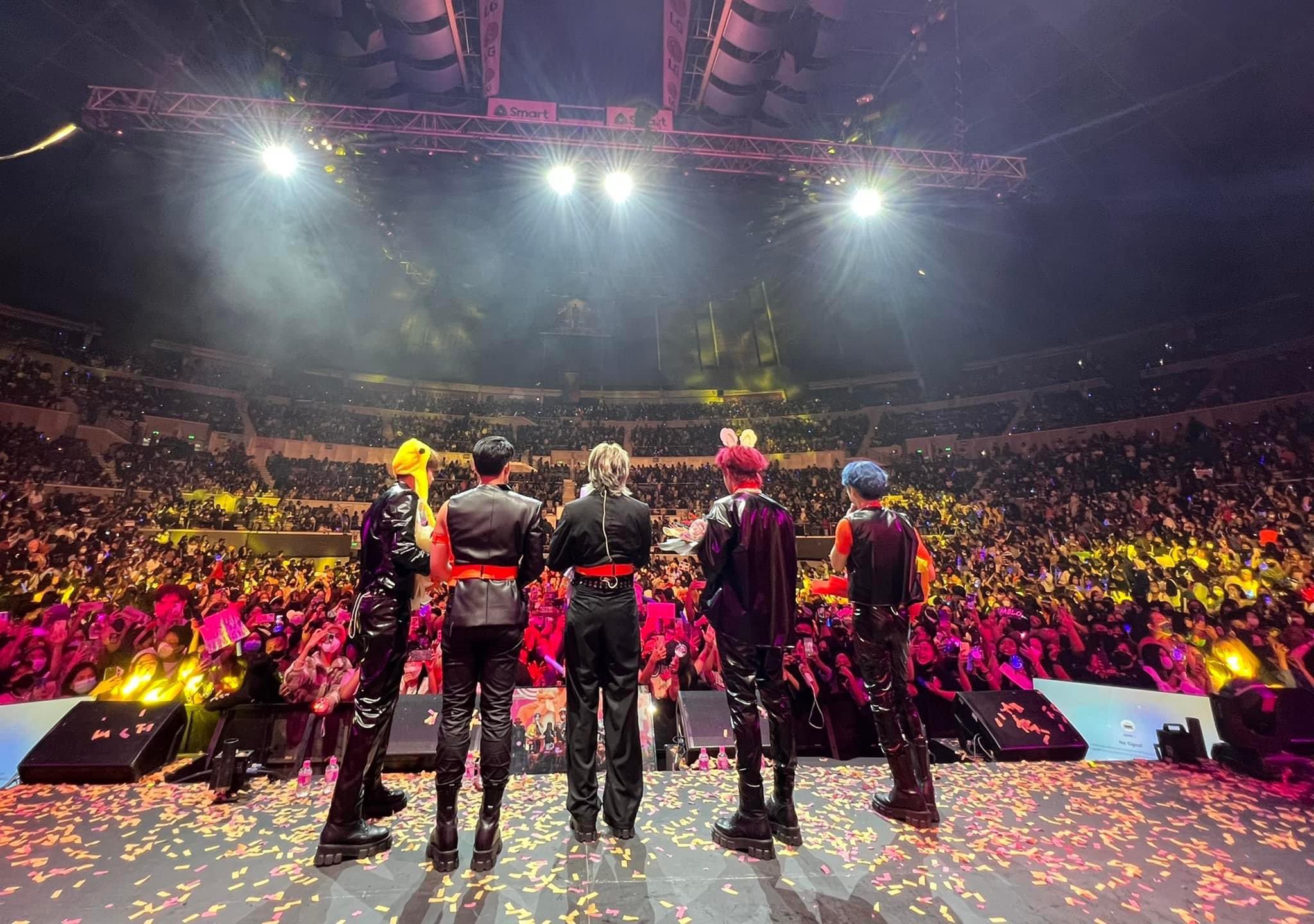 If you buy a ticket to an SB19 concert, know that you will be getting your money's worth. As soon as they came on stage, the group gave 100% energy all throughout. In the words of Bob The Drag Queen, "why y'all gagging?" They powered through a set that included fan favorites like Go Up, Alab, Mana, and Bazinga. The group showcased the new routines they debuted during PPOP CON and they still hit just as hard. But our favorite performance of the night was when they sang MAPA and they asked A'TIN to sing along with them. It was a surreal moment.
A'TIN ASKS, AND SB19 GIVES
It's clear that SB19 loves their fans, so much so that they're willing to do a lot of things for them. The fan service and moments we got was much appreciated. When fans asked for the volume to be up, they obliged. When they asked the group to sit in the center during the Q&A so others could see better, they did. Even when the audience screamed for them to show off their cute charms, (basically do aegyo), SB19 did it with a mix of delight and doubt. And to that fan who asked the group when their next comeback is, you're doing God's work.
GENDER STEREOTYPE BREAKING OUTFITS
hoyy you don't understand how much I'm simping for pablo in this kind of outfit ♡
????????@SB19Official #SB19 #DunkinPHSB19Concert pic.twitter.com/whAqWCBByC

— mafyu (@_lostinthezone) April 23, 2022
Whenever SB19 is going to perform, it's expected at this point that the boys serve looks. And they did not disappoint with their most concert. First donning brown fits before changing to a black and orange color scheme to resemble Dunkin' Donuts, SB19 came prepared in the looks department. Stell's penchant for wearing sleeveless shirts is starting to get dangerous while Josh in that see-through orange top? Well now. But what we most love about their looks is how they aren't afraid to break gender stereotypes. SB19 has done this many times in the past and this go around, it came in the form of Pablo wearing a skirt. He ate that fit up and showed us that men can wear skirts, period.
SHIPPERS STAY WINNING
Like with many pop groups, SB19 has ships between the members as anointed by the fandom. And someone must have smashed a champagne bottle because the ships set sail during the concert. First, there was that short but sweet moment between Stell and Josh before Stell called on his house. Then, we got a JoshTin moment when Josh said that we would protect Justin among the members if he were a face mask. A shot of Pablo being in the frame while Stell was talking gave us a StellJun moment. And props to Junard for recognizing why all the fans were screaming in that moment. Finally, because SB19 loves feeding their fans, we also got that much-awaited JoKen moment with Josh and Ken sharing a hug on stage.
Continue Reading: Our Zone, Live: Taking On The Coliseum, SB19 Proves Why They Are Meant For The Big Stage