Blink and you'll miss it, but this brand was the secret star of the now iconic makeover scene in the classic film, The Princess Diaries.
Related: YOU LOVE TO SEE IT: GIGI GOODE & NAOMI SMALLS ARE EATING UP THE GIRLS IN THIS BEAUTY CAMPAIGN
There are many things to remember from the seminal coming-into-her-own classic, The Princess Diaries. In the Garry Marshall-helmed film, we were treated to things such as the fictional but strangely familiar monarchy of Genovia, the foot pop caveat, and a personal favorite, the catch-a-falling-star moment of exasperation at the foot of the temperamental San Francisco slopes while it was raining. (Yes, Fat Louie the cat, you're a star, too.) But one of the more memorable scenes from the romantic-comedy happens to be a genre requisite: the makeover that will take our wallflower from simple to stunning in a montage of fast cut transitions, often soundtracked to a catchy 90s alt banger wailing about presumable self-worth.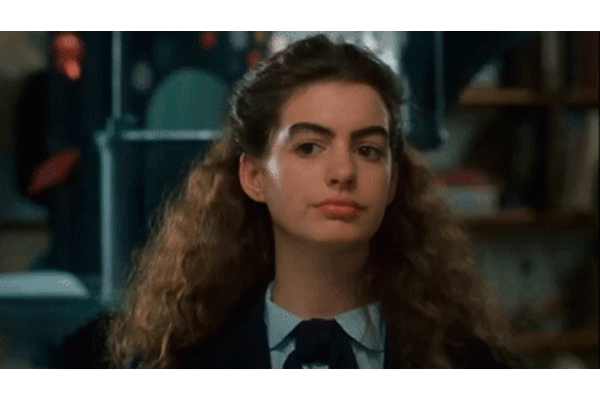 If you have been devoid of any shred of pop culture, you must know that in The Princess Diaries, Mia Thermopolis is plucked from high school obscurity to front page news when she is revealed to be the descendant of the royal family of Genovia. As the queen (played to regal perfection by the incomparable Dame Julie Andrews) is set to step down from her sworn duties, which means for the crown to say within their bloodlines, she has to seek her granddaughter to pass it on to in rightful succession. Understandably shocked with the odd turnaround of her life, the would-be princess would reject the idea, resisting every step of the way until, of course, an eventual relenting once she understood the bigger picture, as well as of the reassuring and enduring love of her father. Spoiler alert: Despite her initial hesitations, she later on accepts her fate and ascends to the crown. Oh, and she got her foot popping kiss, too.
Now that we are up to speed, let's go back to the makeover scene in The Princess Diaries. Under the expert hands of Paolo and his posse, Gretchen and Helga, Princess Mia is given the royal treatment as she is spun in the chair before the magic begins. If you're like me pays attention to the tiniest of details, you'll see in a quick cameo a range of products from an eponymous cult-favorite brand that seems to be the penchant of the ever so prompt Paolo. On the bureau, a stash of Nars products are strewn across, alluding to its great contribution to the not-for-daytime smoky eye, a sweep of flush on the cheeks (most likely the iconic and color authority, Orgasm Blush), and a tempered orange lip. It was a little too dramatic for a plain Jane to princess reveal, when really all that was done was to tame the mane of hair, pluck the brows, and got rid of the eyeglasses. But what do we expect from the monarchy? Everything has to be grand and excessive.
While it has to be stressed that we are all beautiful in our own right, whatever skin, tumble of hair, and state of the orthodontics may be, there is always that leg-room to up-the-ante so to speak. Accentuate the assets and highlight what makes you feel your best, and a quick way to do so is through makeup. With a smattering of foundation, a smear of color or a splash of shimmer, cosmetics can really do wonders for the spirit with a much-needed confidence boost. And with the holidays dawning upon us faster than we would like it to at this point, we really needs heaps of that good juju. So, in the spirit of tasteful transformation ala The Princess Diaries, we rounded up the latest holiday offerings you can choose from for your Christmas or gasp, New Year look. From skincare to a pucker of the lip, we got you covered.
Climax Extreme
If you think the name is enough for a double-take, wait 'till you brush this on your lashes. With the new Climax Extreme Mascara, you get that dramatic dose of volume that fans out with latex-like pigment that hugs your fine flutters just right. Lightweight but with maximum impact, you can command attention in a room royals as was in the assumption of responsibilities of Mia in The Princess Diaries with the loaded pigment, no smudge, whipped formula that really is pure pleasure in itself.
Air Matte Lip Color
Perhaps an update on what was used in The Princess Diaries, the swatch of color on your lips can now be light-as-a-feather and daringly diffused with the Air Matte Lip Color. This limited-edition innovation presses onto the pout with optimal pigmentation that is rendered a powdery finish that clings without drying. Call this the royal airness of lip products.
Soft Matte Complete Foundation
It always starts with a firm and formidable base, especially at times when everyone is a little too skin-obsessed—and rightfully so, too. Echoing the enviable pre-makeover skin of Mia Thermopolis in The Princess Diaries, which was already fine without a speckle of cosmetics, Nars is introducing the Soft Matte Complete Foundation. A breakthrough in formulation, what with its comfortable 16-hour wear, this oxidation-resistance product is all you will need if you want to even out your face with the foundation warmed up on your fingers before applying from the center outwards. Best part: It comes in 34 shades for all skin tones.
Holiday 2020 Collection
Despite everything, whatever has come and gone to this point, you deserve a little bit of self-love and yes, we mean that in the sparkling sense. Bold and brazen in its holiday spirit, Nars is making sure you are dressed to thrill—even if it will most likely be from the face up this year with all the virtual get-togethers we hop to in timed succession. With the gleaming bundles and sets with all-time favorites and classics, this is your ultimate expression made merry.
Bonus: Light Reflecting Serum
Capturing an essence of light, profound and proverbial as that sounds, NARSskin powers through the innovation train with the Light Reflecting Serum. Crafted with Gold Fortified Peptides and Red Snow Extract, Encapsulate Baobab Oil Droplets sourced from the Tree of Life, and golden pearlescent spheres, the blend coalesces into the revolutionary, dual-textured product that helps visibly firm and improve elasticity, rebuild skin's natural barrier and moisture abilities, and gives off a natural glow.
NARS is available online and in Rustan's, SM Megamall, Greenbelt, Rockwell and Central Square