Whether you want to do some reading, research, or finish your homework, these public libraries are your next safe space.
Related: The Simple Satisfaction Of Study With Me Vlogs
There's nothing like the quiet comfort of a library. The silence, abundance of books and other learning materials, the cold air conditioning, and free Wi-Fi make it the perfect spot study, watch a movie, or just escape the world for a bit. If home or a café just isn't giving that conducive learning environment, libraries usually never fail us. While most schools and universities do have their own libraries, most if not all are only open to students and faculty. Luckily, the metro is also dotted with a few public places for reading and learning. So, if you're on the hunt for that next study spot, consider these following libraries.
NATIONAL LIBRARY OF THE PHILIPPINES
This institution, located along Ermita, is a public hub unlike any other. As the biggest library in the country, the National Library contains an abundance of texts, books, reading materials, and the like to make that study session a breeze. If you need a specific book or just a place to put your head down and study, this place has got it.
MANILA CITY LIBRARY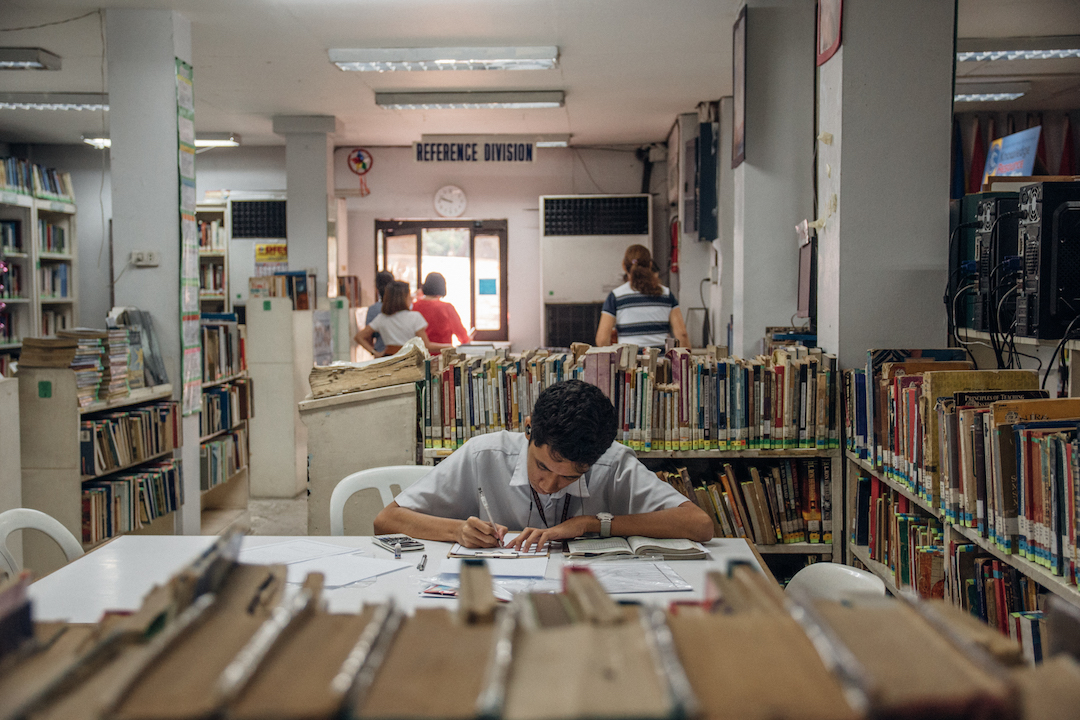 For those of you who live in Manila and feel that Starbucks or CBTL isn't the right place to study, you may want to check out the Manila City Library. Established in 1946, this library caters to the residents of the capital with its historic halls containing decades worth of knowledge. And when you're done with your work, you can go for a stop at the nearby National Museum complex.
FILIPINAS HERITAGE LIBRARY
The Ayala Museum doesn't just contain collections and displays of historical artifacts, paintings, figures, and the like. It also houses a library that can be used by the public. Located at the sixth floor of the Ayala Museum, the Filipinas Heritage Library has a collection in the thousands dedicated to Philippine history, art, culture, religion, and much more. Also, it's a pretty low-key area away from the crowd if you want to have some me-time from what is a usually busy area of Makati.
ORTIGAS FOUNDATION LIBRARY

Greenhills, a place for shopping, entertainment, and reading. Located within the famed shopping area is the Ortigas Foundation Library, a space all about preserving and celebrating local history, art, and culture. Pick a book from its catalogue in the thousands, grab a seat and do your work in peace and quiet, or avail of their many services. And when you're done, you can treat yourself to one of the many nearby restaurants.
QUEZON CITY PUBLIC LIBRARY
Unlike other libraries, the Quezon City Public Library prides itself with its advancements thanks to most of its in-house systems being automated. You won't get bogged down when trying to find that book or online journal. Also, the two-storey structure houses different meeting rooms and spaces fit for your needs. And to top it all off, the cozy library is one of the few public buildings in the city that embraces diversity thanks to its inclusive bathrooms. They have a few branches around the city so feel free to visit the nearest one to you.
Continue Reading: Get A Glimpse Of The Past In This Free Exhibit At The National Library Of The Philippines