No Rome has been releasing genre-spanning singles for the past few years and his upcoming debut album is aiming to be his best work to date.
Related: Meet CMagic5, The Filipino-Canadian Singer Who Was Born For The Stage
No Rome has gone from an underground favorite to one of the next Filipino musicians looking to conquer the world stage. Born and raised in Manila before settling down in London, the 24-year-old artist has released singles that range from R&B, pop, rock, lo-fi, and many more. But one thing is for certain, his music is always an experience and a whole vibe. It's no wonder then that he has collaborated with a plethora of acts including The 1975, fellow Filipino artist Beabadoobee, and Charli XCX. But after a drip-feed of new songs, No Rome is now finally putting out his debut album, It's All Smiles, this December 3, 2021. Ahead of the album's release, NYLON Manila got the chance to chat with the musician about his music, the album, and much more.
THE BEGINNINGS OF NO ROME
For some musicians, the meaning behind their stage name is something special or close to their heart. So, why then did No Rome, who was born as Guendoline Rome Viray Gomez, choose that stage name? "I had a different name before and I wanted a name change. I, and some others, gathered some ideas of other names to work and No Rome was there. And I think that one just kind of gravitated towards me. I really liked that. I just wanted something that had my name it and people could remember it easily." He adds that his name has a bit of an anarchic bent to it since, at the time, some people were telling Rome that he shouldn't make music. So, the No Rome moniker was a subtle reference towards that.
As someone who is as musically talented as No Rome is, it's no surprise then that he comes from a musical family. His mother was a singer while his dad was a DJ on the side. In fact, he credits his parents for helping him get into music. "I think kind of growing up with a dad, who was really into music, and a mom as well has made it easier for me. It was always music in the house, either like New Wave music, or like really like gospel or like Christian music."
He shared how as a young kid, he would frequent music shops and look at the albums section. Specifically, he would look for artists he didn't know to discover, which also helped him get into album art. "Looking through CDs, and I'm looking for new bands to listen to," he begins. "So, I base it off 'Oh, this album is good, buy it, check it out. If it's not good, you know, it's not a good album. At least I got the album art, you know?"
He doesn't credit a specific moment in his life that made him want to become a full-time musician. But No Rome does say that seeing people listen to and like his early music releases inspired him to pursue it further. "You also enjoy seeing people kind of like it and gravitate to it. So that made me want to make more music and eventually stumble upon record labels."
ROME'S MUSIC STYLE AND MEETING THE 1975
Every musician starts somewhere. Before he became the artist that he is now, he used to release songs and demos on the internet. At the time, he would describe his music as "shoegaze R&B." But these days, No Rome sees his music as more of a hybrid of different sounds, but with a pop influence. "It's always hard for me to kind of explain music but I like to say in a way of like it's pop music. Because most of my inspirations dwell from that comes from that. Like I just try to push it in a different direction. But I usually call it pop music. Because I'm everything that inspires me with you know, making that as pop music."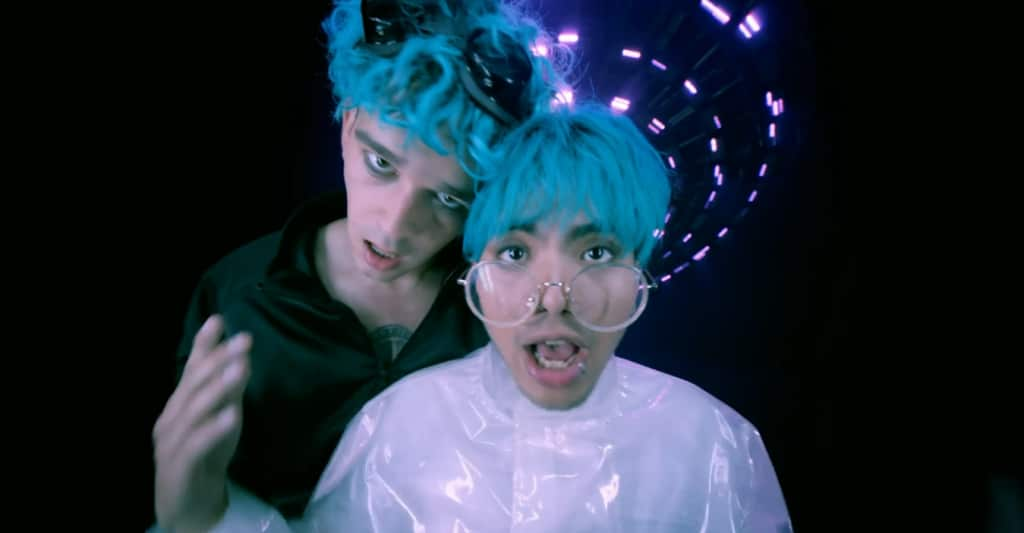 Over time, more and more people would hear his music before eventually being signed to his current record label, Dirty Hit. Speaking of which, that is also the home of The 1975, a band that No Rome has a close friendship with. In fact, the two have even gone on tour together. He actually credits his eventual friendship with the band through his graphic designer, Sam. According to Rome, Sam, who was Matty Healy's roommate at the time, found Rome's SoundCloud and shared it with Matty. He liked what he heard and reached out to Rome. The two then kept in contact and after Rome signed with Dirty Hit, their friendship grew from there. "After I got signed to Dirty Hit, we started hanging out in London, started seeing him more he started making more music together."
"We just had, like, you know, a musical chemistry together and feel like you're making music together. It just felt like it was natural, especially for George [Daniel]. I feel like, me and George, we're kind of talking the same musical language, which is dope," he adds.
FROM INDIE TO SIGNED MUSICIAN
Going from being an independent artist to being signed can be a dream come true for some musicians or a rough transition for others. So, for No Rome, has going from being independent to joining a major record label changed his musical process? "That's a really good question. In some ways, yeah, but in some ways, no. Creatively, I don't think it really super affected me. It's all personal when it comes to creative stuff. And, like, luckily, Dirty Hit, they just kind of give this creative freedom that you get to make the music you want to."
One thing that has changed for him though is the number of people who consume his music now. He admits that his expanded audience can feel like new territory. "Of course, when [the record label] starts to give your music to other people, it becomes a different approach. You kind of walk differently, kind of stepped differently into like, making music. I actually do this for stuff. You know, like, this is actually what I do So, I think that's a really, really great blessing to be able to kind of especially like, you know, when you're touring and you hear your music resonate, like, kind of inspires you, but at the same time, you know, I can't deny that it makes you also stressed."
A LABOR OF LOVE FROM MANILA
After a slew of single releases over the years, No Rome is now finally ready to release his debut album. But the story of how it came to be was anything but ordinary. After coming back to the Philippines in 2020 for a festival appearance, No Rome extended his stay with his parents when the pandemic started ravaging the world. Realizing that he won't be able to go back to London anytime soon, he decided to work on the album in the country.
He rented a two-bedroom apartment and in an extra room he put his drum machines, synthesizers, monitors, and laptop to create an improvised home studio. There, with the help of co-producers BJ Burton and The 1975's George Daniel, he recorded It's All Smiles. Despite the unique set-up, he made it work and so far has released two singles off the album, When She Comes Around and I Want U.
Rome wrote and recorded most of the album at night in Manila, and its sound evokes that feeling. From the singles released so far, it's an album best enjoyed with a pair of quality headphones so you can get each detail and decision. But when asked if the album would have sounded different if he produced it in London rather than Manila, he admits he feels conflicted about that.
"Yeah, probably will be different. Because of different experiences, I think, especially if it's like, experiencing a pandemic. And I started to focus on it at my mom's house, which I haven't lived there for a long time. So, I'm sure that definitely has something to do with the creative process, you know. But I can't really say that it will be entirely different. I've been starting to get spiritual. Not heavily spiritual, but just like, you know, if this was meant to be decided that it still would happen, you know?"
NO PRESSURE
With all the hype that surrounds No Rome's first full body of work, he says he isn't too anxious with the impending release of his album. "I really just enjoyed making the first album. There's a pressure like, okay, the listeners by they might think this is different, you know. But I guess I have that concept of you know, if you like it enough, then it's yours. And if you don't, then it's okay. I don't mind. So, I wouldn't necessarily say there's heavy pressure. Of course, you know, there's like, Oh, I hope, you know, my followers really like this body of work that I did. But it's not going to push to a more super anxious state. I'm like, I'm excited, so excited to get it out. Because, you know, creatively, like, I was super, super hands-on with everything."
Many signs point to It's All Smiles shaping up to be No Rome's best body of work to date. It's the album Rome's life has been leading to and a culmination of his growth as an artist. For fans, new and old, excited to listen to the album, Rome says that there isn't necessarily a song they should play first. "There's one song for everybody," he says. But he does add that there is one song that sticks out to him. "It's a song called Remember November. Because it's like, the kind of odd one out in the whole album."
It's All Smiles releases on all major streaming and music platforms on Friday, December 3, 2021.
Continue Reading: Here's What Went Down During The NYLON Manila Live Anniversary Concert