Want to see more of the cast of Squid Game? Then these movies and TV shows featuring the cast should go on your watchlist.
Related: 10 Movies And TV Series To Watch If You Enjoyed Squid Game On Netflix
It's safe to say that Netflix's Squid Game is an unparalleled hit. Ever since it premiered in late September, the show has become a global phenomenon to the point where it is on track to become the most watched Netflix original in the streaming service's history. Topping the charts in dozens of countries, Squid Game has attracted millions of viewers thanks to its captivating plot, timely themes, and deadly games you can't look away from.
But another big reason for the success of Squid Game is its memorable cast that we loved (and loved to hate). Ever since the show aired, some of the actors saw their popularity explode. If you've binge-watched through the show and are in need of more content featuring the cast of the series, then we've got you covered. Here are other movies and TV series featuring the cast of Squid Game.
LEE JUNG-JAE
Lee Jung-jae played Gi-hun, the main protagonist of the series who joined the games in order to pay off mounting debt. Lee Jung-jae has actually been in the acting scene for decades, making his acting debut in the 1994 film The Young Man. Some of his movies we recommend you watch are The Face Reader, a drama set in feudal Korea, and Assassination, a historical drama set in 1993 about a group of resistance fighters who plan the assassination of a Japanese Commander. If you want to see Lee Jung-jae in a more suspenseful role, then you should check out the thriller The Housemaid where he plays a man who has an affair with his family's housemaid.
PARK HAE-SOO
Park Hae-soo portrayed the divisive Cho Sang-Woo, the financial success turned failure story on the run from the law. If you want to see more of him in a K-Drama, we suggest you check out Prison Playbook. It is a comedy-drama that sees him play the lead role of Kim-Je-hyeok, a baseball pitcher who is sent to jail for defending his sister from sexual assault. He also has a supporting role in the K-Drama, The Legend of the Blue Sea, which is leaving Netflix on October 16.
JUNG HO-YEON
As the cold-hearted thief Sae-byeok, Junh Ho-yeon stole the hearts of millions all over the world. She was such a breakout star in Squid Game that she gained more than 10 million Instagram followers since the show's premiere. But despite her excellent performance, this is actually Jung Ho-yeon's acting debut. She is actually one of South Korea's top models and has walked the runways of some of the biggest brands all over the world. While we wait in anticipation for her role, you can watch this video she did for Vogue where she shows her make-up routine. Oh, and she is also besties with BLACKPINK's Jennie.
WI HA-JOON
Another breakout star from the cast of Squid Game, Wi Ha-Joon played Hwang Jun-Ho, a detective who infiltrated the games to find his missing brother. Aside from his good looks and physique (and dance skills), the 30-year-old actor also has a pretty extensive filmography. If you want to see Wi Ha-Joon in a more lighthearted role, then watch the K-Dramas Romance Is a Bonus Book and 18 Again, both of which are available on Netflix.
In the mood for something scary? Try Gonijam: Haunted Asylum where he plays a vlogger who travels to an abandoned asylum to film an online horror show only to realize things are darker than it seems. You can also catch his latest film Midnight. In this thriller, he plays Do Shik, a serial killer who targets a deaf mother and daughter as his next victim.
ANUPAM TRIPATHI
Anupam Tripathi played the lovable Ali. His wholesome demeanor in the show made him a fan favorite as evidenced by how his Instagram account when from having less than 10k followers before to show to around 2.5 million followers and counting. Squid Game is Anupam's biggest hit so far and first substantial role as he's only had bit and minor roles before. If you want to see more of him though, you can catch him in minor appearances in the series Space Sweepers and the film Ode to My Father.
OH YEONG-SU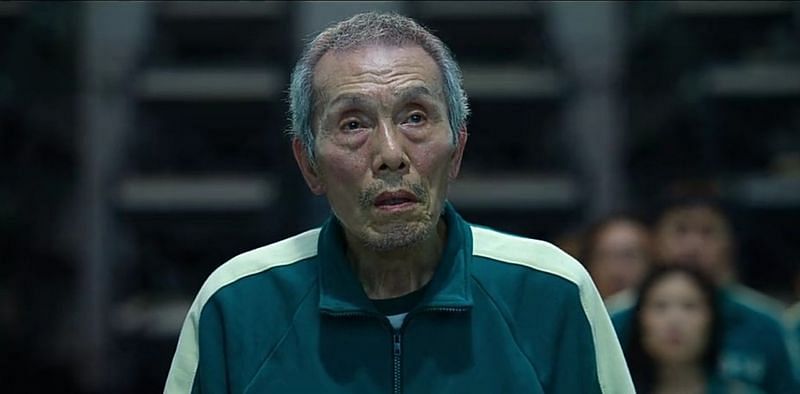 At 76 years old, Oh Yeong-su is not only the oldest member of Squid Game, but he's also the oldest member of the cast. But despite his age, he has a pretty short list of acting credits. You can see him in the 2003 film A Little Monk, his acting debut, where he played the Temple Master. Aside from Squid Game, his most known role is the Old Monk in the critically acclaimed film, Spring Summer, Fall, Winter…and Spring. The movie is about a young boy being raised by a Buddhist monk in an isolated floating temple where time passes like the seasons.
HEO SUNG-TAE
Heo Sung-tae played the gangster Jang Deok-Soo. He was a character everyone loved to hate though, in reality, the actor is actually a bit of a softie. If you want to see more of Heo Sung-tae, you can catch him in supporting roles in the zombie flick Rampant, the historical action drama The Age of Shadows, and the K-Drama Beyond Evil. You can also catch him, along with his Squid Game cast member Gong Yoo, in the upcoming Netflix series, The Silent Sea, which is about a group of scientists who travel to the moon for an important mission.
KIM JOO-RYUNG
Kim Joo-ryung played the annoying yet never boring Han Mi-Nyeo. Say what you want about the character, but she never has a dull moment. Squid Game is Kim Joo-ryung's biggest hit to date, though you can catch her in a supporting role in Bong Joon Ho's Memories of Murder, which so happens to be in her acting debut. She also has a supporting role in Silenced where she arguably plays an even more evil role. Silenced was also directed by the same director of Squid Game, Hwang Dong-hyuk.
LEE YOO-MI
Despite only appearing in a few episodes, Ji-Yeong was a memorable character thanks to the heart-to-heart she had with Sae-byeok. You can thank Lee Yoo-Mi for bringing the character to life. If you want to see more of the actress, you can check her out in the light-hearted K-Dramas Just Dance and It's Okay to Be Sensitive. She also had a supporting role in Doctor John. And if you want to see a young Lee Yoo-Mi, you can catch her in her acting debut, The Yellow Sea, where she played the daughter of one of the protagonists.
GONG YOO
Despite having less than 10 minutes of combined screentime on Squid Game, Gong Yoo's surprise cameo as The Recruiter became a viral topic. If you don't know who Gong Yoo is, he is one of South Korea's top actors. If his role in Squid Game leaves you wanting for more, you can catch him in Train to Busan and the K-Drama, Goblin. For a more serious role, try watching Silenced where he plays a teacher who exposes the sexual assault students in a school for the deaf have been facing for years.
CHRISTIAN LAGAHIT
Filipino Chrisitan Lagahit had a minor role as Player 276 where he was most prominently seen in the tug-of-war episode. Christian is actually a marketing consultant and English tutor in South Korea and takes bit roles in K-Dramas as a side gig. Some of his other appearances include The Negotiation, Miss Lee, and Space Sweepers where he spoke Tagalog. He also has a YouTube channel where he posts his adventures around Korea.
Continue Reading: These Are The New Movies And Shows Of October 2021 You Shouldn't Miss