Love Is Color Blind isn't your average teeny bopper rom-com as Donny Pangilinan and Belle Mariano deal with complex problems.
Related: The Cast Of Love Is Color Blind Is Radiating Bestie Goals
No love team has shaken the entertainment industry in the past few years quite like Donny Pangilinan and Belle Mariano have. Ever since their pairing was announced in 2019, DonBelle has become a top trending love team for the new generation. If the success of He's Into Her has proven anything, it's that the love team is one to watch out for. And like all successful love teams, DonBelle finally got their highly anticipated first movie with Love Is Color Blind.
So, with all the hype that has surrounded this project, does the movie live up to the hype? Yes, for the most part. The film is not a cutesy love story we have become all too familiar with. Instead, it sees Donny and Belle take on older, slightly more mature characters to make for an interesting tale of love and color-blindness.
Love Is Color Blind follows Donny Pangilinan as Ino, a young and promising painter who suffers a terrible accident that causes him to lose the ability to see color. Belle Mariano takes on the role of Cara, a recent graduate who came back from Hong Kong in order to rekindle her friendship with Ino. The two have known each other for a while and they have a bit of history together. But their time apart has strained that relationship somewhat so the rest of the movie follows the two as they rebuild that friendship and maybe turn it into something more.
TEENS IN LOVE THEY ARE NOT
The most noticeable and commendable part about Love Is Color Blind is the maturity the movie revolves around. Cara and Ino aren't teens or in school. They are young adults who have lives of their own. This then makes for a movie that can and does shoot deeper than your average young love movie. Cara and Ino aren't also one-dimensional characters. They have their own backgrounds and baggage that shapes who they are.
Ino has severe baggage from his family. Cara, meanwhile, is so focused on other people that she doesn't take the time to care for herself. The movie takes time to explore these plot points, especially for Ino who's personal issues lead to the movies most pivotal scenes. At nearly two hours long, the plot takes its time to delve into both characters, from when they first met to their personal struggles.
The major plot of the movie is that since Ino is color blind, not only does he have a hard time living a regular life, but he also can't finish his mom's centerpiece for her exhibit. This is where Cara steps in to help him get his mojo back. But their journey encounters a few bumpy roads with the introduction of Iris and Sky.
KEEP IT CLASSY
Iris, played by Angelina Cruz, is a young art curator who is tasked to curate Ino's mother's exhibit. And she so happens to have feelings for Ino. Sky, played by Jeremiah Lisbo, was Ino and Cara's former classmate who got a major glow up and is now trying to purse Cara romantically. While this scenario could have easily led to some soap opera-esque melodrama, it does not. Instead, the movie treats the whole thing with maturity. For each character, their arcs and plot lines get resolved in surprisingly neat way. There aren't no slap fights here, just young adults exploring their feelings.
For her first ever movie role, Angelina plays up the rich and classy Iris satisfactorily. While Iris' upscale POV isn't that far off from how Angelina is perceived to be in real life, this is just the start of her career with more opportunities to grow in the future. As for Jeremiah, while he is in yet another "the other guy" role, at least he doesn't come off as an overt bully. It's more of a level-upped portrayal of his past roles.
The member of the supporting cast who could've had a breakthrough is Esnyr Ranollo. His claim to fame through his viral TikTok skits of school life are extremely entertaining and his addition to the movie had the potential for some fun scenes. Though he ends up more as a glorified cameo with only a handful of appearances. While he does have his shining scenes, they aren't enough and we would have definitely liked to see more of him.
CHEMISTRY ON-POINT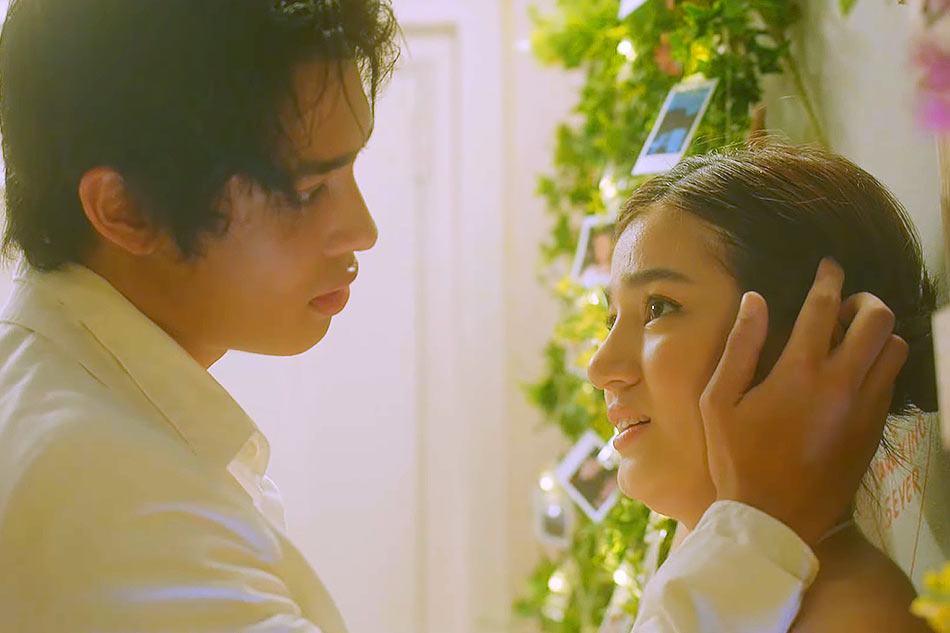 Donny and Belle bring their A-game to Love Is Color Blind and their chemistry is as great as ever. Given how this isn't the first time they are acting together, their chemistry here feels more natural. They genuinely come off on screen as real friends with real feelings. One minute they can be teasing each other, the next they can be deep in emotion. This then leads to some exceptional standout scenes like the drinking scene during the camp and a particularly heavy scene of Cara confronting Ino in the latter half of the movie. And even when they have solo scenes, Donny and Belle are still good.
A LOVE STORY FROM A DIFFERENT POV
Ino's disability of colorblindness is a major plot point of the movie which is reminiscent of movies like Isa Pa, With Feelings and Kita Kita, both love stories with disability at the center of the narrative. While for some people, being colorblind may not be as difficult as being blind or deaf, the movie does emphasize how hasn't been easy for Ino. Specifically, director John Leo Garcia employs the use of color to show the change in perspective. For flashback scenes, the shots almost have a dream-like quality to it. There also are black and white and greyed shots to signify Ino's POV. While Love Is Color Blind will definitely not be the movie for people who have colorblindness, it is nice that they approached the subject with respect.
Whenever young marquee love teams get their first movie, it usually sticks to more run-of-the-mill stories skewing to their age group. But for Love Is Color Blind, DonBelle's first ever movie together as a love team sees the two stars in their most mature roles to date. You won't find here the He's Into Her high school melodrama. Instead, it is a slightly more grown up story of love, friendship, and loss which is quite admirable.
DonBelle's chemistry is on spot on once again as they deliver both the kilig and the feels. Does everything with the movie stick? No, absolutely not. But the overall package is serviceable. If you're fan of the love team or are just curious as to see how they tick, then the movie is a good watch. It's a great first movie for the pair and hopefully a precursor to movies that don't always stick to a certain standard.
You can catch Love Is Color Blind on Netflix, KTX, iWant TFC, Smart GigaPlay, Cignal Pay Per View, SKYcable PPV, and TFC.
Continue Reading: The Must-See New Movies And Series Of December 2021