Aided by strong performances from Daniel Padilla, Rans Rifol, and Charo Santos-Concio, Kun Maupay Man It Panahon is an interesting take on what Filipino resiliency looks like.
Related: Here Are The 8 Movies Competing At The 2021 Metro Manila Film Festival
Resiliency is such a common trait usually associated with Filipinos that you could say it is intertwined with the Filipino DNA. Every time a disaster hits the country, we are usually able to pick up the pieces, carry on, and continue to live on with their lives. While indeed it is admirable that many Filipinos don't usually give up in the face of real adversity, this mindset can also create a very problematic culture, especially when it comes to accountability and responsibility after the event.
What some may see as the courageous Filipino spirit, others just see it as a way to keep the status quo and let people go through hardship again and again without doing anything fundamental to make life better. As seen by the recent devastation caused by Typhoon Odette, Filipino resiliency can be easily spun into thinking that there's no need to for true lasting change since Pinoys will remain hopeful in the end.
Resiliency has been a topic discussed in quite a few Filipino movies and TV shows and Kun Maupay Man It Panahon is the latest film to tackle the topic. Fresh off its award winning and news generating international awards run in the past year, the film is now showing in local cinemas as part of the 2021 MMFF lineup. So, how does the movie stand up to other tales of Filipino resiliency? Unlike others that have come before it, Kun Maupay Man It Panahon isn't your typical tale of Filipinos trying to get by. Instead, it is a story of survival meets the almost surreal lives people live in following a major disaster. It makes for one of the most interesting cinematic experience Filipino movies will offer this 2021.
LIFE AFTER TYPHOON YOLANDA
Set in the immediate aftermath of Typhoon Yolanda, Kun Maupay Man It Panahon follows Miguel (Daniel Padilla), his girlfriend Andrea (Rans Rifol), and his mother Norma (Charo Santos-Concio). The three devise a plan to leave Tacloban by boat for safer shores in Manila. But before they can do that, Norma first needs to find her husband and the three soon go on their own separate journeys as they try to find their way in the wreckage of Tacloban.
Even though the movie is out eight years after Typhoon Yolanda, it's message is still resonant, especially with what parts of Visayas and Mindanao experienced with Typhoon Odette. It's themes of hope and struggle still hit after all these years and its made more impactful thanks to the movie's top-notch production design. It captures what a Yolanda ravaged Tacloban looked like. As the movie progresses, you see that there is nearly nothing left for the survivors as desperation makes it way through the citizens. From debris filled streets to chaotic evacuation centers, the movie paints an eerily accurate picture of a dark moment in history.
A SURREAL TAKE ON RESILIENCY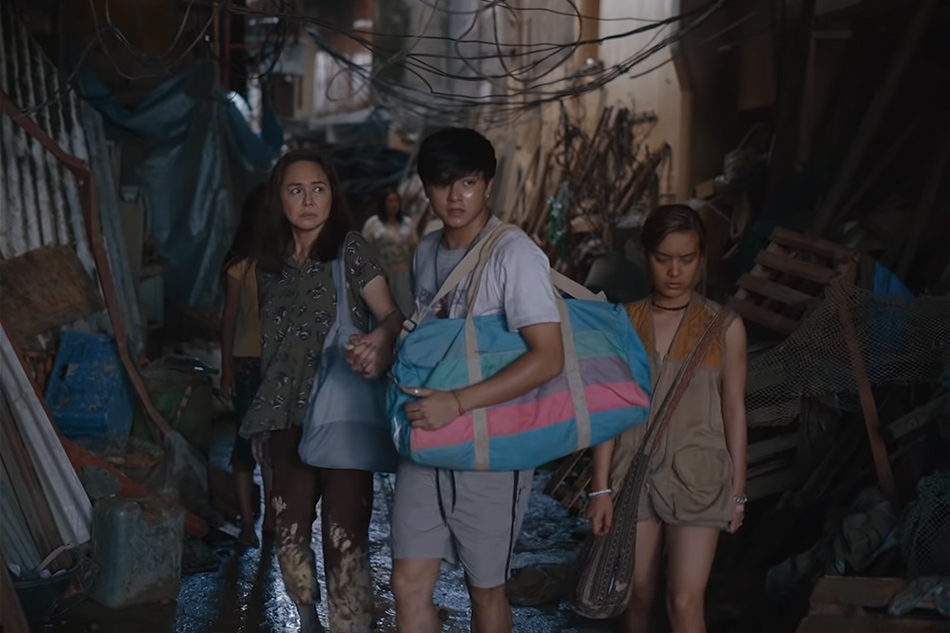 What's interesting about Kun Maupay Man It Panahon is how unique it can get in a sense that it can verge on the surreal. This movie isn't a poverty porn flick meant to rub it in your face that people are having a horrible time. While there are some scenes like that, the movie deviates, if the film's poster didn't already give you a clue that it would.
For example, the movie's soundtrack can be both emotional and surprisingly uplifting and whimsical. The film, on occasion, presents imagery that might seem out of place for a movie like this. Sometimes, the movie can get weird such as a scene of a lion watching a group of people do Zumba or a kid eating popcorn out of an empty bucket. It's a bit absurdist, but not far flung because this is the movie's take on what resiliency looks like. People had nearly there whole lives blown away literally and figuratively overnight. So, what are they do to? They sing, dance, pray, dress up, and believe in the coming of a savior. It's this almost surreal bubble people live in as they try to make sense of a major tragedy.
This offbeat take is also seen in how the soldiers and those in-charge to help people react to the survivors. They don't care and are not inclined to feel sympathy for those affected. They even come off as aloof and not knowing what to do. A scene involving a soldier and a young kid perfectly reflects this and serves as one of the movie's best scenes. It is nice for Kun Maupay Man It Panahon to take this unique kind of route in portraying Filipino resiliency because it's not always a one size fits all type of thing.
But this take also can be to the movie's detriment as it's not an easily accessible movie. If you don't pay attention or don't think about what you saw, you may have a hard time following the movie. It also can get boring at times, especially in the beginning. It's not the type of film to sit down, watch, and go. It's best if you think about what you saw after seeing it. For some, this might be off-putting because it's not a 100% straightforward narrative. You need to come into this movie with the right mindset in order for you to truly take in what the film is trying to say.
STELLAR CAST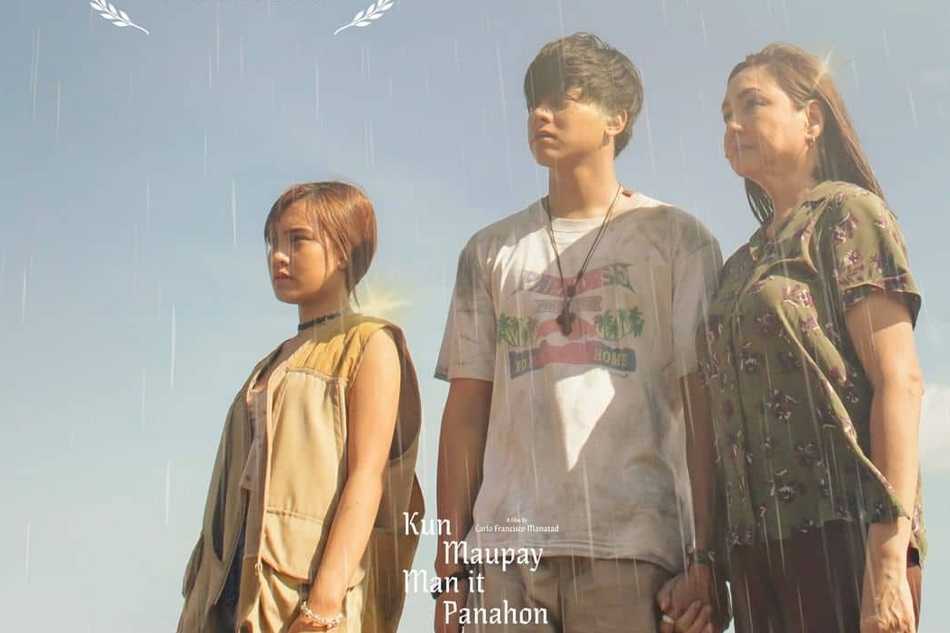 Kun Maupay Man It Panahon features great performances from a talented group of actors. Daniel Padilla gives a career highlight performance with Miguel, the more subdued member of the trio trying to make it by. Rans Rifol is a scene stealer as the no-nonsense Andrea. Her impressive performance is even more amazing when you learn that this is her big screen debut. Miguel and Andrea are two young people who want a better life for themselves. They are giving up on what they know to go to a place they are unfamiliar with just with the hope that they can find a better life for themselves. The two show their resiliency in very different ways which is a reflection of how we all process trauma in different ways.
Daniel Padilla brings this understatedness to Miguel, but you can feel that behind the curtain, he's almost resigned himself to what has happened. Andrea, meanwhile, is almost his exact opposite as she knows what she wants and Rans Rifol portrays that to a T. Her rendition of Kantin Dudg's Gi-Fingers is a film standout and encapsulates the movie's sense of slight playfulness and impeding doom.
Charo Santos-Concio shines as Norma as she plays a woman in search of her husband who can see through the smoke and mirrors and goes further than most to get what she wants. All three have good chemistry with each other but a scene involving Norma and Miguel near the end shines as the movie's emotional highlight.
A TALE OF HOPE MEETS A UNIQUE VISION
Despite the fact that this is director's Carlo Manatad first feature film, he does a great job. There is this confidence that is present in many of the stunning shots and its impressive how he manages to capture the scale of chaos in the aftermath of the typhoon. Presented in a 1:33 aspect ratio, it can at times feel claustrophobic which adds to the film's depiction of destruction. For a movie that was seven years in the making, it doesn't show and Carlos Manatad definitely has a future in directing films.
Kun Maupay Man It Panahon isn't just a movie about three people trying to get on a boat. It also delves into each of the three leads and the survivors and how they process the events of the typhoon. It's a visually gorgeous movie with great cinematography, impeccably production design, and impressive acting. Carlo Manatad had wholly unique vision for the movie and a different yet needed take on Filipino resiliency.
Because of this, you get a movie that can get absurd and eerie mixed in with elements of magic realism. But at the same time, you also get a film that is not easy to digest or understand for some people and can get slow which might make for a difficult viewing experience. But at the end of the day, Kun Maupay Man It Panahon is a cinematic experience to enjoy for something different. The movie is not for everybody, but it has a message worth discovering.
Kun Maupay Man It Panahon is currently screening in select cinemas participating in MMFF 2021 until January 7, 2021.
Continue Reading: Cleaners, One Of The Best Filipino Movies Of The 2010s, Is Finally Making Its Streaming Debut