Only two things you gotta keep in mind for a standout red carpet moment: go risqué or go campy.
Most people think the Grammys have lost its glitz and glamour, concluding that we're pretty much tired of it at this point. But after seeing these stars walk on the red carpet in either fun or flirty looks, we're still pretty much hooked. Well, Lil Nas X had three outfit changes, Doja Cat brought a bejeweled speaker on the red carpet, and SZA was on crutches while wearing heels. That's a whole lot of action for one night. Read more below for our fave style and beauty looks from the Grammys 2022!
READ MORE: 5 Reasons You Need To Stan H.E.R.,: The Filipino-American Artist That Won Big At The Grammy's
1. DOJA CAT'S BEJEWELED SPEAKER
Everything about this outfit is just right, especially after Doja Cat won at the Grammys for best pop duo/group performance along with SZA. Honestly, we're all for the sheer, icy custom gown by Versace with matching pumps and her spiky updo and frosted lids. But the best part? We're torn between her glass purse by Coperni and her jewel-encrusted speaker. She really said, let's get loud!
2. BILLIE EILISH'S BLAZER
Stuck in between wanting to go back to bed and raising hell at the Grammys? Billie Eilish showed up in a Rick Owens F/W 2022 look, teaching us how to really wear a blazer the right way. It's almost as if Rick's signature deconstructed, dystopian look was made for her.
3. ALL OF LIL NAS X'S OUTFIT CHANGES
The fact that we got all of these in one night is astonishing. Lil Nas X is not to be messed with, after paying homage to different black musicians like Michael Jackson, Jimi Hendrix, and Prince. His being unapologetic sells the look above all, NGL.
4. OLIVIA RODRIGO'S BODY OF WORK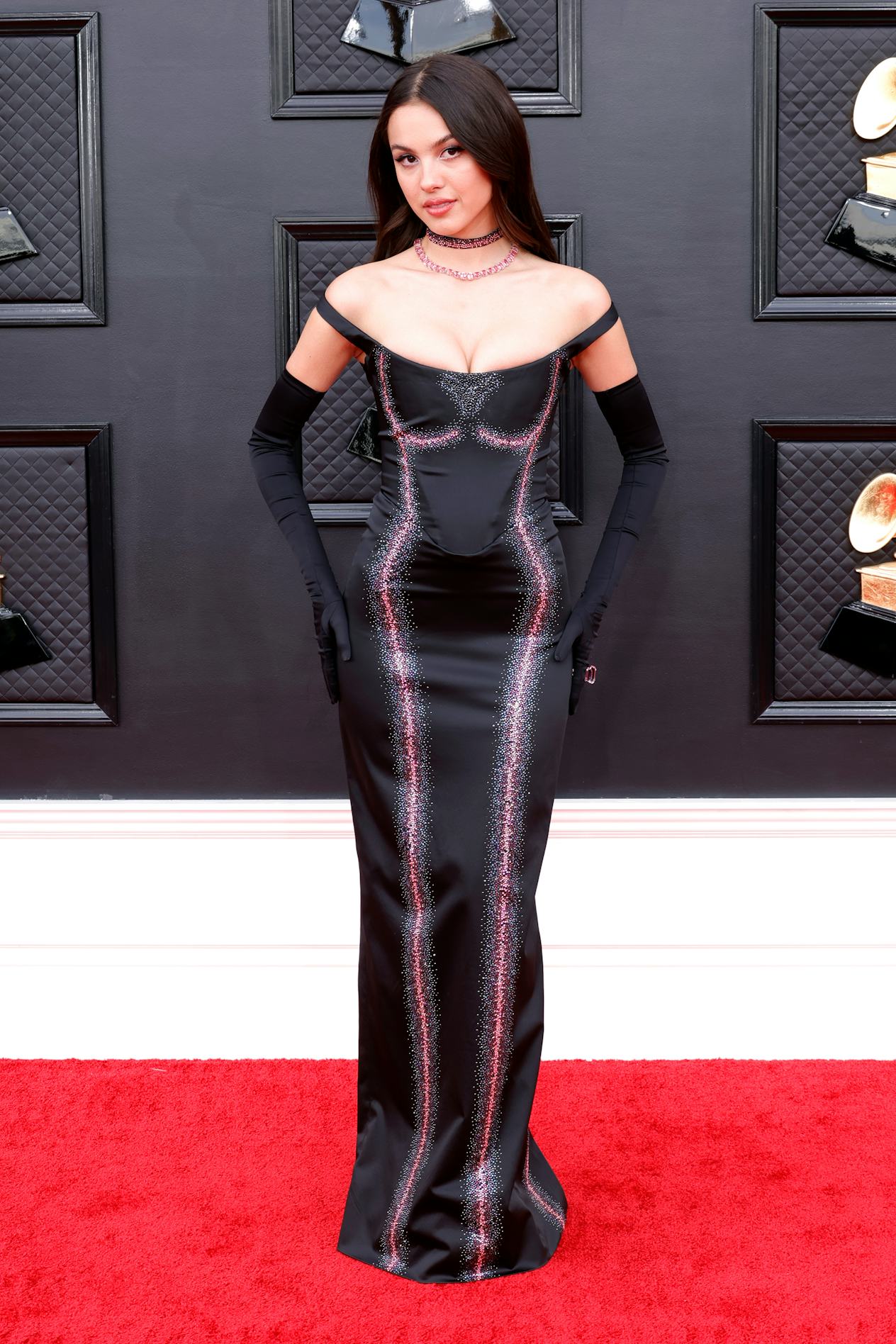 Olivia Rodrigo is in her live, laugh, love era and no one can argue with that. She really came there just to collect her Grammys, perform drivers license, and be the most-envied female (cue in Traitor by Olivia Rodrigo) all in one night. Embellished choker sales after this: ?
5. JAPANESE BREAKFAST AS A RAY OF SUNSHINE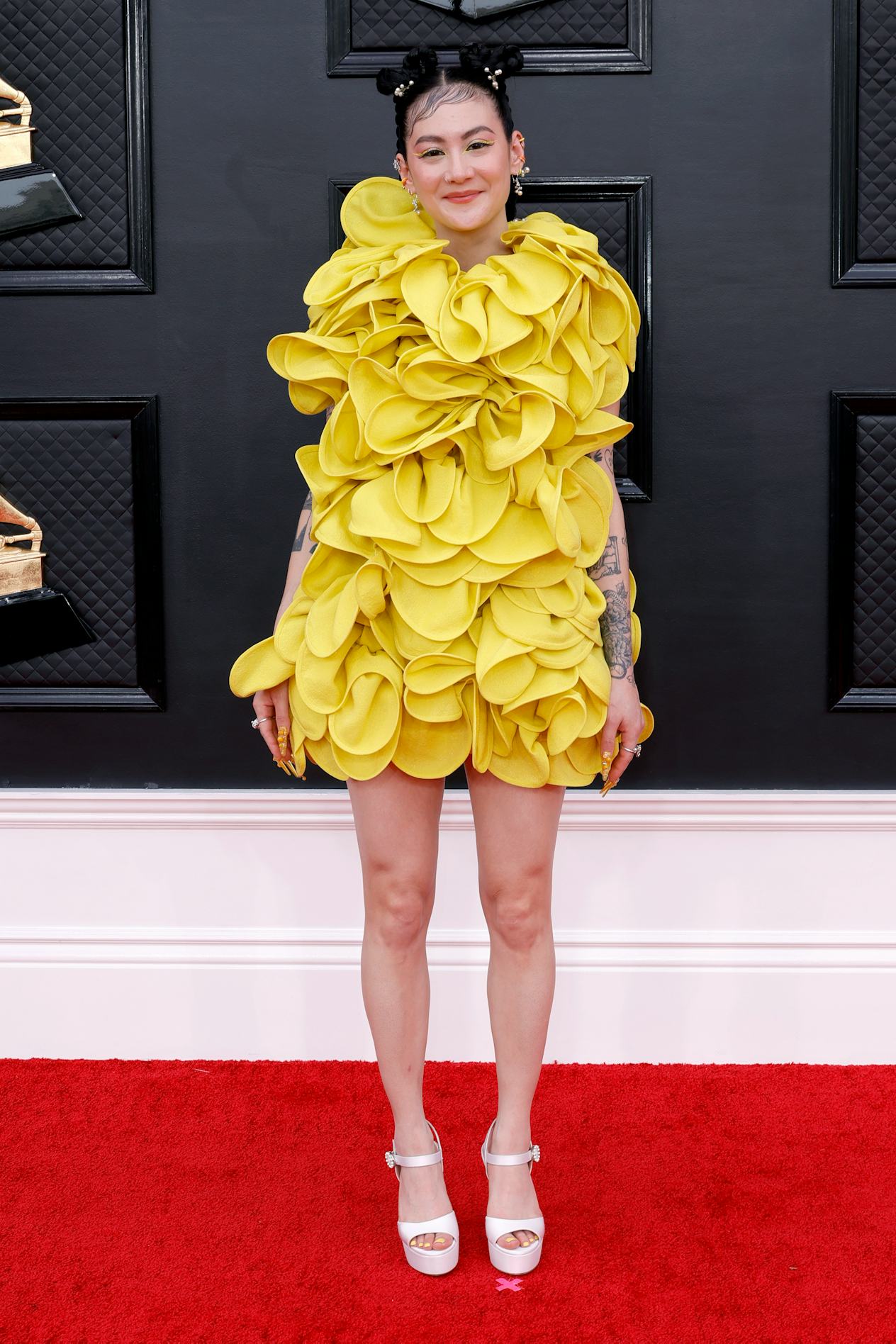 Korean-American musician and author Japanese Breakfast's Grammys Valentino red carpet look was too good to not list. The only other person engraved in our minds that can pull this off is Rihanna at the Met Gala 2017. The yellow eyeliner, her nails, and the braided buns that were heavily accessorized gave us the amount of serotonin we needed today.
6. TINASHE'S LATEX MARILYN MONROE MOMENT
Tinashe as a style icon is one that isn't talked about often, but this pink latex look by GCDs, which was an indirect nod to Marilyn Monroe's unforgettable look in Diamonds Are A Girl's Bestfriend sans the gloves is impeccable. Please, the glass bag by Coperni was a nice touch!
7. SNOH AALEGRA'S DECONSTRUCTED SEQUIN GOWN
Listen, a silver metallic dress is great. But when strategic cut-outs and peek-a-boos come to play, it's the right balance of grit and glamour, especially with Snoh Aalegra's understated, clean glam. Is it just us or does she look like a trophy on the Grammys 2022 red carpet?
8. LENNY KRAVITZ IN A KNITTED TOP
Lenny Kravitz doesn't age #GRAMMYs pic.twitter.com/gFg9YjKkUO

— Chicks in the Office (@ChicksInTheOff) April 3, 2022
Need we say more? It's normal for rockstars to not give a damn about what they wear, hence Lenny Kravitz's nonchalance on the red carpet. And that's what makes us love his Grammys 'fit more.
9. DUA LIPA AS DONATELLA VERSACE
dua lipa at #GRAMMYs in versace bondage dress (1992) pic.twitter.com/wvzsrxVa1M

— ⭒ (@hourlycelebs) April 3, 2022
Don't you just love it when the Versace girls dress like the house's real muse, Donatella? Exactly. This 1992 bondage look on Dua Lipa reminds us of one of Donatella's controversial red carpet appearances back in the day, hence the birth of the Versace woman. We do miss blonde Dua though, so we're lucky she made a cameo even just for a moment on the Grammys 2022 red carpet.
10. FINNEAS' PINK LILY
Musician and actor Finneas wore an incredible three-piece suit in a muted purple shade that most men wouldn't be able to pull off. Of course, it's custom made by Gucci.
11. BTS' ARMY OF FLOWERS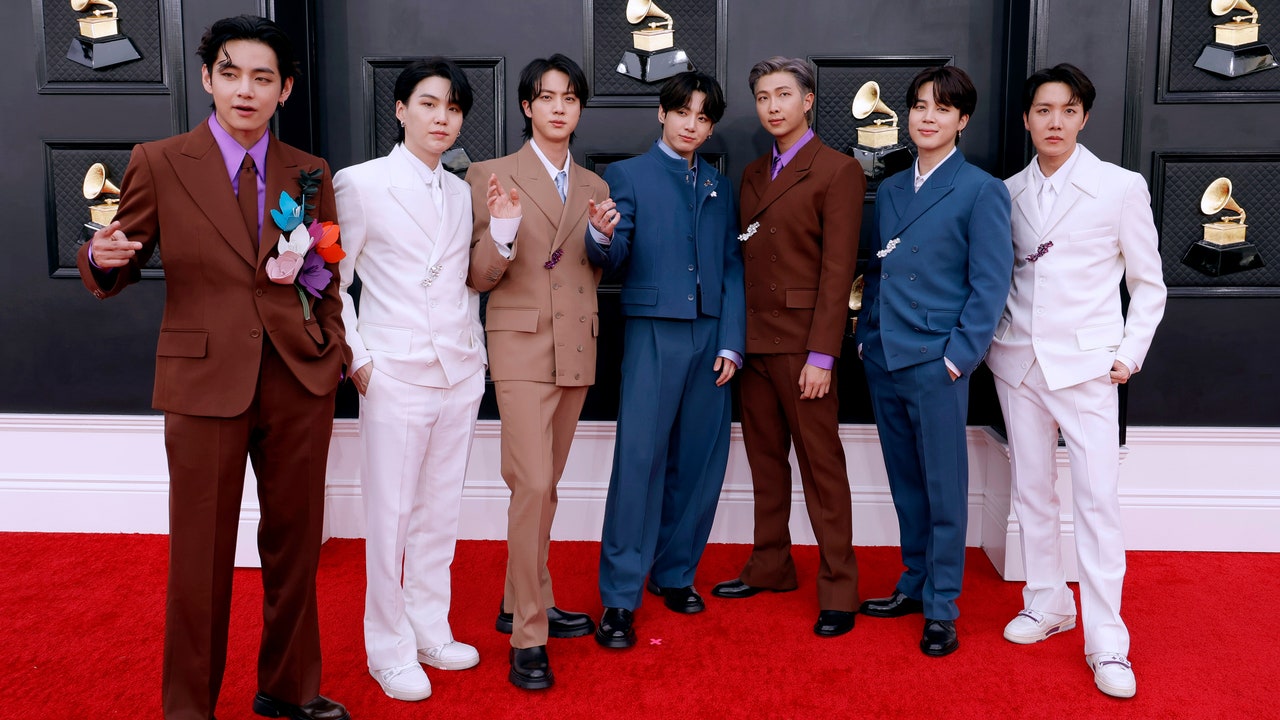 Despite being snubbed by the Grammys yet again, BTS just keeps giving (and getting) flowers. The accessory of the night? Floral brooches on their Louis Vuitton suits. Take it or leave it, we're all for this moment. Shout out to V for deciding to be extra with the flowers on his 'fit.
12. SZA WITH HER CRUTCHES IN ARCHIVE JEAN PAUL GAULTIER
sza wearing jean paul gaultier s/s 2006 at the 64th annual grammy awards pic.twitter.com/GnUO0Nrvc6

— ً (@muglerize) April 4, 2022
Despite most of SZA's fans poking fun at her crutches, we still think this Jean Paul Gaultier 2006 was a whole serve. She bodied that! Even Lady Gaga admired her dress and decided to help her get onstage.
SZA ON CRUTCHES BUT STILL WEARING STILETTOS????? WHY DOES SHE LIE?

— chardadrama (@chareeuh) April 4, 2022
13. LEON BRIDGES' FLORAL-EMBROIDERED SUIT
The red carpet pictures don't do justice on Leon Bridges' intricate outfit. If we're talking details, then this is the one. Upon digging deeper, the suit was custom-made by sustainable Mexican fashion house, The Pack By Campillo.
14. GIVEON'S TWEED SUIT
Let's normalize men wearing shiny outfits, because why the heck not? Giveon in this Chanel suit was too mesmerizing. Finally, another guy in Chanel on the red carpet to look out for like Pharrell Williams. We're definitely copying the way he accessorized his string of pearls ASAP.
15. JON BATISTE CHANNELING HARLEQUIN
Bringing all the fun and trophies on the Grammy red carpet, Jon Batiste in Dolce & Gabbana is a fresh take on menswear dressing. When we zoomed in, we realized that Jon's suit was embellished with sequins. What did we tell you earlier? Let's normalize men in shiny outfits, shall we?
16. BENNY BLANCO AS THE FIFTH SGT. PEPPER BAND MEMBER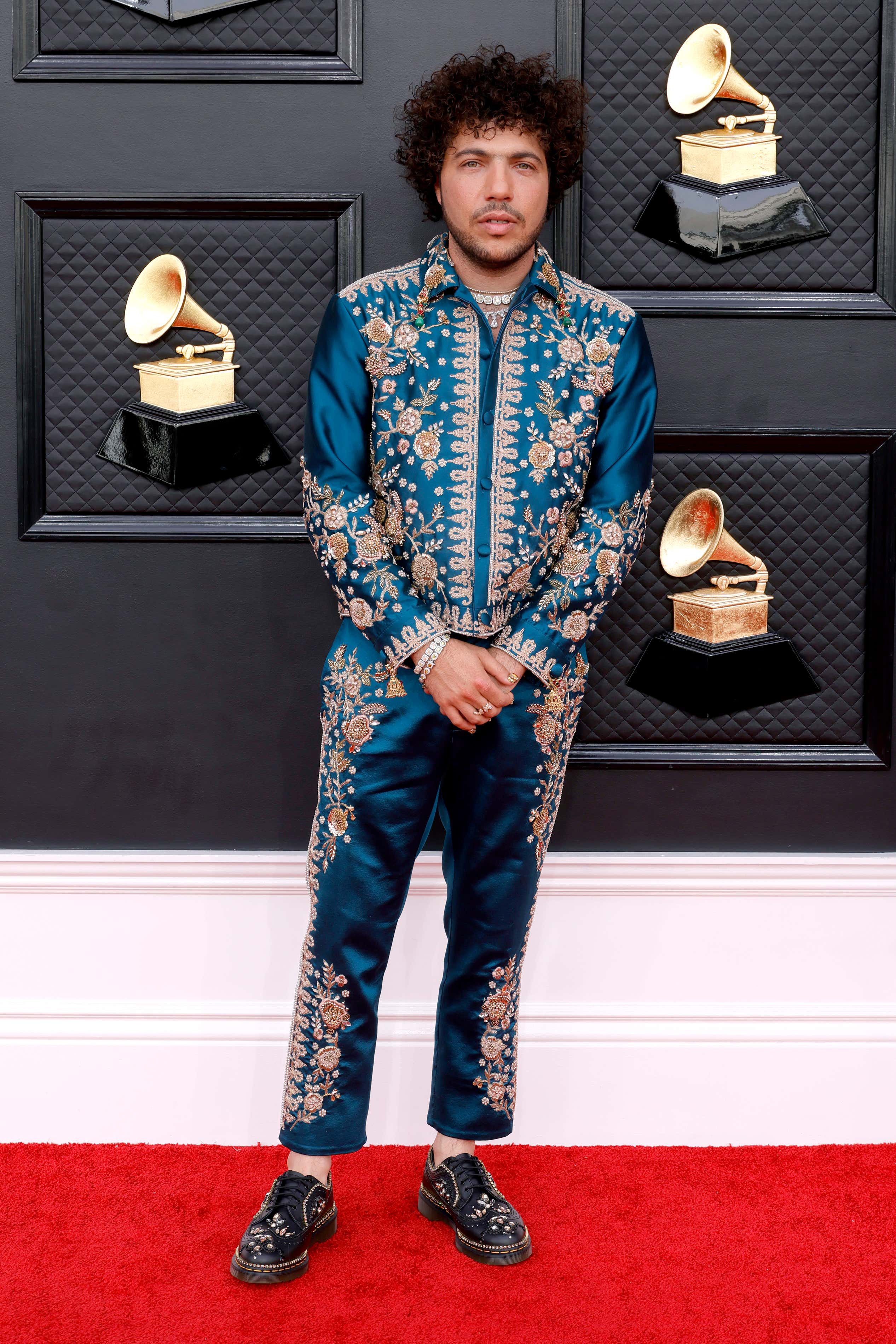 Embroidery, flowers, and statement jewelry were all the rage for the men tonight, and we're not complaining. Benny Blanco looks sharp in his royal blue ensemble matched with leather brogues.
17. JONI MITCHELL SUPREMACY
She was probably the coolest person in the room that night, no doubt. Joni Mitchell's win for Best Historical Album in a red beret, blonde pig tails, and a red cane is just bad-ass.
18. KIANA V IN HER DAD'S VINTAGE SUIT
Kiana Valenciano on the red carpet is always a treat, because the girl knows how to show up. Wearing her dad's old suit (apparently, her mom Angeli Pangilinan kept all of Gary V's clothes ever since his early days 'til today), the power shoulders just had to be present. She wore her teal platforms with tear-drop crystal stockings made by Filipino brand, Rafa Worldwide.
CONTINUE READING: 8 of The Best Kiana Valenciano Outfits That She Stole From Her Dad's Wardrobe