Olivia Rodrigo and V of BTS having a short skit together during the 64th Grammys was a moment we didn't know we needed, but are happy it's real.
Related: CLOY Episode 17: Hyun Bin And Son Ye-jin Are Finally Married And The Internet Can't Get Over It
Just like that, the 64th GRAMMY Awards are over and like with most shows of the past, it was filled with performances, wins, surprises, and a few snubs. Held at the MGM Grand Garden Arena in Las Vegas, the 2022 GRAMMY Awards concluded without a slap in sight. Among other things, music's biggest night saw its Big Four categories be swept by people of color. And while Lil Nas X may have lost in all his categories he was nominated for, he proves once again that his internet game is superior. In the cadre of artists who performed and were nominated during the night, Olivia Rodrigo and BTS could consider the night successful.
OLIVIA RODRIGO AND BTS STAY WINNING
Heading into the show, Olivia was nominated for seven awards and ended up taking home three, including Best New Artist. The first-time GRAMMY winner joined her fellow Filipino-blooded musicians H.E.R. and Bruno Mars among the many winners of the night. While BTS sadly lost in their only category, they did deliver arguably one of, if not the best performance of the night. BTS channeled their inner super spy for their performance of Butter. That jacket dance break alone is worthy of iconic performance status. But what got many fans talking on social media was a *moment* between Olivia and V.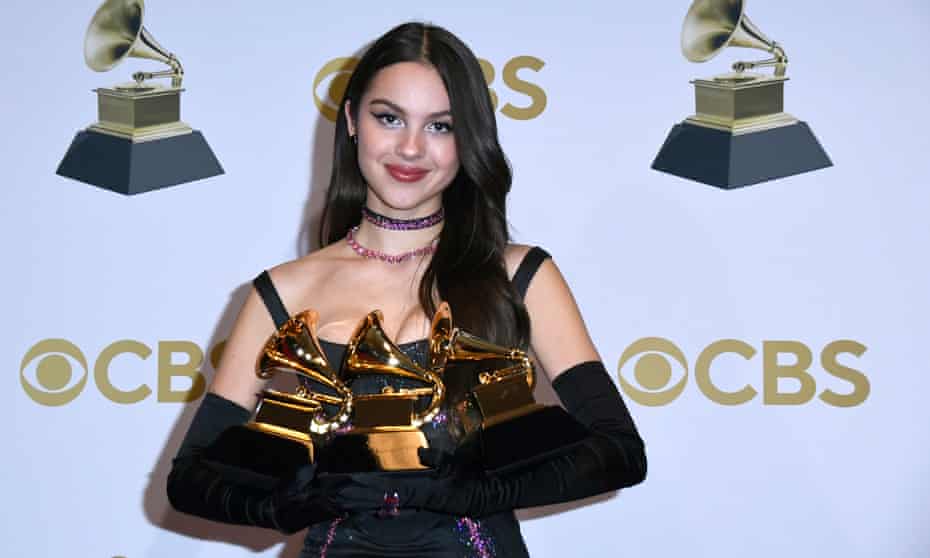 Before the performance started, the group had a skit that included Jin on a computer console and Jungkook being hoisted down from the ceiling. The camera then panned to the individual members in the audience and we see that V is sitting beside Olivia. V whispers something into her ear, which causes her to give a shocked expression. V then brings out a gold card, signaling the start of the performance. The moment immediately set social media ablaze and proved to be one of the highlights of the show. According to those in attendance, the skit was most likely (and later confirmed by BTS themselves) planned during dress rehearsal as RM, V, and Olivia were spotted talking together.
TBH, the entire population of the internet was tinged in jealousy, and we weren't sure if we wanted to be Olivia or V. What exactly V told her, we don't know, and it will probably be the biggest mystery of the night. But that didn't stop the ARMY from speculating and sharing what they thought of this eye-catching moment. Needless to say, the Olivia Rodrigo x BTS agenda is alive and well and we're maybe even one step closer to getting that collab. Here are just some of our favorite reactions we found on social media.
When i tell you i screamed at tae and olivia rodrigo #PassTheButter pic.twitter.com/GpTormKQHK

— ♡sam⁷ (@_goldenjk913) April 4, 2022
HOW TO BE OLIVIA RODRIGO??? #BTS #BTSinGRAMMYs pic.twitter.com/DvBbLUzNBP

— K. (@713kook) April 4, 2022
SLEEPING ON THE COUCH TONIGHT pic.twitter.com/srqEaVO6rW

— ْ (@mimisweaterpaws) April 4, 2022
– "Want me to pretend we're in a movie?"
– "Mhm"
– "Okay"

Kim Taehyung king of consent #grammys2022 #GRAMMYs #GrammyAwards @oliviarodrigo @BTS_twt @bts_bighit pic.twitter.com/sIvQFCXPTx

— take aggie's hand (@hobisey) April 4, 2022
mood: ???? pic.twitter.com/F96190nbgp

— Rocio Almanza (@RocioAlmanza15) April 4, 2022
"RM hyung has no drivers license" pic.twitter.com/9c0F1la4xU

— ⁷Blue (@bangtnjjang) April 4, 2022
SHAKING CRYING THROWING UP? pic.twitter.com/4ePYUZAovt

— ً (@archivefortae) April 4, 2022
TAEHYUNG FLIRTING WITH OLIVIA MY EYES TWITCHING BODY SHAKING pic.twitter.com/5CRi1MoKGK

— ◡̈ (@taebokkiii) April 4, 2022
Okay, can we talk about @BTS_twt's Grammy performance with Jung Kook's entrance from the ceiling, V whispering in Olivia's ear, Jin hacking everything, and that dance break? That took me right out! Sooooo good! #GRAMMYs

— Lea Salonga (@MsLeaSalonga) April 4, 2022
OH MY GOD BTS AND OLIVIA RODRIGO THE DUO I DIDNT KNOW I NEEDED pic.twitter.com/96b6KRfhYP

— justin (@beersbruises) April 4, 2022
can't believe i'm saying this, but i actually wanted to be olivia rodrigo for 17 seconds

— bts (@kkukstudio) April 4, 2022
i almost blacked out seeing taehyung next to olivia shut up

— chrystal⁷ loves bts (@chaiitae) April 4, 2022
olivia is so strong, if taehyung sat beside me, looked at me like that, i would have fainted

— ludo⁷ || uni ? (@allhailrm) April 4, 2022
yall i refuse to believe taehyung FLIRTED with THE olivia rodrigo just like that. i refuse

— ً (@ultsyubji) April 4, 2022
armys after watching taehyung flirt with olivia during the performance at the grammys tonight pic.twitter.com/Uj6zyVQYN8

— nini⁷ is seeing bts d-5! (@kookswithIuv) April 4, 2022
when Olivia passed by me after rehearsal I told her good job and she was very nice to me ? keep your enemies close

— 세일러뷔 Sailor V✨ (@sailorv_1230) April 4, 2022
Look at kim taehyung and olivia cute interaction befote their skit during butter performance ?

pic.twitter.com/MX21UvumD5

— Elysha | KTH1 IS COMING — CHRISTMAS TREE BY V ? (@myonlyTAEger) April 4, 2022
NNOOO… THE REAL CONVERSATION IN REHEARSAL WAS :

V : "I'M NERVOUS… AAAHH… WHY??? (HAVE TO DO THIS?)" *hold his forehead*
O : "WHERE'S JUNGKOOK??"
V : "THERE HE'S ABOVE"

Oh yeah Kim Taehyung talk all in English to Olivia.. then keep talking to RM that beside me.. Hyung… https://t.co/CrT5Qo1Vu7

— HEAVEN TAEKOO? (@heaven_tanbam) April 4, 2022
WTF WAS THIS KIM TAEHYUNG pic.twitter.com/RMl23YkEln

— bts (@kkukstudio) April 4, 2022
Olivia with Kim Taehyung excuse me???? BTS BTS BTS pic.twitter.com/C8eo4kpexe

— Fairytale (@firlanadin) April 4, 2022
TAEHYUNG AND OLIVIA INTERACTION?!?!?! SHE WON IN LIFE #BTSxGrammys@BTS_twt pic.twitter.com/Nv9WoIEbPW

— kookoo⁷ ˎˊ (@smilingguk_) April 4, 2022
You betrayed me~ ? pic.twitter.com/zUZmQzSUgd

— ◡̈ (@taebokkiii) April 4, 2022
WHAT JUST HAPPENED?

everywhere I go, I keep seeing this olivia and kim taehyung scene and I–?#GRAMMYs pic.twitter.com/fCZyp44bWu

— ninya (@myolkkk) April 4, 2022
WTF TAEHYUNG do it again pic.twitter.com/JB2Mgkr1El

— brielle. (@Urgrlsolace) April 4, 2022
"Me and Jimin fought over dumplings one time"pic.twitter.com/aZVGyOwXx7

— Yeli⁷? (@JoonieVee) April 4, 2022
no cuz both olivia rodrigo & H.E.R are half filipina and they're with the one and only kim taehyung ? pic.twitter.com/8xXqclN30o

— ًye (@kvsgleam) April 4, 2022
OMG JADINE PERFORMING NO ERASE BAHALA NA & HANAP-HANAP MEDLEY AT THE GRAMMYS???!! pic.twitter.com/KMHXKCggwQ

— ? (@aintyourbeetch) April 4, 2022
it's so????? but ok
WTF TAEHYUNG
WHAT JUST HAPPENED pic.twitter.com/RJ8jTjuUkn

— via (@viavia_02) April 4, 2022
Taehyung and Olivia But you remermber Olivia
is half blooded Filipina pic.twitter.com/Y767wXCSx8

— Sis Joon⁷ ? | ?♡ | (@SisJoonie) April 4, 2022
can't believe i had to watch kim taehyung talk to a filipina who wasn't me but that's ok

— serial experiments lenika (@lenikacruz) April 4, 2022
"resorts world manila" pic.twitter.com/38ggD6SGm9

— julia (@livcelestia) April 4, 2022
"I learned that you're a filipina, i want some lumpia." pic.twitter.com/p5IvSY2qHK

— ◡̈ (@taebokkiii) April 4, 2022
"you better help namjoon hyung get a driver's license" pic.twitter.com/wugEDl1PAt

— miri⁷ ☻ (@JE0NICITY) April 4, 2022