BLACKPINK adds yet another historic W to their book as the first-ever K-pop group to headline Coachella.
Related: It's The Sit Down: Blackpink Is Seated In This Filipino Designer's Chair
The rumors are true. After reports earlier in the week sent BLINKS on the edge, it has finally been confirmed that BLACKPINK is set to serve as a headliner in the 2023 edition of the Coachella Valley Music and Arts Festival. The production company behind the festival made the news official when they released the official lineup on January 11. The K-pop girl group is set to perform on April 15 and 22 (both Saturdays), with Bad Bunny (April 14 and 21) and Frank Ocean (April 16 and 23) rounding out the other headliners of one of the biggest festivals in the world.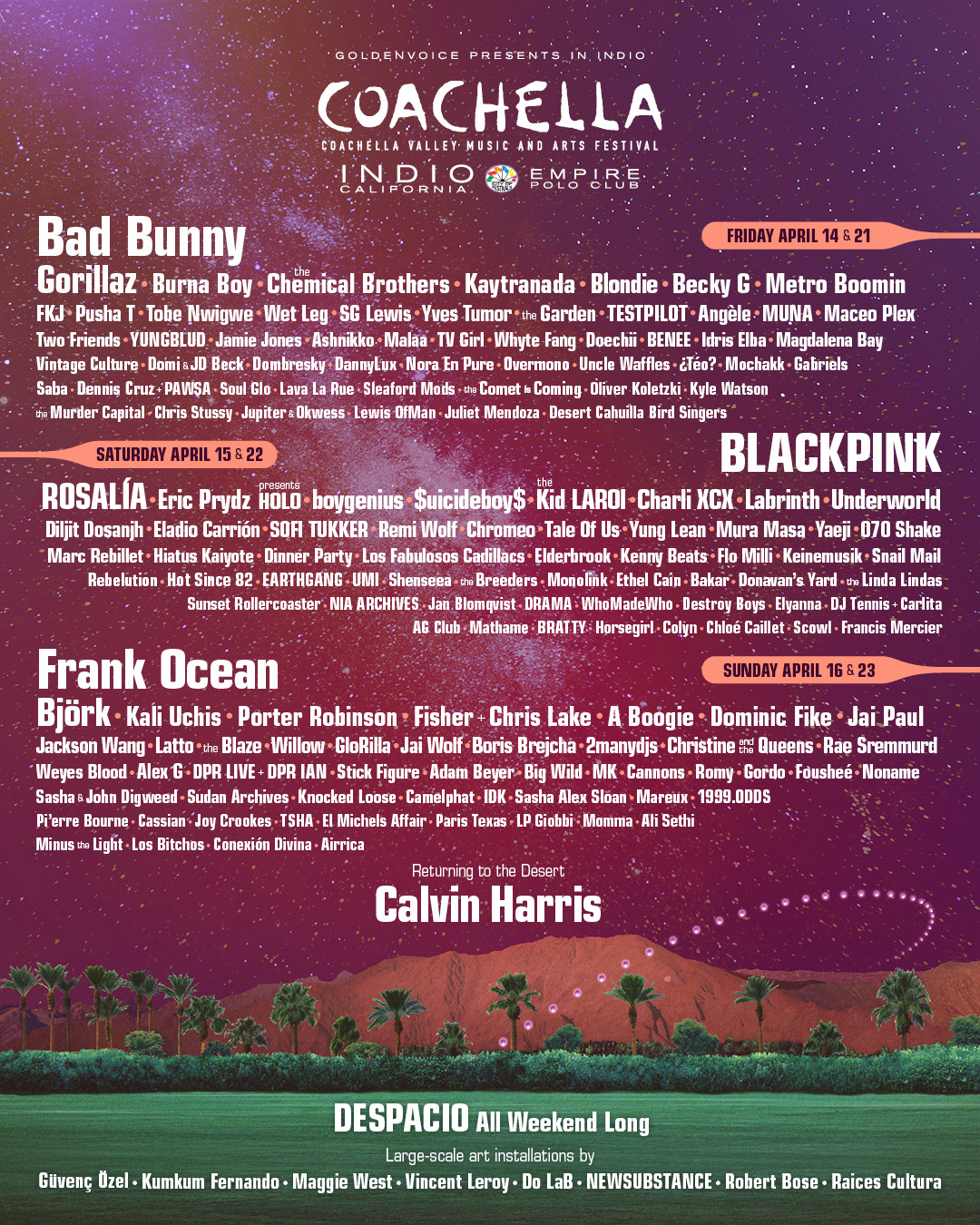 BLACKPINK is no stranger to the Empire Polo Grounds in Indio, California. Back in 2019, the group was tapped to have a performance at the festival, which ultimately became one of their most iconic stages to date. And now, four years later, they are coming back as superstars joining previous headlining acts such as Beyoncé, Ariana Grande, Billie Eilish, and The Weeknd. What makes it even better is the fact that BLACKPINK becomes the first-ever K-pop group to serve as a headliner at Coachella.
While the festival is still months away (tickets will be on sale this January 13 while the festival will be livestreamed on YouTube), we can't help but imagine what kind of performance BLACKPINK is cooking up for this career milestone. In fact, we've rounded up a few of the group's songs that we are hoping they perform at Coachella because we can already see how epic it will be when performed on the headline stage.
AS IF IT'S YOUR LAST
For anyone familiar with the group's 2019 Coachella performance, this song is a no-brainer. Aside from it being one of their best songs, it also gave birth to that iconic Rose meme that we still use to this day. If Rose actually tells us to dance as if it's our last, we probably will pass out right then and there.
DDU-DU DDU-DU
The finale of their 2018 comeback just gives us that rush whenever we hear it, much so when it's performed live. Needless to say, we'll be needing this to be added to the setlist because when they scream BLACKPINK and the beat drops, it might be one of the most euphoric things to have ever happened in the California desert.
KILL THIS LOVE
With powerful horns and a heavy beat, Kill This Love has all the makings for a crowd-pleaser. Rose and Jisoo's vocals combined with Jennie and Lisa's raps are a feisty combo that can turn the party from 0-100 real quick. And since this is a Coachella headline set, they could include a live marching band during the performance, which honestly might cause the tectonic plates to shift.
HOW YOU LIKE THAT
Two words: dance break. As one of their most bombastic songs to date, How You Like That is prime material for these epic shows. But that beat drop and dance break at the end just transports you to another dimension. Can you imagine the whole of Coachella jumping and raving during the track's finale? Lives will be changed.
PINK VENOM
On their Born Pink world tour, the performance of Pink Venom is one of the most memorable stages of the concert. So, what more when it heads to the Coachella stage? A fire intro that leads into the BLACKPINK chanting with the audience joining along would be everything. It's the kind of energy that Coachella needs.
ANY OF THEIR COLLABS
Since this is a Coachella headline performance, we are hoping the girls are preparing something special. And one of those surprises could hopefully be seeing the group perform alongside the artists they've collaborated with in the past. Even though Lady Gaga, Selena Gomez, or Cardi B aren't on the official line-up for Coachella 2023, they could (and we hope they do) make a special appearance to perform their songs. These special Coachella collaborations have been done in the past, so what's stopping BLACKPINK from doing it in their set? We're dying to see Lady Gaga and BP do Sour Candy live together after both performed it as solos. Ambulances would need to be called in if this happens.
Continue Reading: Billie Eilish Brought Out Hayley Williams At Coachella And We're Not Okay