Calling all BLOOMS, P-pop fans, and well, everyone else. BINI needs your help to pick which song of theirs should be their next music video.
Related: Spacing The Future: See BGYO And BINI Conquer The Metaverse With Their Magazine Covers
The connection between P-pop groups and their fans is something else. While many celebrities have their own dedicated fandoms, P-pop-focused fandoms operate on a different sphere of influence. They have the power to trend nearly everything related to their fave and go all out to promote them as best as they can. P-pop groups also recognize the love they get from their fans and reciprocate that the best they can.
Just look at the relationship P-pop girl group BINI has with their fans, BLOOMS. It's undeniable that BINI wouldn't become one of the top P-pop girl groups right now if it weren't for the passionate support of their BLOOMS. And as to further solidify this trust in their fans, the group has given the power of deciding what their next music video will be in the hands of BLOOMS.
YOU DECIDE WHAT BINI'S NEXT MV WILL BE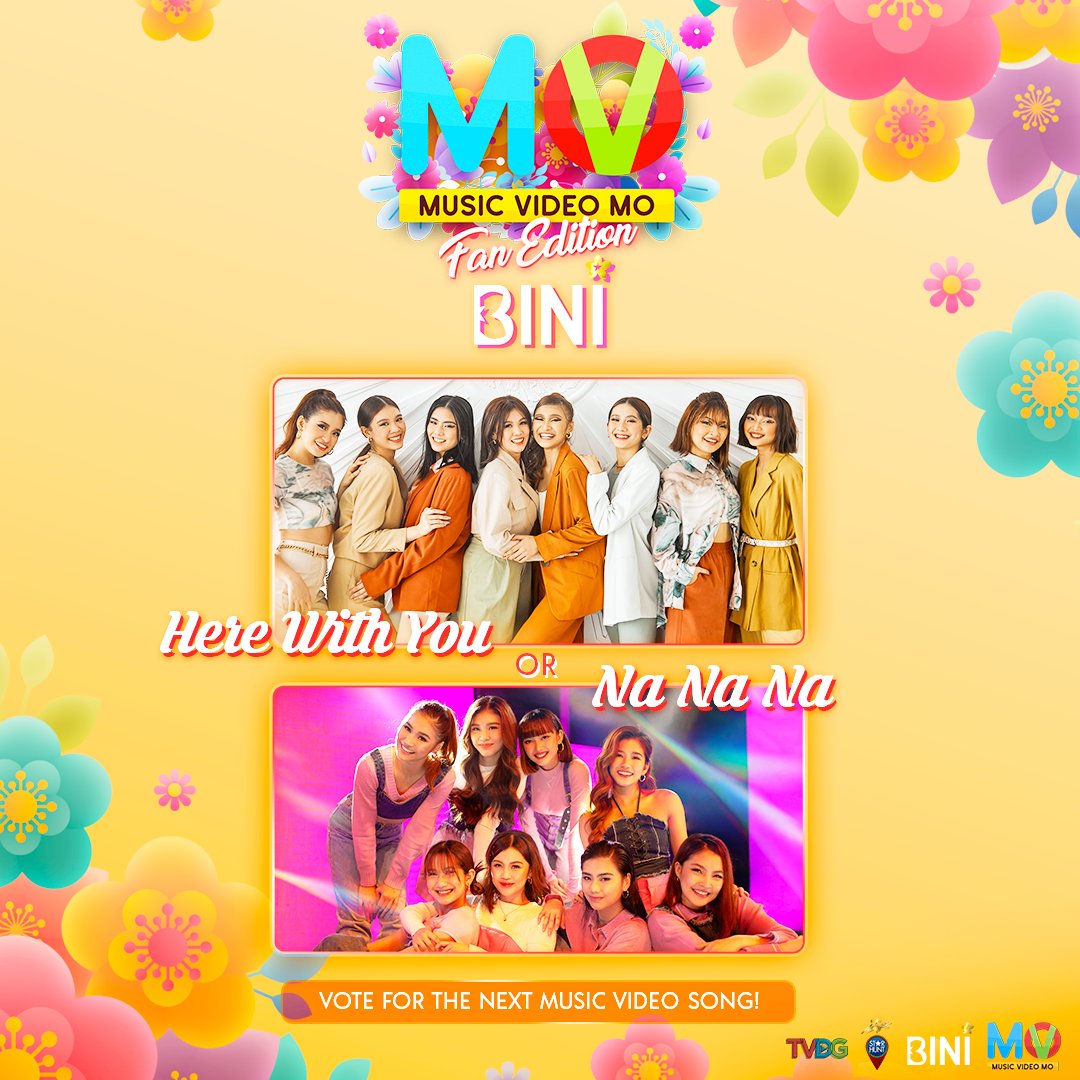 Launched on March 14 and lasting until March 25, the competition asks which of BINI's songs from their debut album should be the next one to get the music video treatment. Considering how the last time they dropped a music video was over five months ago with Golden Arrow, this is definitely much-welcome news for both BLOOMS and P-pop fans in general. So, what songs can you choose from? BINI gives us two options.
The first is Here With You. The upbeat and uplifting anthem served as the closer for their Born To Win debut album. The track is all about the power of friendship and how people are there to support you. The track also serves, appropriately enough, as a thank you to BLOOMS for all their love and support. The second option is Na Na Na, a standout from the album. The fun and catchy love song is about falling in love and features an earworm of a chorus. But as you go through the song, it turns into a track about how you keep falling into the same mistakes and ignore the red flags, something a lot of people can relate to. The song has gone somewhat viral as of late, especially on TikTok where it has spawned it's own dance challenge.
HOW TO VOTE
If you want to vote for your pick, there are two options. The first is through Facebook. All you have to do is go to the video post of the corresponding song and send FB stars. Note that these stars costs real world money with the lowest price being 99 stars for 49 pesos. The second option is through KTX. Go to the fan engagement tab and click on the one for BINI. You then have to pay for how many points you want to send for the song you like. The lowest price goes for 99 pesos for 5000 vote points.
The song that has the most points by March 25, 11:59 PM, get's its own music video. And the best part is that not only will the fans choose which song gets a music video, but they too will also be part of it as well. So, once you make your decision and scrounge up some spare change, get to voting.
Continue Reading: We Reimagined BINI, P-Pop's Newest It-Girls, In The Latest Runway Collections